This post may contain affiliate links. If you make a purchase through links on our site, we may earn a commission.
This simple and inexpensive Cucumber Onion Salad Recipe is simply fabulous. The flavor is amazing but it is just so easy to prepare.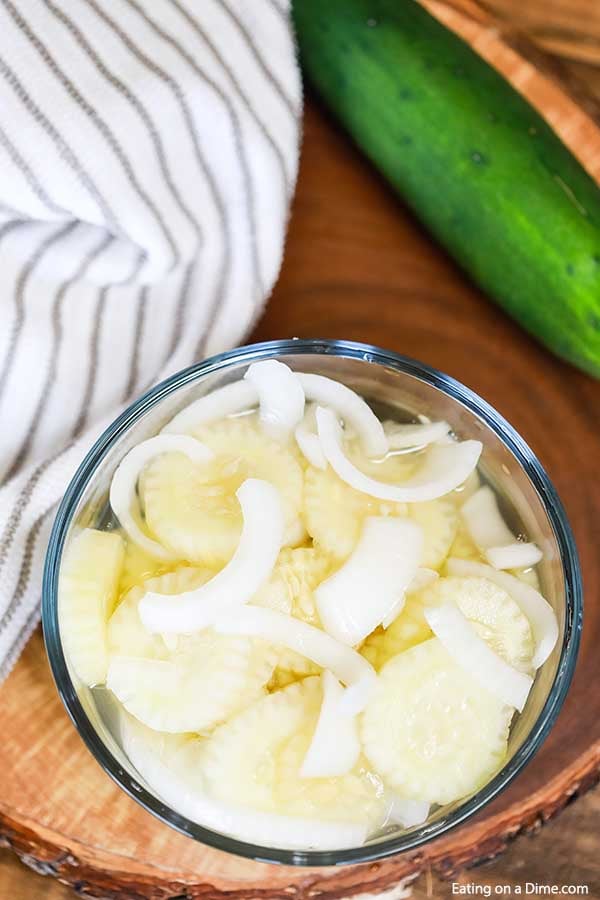 Cucumber Onion Salad Recipe:
This classic cucumber onion salad comes together quickly and easily. It is a light and refreshing and is made with simple ingredients. The vinegar dressing gives a tangy flavor to this easy side dish.
Bring this dish to your next potluck, cookout or family gathering for a side dish everyone will love. The fresh ingredients makes this cucumber onion salad so refreshing.
Serve this cucumber onion salad with your grilled chicken, grilled steak or burgers. It makes the perfect side dish for any grilled meats.
What is Cucumber Onion Salad?
This cucumber onion salad is a classic recipe that is always served for our cookouts. Thinly slice cucumbers are mixed with onions, vinegars and sugar to create a delicious, refreshing salad.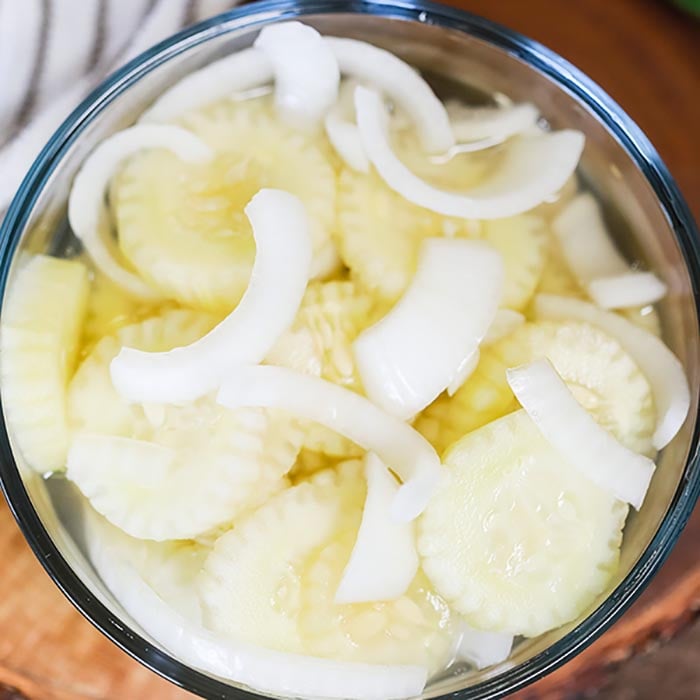 Ingredients:
Fresh Pickled Cucumbers
Onion
White Vinegar
Sugar
How to Make Cucumber and Onion Salad:
Step 1 – Slice Cucumbers – Peel and slice the cucumbers really thin. This is when the mandoline slicer comes in handy.
Step 2 – Cut Onions – Next, slice the onions really thin.
Step 3 – Mix the Dressing Ingredients = In a container (with a lid) combine the water, vinegar, and sugar. Stir until combined.
Step 4 – Mix in Vegetables – Add in the cucumbers and onions. Place lid on top and shake.
Step 5 – Allow salad to chill – Place salad in the refrigerator. Let it cool for at least a few hours before eating.
Step 6 – Serve and Enjoy – Eat with a fork or fingers.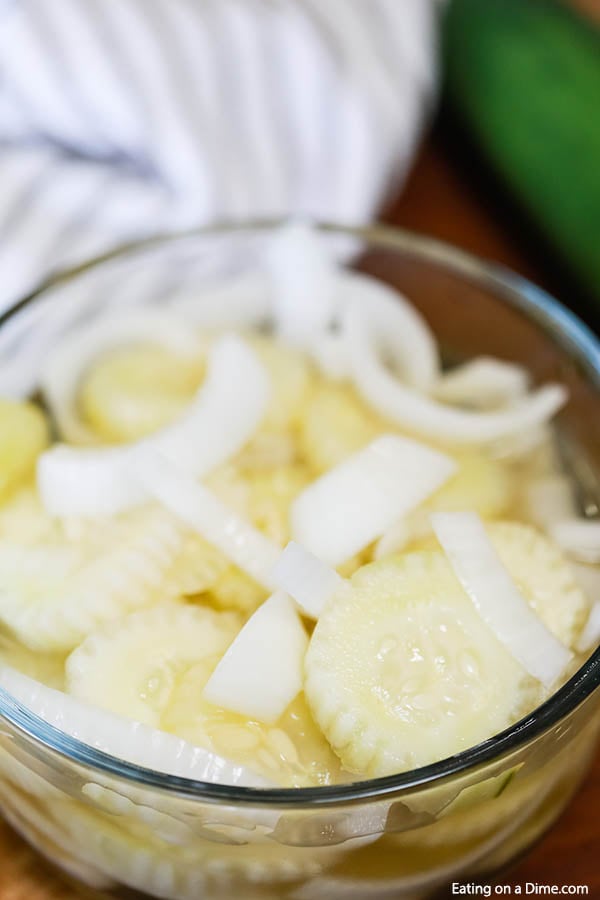 Cucumber Onion Salad Variations:
Onions – Feel free to use red onions instead of white sweet onions. Cucumber and red onion is a great combination. Vidalia onion would also be a great option.
Vinegar – We used white vinegar, but you can also use apple cider vinegar or white wine vinegar.
Seasoning – You can add in fresh herbs such add fresh dill, rosemary or parsley.
Creamy Dressing – If you prefer more of a creamy cucumber salad, use ranch dressing. You can also add in a tablespoon of sour cream to balance the flavors.
Add-Ins – Feel free to add in some croutons, chopped bacon, or diced green apples.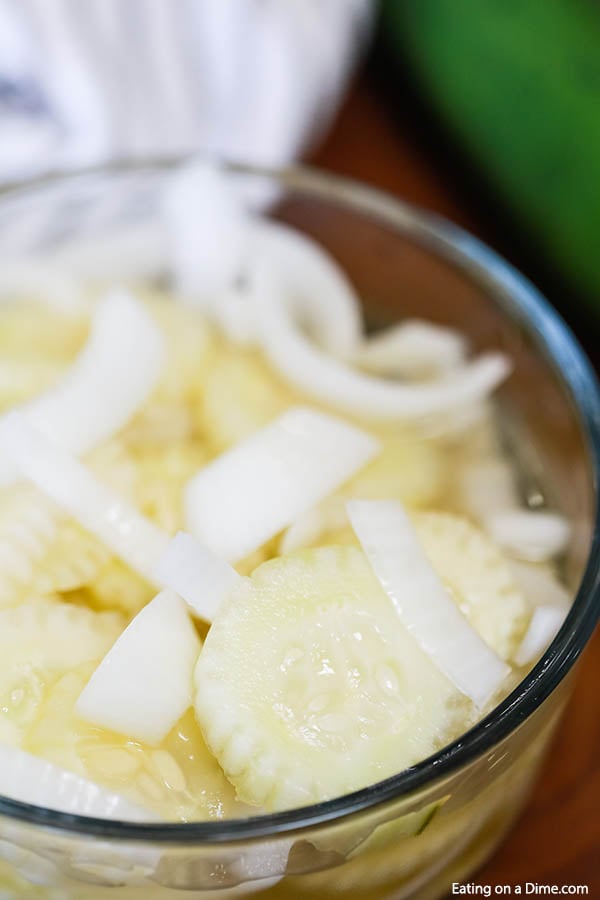 Tips for Cucumber Onion Vinegar Salad:
Slicer – To make your life easy, make sure you buy a mandoline slicer (if you don't have one yet). We just LOVE ours and it makes slicing cucumbers and onions a breeze. I can slice them all in half the time with my slicer. You definitely want one of these.
Mixing the Ingredients – I like to use a container with lid to mix the vinegar, sugar and water. It is so easy to just add the cucumbers and onions and then just use it to store the salad in.
Chill Salad – Put your salad in the fridge and leave it for a few hours before eating.
Seasoning – Before serving the salad, make sure to season with salt and pepper.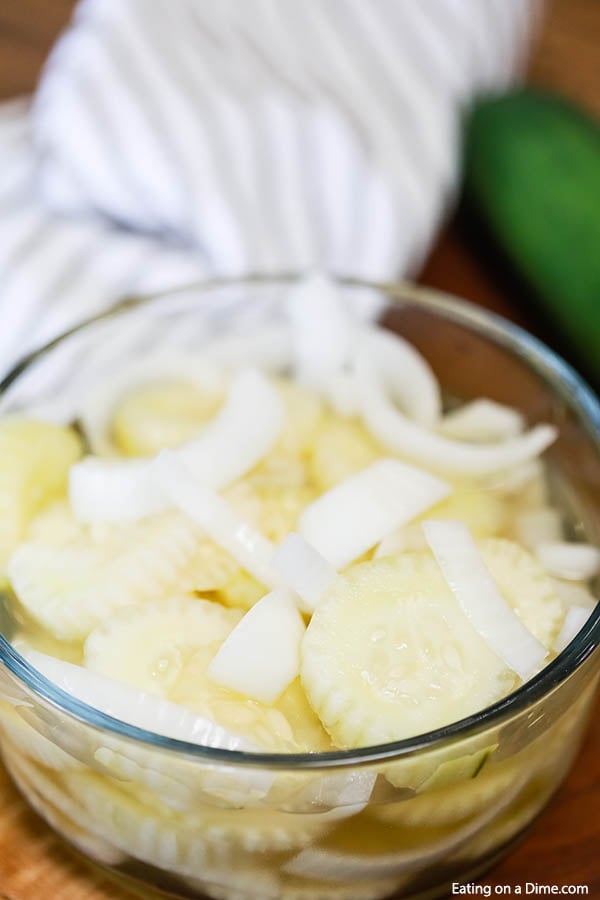 How do you Keep Cucumbers crisp?
If you have trouble keeping your fresh cucumbers or English cucumbers from staying crisp. You can try sprinkle the slice cucumbers with salt. This helps to draw out the moisture keeping them fresh and crisp while serving.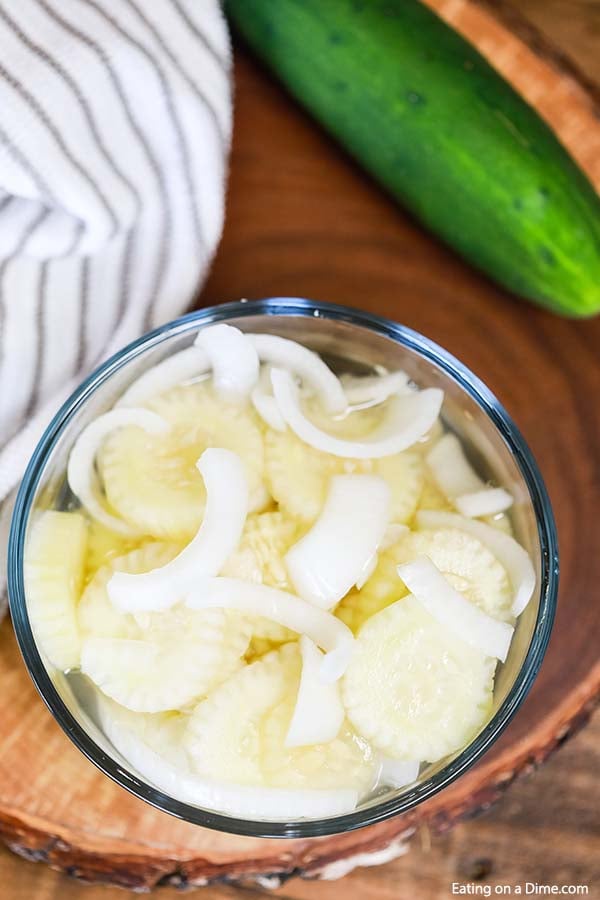 Do I peel Cucumbers before adding to salad?
When we make this salad, we like to peel the cucumber before mixing in the salad. It will depend on the cucumber you use, but we think it looks better in the salad with the cucumber peeled.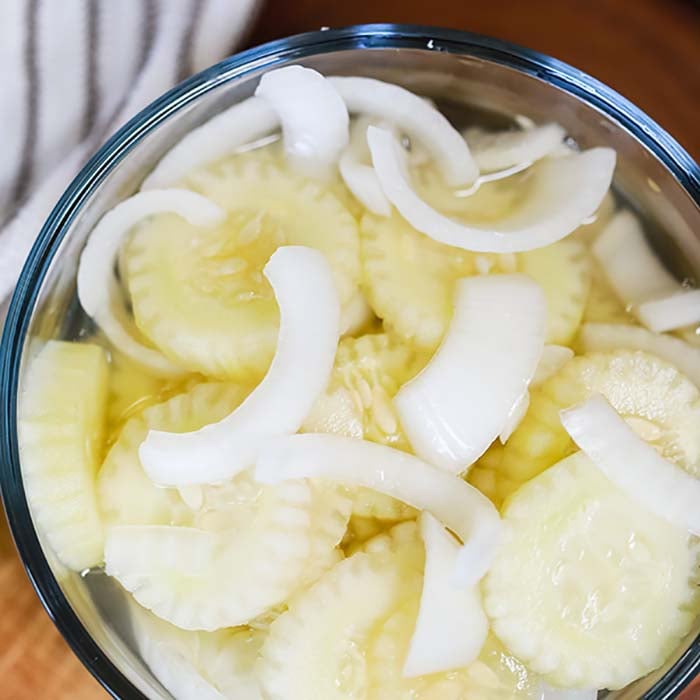 What is the Best way to Cut Cucumbers?
This salad is best made with thinly sliced cucumbers. We recommend using a mandoline slicer to choose between how we cut the cucumbers. But you can easily cut them however you prefer.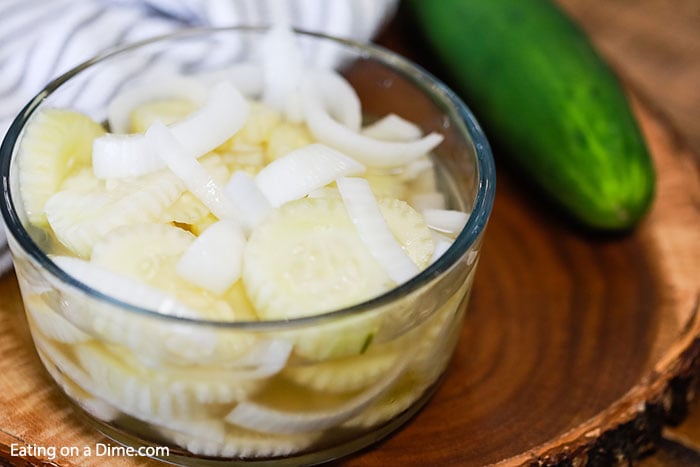 What to Serve with Cucumber Onion Salad?
This classic cucumber salad recipe is perfect for your summer BBQs. If you have a garden full of cucumbers, this would be the best recipe to make. Here are some of our favorite grilled recipe to try with this light and refreshing salad.
Grilled Chicken – This recipe has a very simple blend of seasonings but the results are fabulous. The marinade is really yummy and the entire family will love this chicken.
Grilled Steak – With just a few ingredients, you can make this delicious marinade and have an awesome steak night.
Grilled Pork Chops – Pork Chops on the grill make such an easy dinner idea and the flavor can't be beat. The barbecue sauce combined with the grill flavor makes for the best meal.
How long can you Store Cucumber and Onion Recipe?
It will stay good in the refrigerator for at least a week. I know it is really simple, but if you love cucumbers, you will love this easy salad. We have been guilty of eating it directly out of the fridge.
Our salad never lasts that long around here because even my kids go crazy over this salad. We all love it so much that we snack on it all week.
What is the Best Vinegar to Use?
We like the flavor of the white vinegar for this salad recipe. But you can easily use apple cider vinegar as a great substitute. Both give the cucumber onion salad great tangy flavor.
Can I Make ahead of time?
Yes, this salad is great to prepare ahead of time. Simple keep it in the fridge until you are ready to serve.
You can also cut the vegetables and store separately from the prepared dressing. Then on serving day, simply combine the vegetables and dressing together in a bowl.
Print this Cucumber Onion Salad Recipe below:
Cucumber Onion Salad Recipe
You just have to try this easy Cucumber Onion Salad Recipe next time you find cucumbers on sale. This easy salad recipe is perfect for a summer BBQ or a snack.
Ingredients
3

Cucumbers

1

Onion

1

cup

Vinegar

(white or apple cider)

1

cup

Water

1/4

cup

Granulated Sugar
Instructions
Peel and slice the cucumbers into thin strips.

In a container (with a lid) combine the water, vinegar, and sugar.

Stir until combined.

Add in the cucumbers and onions. Place lid on top and shake.

Place in the refrigerator and let it cool for at least a few hours before eating.

Eat with a fork… or your fingers!
Recipe Notes
This simple and inexpensive salad is simply fabulous!
Nutrition Facts
Calories
65
kcal
,
Carbohydrates
13
g
,
Protein
1
g
,
Sodium
6
mg
,
Potassium
230
mg
,
Fiber
1
g
,
Sugar
11
g
,
Vitamin A
110
IU
,
Vitamin C
6.2
mg
,
Calcium
28
mg
,
Iron
0.4
mg
More Easy Salad Recipes: