This post may contain affiliate links. If you make a purchase through links on our site, we may earn a commission.
My family just loves this Easy Spanish Rice Recipe. Once you make this and can freeze it, there is no reason to use those box mixes for Mexican Rice.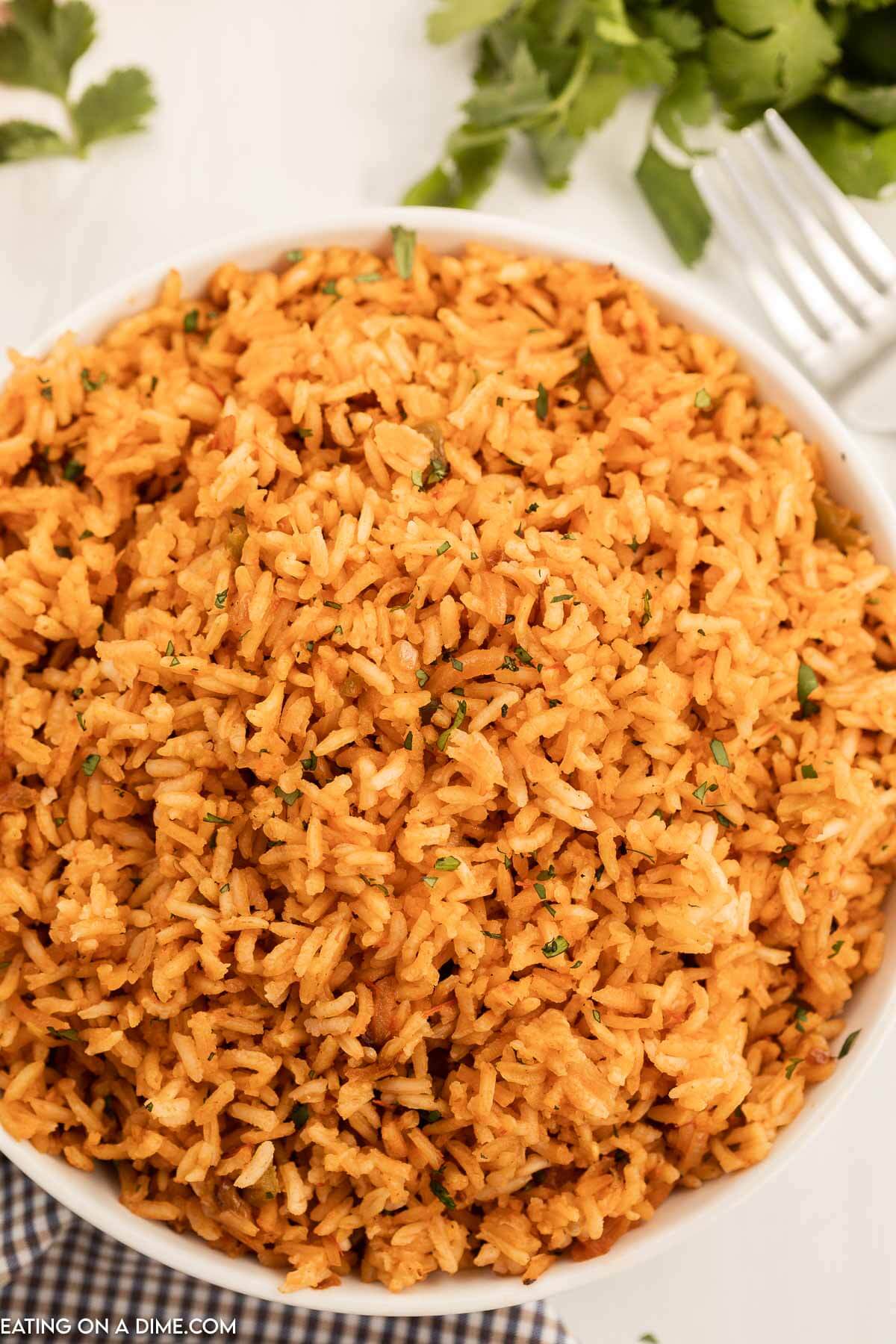 Easy Spanish Rice Recipe:
This recipe is an easy and delicious side dish. You can get plain rice very cheap so homemade Spanish rice recipe is very friendly on the wallet. Simple ingredients combine to make homemade rice.
The entire family will love this easy Mexican rice dish and it is one of our favorite Mexican Side dishes. This is the best Spanish rice recipe and making it from scratch allows your adjust the ingredients.
If you are looking for an easy recipe side dish to serve with your Mexican dishes, make this homemade Spanish Rice Recipe. It is flavor and cooks perfectly in your skillet.
What is the difference between Mexican Rice and Spanish Rice?
There is not much difference between these two rices. Spanish rice also has stronger flavor than Mexican Rice. Spanish rice has a firmer texture and the aroma is stronger.
Key Ingredients in Spanish Rice:
For the perfectly cooked Spanish Rice keep the broth and salsa measurements the same. This keeps the flavored balance and cooks the rice perfectly.
Ingredients for Spanish Rice
How to Make Spanish Rice:
Step 1 – Cook Onion in skillet – Sauté onion in oil over medium heat to high heat. Cook until tender, about 5 minutes.
Step 2 – Add Rice – Add rice into skillet, stirring often. Do not skip this step as it adds a ton of flavor to the rice.
Step 3 – Stir in broth, salsa, and seasoning – When rice begins to brown, stir in 2 cups of chicken broth, salsa, garlic salt and cumin.
Step 4 – Bring to Boil – Bring to a boil and reduce heat. Cover and simmer 20 minutes to cook the rice, until the liquid has been absorbed by the rice.
Keep reading for all the complete step by step instructions.
Spanish Rice Toppings:
Here are a few things that I love topping this Spanish rice with:
More Salsa
Green Onions
Fresh Cilantro
Diced Avocado
Sour Cream or Plain Greek Yogurt
Pico de Gallo
What to Serve with Spanish Rice:
This is the perfect side dish for your favorite Mexican meals. Here are a few of our favorites that we love serving with this rice.
What Type of Rice to use in Spanish Rice:
Any type of long grain rice works great in this recipe. I generally use long grain white rice but any type will work.
Can you use Brown Rice?
Yes, you can use brown rice in this recipe. You will need to increase the chicken broth amount by ½ cup as brown rice soaks up more liquid when it's cooking.
Storage:
Refrigerate the leftovers in an air tight container. As long as the rice is stored correctly, it should last up to 5-6 days in the refrigerator.
Reheat in the microwave or on the stove top for a few minutes and then the rice is ready to enjoy.
I really like to meal prep for the week. It saves me so much time and money. This Spanish rice is perfect make ahead of time. My husband and I prepare our individual containers and fill each one up with Spanish rice, a protein and a vegetable.
Can you Freeze this Spanish Rice?
Yes, you can easily freeze this homemade Spanish recipe. Anytime I make rice, I always double to recipe. Having my freezer stocked with meals and side dishes saves me so much time and money.
To freeze, allow your rice to cool completely. Then place the cooked rice in freezer bags in the amounts that your family needs for dinner.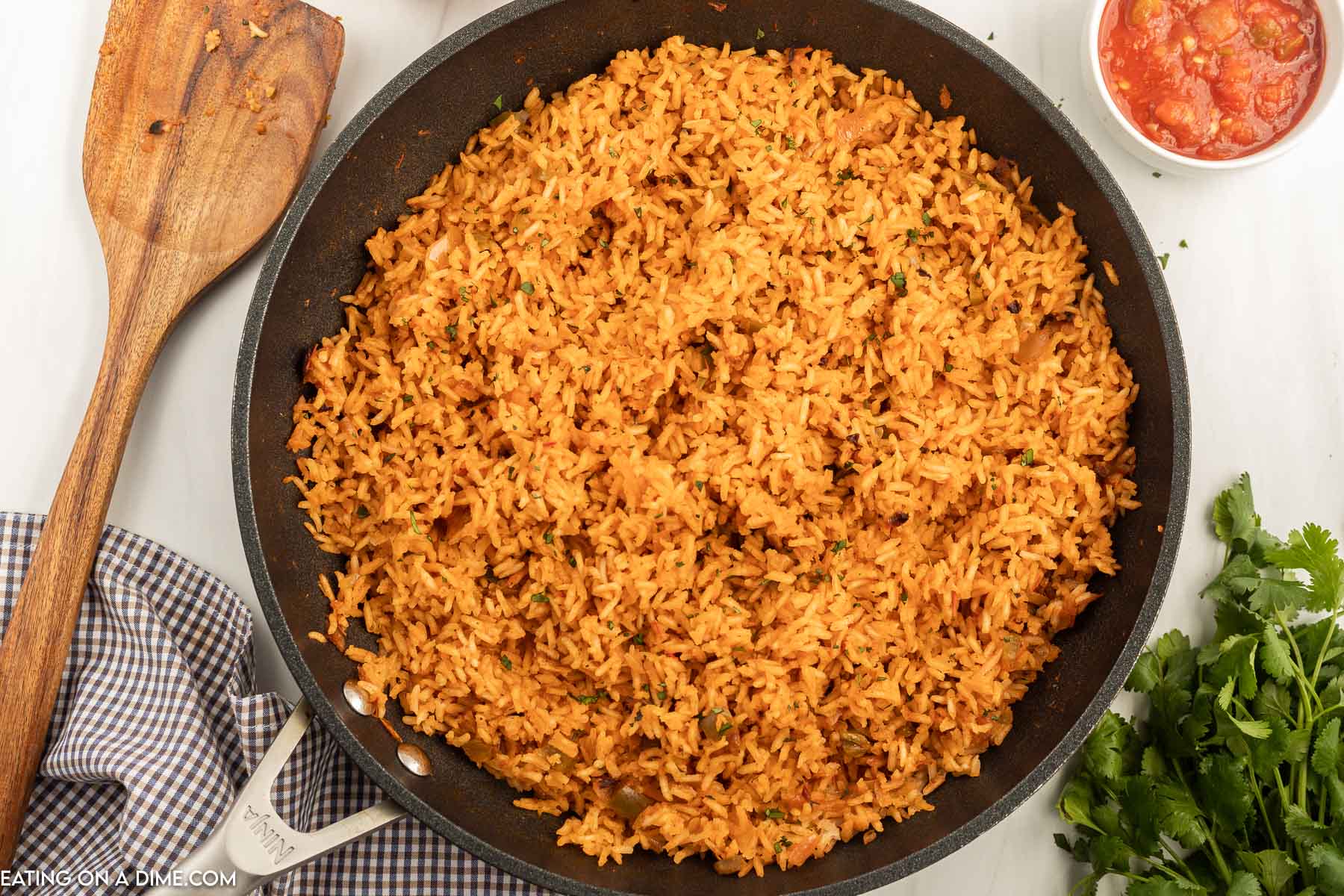 Reheating Spanish Rice
When you are ready to eat, take the rice directly from the freezer. Place about ¼ cup of water in the container, cover and microwave for about 5 minutes. Fluff with a fork and then rice is ready to enjoy.
How much Rice to Make Per Person?
Generally, I plan approximately 1/4-⅓ cup uncooked rice per person. This amount will generally cook to be approximately 3/4-1 cup of cooked rice.
This recipe serves 6 people.
Variation Ideas:
Add in Ingredients – For a change, try adding diced tomatoes, black bean and a little chili powder to this rice recipe.
Tomato Sauce – You can use tomato sauce instead of salsa. We have even added a ½ cup of tomato sauce and it was delicious. Spanish rice with tomato sauce is amazing!
Tomatoes – Diced tomatoes or fresh tomatoes work great instead of the salsa as well. Stir in the broth, tomatoes, garlic and cumin after the rice has browned.
Ground Beef – Make a meal out of it and try Spanish rice with ground beef. It's a great way to stretch your meat.
Garlic – You can use minced garlic instead of garlic salt. Sauté the onion, garlic and rice in the olive oil then mix in the other ingredients.
Chicken Broth – Feel free to use chicken stock instead of chicken broth if you prefer.
Black Beans – mix in black beans in with the spanish rice. I normally used canned black beans that has been drained and rinsed.
Tips for Spanish Rice:
Freeze Onions – If you have ever wondered Can you freeze onions, the answer is yes! I chop onions in bulk and freeze them. It's so nice to just grab what you need from the freezer for recipes.
Cook Onion – We recommend cooking the onion before adding in the rice. This helps to give the rice flavor but having the onions cooked.
Stirring Rice – When you add in the rice with the cooked onion, continue to stir the rice on the skillet. This adds flavor and keeps the rice from burning.
Adding in Liquid – After adding in the broth, salsa, and seasoning allow the mixture to come to a boil. Then cover and allow the rice absorb the liquid. I like to stir occasionally to make sure everything cooks evenly.
Print this Easy Spanish Rice Recipe below:
Spanish Rice Recipe
This recipe for homemade spanish rice tastes just like the restaurants.Try this easy Spanish rice recipe. Learn how to make spanish rice.
Instructions
Saute onion in oil over medium heat. Cook until tender, about 5 minutes.

Mix rice into skillet, stirring often. When rice begins to brown, stir in chicken broth, salsa, garlic salt and cumin.

Reduce heat, cover and simmer 20 minutes, until the liquid has been absorbed.
Recipe Notes
Refrigerate the leftover rice in an airtight container for up to 5 days.
Nutrition Facts
Calories
226
kcal
,
Carbohydrates
40
g
,
Protein
4
g
,
Fat
5
g
,
Sodium
700
mg
,
Potassium
192
mg
,
Fiber
1
g
,
Sugar
2
g
,
Vitamin A
210
IU
,
Vitamin C
1.3
mg
,
Calcium
32
mg
,
Iron
0.8
mg
More Rice Recipes:
More Mexican Desserts: