This post may contain affiliate links. If you make a purchase through links on our site, we may earn a commission.
We have the best and easiest recipe for Chocolate Pecan Pie. Everyone will love this twist on the classic Southern dessert. It is sure to be a hit and the perfect finish to any meal.
Chocolate Pecan Pie Recipe:
There is something so comforting about a Chocolate Pecan Pie. It's loaded with the most delicious pecans and chocolate chips mixture. It's a classic pecan pie recipe with a twist! You know how much I love chocolate so I knew I had to add melted chocolate to one of my traditional pecan pie recipe.
The flaky crust is so delicious. This dessert does not disappoint. This Chocolate Pecan Pie recipe can be prepared in about 15 minutes to 20 minutes, so it is perfect to make ahead of time.
This recipe is so much better than the store bought one. Everyone at your next holiday gathering will be asking for the recipe! It is the perfect dessert after eating your holiday dinner.
Toppings for Chocolate Pecan Pie!
This pie is so amazing all by itself. However, it goes to an entirely new level with a scoop of vanilla ice cream. Letting the ice cream melt a little, mixes perfectly with the melty sweet chocolate filling!
I love homemade ice cream with this pie, but then I discovered that I could make Homemade Whipped Cream Topping! It was so good and so easy to make. Plus you only need two ingredients! My family loves traditional cool whip.
Let's make this Easy Chocolate Pecan Pie Recipe!
This is the perfect pie to take to potlucks, parties and more. Make sure to bring the recipe with you because everyone will want to know how to make this wonderful pie.
Ingredients:
Eggs
Light or dark corn syrup
Granulated sugar
Semisweet or bittersweet chocolate chips (We used Bakers Chocolate Chips)
Unsalted butter, melted
Vanilla extract
Pecan halves
Unbaked pie crust
How to make Chocolate Pecan Pie:
In a medium bowl or large bowl, combine the eggs, sugar, corn syrup, chocolate chips, melted butter and vanilla until well blended.
Stir in pecans until well coated.
Then pour then pecan mixture into pie shell.
Preheat oven to 350 degrees F and bake for about 50 minutes or until knife inserted near center comes out clean.
Allow Chocolate Chip Pecan Pie to cool for an hour on a wire rack before cutting.
I like to sit the pie on a rimmed baking sheet while in the oven. This is handy to catch any spills.
If you are using a prepared pie crust and the edges are browning too quickly before the pie is done, cover the edges with foil. This prevents it from burning while your pie is cooking.
Bakers Chocolate Pecan Pie Recipe Tips:
I strongly recommend a glass baking dish so you can see when the crust on the sides is browning, which signals that the pie is finished.
We also used Bakers Chocolate Chips in this recipe but you can use what you prefer. Another option is to use dark chocolate and increase to ¾ cup if you like extra chocolate. Some people like to add cocoa powder to this recipe but I think the baker's chocolate works best in this recipe.
Some people prefer to use brown sugar instead of the granulated sugar. You can use what you and your family like the best either works great in this recipe.
How do you know when the Pie is done?
It is always my fear that when I go to serve the pie that it isn't done. But I have figured out with the pecan pie the middle should be set. Just slightly tap the center and it should spring back when done. It always seems if there is a jiggle in the middle and I go and cut it, it is not done.
The trick I have found is to use a food thermometer. Who knew that it would work on your pies too? Insert it in the middle and if it reads 200 degrees then your pie is done. Still let the pie set for about an hour before slicing.
Chocolate Pecan Pie is a family favorite!
This is one of our favorite Thanksgiving desserts. Everyone loves pecan pie and this recipe with the chocolate chips is SO good! The chocolate chips truly take this dessert to a new level.
If you are looking for a new dessert, this twist on the classic pecan pie is amazing. The chocolate chips blend together with the pecans and it's just the best dessert.
Carry your pie with ease!
I use one of these handy pie carriers and transporting the pie is super easy. This is something I use a lot and it helps prevents spills in the car. It is definitely worth it.
Have you seen the double decker pie carriers? These are perfect if you need to transport 2 pies somewhere.
I know that we love these handy pie carriers when we are transporting these pies to our holiday gatherings.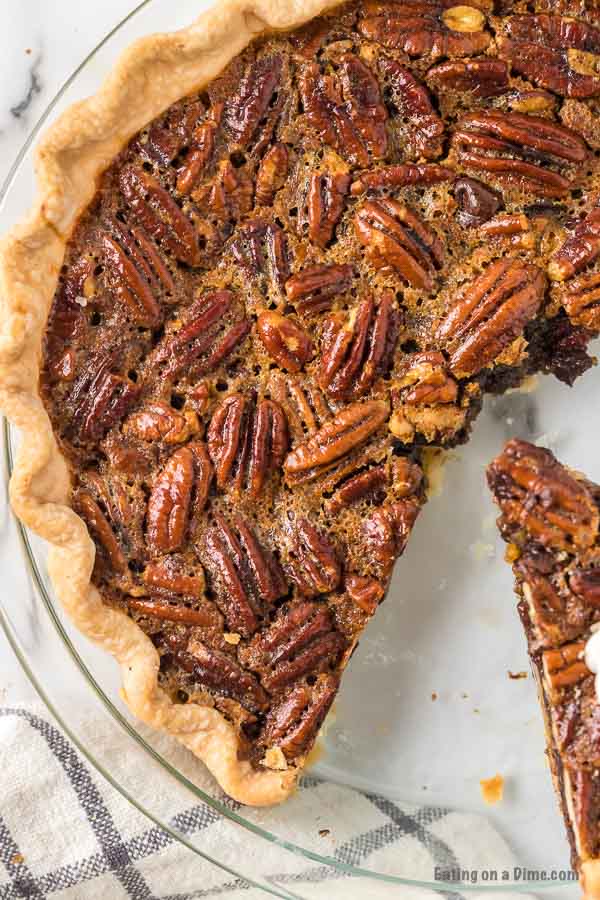 Are you a fan of frozen pie crust?
I have been asked if you can use a frozen pie crust. The answer is yes! That is why I love this recipe so much, you can make your pie crust from scratch or use one that is already prepared.
We usually serve pie during the holidays or a family get-together so I am okay with taking shortcuts on desserts prepping. It does save a ton of time to use a frozen pie crust and I am almost sure your guest will not know the difference.
Do you use light or dark corn syrup?
When baking this pie, we like to use corn syrup which gives your pie the perfect combination of sweetness and gooeyness that this pecan pie needs. Rather you use dark or light it is completely up to you and your preference.
Dark corn syrup gives your pie a more robust flavor. Light corn syrup gives a more delicate vanilla flavor. We usually have light corn syrup in our pantry, so I would use what you have on hand.
Do you have a Chocolate preference?
In this recipe we use semisweet chocolate chips. But you can also use bittersweet chocolate if you prefer, one of my friends used cocoa powder and she really liked it.
I would recommend using milk chocolate chips as this pie is already sweet and you want something that is going to compliment the already sweetness of the pie. Which you ever you prefer, I know it is going to turn out so good!
Print this Chocolate Pecan Pie Recipe below:
Chocolate Pecan Pie
Everyone will love this Chocolate Pecan Pie that is so yummy with all the chocolate chips. Chocolate pecan pie recipe is easy to make. It's sure to impress.
Ingredients
Instructions
In a large bowl, combine eggs, corn syrup, sugar, chips, butter and vanilla until well blended.

Stir in pecans.

Pour into pastry shell.

Bake at 350 degrees F for about 50 minutes or until knife inserted near center comes out clean.

Allow it to cool for an hour before cutting
Recipe Notes
I strongly recommend a glass baking dish you can see when the crust on the sides is browning, which signals that the pie is finished.
Nutrition Facts
Calories
679
kcal
,
Carbohydrates
85
g
,
Protein
7
g
,
Fat
36
g
,
Saturated Fat
10
g
,
Cholesterol
92
mg
,
Sodium
217
mg
,
Potassium
244
mg
,
Fiber
4
g
,
Sugar
66
g
,
Vitamin A
250
IU
,
Vitamin C
0.2
mg
,
Calcium
52
mg
,
Iron
2.7
mg
More Pecan Recipes to try:
Try these easy pie recipes