This post may contain affiliate links. If you make a purchase through links on our site, we may earn a commission.
I know that it might seem silly for me to post how to freeze pasta but it can really help you save time in the kitchen. When we cook pasta we like to make double or triple the amount we need. Then we freeze the left overs to use at other meals.

Can you freeze leftover pasta?
Yes, definitely and I'm going to take it one step further and say you should be doing it!
I have made it a habit to always make extra pasta when cooking it so that I can freeze it and save it for other meals.
Freezing pasta saves time and dishes because the next time you're serving pasta, you don't have to wait for water to boil and then wait for the noodles to cook which can easily be another 8-10 minutes!
Plus you won't have to wash the pan when you're using your frozen pasta!
Plus having pasta in the freezer is perfect when you need pasta with your crockpot meals. It helps you out even further on those crazy busy evenings.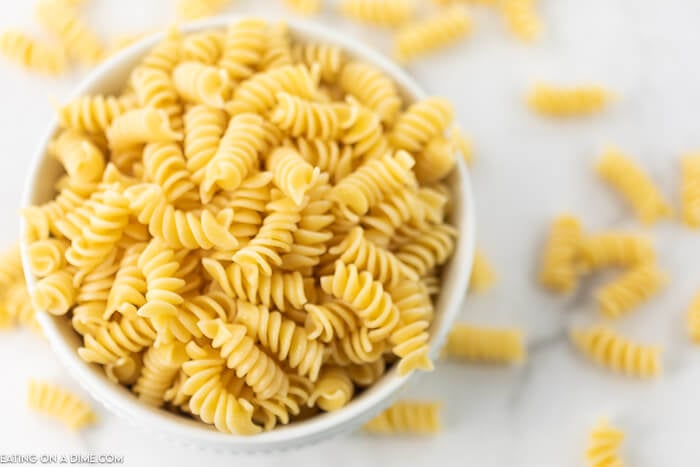 What Type of Pasta can you Freeze:
Technically you can freeze any type of pasta. I usually just cook the pasta to al la dente time listed on the box so that the pasta doesn't turn to mush when it's defrost and reheated through.
Also, you can freeze pasta plan or freeze in a sauce (like a casserole) and we'll go through how to freeze each of these. It's easier than you think!
I find that smaller, thicker pasta (like rotini) freezes better by itself; whereas, when I freeze long noodles (like spaghetti noodles or angel hair pasta), I generally place the pasta in a casserole form to freeze so that I can reheat it in the oven to prevent the pasta from turning to mush.
How to Freeze Pasta:
1. Cook the pasta according to the directions al la dente (you want the pasta to still be slightly firm).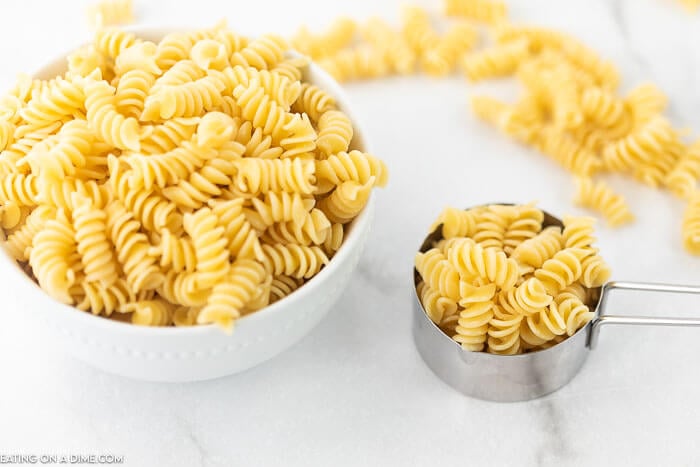 2. After cooking the noodles, drain and then drizzle the pasta with either olive oil, butter, or butter spray. I do this so that the pasta does not stick together.
3. Then allow the pasta to cool completely at room temperature. This can take between 30 minutes to 1 hour so definitely be patient. I usually just let my leftover pasta sit out on the counter while I clean the kitchen and then it's ready when I done.
You can run cold water over the cooked pasta to help cool it down faster as well. You don't want to freeze the pasta when it's warm or it might cause condensation in your freezer bag which could cause freezer burn.
4. Then place the pasta in a single layer on a baking sheet and flash freeze by placing this sheet in the freezer for at least 1 hour. I recommend flash freezing so that the pasta does not freeze together.
5. After this time, place the pasta in the quart size freezer bags (or gallon size if you have a big family). I recommend freezing the pasta in the quantities that you would use for a meal for your family so it's easy to defrost out and use at one time.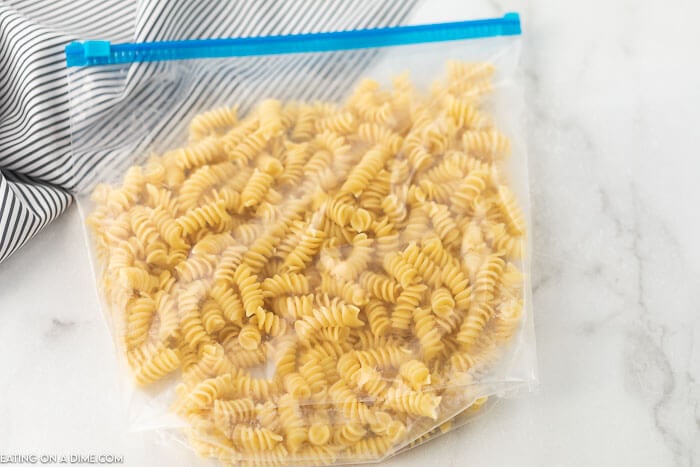 6. Make sure that you label your freezer bag with the date and then freeze. Note: Ensure that you use freezer bags and not storage bags so that your pasta will last longer in the freezer. Also, freezing food in storage bags can cause freezer burn as well.
How do you reheat frozen cooked pasta?
When your pasta is frozen it is now ready to be used for dinner at a later date.
Thaw the pasta overnight in the fridge.
Place pasta in a covered microwave dish. Top with some butter.
Pop it in the microwave on medium for 3-5 minutes until the pasta is heated up.
Enjoy with your dinner.
To use the pasta from frozen, place the frozen pasta in a pan of warm but not boiling water to fully defrost the pasta. Then stir into your pasta dish or heat for 1 minute in the microwave to warm up the pasta.
How do you freeze cooked pasta?
Pasta can also be frozen in casseroles too. I love delicious freezer casseroles that I can cook in just a few minutes in my oven and my family loves these too!
To freeze the pasta in a meat sauce or in a casserole, make sure that the pasta is al la dente, then layer the pasta in an aluminum foil freezer pan.
Make sure that the sauce in your casserole is completely covering the pasta. This will make sure that this pasta doesn't get over cooked later when cooking it in the oven.
Then cover the pan and you're good to freeze. To cook, make sure that you defrost the casserole out overnight in your refrigerator before baking it accordingly to your recipe.

How long is pasta good for in the freezer?
Frozen pasta and frozen casseroles with pasta are good in the freezer for 3-6 months depending on how you store them and your freezer.
Here are a few times to make sure that the pasta lasts as long as possible in your freezer.
Get as much air out of your freezer bag before freezer.
Use containers and bags designed to be frozen not storage containers.
Make sure that your freezer is maintaining a good consistent temperature.
Make sure you download my FREE Freezer guide that tells you want you can freeze, how long it will freeze, and how long it will last.
Print this recipe below:
Print Recipe
How to Freeze Pasta
Did you know that is is easy to learn how to freeze pasta. It doesn't take but an extra 5 minutes of your time and you can have pasta ready for your next meal in minutes.
Instructions
HOW TO FREEZE PASTA:

Cook the pasta to al la dented based on the package instructions.

Drain the pasta and toss the pasta in a small amount of olive oil to keep the pasta from sticking together.

Allow the pasta to cool completely at room temperature.

Flash freeze the pasta by placing the pasta on a baking sheet in a single layer making sure that the pasta does not clump together.

Place the baking sheet in the freezer for at least 1 hour and then move the pasta to freezer bag.  Remove as much air as possible out of the bag, seal and freeze.

HOW TO THAW PASTA:

Thaw the pasta overnight in the fridge. Then place in a microwave safe dish topped with a small amount of butter. Cook on medium for 3-5 minutes until the pasta is heated through.
Recipes with Pasta:
More Freezer Tips: