Instant Pot Shrimp Jambalaya can be ready in minutes for a meal the entire family will go crazy over. It is packed with lots of flavorful shrimp, chicken, sausage and more for an amazing meal.
Instant Pot Shrimp Jambalaya
If you are looking for a really easy recipe that is perfect for busy weeknights, Instant Pot Shrimp Jambalaya is a must try! You can get dinner on the table with hardly any effort at all.
Each bite has so much flavor and really makes this jambalaya the best comfort food. The seasoning is perfect with a little bit of heat but not too much.
The entire family will like this meal and the kids will gobble it up too! I can't wait for you to give this a try.
We recently showed you how to make Instant Pot Jambalaya Recipe and this recipe is just as amazing! It is perfect to eat as it or you can also serve it over rice.
However you decide to eat this delicious meal, it will be amazing! Learn how to freeze rice and make dinner even more quick and simple.
I try to always keep rice in the freezer so I can just reheat and serve. It is much cheaper than those prepackaged servings of rice and so fast and quick.
We do this all the time and it is the best time saver and great on the budget. Another great tip is to add the rice if you need the jambalaya to go further or have unexpected dinner guests show up.
Everyone loves the addition of rice and it is a frugal and tasty way to make the meal go even further if you need it to.
Instant Pot Shrimp Jambalaya Recipe is very simple to make on busy weeknights!
Toss everything into the pressure cooker and dinner will be ready in no time at all. Forgot about dinner? This is your recipe.
I can't tell you the times I didn't take anything out of the freezer or forgot about dinner all together until the last minute. This recipe can get dinner on the table fast so keep it handy!
It is so simple to put together. The only thing you might want to add is some warm bread.
We all love to dip the bread into the jambalaya. Grab some bread from the bakery or make these simple Easy Homemade Dinner Rolls to dip into the Jambalaya.
Yum! Your family will love this Everyone will love this dinner idea.
What all do you need to make Pressure Cooker Shrimp Jambalaya?
chicken breasts
andouille sausage links
shrimp
diced tomatoes
onion
bell pepper
celery
seasonings
chicken broth
Everything comes together for a great meal and the instant pot does all the work!
How do you make Instant Pot Shrimp and Sausage Jambalaya Recipe?
Everything goes into the instant pot except the shrimp. I told you this was easy!
Let it cook for 18 minutes.
Add the shrimp and let saute.
Dinner is ready!
This recipe is really just that easy! Keep reading for the full recipe.
This easy Instant Pot Jambalaya recipe is budget friendly!
You can add rice to stretch the meal. Feel free to adjust the amounts of meat.
I have even just used what was on sale that week at the grocery store or I already had in the freezer. Some weeks that might mean more sausage and less shrimp.
Either way it always turns out perfectly and the family just loves it. Give this a try!
I try to shop when things are on sale and it really helps me to save money on groceries. It is a huge help to our budget.
We have a large family and by shopping this way and cooking based on sales, everyone enjoys delicious meals while I save money.
I have been able to cut our grocery bill by 50% off by following these 8 Tips for for Saving Money on Groceries by Menu Planning!
By saving money on groceries, we are able to put that money toward others things like family trips and more. Easy recipes like this keep my family happy and my grocery budget in good shape.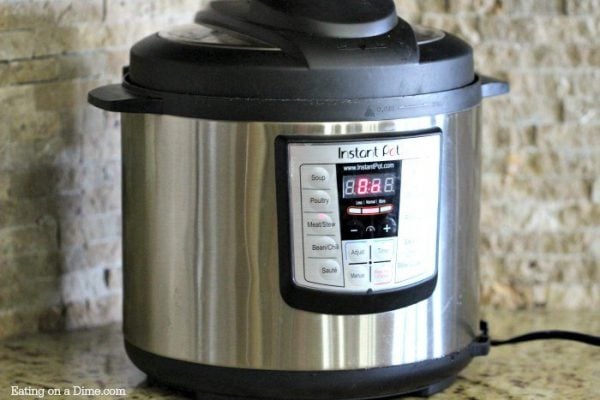 You need a pressure cooker for this Instant Pot Jambalaya Shrimp and Sausage Recipe.
I am using an 8 quart Instant pot but you can use a 6 quart. I personally have an Instant Pot and so far I am loving it.
You can find the Instant pot on sale here. It's really changed dinner time around here.
If you have been putting off trying an instant pot, I highly recommend going ahead and biting the bullet. I love using the pressure cooker when I don't have much time.
It is perfect for frozen food or meals that normally take a while. You can toss everything in and have dinner ready in no time at all.
Those days when you forget to take something out of the freezer or wait until the last minute for dinner, the instant pot is your saving grace.
I am not exaggerating when I say it truly has changed meal time around here. We love ours and it makes soup recipes even easier.
You can also these Instant Pot Accessories to make pressure cooking a breeze.
No worries if you do not have a pressure cooker yet. Try this Slow Cooker Shrimp Jambalaya Recipe.
Time saving tips for Shrimp and Sausage Jambalaya pressure cooker recipe:
This recipe calls for onion and green peppers and you will love this tip. Another time saving tip is to use a small food chopper or food processor to quickly and easily chop onions and peppers.
If you do not have one of these, I highly recommend them. They are such a time saver and you make cooking so fast and easy.
I usually just chop the entire vegetable and freeze what I don't need. It's so nice to be able to just take the diced onion out of the freezer for recipes.
This is how I meal prep. It's so quick and easy and helps get dinner on the table fast.
Learn and how to freeze onions and also how to freeze peppers to save so much time in the kitchen! Lots of the recipes we cook call for onions and peppers so this is such a great time tip that we use frequently.
This Instant Pot Jambalaya healthy recipe is the best!
The diced tomatoes blend perfectly with the creole seasoning, chicken broth and onion bell pepper celery ingredients.
Lots of delicious sausage and shrimp make this meal so hearty and delicious. We love brown rice or white rice with the adnouille sausage and and delicious broth.
Pressure cooking is amazing and we just love it!
Print this Instant Pot Shrimp and Sausage Jambalaya recipe below:
Instant Pot Shrimp and Sausage Jambalaya Recipe
Instant Pot Shrimp Jambalaya can be ready in minutes for a meal everyone will love. It's loaded with lots of flavorful shrimp, chicken, sausage and more.
Ingredients
2

chicken breasts

skinless boneless cut into chunks

1

pound

andouille sausage links

sliced

2

cans diced tomatoes

14.5 oz

1

large onion

chopped

1

red bell pepper

diced

3

stalks celery

sliced

1/4

teaspoon

thyme

1

tablespoon

dried oregano

1

tablespoon

Cajun Seasoning

2

cups

chicken broth

12

oz

bag frozen shrimp

fully cooked, peeled and deveined
Instructions
Combine everything except the shrimp in the Instant Pot.

Add the lid and set the valve to sealing.

Set the pressure to 18 min.

Do a quick release to release the pressure and remove the lid

Stir in the frozen shrimp.

Change the Instant pot Setting to saute and let the shrimp simmer for 5 minutes.

Stir and then serve.
Nutrition Facts
Calories
427
kcal
,
Carbohydrates
10
g
,
Protein
42
g
,
Fat
23
g
,
Saturated Fat
7
g
,
Cholesterol
245
mg
,
Sodium
1231
mg
,
Potassium
942
mg
,
Fiber
2
g
,
Sugar
5
g
,
Vitamin A
1450
IU
,
Vitamin C
43.1
mg
,
Calcium
159
mg
,
Iron
4.5
mg
Instant pot shrimp scampi recipe comes together in only 2 minutes thanks to the pressure cooker!
Learn how to make Instant Pot Beef Gyro Recipe for an easy weeknight dinner. The beef is so tender and the homemade tzatziki sauce make this gyro recipe simply amazing.
Try these other easy jambalaya recipes:
You have to try these delicious instant pot recipe: