This is the best McDonalds pancake recipe and so easy to make. Enjoy these fluffy pancakes at home for the perfect breakfast.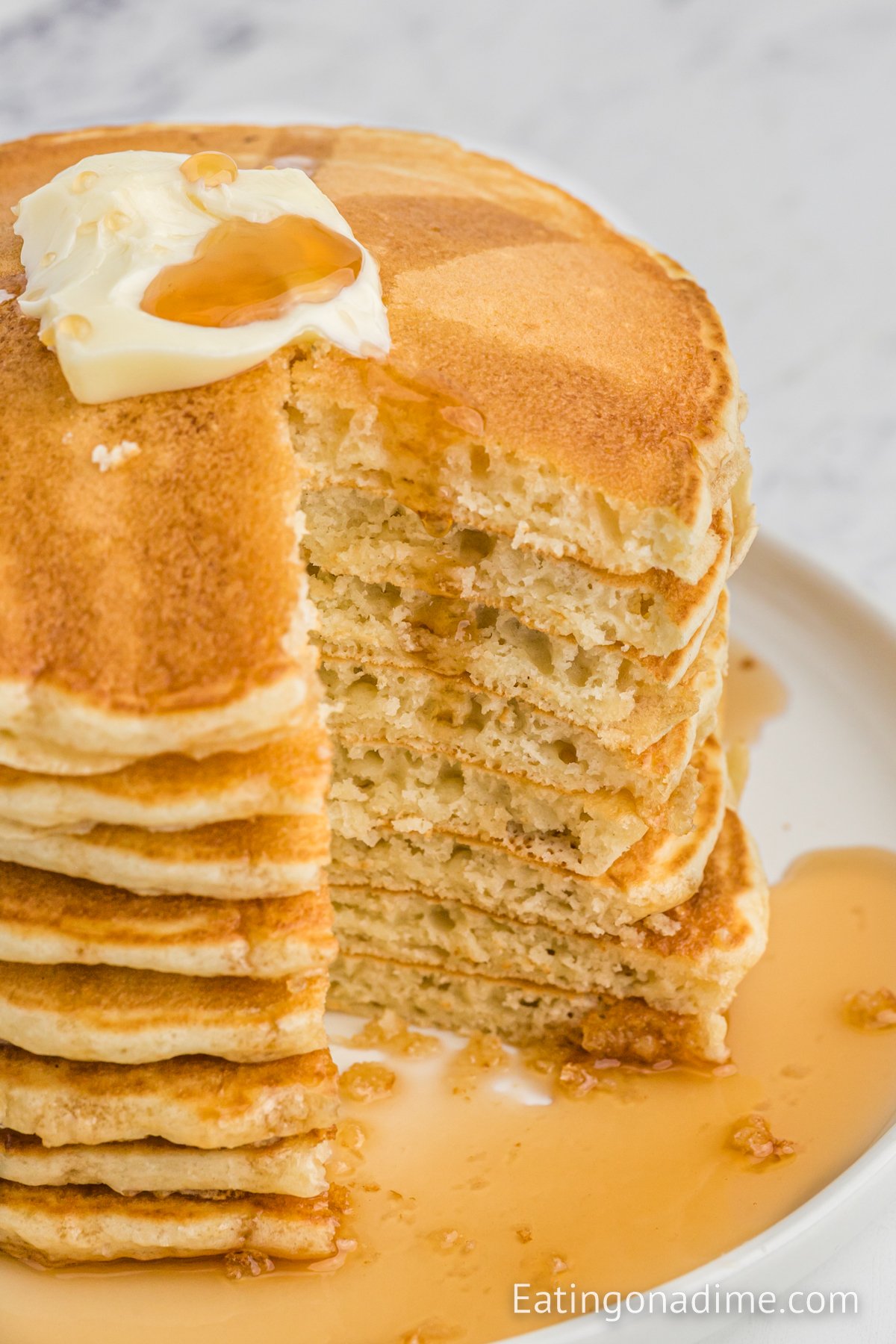 The Best McDonalds pancake recipe
Your family will love these soft and fluffy pancakes. It is very easy to make McDonald pancakes at home using simple ingredients.
Whip these up and be prepared for them to disappear quickly. You might want to make a double batch and freeze some for later.
They are really delicious and so much cheaper then going to the drive-thru. This copycat recipe is more convenient too. Give this McDonalds recipe a try for a delicious breakfast.
Top with syrup and you have the best breakfast. Let's make some pancakes.
Ingredients:
All Purpose Flour
Baking Powder
Salt
Granulated Sugar
Large Eggs
Milk
vegetable Oil
How to make McDonalds pancakes at home:
Combine all the ingredients. Stir all the ingredients together in a large mixing bowl by hand using a wire whisk until just combined. Be careful not to over mix the pancake batter.
Prepare the griddle or frying pan. Preheat a griddle, cast iron skillet or non stick skillet over medium heat. Grease with a non-stick canola oil cooking spray or a small amount of butter.
Pour the batter. Add the batter to the pan in approximately ¼ cups of the batter. Don't overcrowd the pan or griddle.
Cook the pancakes. Cook for 2-3 minutes until small bubbles start to appear at the top of the pancake. Flip the pancake and finish cooking for approximately 2 more minutes until golden brown.
Place the pancakes on a plate. Transfer the pancake to a plate and continue this process until all the batter is used.
Serve warm and enjoy. Then serve warm topped with your favorite pancake toppings and enjoy!
What to serve with pancakes:
Bacon. I love to cook bacon in the oven. This saves so much time and the bacon is crispy and delicious.
Fresh Fruit. Prepare a large bowl of diced fruit that is in season.
Sausage. Pancakes taste great with sausage links, patties or even sausage balls.
Eggs. You can prepare the eggs the way you love best. We like fried or scrambled.
Topping ideas:
Maple Syrup
Flavored Syrup. Try other varieties of syrup. We like bluberry, strawberry and butter pecan.
Butter. Top the warm pancakes with butter and it will melt easily.
Whipped Cream
Powdered Sugar
Sprinkles and Whipped Cream. We love to do this for birthdays.
How to store pancakes:
Leftover pancakes store great! Refrigerate them in an airtight container for up to 5-7 days.
Reheat in the microwave for a quick breakfast. You might want to make a large batch on Sunday and enjoy these during the week. It is so convenient.
How to freeze pancakes:
Place pancakes inside a freezer bag or freezer safe containers for up to 3 months. Make sure to allow the pancakes to cool completely before freezing.
I suggest separating the pancakes with parchment paper. When ready to reheat, just pop in the microwave for a few seconds until heated through.
Learn how to freeze pancakes for even more tips. We do this frequently and it is very convenient during busy seasons.
This copycat recipe is delicious.
The kids thought these pancakes were amazing. Everyone agreed that the pancakes tastes like McDonalds and maybe even better.
They are so light and fluffy. Each bite is very flavorful. Make these today and see how tasty they are.
The entire family will love them. Go ahead and make extra to freeze. They are so delicious and budget friendly.
Enjoy these at home anytime the craving hits. The recipe is easy to prepare and absolutely fabulous.
Print this recipe for McDonalds pancakes:
More Pancake recipes: