One Pot Italian Chicken Pasta Recipe is the perfect one pot meal for busy weeknights. Lots of cheesy goodness combine with tomatoes, meat and more to make the best meal.
One Pot Italian Chicken Pasta Recipe
I love to keep it simple here. In fact, if it isn't simple, then I probably won't do it. I guess I am lazy like that. 😉
Plus in the kitchen, I prefer as little clean up as possible. This dinner is all in one pot
In fact, even the pasta is cooked in the same pot. So, you can't really beat this clean up. Enjoy!
This recipe is so tasty and easy and just all around the best meal. The tomato sauce has just the perfect amount of seasoning and oh my that cheese!
The cheese is melted and so tasty. The ground beef is hearty and delicious with the pasta. Everyone will love this meal!
Cheesy Italian Chicken Recipe is freezer friendly!
This recipe could easily be made into a casserole or for the freezer. Once everything is cooked, just toss it all into a casserole dish.
Top with the cheese and bake until nice and brown. This would be delicious for a potluck dinner!
OR… You could place the cheese on top and then freeze! Now you just made your a delicious dinner for the future!
I love when I can cook once and eat twice. It is so easy and not really anymore work or mess.
You can enjoy this meal later with no effort at all. I'm sure your family will love it as much as we do so go ahead and make one for the freezer.
What can I serve with this Easy Italian Chicken Pasta Recipe?
We normally just toss together a simple and easy side salad. It is light and goes perfect with the pasta plus it is easy.
Another option, add in chopped zucchini to the pasta. We do this a lot to make it a complete meal!
It is also a great way to get the kids to eat more veggies. They don't seem to notice with all of that yummy sauce and melted cheese on top.
Learn how to freeze garlic bread and grab a few slices to enjoy with this meal. Easy and saves money!
We are all about keeping things simple and easy around here.  It is pretty much mandatory.
What do I need to make one pot cheesy italian pasta and chicken?
skinless chicken breasts
onion
red bell pepper
seasonings
diced tomatoes
crushed tomatoes
chicken broth
Red Wine Vinegar
pasta (rotini is our favorite but we also like penne pasta and wheat pasta)
Mozzarella cheese
We love to use a dutch oven for this one pot pasta.
This is the perfect pot for this dinner. We use it for so many different recipes.

How do I make One Pot Cheesy Italian Pasta with Chicken?
In a large skillet, brown your chicken.
Make sure to season your chicken liberally. You want all that yummy flavor.
Now it is time to add the onions, and bell pepper and cook until soft. If you are going to add the optional zucchini, now is when you add it.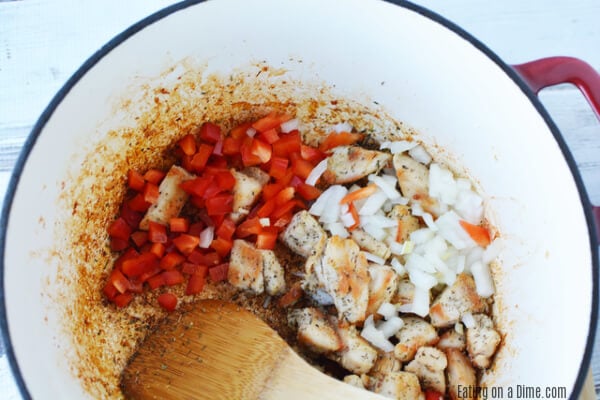 Next, pour in the tomatoes, water, and vinegar.
Add pasta and heat everything to boiling.
Cover and reduce heat. Let simmer and cook pasta until the desired tenderness.
Finally, add all of that cheese to the top of the pasta that makes this recipe even more amazing! Sometimes, we add a little parmesan cheese as well.
You can also try adding heavy cream to this chicken pasta recipe for a change. It will give it a creamy consistency.
We have even substituted marinara sauce once when I was out of crushed tomatoes. This pasta dish is so versatile and super easy!
This is one of our favorite Cheesy Italian pasta recipes!
It is that easy. Enjoy!
Keep reading to get the full recipe.
Tips for Italian chicken pasta dishes:
One of our favorite time saving tips is to use a small food chopper or food processor to quickly and easily chop onions and peppers. If you do not have one of these, I highly recommend them. They are such a time saver and you make cooking so fast and easy.
I usually just chop the entire vegetable and freeze what I don't need. It's so nice to be able to just take the diced onion out of the freezer for recipes.
This is how I meal prep. It's so quick and easy and helps get dinner on the table fast.
Learn and how to freeze onions and also how to freeze peppers to save so much time in the kitchen! Lots of the recipes we cook call for onions and peppers so this is such a great time tip that we use frequently.
You will love having peppers and onions all ready to go! It is quick and easy.
Print this Italian Chicken Pasta recipe below:
One Pot Italian Chicken Pasta
One Pot Italian Chicken Pasta Recipe is the perfect meal for busy weeks. Lots of cheese combine with hearty meat, tomatoes and pasta for the best meal.

Ingredients
3

boneless

skinless chicken breasts cut into chunks or slices

½

onion chopped

½

red bell pepper

chopped

2

teaspoon

minced garlic

1

teaspoon

salt

2

tsp

Italian Seasoning

1

can diced tomatoes

14 oz

1

can crushed tomatoes

2

cups

chicken broth

½

cup

Red Wine Vinegar

16

oz

package of pasta

rotini is our favorite

1

cup

Mozzarella cheese

shredded
Instructions
In a large skillet over med-high heat brown your chicken.

Let is sit for a while and allow it to get very brown (this ads flavor to your sauce)

Season liberally with salt, pepper, Italian seasoning and garlic.

Add onions, and bell pepper and cook until soft. (this is where you add in the zucchini)

Pour in the tomatoes, water, and vinegar.

Add pasta.

Heat to a boiling, then cover and reduce heat to medium-low. Allow to simmer for about 10 minutes or until pasta is cooked through.

Stir in cheese and enjoy!
Recipe Notes
Another option: Add in chopped zucchini, we do this a lot to make it a complete meal!
Nutrition Facts
Calories
525
kcal
,
Carbohydrates
67
g
,
Protein
41
g
,
Fat
9
g
,
Saturated Fat
3
g
,
Cholesterol
87
mg
,
Sodium
861
mg
,
Potassium
1059
mg
,
Fiber
5
g
,
Sugar
7
g
,
Vitamin A
715
IU
,
Vitamin C
27.8
mg
,
Calcium
177
mg
,
Iron
3.6
mg
This Easy Stromboli Recipe will become an instant hit with your family!
Make dinner super easy when you make this delicious Crockpot stuffed shells recipe.
Enjoy stuffed shells recipe with just a little prep work and the results are delicious for another great meal.
Try these other easy one pot pasta recipes: