We have been talking every day about easy lunch ideas for kids. Today I wanted to share with you a favorite of my kids – this turkey and cheese kabob recipe. The kids just love it! It is so fun and very easy to make. I love it because I can make it the night before and store the lunchbox in the fridge making my mornings so much nicer.
You have to agree, that is a plus. 😉
What I included in this lunchbox:
2 Turkey and cheese kabobs (See below on how to make) – they are stacked on top of each other
Fresh fruit – we did Strawberrries
Pretzel crisps (my kids love these!)
Equipment you need for this lunchbox:
We love these easy lunchboxes. We have used a cheaper version in the past, but I have switched to the name brand easy lunchboxes. They do a much better job and they last a lot longer. It is worth the few extra dollars for the name brand that are stronger and will hold up. Trust me! We love them.
You will also need an ice pack for your lunch to keep the turkey and cheese cold.
What you need to make Turkey and Cheese Kabobs:
deli turkey – about 6 thin slices
4 cubed cheese (any kind)
4 cherry tomatoes
1 wooden kabob (or you can use these Wilton sucker sticks for small kids)
How to make Turkey and Cheese Kabob recipe: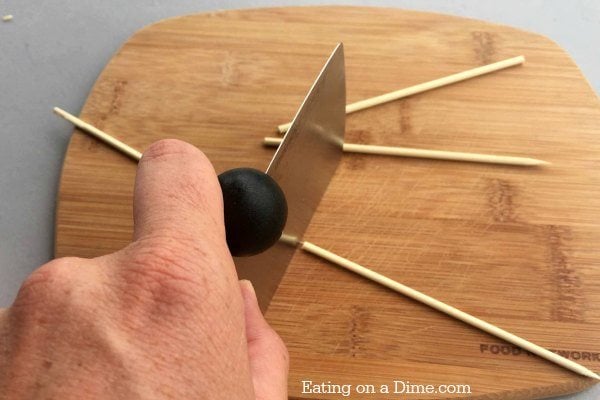 1. Cut your wooden kabob stick sin half. Remember, if you have small children, use these Wilton sucker sticks.
2. Save money and don't buy precut cheese. Instead buy a block of cheese and cut them into cubes yourself. It will save you about 40%!

There is a big mark up on these cubed cheese. We did a marbled cheese but you can do pepper jack, monterrey jack, or cheddar.
3. Take a kabob and put a cherry tomato on the end. Fold up your turkey and slide it on. Then cheese, another turkey, another cheese, a third turkey and then finally a cherry tomato.
So this is our order (to make it easier for you)
cherry tomato
turkey
cheese
turkey
cheese
turkey
cherry tomato
Now if your child doesn't like cherry tomatoes, then you can do this combo:
cheese,
turkey
cheese
turkey
cheese
turkey
cheese
You will need more cheese, but who doesn't love cheese, right? 🙂
4.  Stack them in your lunch with an ice pack to stay cold and you are set!
As you can see, my son loves them! In fact, he asked that next time I add more tomatoes in there. 🙂