This post may contain affiliate links. If you make a purchase through links on our site, we may earn a commission.
The best microwave air fryer combos are the perfect kitchen companion that combines the convenience of a microwave with the versatility of an air fryer.
Whether you want to quickly heat up leftovers or create crispy, healthier versions of your favorite recipes, these innovative appliances offer the best of both worlds, saving you valuable countertop space and time in your kitchen. Anything that makes dinnertime quick and easy is a win for me!
When it comes to choosing the right microwave air fryer combo you'll want to consider power, capacity, and cooking modes to ensure the appliance meets your needs.
In this post, I've taken all of these factors into consideration to bring you my top picks of the best microwave air fryer combos, so you can create fast, healthy meals for your family.
My Top Picks:
Reviews of The Best Microwave Air Fryer Combos
If you're looking for a space-saving, family-friendly, versatile appliance, the Toshiba 8-in-1 multifunctional countertop air fryer microwave combo is a great option at a reasonable price. In addition to the air frying mode, it can bake and broil (and heat foods like a traditional microwave). There are 25 different preset menus, as well as odor-removal and a keep-warm function, allowing this to provide nearly eight different functions in one device.
The energy-saving mode saves 50% of power by switching to standby mode and turns the unit off when not in use, which is great for keeping energy costs down. The only minor downsides to this appliance that I found are that the air fryer requires pre-heating and there isn't a keypad (just a dial).
The Specs:
Size: 20 x 20.5 x 12.8 inches
Capacity: 1 Cubic foot
Watts: 1,000
Cooking modes: Microwave, air fry, convection bake, broil (grill), defrost
Accessories included: 1 turntable, 2 grill racks, 1 grill tray
The Pros:
Multiple functions
Affordable
Energy-saving mode
Bright display panel
Comes with a turntable, grill rack, and grill tray
The Cons:
Air fryer mode requires pre-heat
No keypad (uses a dial instead)
What Others Are Saying
The Toshiba Multifunctional Countertop Microwave with Air Fryer has a 4.5 rating from over 47,885 reviews on Amazon.
Buy the TOSHIBA 8-in-1 Multifunctional Microwave with Air Fryer:
The Toshiba 4-in-1 microwave air fryer combo has a larger capacity than my top pick, so it's ideal for accommodating larger families and for cooking multiple dishes. With 1.5 cubic feet of space, it can make larger foods like a whole chicken or a 12-inch pizza.
Although it doesn't have quite as many features as the Toshiba multifunctional microwave (like the odor removal feature), it has a smart sensor with pre-programmed cooking times for popular foods like baked potatoes (which I love). Pro tip: microwaved potatoes can come out really hot so I suggest using oven mitts! The combination cooking mode is great because it allows you to use the convection and microwave functions at the same time, so you can crisp food while also cooking it quickly.
The Specs:
Size: 21.5 x 21.77 x 12.99 inches
Capacity: 1.5 Cubic feet
Watts: 1,000
Cooking modes: Microwave, air fry, convection, combination cooking
Accessories included: 2 grill racks, 1 grill tray, 1 manual, 1 turntable
The Pros:
Large capacity
User-friendly smart sensors
Eco mode
Child safety lock
Easy-to-clean
The Cons:
No backlight on the control panel
What Others Are Saying
The Toshiba 4-in1 has a 4.4 rating on Amazon out of over 8,000 reviews.
Buy the Toshiba 4-in-1:
The GE 3-in-1 is a great, budget-friendly microwave air fryer combo that's priced anywhere from $50 to $100 less than similar products. With this appliance, you can microwave, air fry, broil, and convection cook to perfection.
The convection feature allows for quick and even cooking, while the sensor controls ensure optimal cooking times, so this microwave is also an exceptional toaster oven. You can choose from a range of preset times for snacks like French fries or nuggets for both fresh and frozen foods.
The Specs:
Size: 16.6 x 20.6 x 11.88 inches
Capacity: 1 Cubic feet
Watts: 1,050
Cooking modes: Air fryer, broiler, convection
Accessories included: 1 stainless crisper pan, 2 wire racks, 1 glass turntable
The Pros:
Budget-friendly
Compact design
Compact size
Easy-to-clean
The Cons:
No manual
No light on touch screen buttons
What Others Are Saying
The GE 3-in-1 Profile has a 4.5-star rating out of 1,700 reviews on Amazon.
Buy the GE 3-in-1 Profile:
This compact microwave and air fryer duo is the perfect option for anyone that has a small kitchen or limited countertop space. It can be used as an air fryer, a microwave, or a convection oven.
The microwave has preheat settings, 11 different power levels, and an auto cook feature. It's easy to clean and easy-to-use and would be a good option for couples, college dorms, or apartment dwellers. It's only .6 cubic feet (versus 1 to 1.5 for the others on this list), so it's a better choice for small foods like appetizers and snacks.
The Specs:
Size: 14.4 x 17.9 x 13.8 inches
Capacity: 0.6 Cubic feet
Watts: 1500 (air fryer) 700 watts (microwave)
Cooking modes: Microwave, air fry, oven
Accessories included: 1 rotating glass tray, 1 air fry basket, 1 bake/drip pan
The Pros:
Smaller size, perfect for smaller spaces
Easy-to-use and clean
Touchpad controls
Child lock
The Cons:
Can't hold large quantities of food
Microwave setting takes longer to heat food compared to traditional microwave
What Others Are Saying
Yahoo Finance awarded The Cuisinart 3-in-1 Microwave Air Fryer the "best design" on their list of the best microwave air fryer combos.
Buy the Cuisinart 3-in-1 Microwave Air Fryer:
Other Microwave Air Fryer Combos We Researched
Sharp 1.1 Over-the-Range Convection Microwave Oven
The Sharp convection microwave oven is the only over-the-range convection oven I could find with solid reviews. It has 8 sensor cook settings and an easy-to-read display on the front. It comes with a high and low rack for baking, roasting, or broiling, plus there's a built-in exhaust system. Compared to the countertop models, it's fairly expensive, however, if you were remodeling your kitchen it might make a good addition. The Sharp 1.1 Over-the-Range Convection Microwave Oven is available at Amazon for $675
The Breville microwave air fryer combo has easy-to-use buttons with shortcut functions and 19 built-in presets. It has 3 different cooking modes: air fryer, convection oven, and microwave. It's much quieter than some other options, and is also quite a bit more expensive, putting this into the high-end category. It also doesn't have a child lock which might be a deciding factor for families. The Breville Combi Wave 3-in-1 is available at Amazon for $499.95
The Galanz is another larger-capacity microwave air fryer combo that would be good for large families. It can hold 1.6 cubic feet which is the largest capacity I came across while doing my research, and it has 3 different cooking modes: microwave, convection oven, and air fryer. Plus, it has an easy-to-use control panel and child lock. The reason it didn't make my top list is because you cannot see through the glass door and some reviews mentioned a disappointing after-sales service. The Galanz 3-in-1 Speedwave is available at Amazon for $239.99
The Panasonic HomeChef 4-in-1 air fryer microwave combo earns high marks from culinary publications, however, it didn't make my top list as it's very expensive. It has similar cooking times as traditional microwaves and has the ability to be countertop or built into cabinets. It has 4 different cooking modes including convection baking, microwave, air fry, and FlashXpress broiler. The Panasonic HomeChef 4-in-1 is available at Amazon for $529.95
Why You Can Trust Us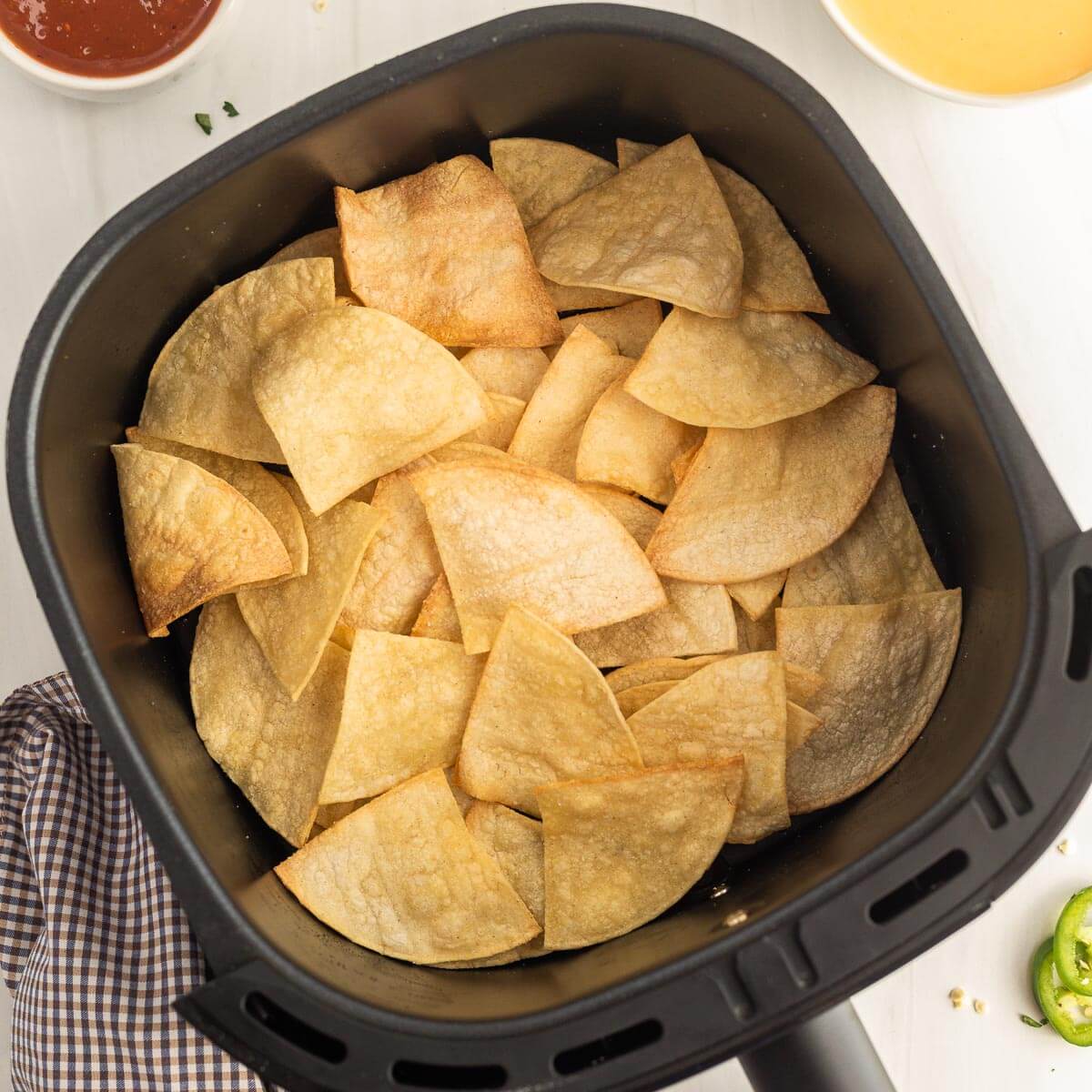 Hi, I'm Carrie, the creator behind Eating on a Dime, mom to 8, and founder of Lazy Day Cooking Club. I've spent the past 25 years cooking for my friends and family at home, allowing me time to hone my skills and master the art of making amazing dinners without complicated recipes. Having a large family means that I've had to learn how to prepare and cook meals for everyone without blowing my budget. My aim now is to help other families achieve the same, so that's why the Lazy Day Cooking Club was born.
I regularly use my air fryer to make quick, convenient, and healthy air fryer recipes for my family, allowing me to get dinner done in less time. I have over 70 family-friendly air fryer recipes on my website, and my recipes have been featured on BuzzFeed, Huffington Post, Business Insider, and Parade!
When it came to choosing the best microwave and air fryer combos, I considered the capacity, the price, and how many unique features each model had. I also took into account what other reviews are saying, since there's nothing better than real-life experience!
What to Know About Microwave Air Fryer Combos
What is a Microwave Air Fryer Combo?
A microwave air fryer is a single kitchen appliance that can function as both a microwave and an air fryer. The microwave function offers quick heating, whilst the air fryer offers versatile cooking functions all in one device. You get the best of both worlds in one appliance, cook and crisp with very little oil or fat usage. An air fryer microwave combo can be used to heat, defrost, bake, fry, roast, and grill food. You get the benefit of that crispy outer layer without the work of actually frying.
Air Fryer vs. Microwave – What's the Difference
An air fryer creates hot air to cook food without oil, so there's no grease is popping and splattering all over! They can also be used to roast or bake food. The convection technology has a heating element and fan system that works by circulating the air to a very high temperature to create a golden crisp for the food. A microwave uses electromagnetic waves to quickly heat or defrost food and beverages. By combining the convection technology of the air fryer with the electromagnetic technology of the microwave you have a gadget that can heat food or beverages quickly, as well as crisp or bake it.
What to Consider Before Buying an Air Fryer Microwave Combo
Brand: To ensure quality stick to well-known brands such as TOSHIBA, Cuisinart, GE, Breville, and Panasonic.
Size: Size is important when it comes to microwave air fryers. Smaller units have around 0.5 cubic feet, whereas larger capacity units have up to 1.5 cubic feet or more. If you have a large family choose the largest you can find to get the most out of the appliance. You'll need a more compact option if you have a smaller kitchen or if you're only cooking for one or two people.
Features: Check to see what additional cooking modes the microwave air fryer includes. The most common are convection baking, toasting, steam cooking, broiling, bake function, dehydrating, bake function, air fry mode, and convection cooking. Also, check what accessories the appliance comes with, like cooking racks or fry baskets.
How Much Does a Microwave Air Fryer Cost?
Microwave air fryers vary in cost depending on what brand you choose and what other functions or accessories the machine has. Just as with traditional over-the-range microwaves, built-in combination microwaves and air fryers are more costly. Higher-end brands, like Breville, will cost more but may be worth it if you're loyal to a particular brand or want a specific look. In general, prices start at around $175 and can reach as much as $700-$800. The average price for a microwave air fryer is approximately $250.
Are Microwave Air Fryer Combos Worth it?
Microwave air fryer combos are worth investing in, especially if you need to save space in your kitchen. They are a great, space-saving, convenient, and versatile two-in-one appliance that can make your kitchen experience more enjoyable. You can air fry just about anything – from snacks like chicken nuggets to dinners like flavorful and juicy steaks. I even air fry desserts like cheesecake, which was a game changer for me!
Do you Need an Air Fryer Microwave Combo?
By investing in an air fryer microwave combo you free up more space on your kitchen counter as the single unit replaces the need for two separate kitchen appliances. A lot of air fryer microwave combos also have other cooking functions including steam cooking, broiling, convection baking, convection cooking, toasting, and dehydration. This makes them a great all-around addition to your kitchen.
A great way to use this type of machine is to heat the food using the microwave function and then finish it off with the air fryer function to crisp up the food. Alternatively, you can cook using the air fryer and finish it off with the microwave function.
Benefits:
Save countertop space
More cooking methods to take advantage of
Higher wattage compared to microwaves
Healthy oil-free cooking
Easy to clean and maintain
Drawbacks:
Smaller in capacity compared to stand-alone air fryers
The array of cooking options can be confusing
Can be expensive
The Air Fryer Recipes for Your Microwave Air Fryer Combo
Cooking with an air fryer is so simple and allows you to quickly prepare snacks or dinner for your family. You can cook a variety of different meals using a microwave air fryer combo including crispy chicken wings, potato chips, fish, roasted vegetables, pork chops, and baked potatoes.
Try one of my Favorite Air Fryer Recipes
My Favorite Microwave Recipes
Prices were accurate at the time of publication.