This post may contain affiliate links. If you make a purchase through links on our site, we may earn a commission.
Have you ever wondered can you freeze cheese? It is effortless to do and saves money. Learn how to freeze cheese in a few simple steps.
Can you freeze cheese?
Yes, you absolutely can freeze cheese. It freezes significantly well and is an uncomplicated way to save money.
I stock up when it is on sale at the grocery store and freeze it for later. If you love this tip, make sure to check out all my favorite ways to save money on groceries.
It is a win all around. You will enjoy saving money and having cheese to use in your freezer.
Which cheese can you freeze?
There are various types of semi hard cheeses that freeze amazingly well. These include: shredded cheese and sliced cheese.
However, a brick of cheese does not freeze properly. It tends to result in a crumbly texture once you try to slice it.
As long as you know the types to use, the results will be successful. It taste absolutely delicious and saves money as well.
What cheese can you not freeze?
Soft cheeses should be avoided. You do not want to use brie, cottage cheese, ricotta cheese, goat cheese, blue cheese and other soft style cheese.
As long as you avoid these types , you should have tremendous success when freezing.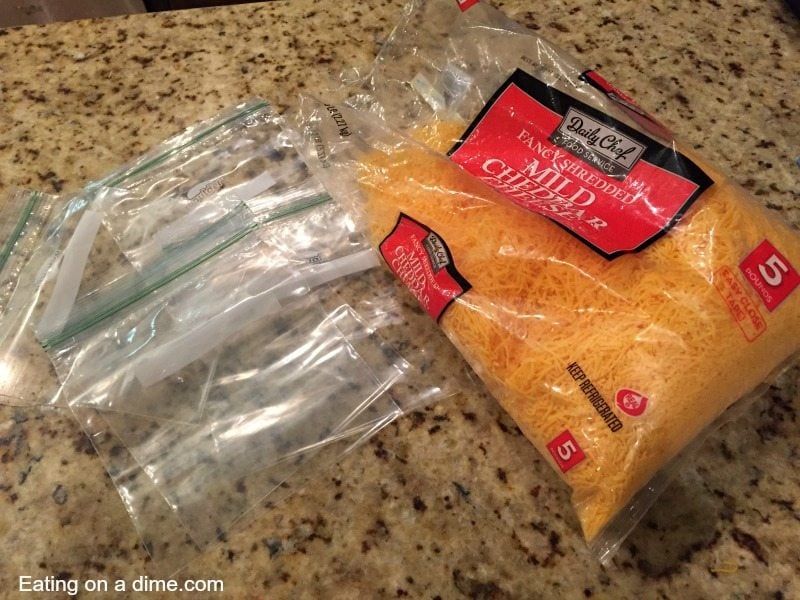 How to freeze cheese:
You will need freezer safe bags or containers to use. Blocks should be shredded prior to freezing.
Also, slices should be separated using parchment paper prior to freezing if not in original packaging.
If you are wondering how long cheese lasts in the freezer, it lasts up to 6 months. Frozen cheeses last a substantial amount of time to use later in recipes.
Can you freeze shredded cheese?
Divide your cheese into freezer baggies. I typically use quart size freezer bags, because that seems to be a sufficient amount for my family.
However, you can use whatever size freezer bags you prefer or have.
Fill up the freezer bags, and try to get as much air out of the bags as possible. Label accordingly and then place in the freezer.
Make sure you label them clearly to properly know the type of cheese.
We love to make this Easy Pizza Cupcakes Recipe and this shredded cheese is perfect for it. The kids go crazy over it and it makes delicious meals for quick lunches and dinners.
You can also make homemade macaroni and cheese with shredded cheese.

When you are ready to use, place in the fridge overnight or let it sit on the counter and in under 30 minutes your cheese is ready to use.
It is effortless to thaw cheese and it tastes wonderful.
Can you freeze cheese slices?
I know many of you prefer sliced American cheese. I also like to have sliced cheese in my freezer so I can make my yummy cheese sauce for my homemade pretzel bites or grilled cheese sandwiches.
Sliced types turns out absolutely fabulous. Just place them in the freezer in the original packaging it came in. You can also wrap securely in plastic wrap or heavy duty aluminum foil prior to putting in the freezer bag.
Allow the cheese to thaw overnight in the fridge once you need American Cheese slices.
Can you freeze a brick of cheese?
I do not recommend freezing blocks. It is the one type I do not recommend to freeze.
I have tried in the past. However, when I thawed it and tried to slice it, it just crumbled. It also tends to crumble if grating so I would not utilize this type when freezing.
The taste is the same, but if you are wanting to slice it, I think you will be sorely disappointed. The texture isn't the same frozen.
Print the instructions on how to freeze cheese here: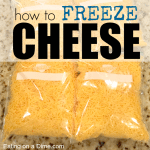 Print Recipe
Can you Freeze Cheese?
Can you freeze cheese? Yes! Learn how to freeze cheese with these simple steps. Plus freezing cheese can help you save money.
Ingredients
Instructions
Divide the cheese into freezer bags based on how much cheese you need at a time.

Get as much air out as the freezer bags as possible.

Label the bag and then freeze for up to 6 months.
Notes
You can also freeze cheese slice.  Wrap the original package in plastic wrap or foil.  Then place them in a freezer bag, get as much air as possible and freeze for up to 3 months.  
Defrost out overnight in the refrigerator and then it's ready to enjoy! 
More Freezer Tips