Have you ever wondered can you freeze cheese? It is simple to do and saves money. Learn how to freeze cheese.
Can you freeze cheese?
I am asked often – Can you freeze cheese? The answer is simple – yes!
Cheese freezes great and freezing cheese is an easy way to save money. I stock up on it when it is cheap and freeze it.
It is a win all around. You will loving saving money and having cheese to use in your freezer.
If you head to Sam's or another big warehouse store you will find the BIG bags of shredded cheese for as low as $11.30. Now, when I say BIG I mean they are 5 lbs of shredded cheese.
We love cheese, but that is a big bag!

That means that you are paying $2.26 per pound of cheese.
However, the small packages you normally buy at Crest, Walmart, or Homeland are just the 8 0z size (which is a half of a pound). So… if we did the math our 8 oz packages of cheese would cost us just $1.13!
This is a GREAT deal, because cheese doesn't get that cheap very often. In fact, a sale can mean paying $2 or $1.50 per package.
That means we are saving at least $.40 or more buy buying it in bulk. If you use a lot of cheese like we do, it really adds up fast.
We have been able to get shredded cheese for $1, but not often enough for my cheese loving family.

By stocking up and freezing it we are saving my family without clipping a coupon.
Which cheese can you freeze?
Types of cheese that freeze well include shredded cheese and sliced cheese. However, a brick of cheese does not.
It tends to crumble when you try to slice the frozen cheese.
So… Let's talk about how to freeze cheese.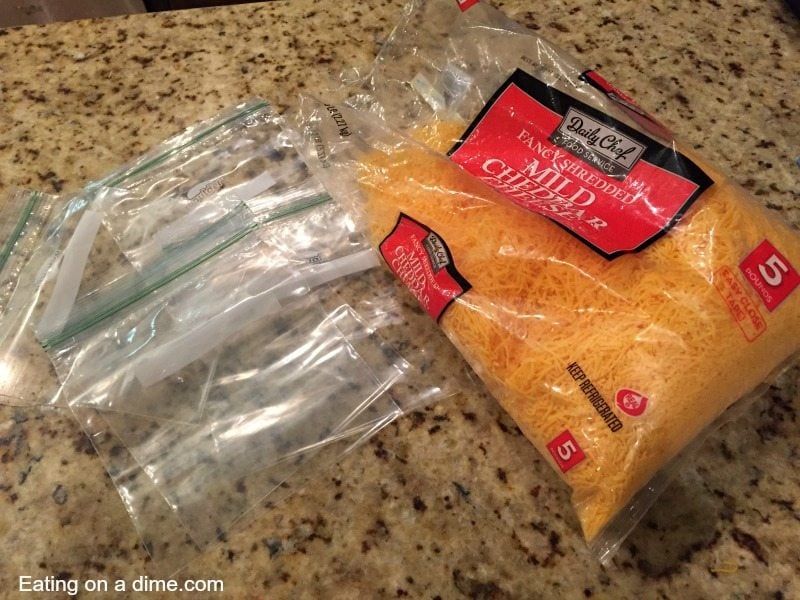 Can you freeze shredded cheese?
All you need to do is divide your cheese into freezer baggies. I tend to use quart size freezer bags, because that seems to be a good amount for my family.
However, you can use whatever size freezer bags you want.
Fill up all your freezer bags, and try to get as much air out of the bags. Label and then place in the freezer.
Make sure you label them clearly. I didn't label them once, and I grabbed a bag of Monterrey jack cheese instead of mozzarella cheese.
That made for some very "interesting" pizza. Haha!
We love to make this Easy Pizza Cupcakes Recipe and this shredded cheese is perfect for it. The kids go crazy over it and it makes delicious meals for quick lunches and dinners.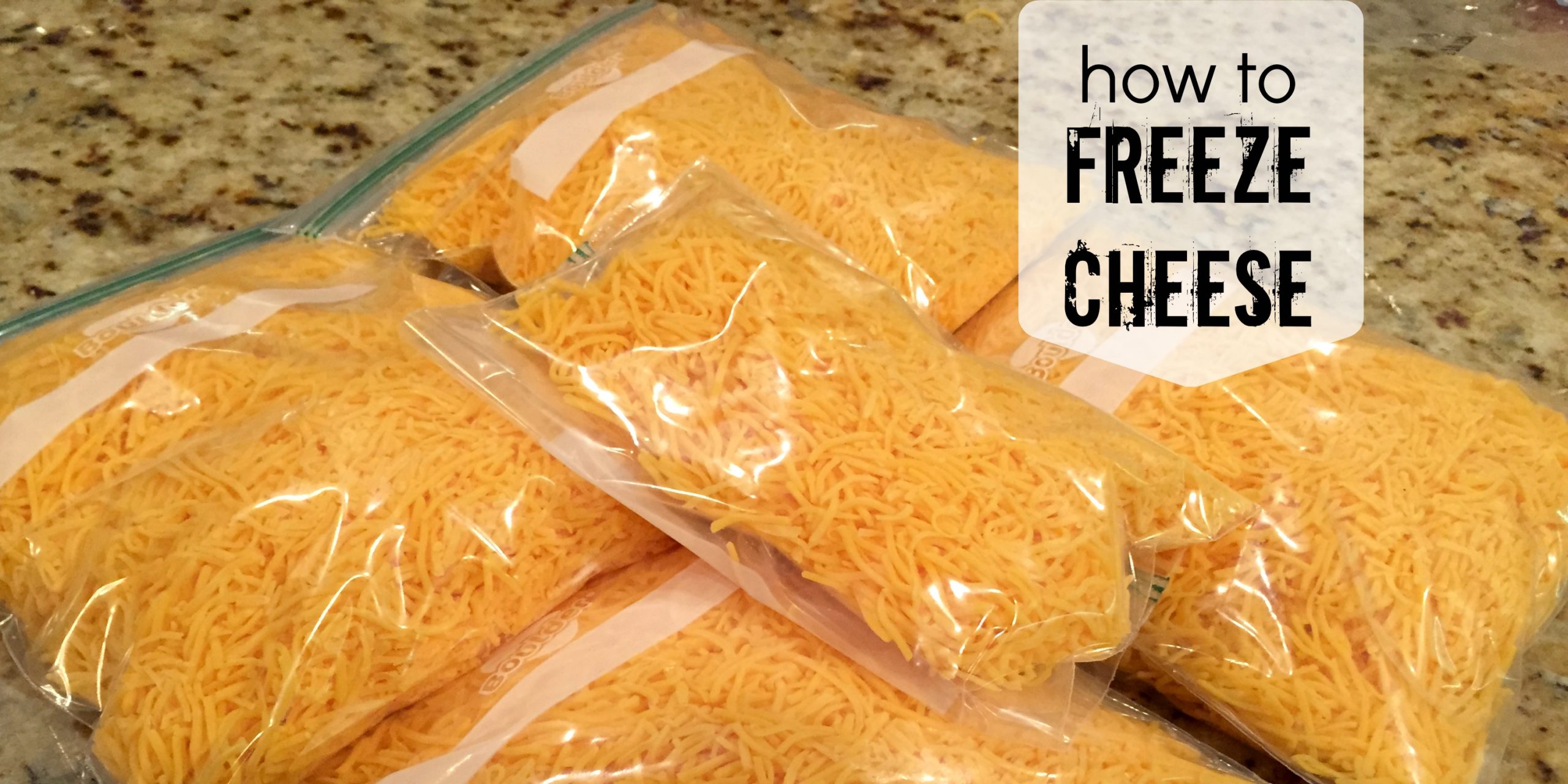 In the end, you have shredded cheese ready to eat. Once frozen, when you need a bag of shredded cheese, place in the fridge overnight or let it sit on the counter and in under 30 minutes your cheese is ready to use.
It is easy to thaw cheese. You will save a bunch of money when you start freezing cheese.
Can you freeze cheese slices?
I know many of you like sliced American cheese. I know I like to have sliced cheese in my freezer so I can make my yummy cheese sauce for my homemade pretzel bites.
Sliced cheese freezes great. Just place them in the freezer in the package it came in or wrap tightly in plastic wrap, heavy duty aluminum foil before putting in freezer bag.
Allow them to thaw overnight in the fridge once you need some American Cheese. Easy!
Can I freeze a brick of cheese?
I do not recommend freezing block cheese. Block cheese is the one kind of cheese, I don't recommend to freeze.
I have tried in the past, but when I thaw it and I try to slice it, it just crumbles. It also tends to crumble if grating cheeses.
The taste is the same, but if you are wanting to slice it, I think you will be disappointed.
How long can you keep cheese in the freezer?
As a general rule, you don't want to keep cheese in the freezer longer than 6 months. Keep in mind it is better to freeze semi hard cheese instead and not to freeze soft cheeses.
Learn how to freeze cheese for big savings!
Once you start freezing cheese, you will see how simple and easy it is. Whenever I find cheese on sale, I stock up.
I know it will not go to waste since I can easily freeze it. Our family can enjoy cheese for lots of different recipes whenever we want.
This is a huge help in our grocery budget. I often just use what I already have in the freezer.
Your grocery budget will greatly benefit from this tip. By cooking like this, it really helps me to save money on groceries.
It is a huge help to our budget. Little things really add up to big savings especially if you have a large family like we do.
I have been able to cut our grocery bill by 50% off by following these 8 Tips for Saving Money on Groceries by Menu Planning!
It is possible to get the budget under control and still keep everyone happy and fed. We try to always make meals that are easy, simple and frugal.
Saving money by freezing cheese adds up and helps keep the grocery budget low. Every little bit helps and adds up to be savings over time. Yeah!
Get started today!
What easy recipes can I make once I learn how to freeze cheese?
Make sure you read some of my other freezer cooking tips: