Learn how to freeze eggs perfectly every time. It is super easy and you can enjoy them for lots of different recipes. We are going to show you the best way to freeze eggs.
How to freeze eggs
Yes, you ready that correctly! We are talking about freezing eggs today. 🙂 It is very simple and you will be so glad you started doing this!
Did you know that you can freeze eggs? In fact, it is much easier than you may think.
Today we are going to talk about how to freeze eggs… without ruining them. 😉 Because if you just place them in the freezer, you will not get delicious eggs like you had hoped.
How long do eggs freeze?
Believe it or not, eggs can be stored in the freezer perfectly well under certain conditions for up to 9 months – yes, you read that right – up to 9 months.
Never freeze eggs in their shells!
I accidentally froze some eggs whole in their shells (long story from sleepless nights of newborn twins ;)) and it didn't go well. In fact, they cracked and the eggs were ruined. Talk about throwing money away!
What all do you need?
Just eggs and salt!
How to freeze eggs?
It is so simple. You have a couple of options so just keep reading….
How to freeze scrambled eggs:
1. Crack your eggs and scramble the yolks and the egg whites together. Then you can freeze them into freezer bags.
Some people even freeze one scrambled eggs into ice cube treys. Then once frozen you can place them in a freezer bag, so you can pull out only the amount you need.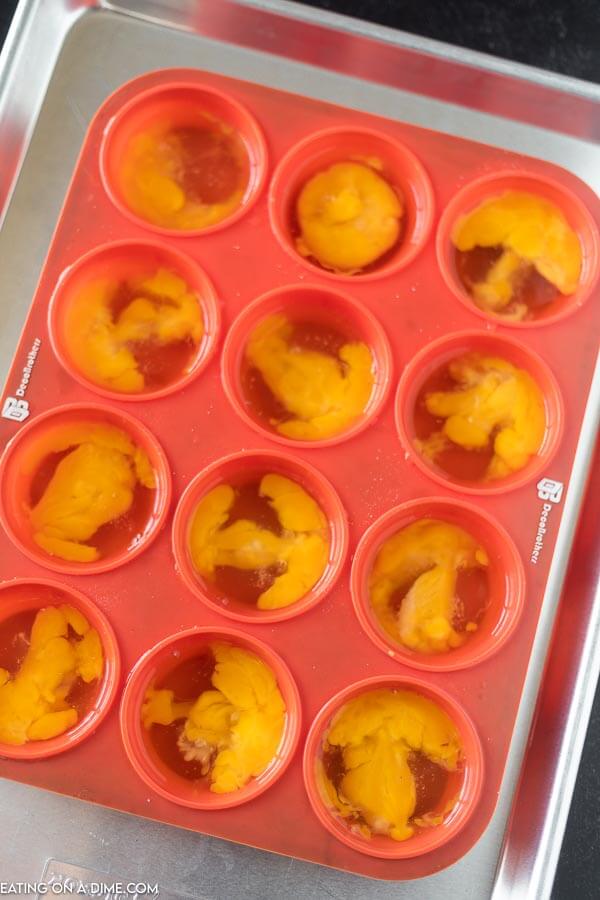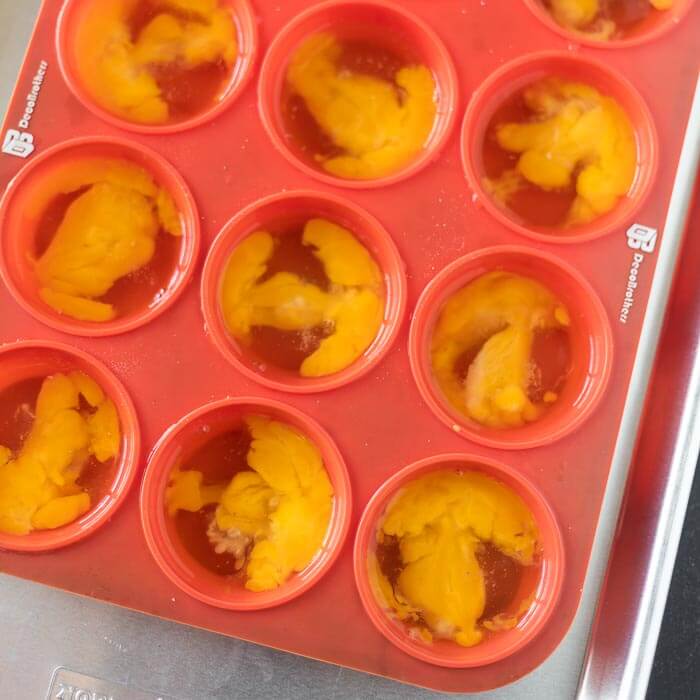 My Personal favorite way is to freeze one egg in the an ice cube tray. Once frozen, just place them in a freezer bag. Then if you are making cupcakes and need three eggs, you know exactly how many you have. 🙂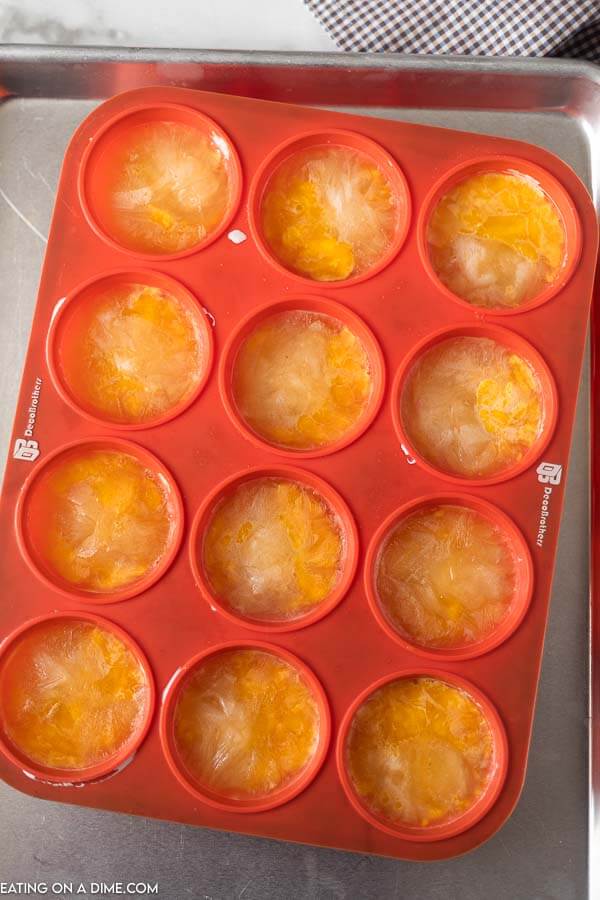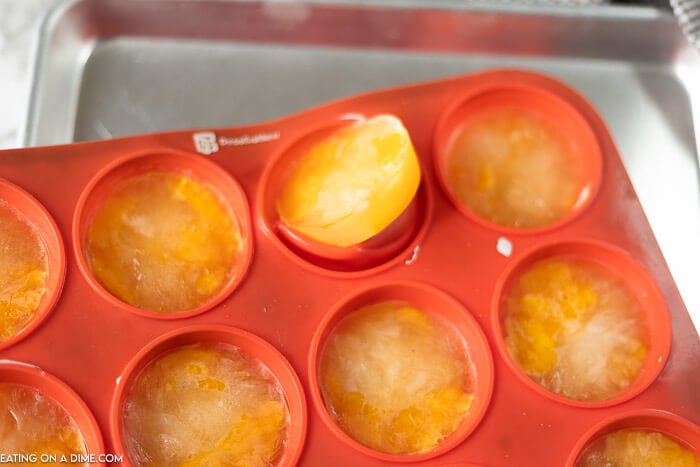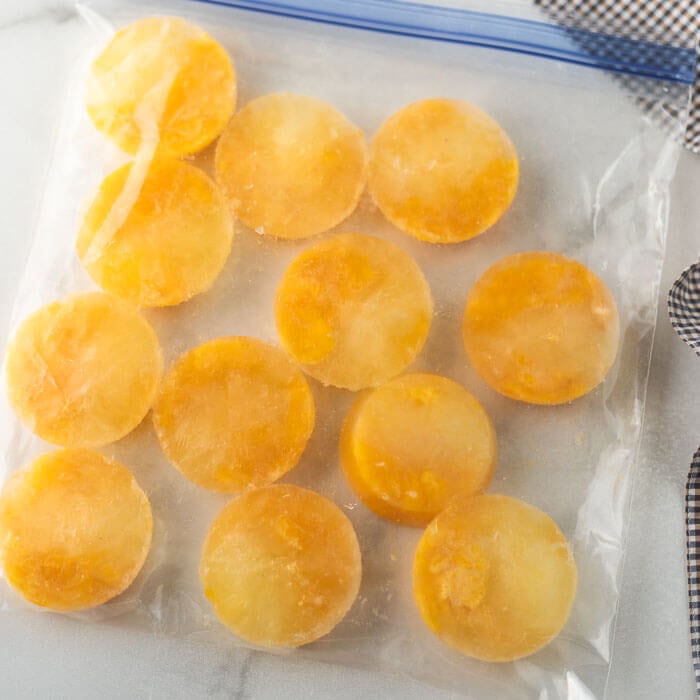 It is that easy!
From scrambled eggs to baking, you will love having eggs in the freezer to use.
We love to use a muffin tin to make this easy. It really is so handy having chicken eggs ready to be used for baked goods and more. Once you try it, you see what a great idea it is.
Can you freeze eggs that are cooked?
Yes, you can definitely do this after they are cooked. You can scramble them and freeze.
We like to freeze them in a prepared breakfast casserole, or freeze them in egg sandwiches and breakfast burritos.
Can you freeze egg whites?
Yes and it is so simple. I prefer to freeze them in ice trays and just pull them out when I am cooking a recipe that calls for egg white.
How to freeze hard boiled eggs:
Hard boiled eggs can be placed in a ziploc bag. I will say that this is my least favorite method. This is because the white portion can because a bit rubbery tasting from being frozen.
How do you used frozen uncooked eggs?
If you decide to use uncooked eggs, you can later cook them very easily. You just thaw in the refrigerator and use like your normally would – make scrambled eggs, an egg casserole or use in your favorite baking recipe. It really is that easy!
So… next time you see an awesome price – stock up!
Try some of our favorite recipes with egg:
We have another easy freezer tip: you can freeze tortillas!
Stock up and freeze eggs!
The next time you spot a great deal but don't know if you can use them all, freeze them! I love to do this especially around Easter when prices are so low at the grocery store.
Stock up when they are on sale and put them in the freezer.
By shopping when things are on sale I save money on groceries and it really helps our budget. Saving money and feeding a big family can be accomplished.
I cut our grocery bill by 50% off by following these 8 Tips for for Saving Money on Groceries by Menu Planning!
It is so easy to freeze them and does not take much time at all. Little things like this add up to big savings in your budget.
Every little bit helps. Plus, it saves time too.
Try it today and let us know how it turns out for you. I think you will love having them to use for all your recipes or just for breakfast. 🙂
We are all about doing things that save us time and money! If you have any tips for us, please share!
Find more freezer tips here.
Print the instructions on how to freeze eggs below:
How to Freeze Eggs
Learn how to freeze eggs without ruining. Here are easy tips to help you freeze eggs, so you can stock up and save money when eggs go on sale.
Instructions
Please each egg in a muffin tin of a silicon muffin tin.

Lightly scramble the eggs and top a small amount of salt in each muffin tin.

Place the muffin tin on a baking sheet and place this in the freezer for 4-6 hours until the eggs are frozen.

Then remove the eggs from the silicon muffin tin.  Place in a freezer safe bag, remove as much air as possible and store in the freezer for up to 1 year.

Defrost the eggs out completely in the refrigerator before use.
Notes
Freezing eggs is a great way to save eggs to be used to scramble, make egg casseroles or use in baking recipes! 
Nutrition
Calories:
63
kcal
|
Carbohydrates:
1
g
|
Protein:
6
g
|
Fat:
4
g
|
Saturated Fat:
1
g
|
Cholesterol:
164
mg
|
Sodium:
256
mg
|
Potassium:
61
mg
|
Sugar:
1
g
|
Vitamin A:
238
IU
|
Calcium:
25
mg
|
Iron:
1
mg
Try these other easy freezer cooking tips: