This post may contain affiliate links. If you make a purchase through links on our site, we may earn a commission.
Mornings can be so hectic but not with these overnight breakfast casseroles! From savory to sweet, there is something for everyone. Make these yummy breakfast recipes the night before and bake and enjoy the next morning.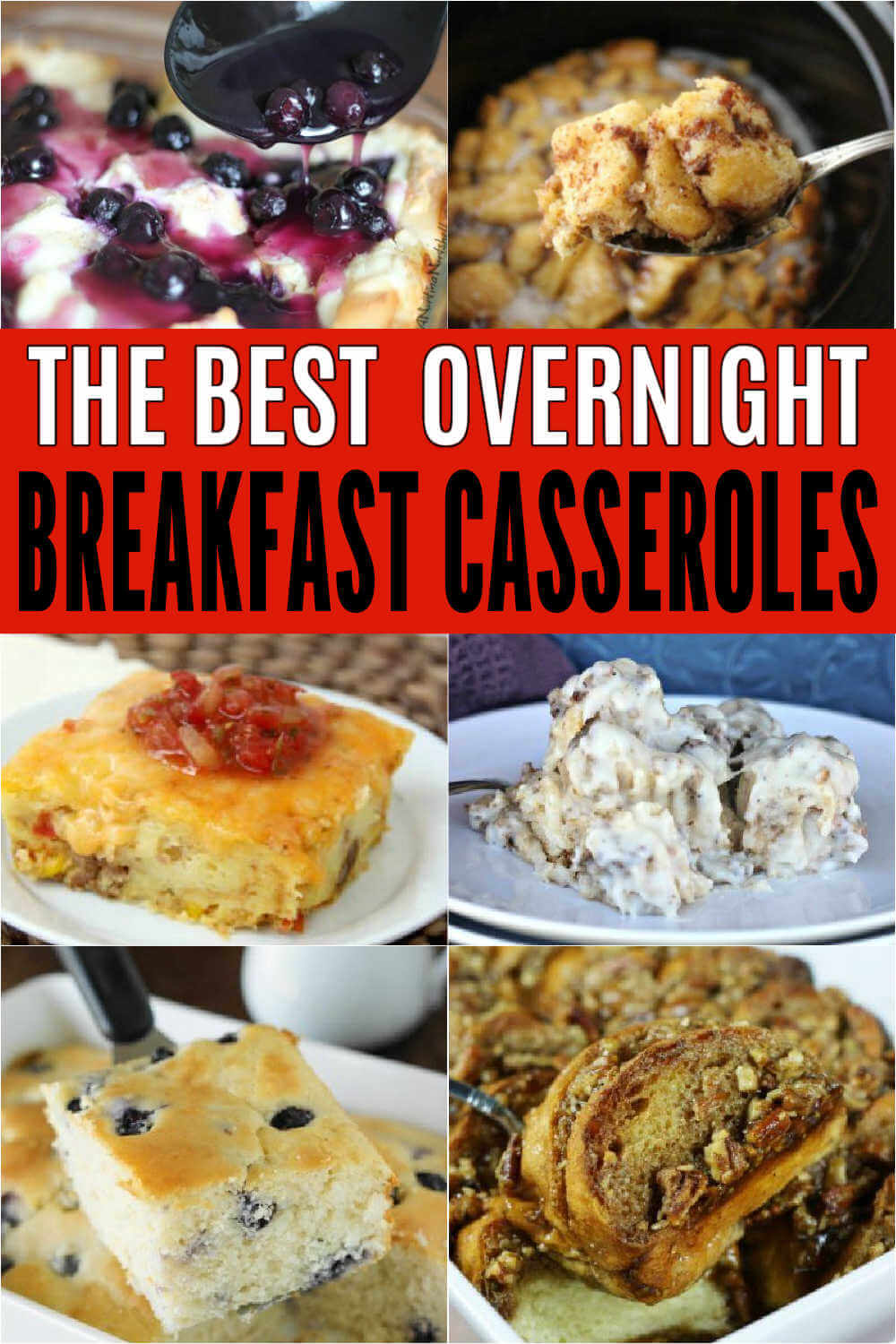 Overnight Breakfast Casseroles
Breakfast just got a lot easier thanks to these easy make ahead recipe ideas. Our family loves breakfast casseroles and everyone gets really excited when they are on the menu.
These are also good for brunch! Add a side of fruit or this tropical fruit salad and you have a great meal.
A few of these even use the slow cooker if you prefer that option. If you need a new one, there are several on sale here.
Let's get started with these delicious and easy time saving recipes your family will love.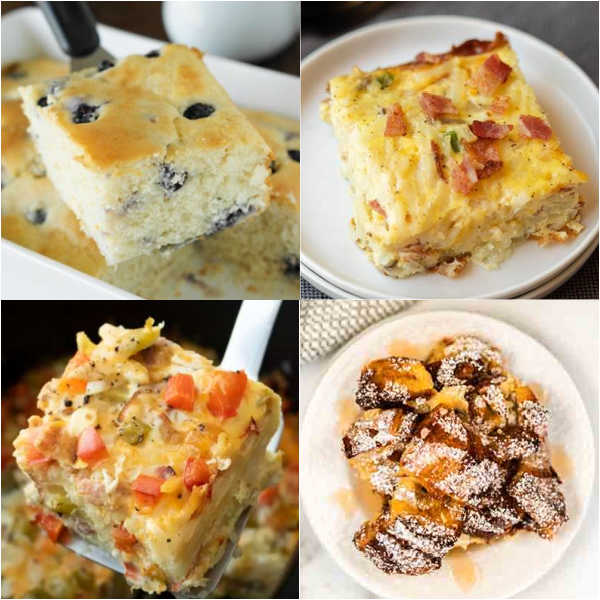 What do you need:
Don't forget about the pans! Sometimes when life is especially crazy, I buy disposable 9×13 pans which make clean up a breeze. These are also great if you are taking a casserole to a new mom or friend that could use a kind gesture.
One of my favorites is this glass casserole baking dish with lid. It's perfect for traveling and keeping everything together.
Or maybe you are entertaining and could use some beautiful casserole dishes. I saw so many gorgeous ones on Amazon in all shapes and sizes.
Try these Overnight breakfast casserole recipes:
1. Overnight Praline French Toast
This decadent French toast with praline topping is so easy when you assemble it ahead of time. It's the perfect overnight breakfast casserole with brown sugar and pecans. Get the recipe here.
2. Bacon Egg and Cheese Breakfast Casserole
This simple casserole here is easy to throw together and a filling breakfast idea. The bacon and eggs are so tasty and the cheese makes it even better.
3. Breakfast Casserole with Crescents
Sausage and eggs come together for a yummy casserole made even better with crescent rolls! The recipe here is just so light and flaky.
4. Mexican Sausage and Cornbread Strata
This is an easy breakfast casserole that can be made the night before. The cornbread adds a new taste to an old classic here and goes perfectly with the Mexican sausage.
5. French Toast Casserole
The recipe here is simple enough for busy mornings but so delicious that you will want to serve it to guests. The flavors are amazing and it's even better with syrup drizzled over it with a sprinkling of powdered sugar. Yum!
6. Overnight Sausage, Egg and Hashbrown Casserole
This casserole has all the best breakfast ingredients in one dish! Prepare it the night before and use store bought hash browns to have this ready in a snap. See the recipe here.
7. Meatlovers Breakfast Casserole
Bacon and Smoked Sausage combine for a meat lovers dream! The eggs, potatoes and cheese make it even more filling! Try the recipe here that can feed a crowd and leave everyone satisfied.
8. Homemade Potato Breakfast Bake
Don't let this potato bake fool you, it's full of bacon, pepperoni, cheese and more! So yummy and definitely a crowd pleaser. Find the recipe here.
9. Easy Crock Pot Pumpkin Cinnamon Roll Casserole Recipe
This crock pot pumpkin cinnamon roll casserole here is amazing and perfect for any brunch, holiday, or even dessert. The ingredients are simple but the flavor is amazing.
10. Sausage Breakfast Pie
You will need to make double so you can freeze one for busy mornings! This yummy breakfast pie here is good anytime of the day with lots of sausage, cheese and hashbrowns.
11. Pork Sausage Casserole
The entire family will enjoy the recipe here that is packed with sausage, mushrooms and more for an amazing combination. This is so good that everyone will ask for the recipe.
12. Easy Cheesy Potato Casserole Recipe
Try the perfect potato casserole here that is so easy with frozen hash browns for breakfast or brunch. Tons of cheese, creamy potatoes and more combine for the absolute best recipe. Top with green onion if you prefer.
13. Sweet Potato Breakfast Casserole
The sweet potatoes in this casserole give it a unique flavor that is so tasty! The recipe here combines well with the coconut milk, sausage and more.
14. Easy Biscuits and Gravy Casserole
This easy casserole comes together quickly and is a filling meal all in one dish with sausage, gravy and more! It will be a huge hit anytime you make it and clean up is a breeze! Find the recipe here.
15. Fluffy Baked Blueberry Pancakes Casserole
If you need to feed a crowd and don't have time to stand over the stove making tons of pancakes, this is the recipe for you! This baked version of blueberry pancakes here is so light and fluffy and the blueberries add a burst of color.
16. Copcat Cracker Barrel Hashbrown Casserole
If you love Cracker Barrel's hasbrown casserole, you have to the recipe here. You will love being able to have this cheesy goodness at home.
17. Crock Pot Cinnamon Roll Casserole
This tasty casserole here is amazing and perfect for breakfast any day of the week. The ingredients are simple but the flavors are amazing. Enjoy your cinnamon rolls without being stuck in the kitchen.
18. Slow Cooker Breakfast Casserole
You won't have to stay in the kitchen with this easy crock pot recipe here. Throw together all the yummy eggs, potatoes, bacon and more to have breakfast waiting on you!
19. Hasbrown Casserole with Bacon and Cheese
Hashbrown Casserole will leave everyone ready to start their day! The recipe here is packed with sausage, egg and cheese for a filling meal. Serve with a side of fruit and you are set.
20. Overnight Baked Blueberry French Toast
Baguettes cut into little pieces make the base of this french toast here so hearty and delicious. The filling and topping has lots of blueberries, cream cheese and more for an amazing dish!
Let us know what you plan to try!
Overnight breakfast casseroles with bread make such an easy breakfast idea that you can refrigerate overnight and just pop it in the oven. These are perfect for your family, overnight guests, Christmas morning and more.
You might also like these breakfast recipes: