Start their Birthday off right with these Birthday Breakfast Ideas. Make their Birthday special by adding sprinkles to make rainbow waffles to making easy donuts.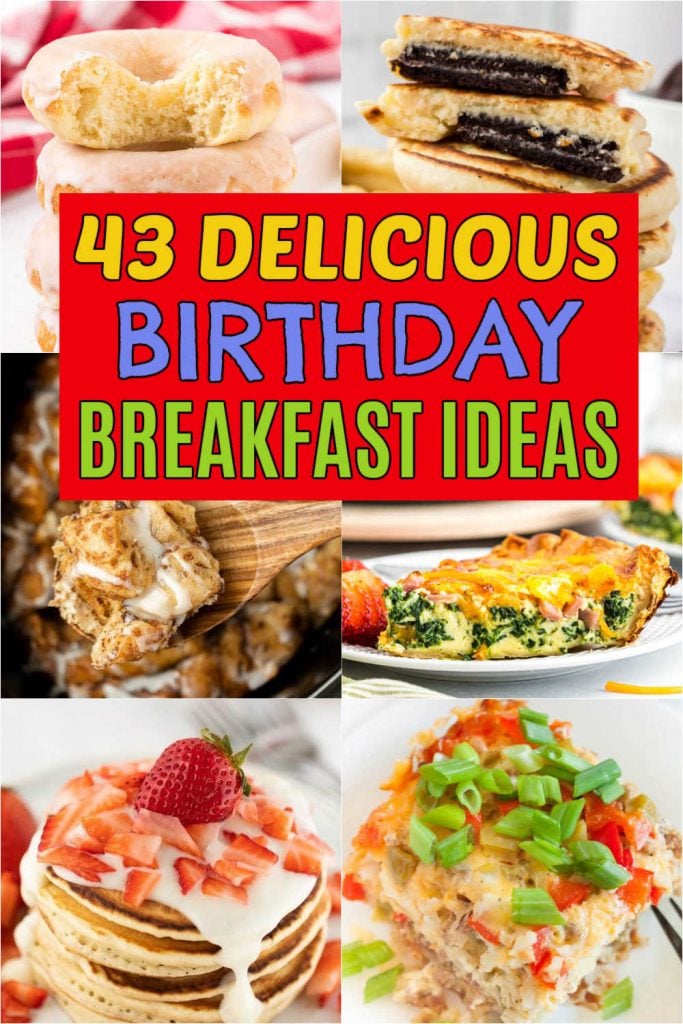 Best Birthday Breakfast Ideas:
We love to make Birthdays memorable by making a special breakfast for the birthday person. Sometimes it is as simple as putting whipped cream on their pancakes or putting a candle in their pop tart.
We really have fun with the presentation of their special breakfast. It gets served in bed with a special tray. My kids love when their birthday comes around because they know they will start their day with a special breakfast.
These Birthday Breakfast Recipes can be made for a family breakfast or even throwing a Birthday party by serving breakfast foods. When it is your birthday, we say start your day with Cake Mix Pancakes with sprinkles.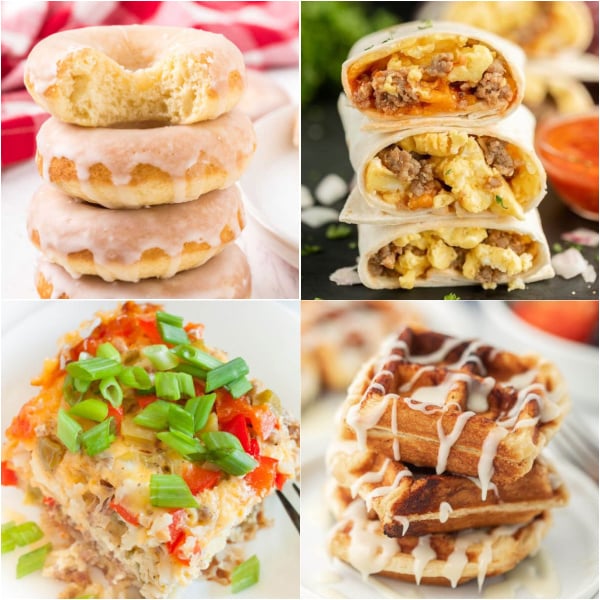 Table of Contents
Birthday Breakfast Recipes:
Here are 43 Birthday Breakfast Ideas that are sure to please your family. You can make strawberry shortcake, muffins, homemade cinnamon rolls or egg casserole. Most of the time my kids want homemade pancakes with chocolate chips and whipped cream.
You might also like 37 Easy Sweet Breakfast Recipes.
1. Mini Donut Muffins Recipe:
Mini Donut muffins are the kids favorite. Easy to make with simple ingredients.
2. Glazed Baked Donuts:
These baked donuts are made completely from scratch. Skip the local donut shop and make homemade.
3. Cake Mix Waffles:
These cake mix waffles taste like cake batter topped with whipped cream.
4. Oreo Pancakes:
Oreos Pancakes make the ultimate Birthday Breakfast.
5. Easy Sausage and Egg Breakfast Casserole Recipe:
This Breakfast Casserole is my favorite. I love to serve it with a side of fresh fruit.
6. Blueberry Pancakes:
Light and fluffy pancakes made with fresh blueberries.
7. The Best Monkey Bread Recipe – Cinnamon Pull Apart Bread:
Add simple pantry ingredients to your canned biscuit to make an amazing breakfast.
8. Breakfast Pizza:
Add your favorite breakfast toppings to pizza dough to make an easy breakfast pizza.
9. Strawberry Pancakes with Cream Cheese Glaze:
Strawberries are so delicious and a family favorite. The flavor the fruit gives these pancakes is delicious.
10. Gluten Free Pancakes Recipe:
If you are on a Gluten Free Diet but are missing pancakes. Now you can make pancakes gluten free with this recipe.
11. Easy Breakfast Egg Muffins Recipe:
Instead of serving pancakes and cereal for breakfast, makes these easy egg muffins.
12. Greek Yogurt Pancakes:
Top these healthy Greek yogurt pancakes with real maple syrup for an easy breakfast idea.
13. Crockpot Breakfast Casserole:
Use your slow cooker to make an easy breakfast casserole.
14. Baked Pancakes:
If you are having a busy morning, these bake pancakes. We think birthday cake and pancakes go together.
15. Pumpkin Pancakes:
If you love pumpkin as much as my family, these pumpkin pancakes are a must.
16. Easy Freezer Breakfast Burritos Recipe:
Make your Birthday even easier with these Breakfast Burritos.
17. Easy Quiche Recipe:
You only need a few ingredients to make this tasty quiche and it is perfect for busy mornings.
18. Baked Pumpkin Pancakes:
These pancakes are full of pumpkin flavor and are easy to make.
19. Bacon Egg and Cheese Breakfast Casserole:
This delicious casserole is one of those easy breakfasts that you can just throw it all together without having to do a lot of thinking first thing in the morning.
20. Homemade Pancake and Waffle Mix:
Mix up your Pancake and Waffle Mix the night before so it is ready for your birthday breakfast.
21. Gluten Free Waffle Recipe:
These Gluten Free Waffles taste amazing and are also dairy free.
22. Cinnamon Roll Waffles:
Open up a can of cinnamon rolls and let the waffle maker do all the work.
23. Fluffy Keto Waffles Recipe:
Tasty, light and fluffy Keto Waffles make the best Birthday Breakfast.
24. Pumpkin Cinnamon Rolls:
Homemade Pumpkin Cinnamon Rolls are made from scratch. Perfect breakfast to make ahead of time.
25. Mini Cinnamon Roll Bites:
These mini cinnamon roll are the perfect bite size breakfast. We always serve with a side of bacon on fresh fruit.
26. Homemade Cinnamon Rolls:
If you are looking for the perfect Homemade Cinnamon Roll Recipe, this is the one.
27. Crock Pot Cinnamon Roll Casserole:
Make you life easier and make Cinnamon Rolls Casserole in the slow cooker. This makes the perfect Birthday breakfast idea.
28. Cinnamon Roll French Toast Casserole Recipe:
All of the delicious flavors of cinnamon rolls combine with the fun taste of french toast.
29. Cinnamon Roll Cake Recipe:
I make this for my dads birthday every year. He has it with a side of ice cream.
30. Chocolate Chip Mini Muffins:
Muffins are always so fun to make and really delicious. This Chocolate Chip Mini Muffins recipe does not disappoint.
31. How to Make Heart Shaped Cinnamon Rolls Recipe:
Show the love with these Heart Shaped Cinnamon Rolls.
32. Air Fryer Donuts:
Light and fluffy donuts made easily in your air fryer.
33. Lazy Day Cinnamon Biscuits:
Serve these Cinnamon biscuits with fruit and scrambled eggs and you have a complete meal.
34. Lazy Day Homemade Donuts:
This homemade donut recipe is the absolute best recipe. You will not believe that donuts can be this amazing from a can of biscuits. They are that good.
35. Apple Cider Donuts:
Apple cider flavored donuts are so easy to make and really tasty.
36. Easy Cinnamon Swirl Bread Recipe:
There is nothing better than Homemade Bread straight from the oven. The smell of the cinnamon and sugar filling our home just makes me happy.
37. Best Pumpkin Bread Recipe:
Easy Homemade Pumpkin Bread is so full of flavor and made with easy ingredients.
38. Cream Cheese Banana Bread:
Banana bread is such a classic treat. We all love it and this new recipe with cream cheese is absolutely divine.
39. French Toast Muffins Recipe:
You are going to LOVE this French Toast Muffins recipe. It is quick and easy to make but in a size of a muffin.
40. Homemade Lemon Blueberry Muffins:
I have always loved blueberry muffins but I just might have a new favorite. This recipe with lemon is so tasty.
41. Pancake Muffins Recipe:
These pancake muffins are easy to make and perfect for your little ones. I love to top them with peanut butter.
42. Oatmeal Applesauce Muffins:
These Oatmeal Applesauce Muffins are not too heavy for the morning, but they are full of flavor and have just the right amount of sweetness.
43. Pumpkin Chocolate Chip Muffins:
Pumpkin and chocolate chip mixed together to make the best muffins.
More Breakfast Recipes: