This post may contain affiliate links. If you make a purchase through links on our site, we may earn a commission.
Try these quick and easy breakfast for dinner ideas to make everyone happy. From pancakes and French toast to casseroles and more, these recipes are the perfect weeknight dinner idea.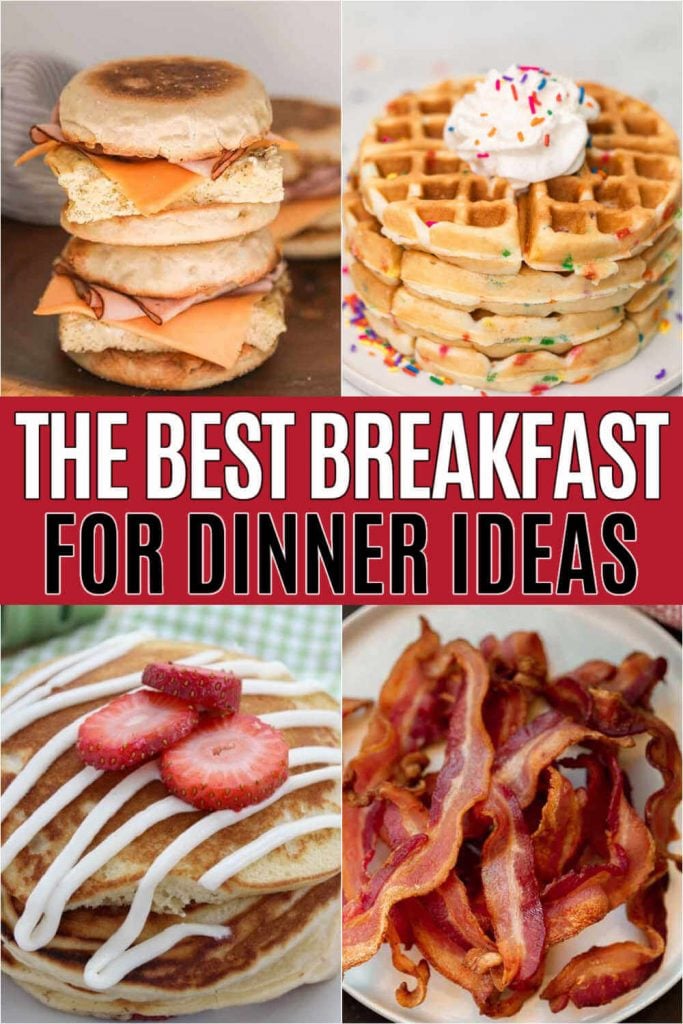 Breakfast for dinner ideas
My kids go crazy when I make breakfast for dinner. It is so simple and easy to make.
I love that I can whip up these recipes in very little time and give my family an amazing meal. Plus, I just love seeing all the big smiles when they find out it is breakfast for dinner night!
Many of these ideas can be made the night before and kept in the fridge. Just pop in the oven when ready to enjoy! Try a breakfast casseroles or breakfast burritos that are also freezer friendly.
Regardless of what you have going on, these breakfast for dinner recipes will work for busy schedules. Breakfast food is always a hit and the best comfort food to serve on the dinner table.
Which delicious recipe will you try? Most of these can be ready in 30 minutes or less!
Try even more more frugal breakfast ideas.
Pancakes and Waffle ideas
Easy Gluten Free Pancakes
You are going to love this easy gluten free pancakes recipe here. The results are the fluffiest gluten free pancakes and so delicious.
Baked Pumpkin Pancakes
This recipe is perfect for busy mornings and the pumpkin flavor is the best. Get the easy recipe here for Baked Pumpkin Pancakes!
Easy Pumpkin Pancakes
These are some of the most decadent pancakes I have ever had. They are perfectly sweet but not too sweet. Get the recipe here.
Strawberry Pancakes with Cream Cheese Glaze
Decadent strawberry pancakes with amazing cream cheese glaze make the best breakfast. Your entire family will love the recipe here.
Cinnamon Roll Waffles
It doesn't get any easier than these Cinnamon Rolls in Waffle Maker! The recipe here is quick and easy and oh so delicious!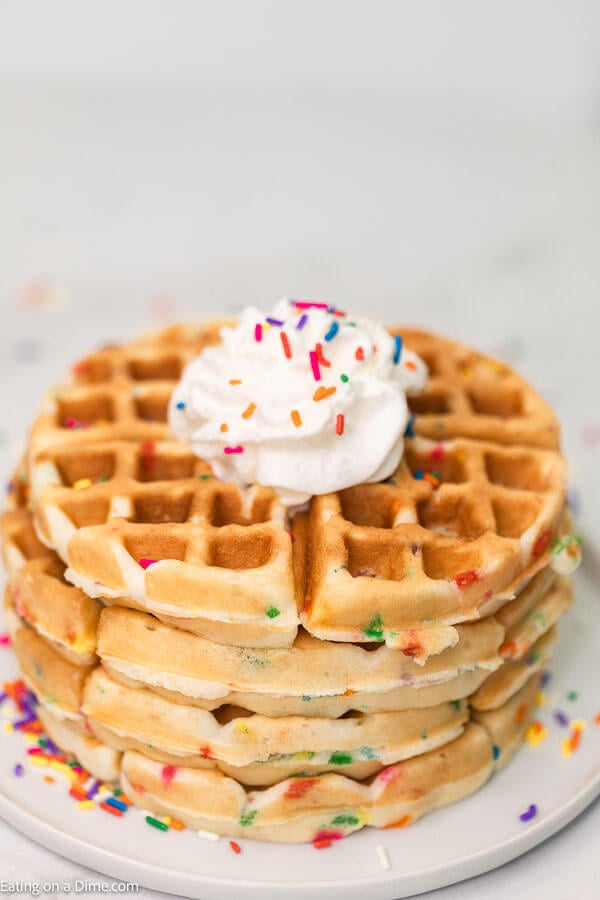 Cake Mix Waffles
Enjoy cake in minutes when you make this easy recipe here for Cake mix waffles. This recipe is super easy and will satisfy your sweet tooth!
French Toast Ideas
Overnight French Toast Recipe
Whip up this amazing Overnight french toast recipe here and all you have to do in the morning is bake and enjoy! Try this recipe for busy school mornings, holidays and more.
French Toast Sticks
This French Toast Sticks recipe here will be your new go-to breakfast! They're super simple to make and freeze perfectly for those hectic mornings!
French toast casserole recipe
Make this delicious overnight breakfast casserole here and save time. This recipe is simple enough for busy mornings but so delicious that you will want to serve it to guests with maple syrup.
Pumpkin French Toast
If you love pumpkin flavor, this yummy Pumpkin French Toast recipe here is a must try. French toast is super easy and the pumpkin flavor makes it even better.
French Toast Muffins Recipe
You are going to love this easy french toast muffins recipe
here
. Get all the flavors of french toast in a quick and easy muffin!
Kid Friendly Stuffed French Toast Recipe
Stuffed french toast looks fancy but is so easy to make here. This recipe is decadent and amazing but very simple.
Easy Breakfast casseroles recipes
This easy breakfast casserole here is perfect for any day of the week! Make it the night before and simply pop it in the oven when you are ready to enjoy.
Crock Pot Breakfast Casserole Recipe
Let the slow cooker do all the work and enjoy this delicious breakfast casserole whenever you want. Hashbrowns, sausage and more make this recipe here amazing.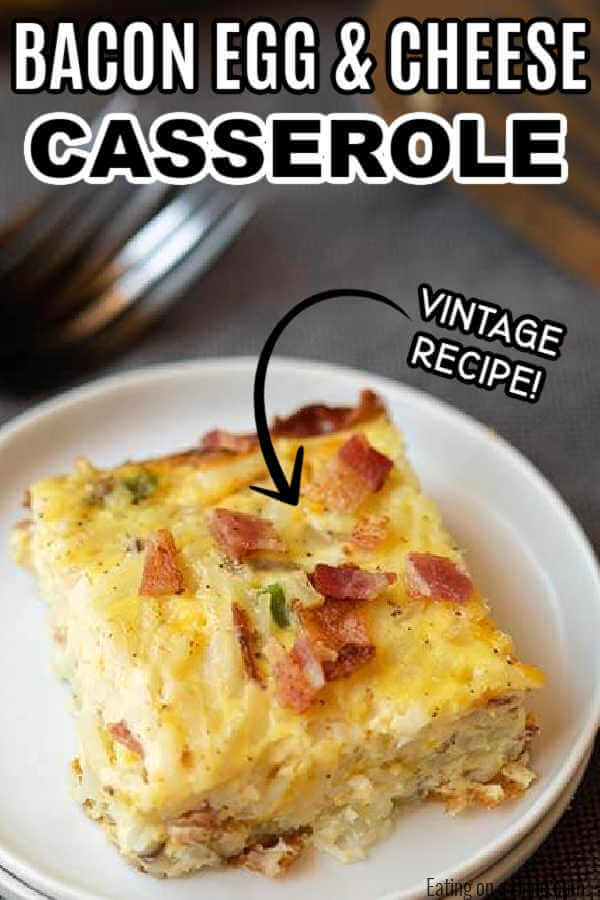 Bacon egg and cheese casserole
This simple casserole here is easy to throw together and a filling meal idea. Throw this together in minutes and enjoy a great casserole.
Cinnamon Roll Ideas
Cinnamon roll french toast casserole recipe
This creamy, delicious, and really simple recipe here is a family favorite. The recipe combines the delicious flavors of cinnamon rolls with the fun taste of french toast. Yum!
Eggnog Cinnamon Rolls Recipe
Try this holiday favorite when you make eggnog cinnamon rolls here. Your family will love these cinnamon rolls with the subtle eggnog flavor.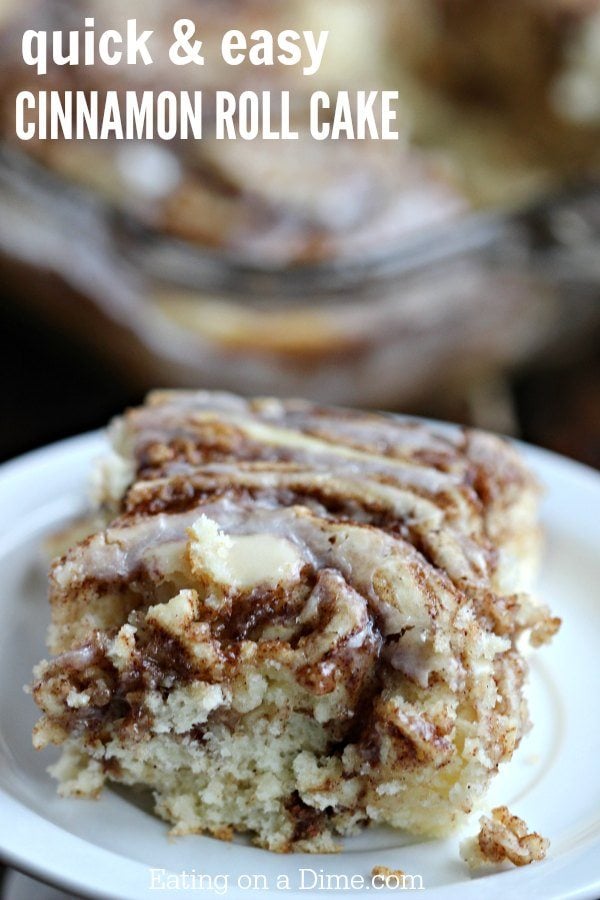 Cinnamon Roll Cake Recipe
This delicious cake here has everything you love about a cinnamon roll, but without all of the work! Enjoy cake for breakfast when you make this delicious cinnamon roll cake recipe.
Crock pot cinnamon roll casserole
This tasty casserole is the best toss and go recipe. Enjoy this delicious cinnamon roll casserole here with very little work thanks to the crockpot.
A few more of my favorite breakfast for dinner ideas:
Air fryer bacon recipe
Enjoy crispy and delicious bacon in just minutes when you use the air fryer. Put your air fryer to work making this super easy bacon recipe here.
Lazy day cinnamon biscuits
The recipe here takes only minutes to prepare with 5 ingredients and makes a delicious and frugal meal idea. Each bite has tons of cinnamon and sugar and the glaze is decadent and amazing.
Breakfast sandwiches
The recipe here is really easy and anyone can make these delicious sandwiches. Plus, they are budget friendly and so amazing.
Easy fruit and yogurt parfait
Layers of creamy yogurt, granola and fresh fruit make this parfait so tasty. Make the recipe here in advance for a quick meal or snack on the go.
Try these easy breakfast for dinner ideas.
All of these recipes are great reminders that dinner does not have to be complicated to be amazing. Everyone always loves breakfast for dinner.
Keep it simple! You can easily add scrambled eggs, eggs benedict, fried egg, poached eggs or even bake eggs. Dice a sweet potato, add hash browns or make a breakfast pizza for a great meal.
Just enjoy family time and remember even a grilled cheese can bring the family together around the table.
Enjoy!
You might like these breakfast recipes: