School mornings are crazy but these easy back to school breakfast ideas will get your morning started right. The kids will love these quick and delicious recipes.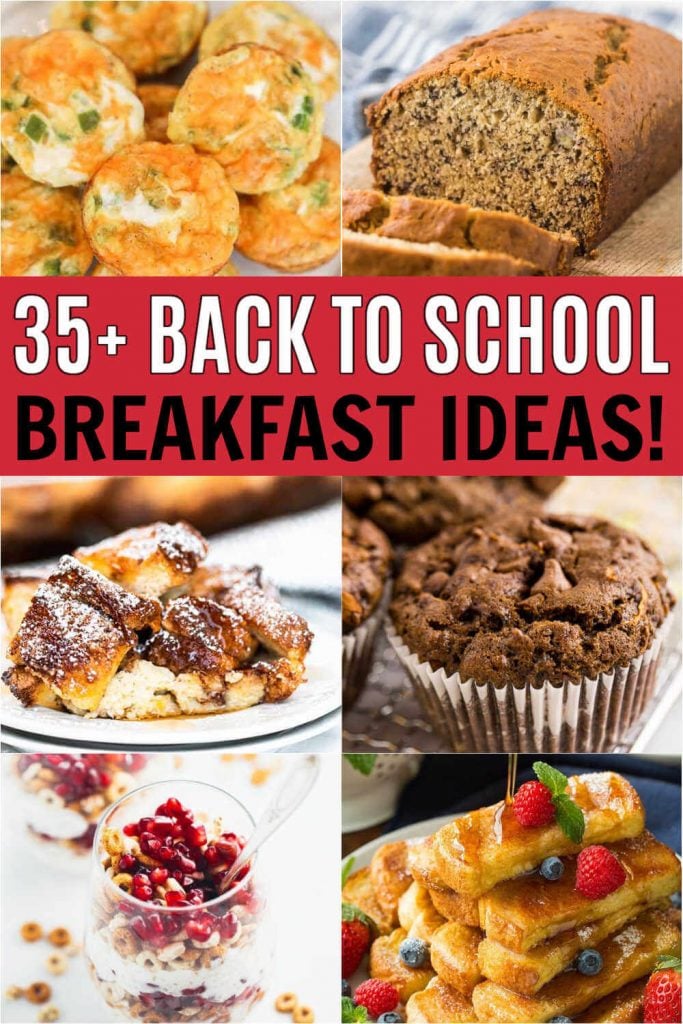 Back to school breakfast ideas
Mornings are always a struggle it seems. Everyone is trying to get out the door. Getting breakfast on the table can add to the stress.
Not anymore! Thanks to these really simple breakfast ideas, mornings are less hectic. Plus, everyone will start their day well fed and ready for a great day!
Breakfast doesn't have to be complicated and these easy recipes prove it! Try these back to school breakfast ideas for a quick and easy breakfast.
You might also like 37 Easy Sweet Breakfast Recipes.
Let's get started with these easy breakfast ideas!
Table of Contents
Easy pancake recipes
Baked Pancakes
Enjoy pancakes for a crowd with this easy pancakes recipe. This recipe is a game changer and perfect for a big family.
Rollup Blender Pancakes
These are such a creative take on regular pancakes! Add your favorite toppings and enjoy.
Blueberry Pancake Bites
These make ahead blueberry pancake bites are the best quick breakfast idea for the kids! So fun and delicious.
Breakfasts muffin ideas
Chocolate Zucchini Muffins
This combination is really delicious. The zucchini makes the muffins so moist and the chocolate makes it decadent. The kids will love Chocolate Zucchini Muffins.
Chocolate chip mini muffins recipe
Lots of ooey gooey chocolate make this a tasty treat for breakfast. This muffin recipe is super easy and freezer friendly.
Breakfast Egg Muffins
Enjoy Breakfast egg muffins for a hearty breakfast that is quick and perfect on the go. These muffin cups are so easy and you can customize with your favorite ingredients.
Easy Scrambled Egg Muffins
Save time in the morning by popping these yummy scrambled egg muffins into the microwave for a quick protein-filled breakfast. This is a great option for on the go.
Oatmeal Applesauce Muffins
If you need a quick breakfast option for busy mornings, try oatmeal applesauce muffins recipe. They are moist and delicious while being easy and budget friendly.
Chocolate chip muffin recipe
Throw this together in minutes for muffins that taste like you brought them home from the bakery. You can't go wrong with chocolate chip muffins.
Kid friendly breakfast casseroles
Crock Pot Breakfast Casserole Recipe
Try this easy casserole for a delicious breakfast everyone will love that can be made in advance. This is perfect for busy school mornings.
Easy Sausage and Egg Breakfast Casserole Recipe
Once you try this Easy Sausage Casserole Recipe it will be an immediate family favorite! The simple ingredients make this simple sausage breakfast casserole the best!
Egg Bacon Breakfast Casserole
Make this egg bacon breakfast casserole and have a hearty breakfast ready for the whole week! This simple casserole is easy to throw together and a filling breakfast idea.
Blueberry French Toast Casserole
There's not a word anymore perfect to describe this overnight blueberry french toast casserole than "unbelievable." Perfect make-ahead recipe for busy mornings!
French Toast Casserole
This is a delicious overnight breakfast casserole. This recipe is simple enough for busy mornings but so delicious that you will want to serve it to guests.
Biscuits and gravy casserole
This easy casserole comes together quickly and is a filling meal all in one dish! It will be a huge hit anytime you make it and clean up is a breeze!
Easy Donut recipes
Air fryer donuts
Enjoy donuts in just 5 minutes. Everyone will love these light and fluffy donuts coated in cinnamon sugar mixture.
Mini Donut Muffins
Each bite is light and fluffy and covered with cinnamon and sugar. Yum! This mini donut muffin recipe is super easy and sure to be a hit.
Homemade donuts
We have an easy Donut Recipe that is absolutely delicious and very simple. These little donuts are soft and fluffy and amazing! The sugar coating just completes these yummy donuts.
More kid friendly breakfast recipes
Freezer Breakfast Burritos Recipe
Breakfast burritos make an easy meal on busy mornings that everyone will enjoy. Loaded with eggs, cheese and more for the perfect breakfast on the go or at home.
Simple Chocolate chip banana bread Recipe
Lots of chocolate chips and moist banana bread make this easy bread amazing. It is freezer friendly and simple.
Air fryer bacon recipe
Enjoy crispy and delicious bacon in minutes. Gone are the days of standing over a hot stove frying bacon! Put your air fryer to work making this super easy bacon recipe.
Lazy day cinnamon biscuits
These cinnamon biscuits take only minutes to prepare and make a delicious and frugal breakfast idea with just 5 ingredients. . Each bite has tons of cinnamon and sugar and the glaze is decadent and amazing.
Easy Fruit Smoothie Recipe
This smoothie only has 3 ingredients and it is so delicious. Try this frozen treat for breakfast, snacks and anytime you need something quick and healthy.
Stuffed French toast recipe
This French Toast recipe is so decadent with the best strawberry cream cheese filling. You will love how easy it is and the results are so delicious.
Banana Bread
Everyone will love this super moist banana bread. It is perfect for a quick breakfast and freezer friendly.
Breakfast Balls
These are perfect for busy mornings when you need to grab breakfast on your way out the door. Kids will love how fun breakfast balls are to eat.
Egg and Cheese Hash Brown Waffles
Make this yummy breakfast all in your waffle maker! Everything you need for a great meal is in this egg and cheese waffle.
Mason Jar Breakfast Parfaits
This is a tasty make ahead breakfast that takes little thought and will keep you eating healthy all week long. The kids will enjoy customizing their parfaits.
Make Ahead Breakfast Bowls
Make-Ahead Breakfast Bowls are full of filling, hearty ingredients to power you through your morning. This vegetarian and gluten-free recipe is also freezer-friendly!
Freezer Breakfast Sandwiches
Easy, make-ahead freezer-friendly sandwiches are perfect for breakfast-on-the-go! Ready in just 2 minutes!
Yogurt Strawberry Banana Smoothie
Make this quick and healthy smoothie when you are on a time crunch. The kids can even drink them in the car!
Baked French Toast Sticks
Kids love French toast! I love it, too. You can even make these ahead of time then reheat in a toaster oven for a quick morning breakfast.

Breakfast Banana Pops
These easy-to-make breakfast banana pops are like summer on a popsicle stick! You can make these with lots of delicious options.
Frozen Breakfast Burritos
Frozen Breakfast Burritos take just 30 minutes to make! Assemble on the weekend then reheat and enjoy all week long.
Blueberry Muffin Recipe
Make these easy blueberry muffins for brunch or for a quick snack for the kids. You only need one bowl to make this easy recipe.
Easy Breakfast Rollups
Easy Breakfast Roll-Ups are a versatile breakfast idea that's perfect for taking on-the-go. The entire family will love breakfast rollups.
Honey Yogurt Breakfast Parfait
This yummy layered parfait is the perfect blend of healthy but tastiness. Kids will love it!
Breakfast Trifle
A tasty combination of yogurt, waffles, and fresh berries that will make you look forward to the morning! This trifle is so easy too.
Egg and Cheese Tortillas
Make these delicious breakfast burritos in only 2 minutes! This is the easiest breakfast and so yummy.
Homemade Breakfast Hot Pockets
These homemade breakfast hot pockets are perfect for a healthy breakfast on-the-go. Plus, they are way better for you than the store bought variety.
Apple Butter French Toast Rollups
Warm French toast roll ups stuffed with apple butter then tossed in cinnamon sugar make breakfast much more exciting. There is also a yummy apple butter cream cheese dipping sauce.
Cinnamon Roll Cake Recipe
This cinnamon cake has everything you love about a cinnamon roll, but without all of the work! You'll be sharing this recipe will all of your family and friends!
Cinnamon Swirl Bread Recipe
Skip the store bought mixes and make this easy homemade version that is delicious. Each bite is full of cinnamon and the best glaze.
Easy Monkey Bread Recipe
Monkey bread is a quick and delicious breakfast idea your family will love. The recipe is so inexpensive to make and you will be amazed how little time it takes to make this this tasty recipe.
Try these Kid Friendly breakfast recipes!
Make sure you check out a few of these back to school breakfast ideas and come back and let us know which one is your kids' favorites!
Try these Back to school lunch ideas: