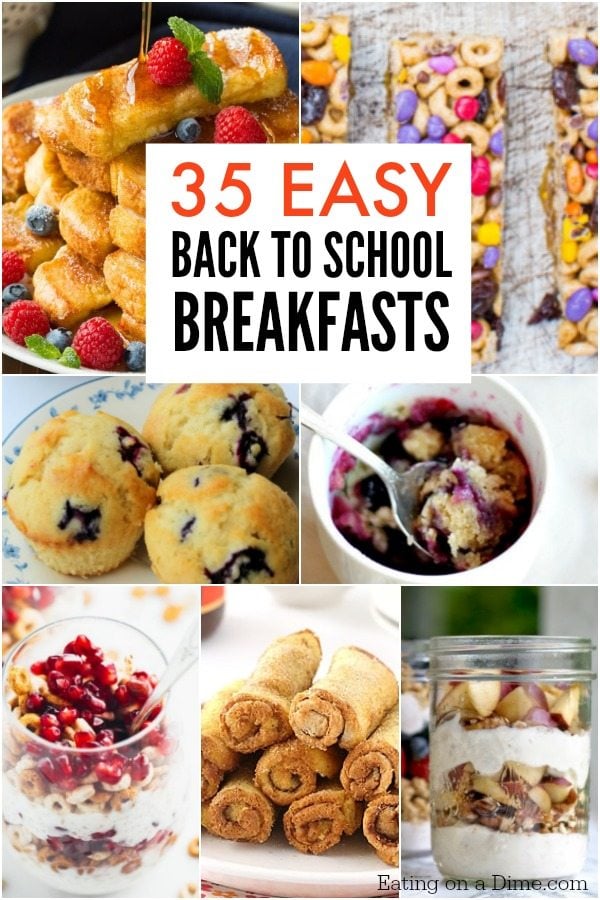 School mornings are crazy, especially the first week of back to school so I wanted to share with you some easy back to school breakfast ideas.
I love easy recipes, and making sure my kids get in a good breakfast before heading off for the day. However, breakfast doesn't have to be complicated. These back to school breakfast ideas are perfect for quick and easy breakfast recipes.
Here's a list of delicious and easy recipes for those back to school mornings!
35 Quick and Easy Back to School Breakfast Ideas
Mini Freezer Cinnamon Rolls– It is so simple to prepare a large batch to freeze. On busy mornings I can warm these up in less than two minutes.
Breakfast Egg Muffins– These are so easy and quick to make using Crescent Rolls!
Mason Jar Breakfast Parfaits– This is a tasty make ahead breakfast that takes little thought and will keep you eating healthy all week long.
Make Ahead Breakfast Bowls– Make-Ahead Breakfast Bowls are full of filling, hearty ingredients to power you through your morning. This vegetarian and gluten-free recipe is also freezer-friendly!
Blueberry Pancake Bites– These make ahead blueberry pancake bites are the best quick breakfast idea for the kids!
Almond Butter and Banana Open Sandwich– This will be a big hit with your kids, plus it'll help you fill your tummy!
Freezer Breakfast Sandwiches– Easy, make-ahead freezer-friendly sandwiches, perfect for breakfast-on-the-go! Ready in just 2 minutes!
Yogurt Strawberry Banana Smoothie– Make this quick and healthy smoothie when you are on a time crunch. The kids can even drink them in the car!
Baked French Toast Sticks– Kids love french toast! I love it, too. I would make these ahead of time then reheat in a toaster oven for a quick morning breakfast.

Breakfast Cereal Bars– Save all of the left over cereal that's been hanging out at the bottom of the cereal box and make these easy breakfast cereal bars!
Breakfast Banana Pops– These easy-to-make breakfast banana pops are like summer on a popsicle stick!
Frozen Breakfast Burritos– Frozen Breakfast Burritos take just 30 minutes to make! Assemble on the weekend then reheat and enjoy all week long.
Blueberry Muffin Recipe– Make these easy blueberry muffins for brunch or for a quick snack for the kids.
Easy Breakfast Rollups– Easy Breakfast Roll-Ups are a versatile breakfast idea that's perfect for taking on-the-go.
Easy Scrambled Egg Muffins– Save time in the morning by popping these yummy scrambled egg muffins into the microwave for a quick protein-filled breakfast.
Blueberry Muffin in a Mug– Perfect for a quick breakfast or when you just need something sweet.
Oatmeal Breakfast Cookies– The oatmeal cookies were really easy to put in a plastic container and take in the car with us for a quick breakfast on-the-go.
Oatmeal Applesauce Muffins– Make these healthy and delicious oatmeal applesauce muffins with items you likely already have on hand.
Honey Yogurt Breakfast Parfait– This is the perfect amount of sugar and deliciousness!
Breakfast Trifle– A tasty combination of yogurt, waffles, and fresh berries that will make you look forward to the morning!
Rollup Blender Pancakes– These are such a creative take on regular pancakes!
Homemade Breakfast Hot Pockets– These homemade breakfast hot pockets are perfect for a healthy breakfast on-the-go and way better for you than the store bought variety.
Apple Butter French Toast Rollups– Warm French toast roll ups stuffed with apple butter then tossed in cinnamon sugar make breakfast much more exciting, especially when you dunk them into apple butter cream cheese dipping sauce.
Egg Bacon Breakfast Casserole– Make this egg bacon breakfsat casserole and have a hearty breakfast ready for the whole week!
Crockpot Overnight Breakfast Casserole– Crockpot Overnight Breakfast Casserole is a classic breakfast casserole with eggs, sausage, bacon, hash browns, and cheese. Great for a crowd over the holidays.
Gluten Free Banana Bread– The best part about this recipe is that it literally takes 5 minute to make and bake!
Breakfast Balls– These are perfect for busy mornings when you need to grab breakfast on your way out the door.
Egg and Cheese Tortillas– What if I told you that you could make a basic breakfast burrito in only 2 minutes?
Blueberry French Toast Casserole– There's no word more perfect to describe this overnight blueberry french toast casserole than "unbelievable." Perfect make-ahead recipe for busy mornings!
French Toast Casserole– Make this overnight french toast casserole to enjoy on a holiday morning…or any morning!
Honey Nut Cheerios Snack Bar– These fast, easy, bars cost just a fraction of store bought bars to make, they're healthier, and they've got fun, bright colors.
Biscuits and Gravy Casserole– The awesome thing about this recipe is how easy it really is!
Lighter Homemade Poptarts– There are so many different flavors to try!
Egg and Cheese Hash Brown Waffles– Make this yummy breakfast all in your waffle maker!
Baked Lemon Blueberry Donuts– These donuts are an easy way to give your kids a special treat for breakfast before school. Make them ahead of time and simply store them in the fridge to grab and go.
Make sure you check out a few of these back to school breakfast ideas and come back and let us know which is your kids' favorites!
Try these Back to school lunch ideas:
How to Pack Tacos in a Lunchbox