This delicious Pumpkin Bread Recipe is moist and delicious. It is so easy to make but hard to stop eating! Pumpkin bread is a must try recipe.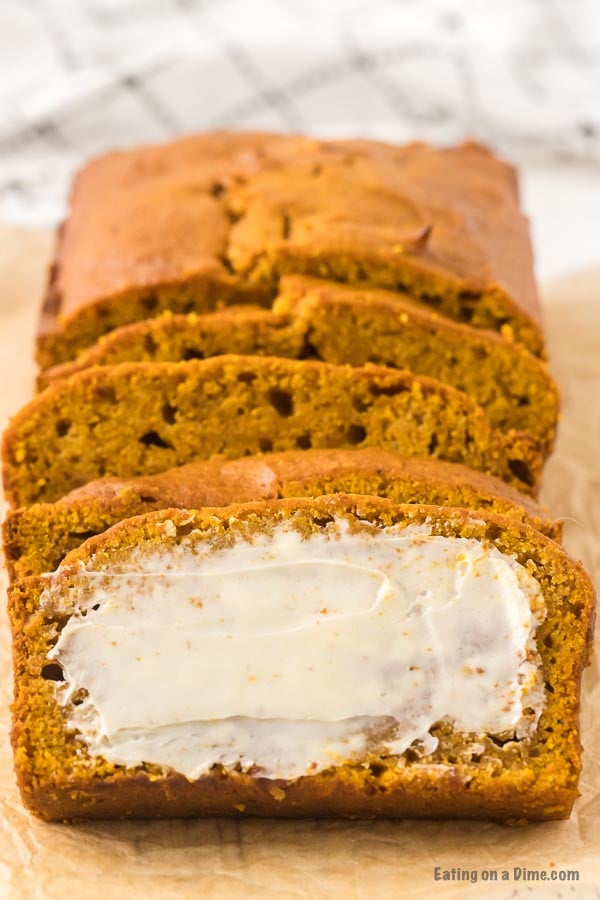 Are you ready for the best Pumpkin Bread recipe?

Fall is on the horizon and that means baking! I was in the mood to make a new type of bread so I decided to try creating a Pumpkin Bread Recipe.
Now, I have made recipes with pumpkin, but surprisingly enough, never bread. I wanted a delicious pumpkin bread, without a lot of fuss.
We love all things pumpkin. I love making pumpkin cookies , Pumpkin Muffins and even pumpkin pancakes! Are you picking up on a theme?
You might also like our copycat Starbucks Pumpkin Bread Recipe.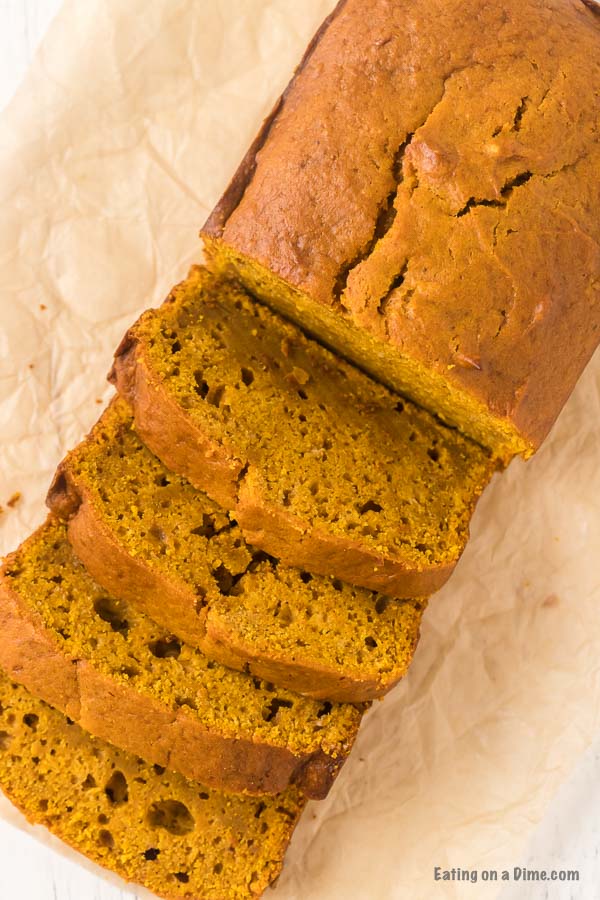 Everyone will love this pumpkin bread!
I think your family will love this Pumpkin Bread recipe as much as we did. By the way, if you are thinking you don't really like things with pumpkin in it, you really need to give this recipe a try.
I promise it is not too pumpkin tasting at all (I have a dear friend who doesn't care for pumpkin and she LOVED this bread – true story).
It is perfect for the pumpkin lover as well as those that are not too sure. Just try it and see!
Ingredients:
You probably have most of these items in the pantry already!
How to make pumpkin bread:
First, preheat the oven to 350. Prepare a 9″ x 5″ loaf pan while you wait on the oven. Spray with cooking spray.
Second, get out a large mixing bowl and add the dry ingredients. Combine this together.
Next, slowly stir in the wet ingredients. Mix everything together until well combined.
Now, pour the batter into the prepared pans.
The bread will need to bake at 350 degrees for 55 to 65 minutes or until a toothpick inserted in the center comes out clean.
The results?
This is the best bread and so moist and delicious. I could not stop eating this bread.
I'm sure we have all had Pumpkin Bread that was a little dry and less than memorable. Well, this is the Best Pumpkin Bread recipe ever!
It is moist and perfect and just AMAZING! Truly it is so good!
Tips for easy pumpkin bread:
It's freezer friendly.
This recipe doubles very easily which allows you to use a whole can of pumpkin. Make them both and then freeze one.
That way when your family is begging for you to make another one you are already prepared. I love to make a bunch of the mini loaves and freeze them in freezer bags.
It's very simple and always a hit. Plus, it is so convenient to just grab and go.
You can also freeze slices of this bread so that you only are taking out what you need at that moment.
I am a big fan of cooking once and eating twice. It really isn't anymore work to make more of this bread.
Recipe Variations:
Try some of these delicious variations for a classic twist on the traditional pumpkin bread. My kids go crazy over this bread when I add chocolate chips to it.
It is amazing all by itself but goodness those chocolate chips really make it amazing! My favorite is walnuts in the banana bread. Yum!
It's also good with both nuts and chocolate chips together. You really can't go wrong with this delicious recipe for Pumpkin Bread.
You and your family will never get tired of this recipe for Pumpkin Bread with so many ideas to try. We just love this bread and it is always a hit.
Even my friends and family that are not crazy over pumpkin love this recipe! It's the best.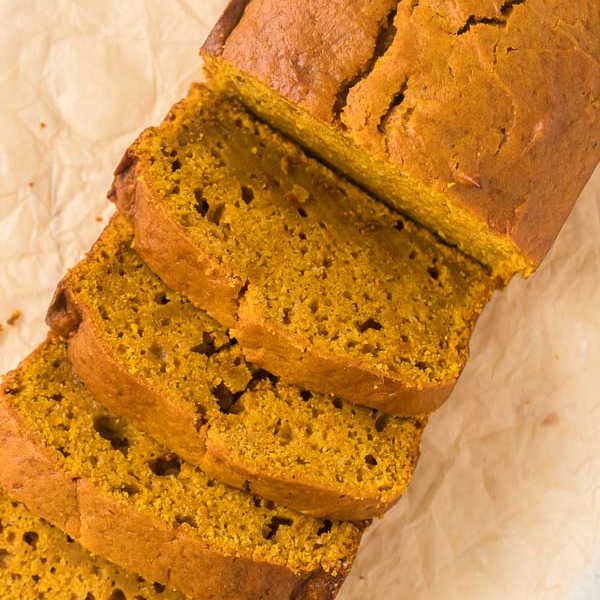 Give it a try!
That is it! I wasn't kidding when I said it was easy.
The pudding really gives this Pumpkin Bread recipe some added moistness. Try this and let us know what your family thought.
Make a list and get baking! This recipe for Pumpkin Bread does not disappoint. It is perfectly moist.
This is one of my favorite times of year and all the tasty Fall recipes are just wonderful. Pumpkin Bread has always been a favorite and once you try this amazing recipe you will know why!
Print this Easy Pumpkin bread Recipe below:
Best Pumpkin Bread Recipe
This is the BEST pumpkin bread recipe. It is easy to make and this Pumpkin Bread Recipe tastes amazing. Try this recipe for Pumpkin Bread.
Ingredients
Instructions
Preheat oven to 350 F.

Spray 9″ x 5″ loaf pan.

Mix all dry ingredients. **If you do not have pumpkin pie spice, you can substitute ¼ teaspoon each of nutmeg, allspice, ground cloves and ginger.

Slowly stir in wet ingredients. Stir until well combined.

Pour batter into prepared loaf pan.

Bake at 350 F for 55 – 65 minutes, or until knife inserted in the center comes out clean.
Nutrition Facts
Calories
198
kcal
,
Carbohydrates
43
g
,
Protein
3
g
,
Fat
1
g
,
Cholesterol
40
mg
,
Sodium
17
mg
,
Potassium
40
mg
,
Sugar
25
g
,
Vitamin A
80
IU
,
Calcium
10
mg
,
Iron
1.3
mg
More easy quick bread recipes:
More pumpkin recipes to try: