Copycat Chick-fil-a chick-n-minis recipe is so easy to make that you can enjoy any day of the week. Crispy chicken served on yeast rolls combine for a crowd favorite meal.
What is a chicken mini from Chick-fil-A?
They are bite size breakfast sandwiches. Each one has a chicken nugget served on a yeast roll.
Copycat chick-fil-a chick-n-minis recipe
Chick-n-Minis at Chick-fil-a are so delicious and never disappoint. I thought I would try making them at home.
The verdict? Everyone said they tasted amazing. Now, we can enjoy these sandwiches anytime the craving strikes with minimum effort.
You can create chick fil a chicken minis in about 15 minutes and avoid fast food.
If you love Chick-fil-a breakfasts, also try our Chick-Fil-A Breakfast Burrito Recipe and Copycat Chick-fil-A Chicken Biscuits.
Ingredients:
Boneless skinless Chicken Breasts
Dill Pickle Juice
large egg
Milk
All Purpose Flour
Confectioners' Sugar
Paprika
Salt and Pepper
Peanut Oil or Canola Oil
Sister Schubert House Rolls (Or use our Homemade Chick-fil-a Biscuits Recipe)
Unsalted Butter, melted
Honey
How to make chick-fil-a chick-n-minis:
Marinate the chicken. Combine the chicken and pickle juice in a medium size bowl. Cover and refrigerate to marinate the chicken in the pickle juice for 30 to 60 minutes or overnight.
Drain the juice. Remove the chicken from the refrigerator and drain the pickle juice.
Combine the milk and eggs. In a bowl, whisk together the milk and eggs. Generously pour this mixture over the chicken pieces.
Mix the dry seasonings. Then in a large ziplock bag, add the flour, sugar, paprika, salt and pepper. Seal the bag and shake rigorously to combine all the ingredients.
Drain the milk. Drain the excess milk mixture off the chicken and place the chicken in the ziploc bag with the flour mixture. Seal the bag and then shake to thoroughly coat the chicken pieces.
Heat the oil. Then heat the peanut oil or canola oil in a large pan over medium heat.
Cook the chicken. You will have to work in batches. Add the chicken to the hot oil and cook until the chicken is golden brown and crispy (approximately 3-5 minutes). Once completely cooked, move the chicken to a plate lined with a paper towel.
Bake the rolls. While the rolls are baking, stir together the melted butter and honey. Brush this mixture on top of the rolls for the last 5-10 minutes of the bake time.
Make the chick-n-minis. Cut the rolls in half and add chicken.
How to store leftovers:
Refrigerate any leftovers in an airtight container for up to 5 days. Store the chicken and rolls separately and then assemble when you're ready to enjoy.
How to reheat:
The nuggets can be reheated in the oven at 350 degrees. It will take approximately 7 to 10 minutes.
Serving ideas:
Print this chick-fil-a chick-n-minis recipe below: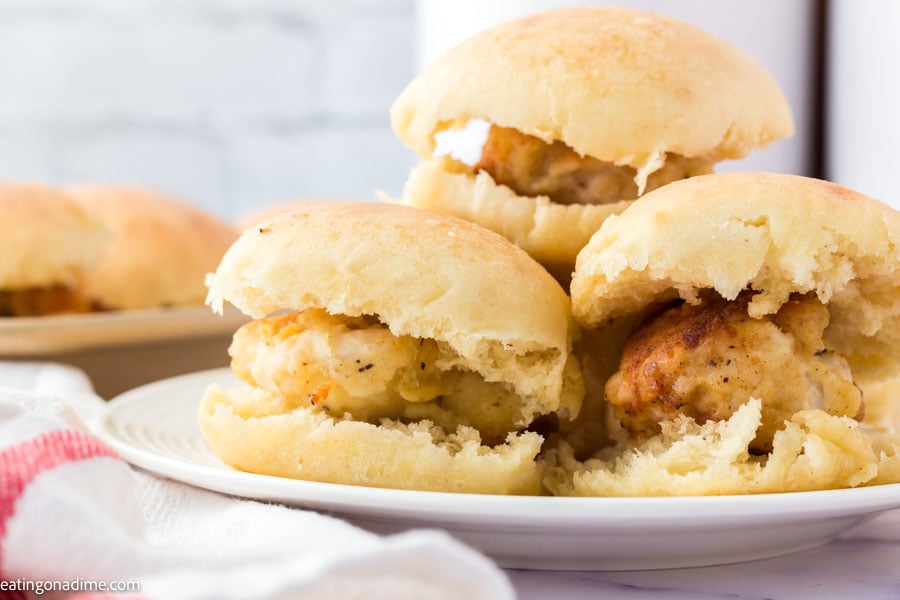 More copycat chick fil a recipes: