Chicken Noodle Casserole Recipe is easy and the best comfort food dish. Creamy chicken and noodles with cheese make this a casserole everyone will go crazy over.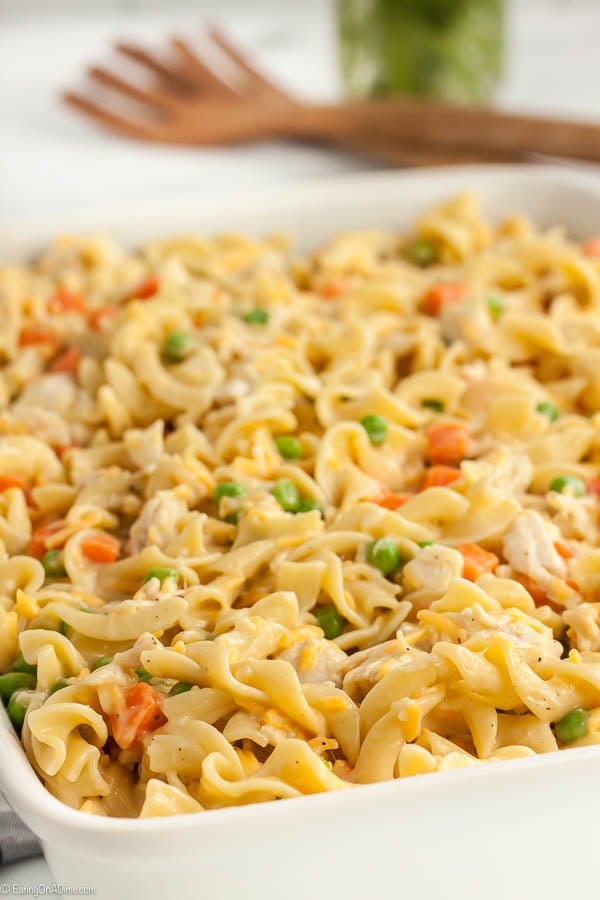 Chicken Noodle Casserole Recipe:
Casseroles are a great way to get dinner on the table fast during busy weeknights and this simple chicken noodle casserole is one of our favorites. Tender chicken and cream of chicken soup give this casserole delicious flavor.
We love that this casserole is made with simple ingredients and you can even use leftover chicken. The ingredients all bake in a creamy sauce with chicken, vegetables and egg noodles.
This chicken noodle casserole is a family favorite. We love to serve it with a side salad and garlic bread to complete the meal.
Ingredients
Egg Noodles
Chicken Breasts
Cream of Chicken Soup
Milk
Shredded Cheddar Cheese
Frozen Peas and Carrots or Frozen Mixed Vegetables
Minced Garlic
Pepper
Chopped Parsley (optional)
How to Make Chicken Egg Noodle Casserole:
Step 1 – Prepare Oven and Casserole Dish – First, preheat the oven. Next, prepare your casserole dish with cooking spray.
Step 2 – Prepare Noodles – Cook the egg noodles in a large pot.
Step 3 – Combine Ingredients – In a large bowl, combine the cooked egg noodles, cooked chicken, and soup. Then add in milk, cheddar cheese, peas and carrots, and seasonings.
Step 4 – Place in baking dish – Place the noodle mixture in the prepared dish and cover with foil.
Step 5 – Bake – Bake until heated through. We usually bake for about 30 minutes. Sprinkle with parsley and serve.
Keep reading for the full recipe.
Tips for Chicken Casserole with Noodles:
Thinner Sauce – If it is too thick, add chicken broth to achieve the desired consistency.
Make it Creamy – I have also used sour cream in the chicken mixture and it added even more creaminess.
Cook Noodles – Cook noodles according to package or al dente.
Cover Casserole – Cover the casserole with foil to bake.
Cooking Time – Cooking time will vary. We usually bake until bubbly and it is golden brown.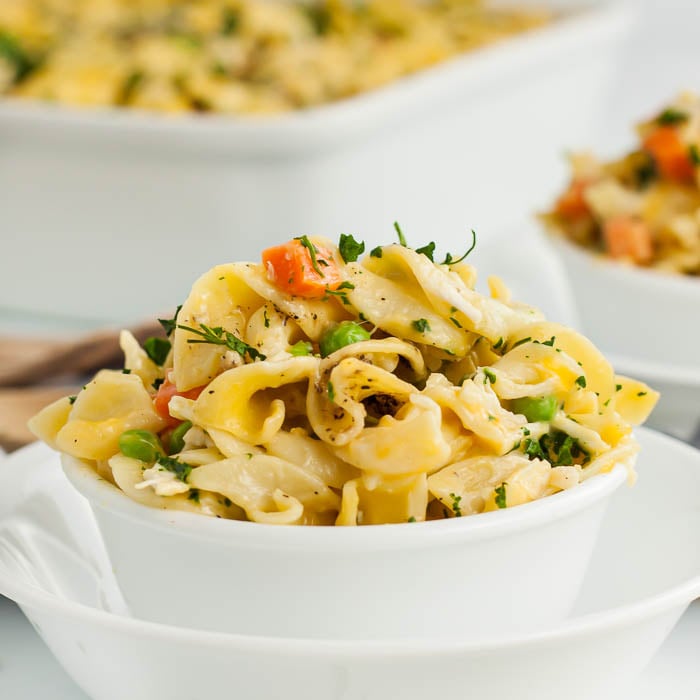 What to Serve with Chicken Noodle Casserole:
Just keep it simple and add a side salad with this casserole dish. It is so easy on busy days to put together a salad to serve.
You might also like to try these easy Roasted Green Beans or learn how to steam broccoli in the microwave for a super easy veggie side dish. Both of these only take a few minutes to make.
We are all about keeping it simple around here.
Do you Cook Noodles before adding to Casserole?
Yes, you will need to cook the noodles prior to mixing with the other ingredients. This is one step that can be prepared the night before if you want to make ahead.
Recipe Variations:
Change the Vegetables – You can easily use different types of vegetables. We love the frozen peas and carrots, but you can use other frozen veggies.
Cheese – Feel free to change the cheese. Make sure to grate the cheese yourself so it melts and combines easily.
Change the Pasta – Penne, elbow, or bowtie pasta is a good option for this casserole.
Change the Chicken – You can use leftover chicken, canned chicken, or rotisserie chicken.
Bread Crumb – Add a bread crumb topping such as Panko bread crumbs or crushed up Ritz Crackers.
Can this Casserole be Frozen?
Yes, you can freeze this casserole. I like to make 2 of these at a time because it isn't any more work. All of the ingredients are already out and it is so easy.
So I do one for dinner that day and then put one in the freezer for a later time. This is a huge help and a big time saver.
Just make the casserole as directed but I like to use a tin toil pan for the one going in the freezer. It just makes it easier.
I also like to have casseroles in the freezer so that if a need arises and a friend needs a meal, I can bless them with it even during a busy day. However, instead of baking, cover with foil and allow to cool.
Once cooled, freeze the container.
To bake, remove from freezer the day before you want to eat it and allow it to thaw in the refrigerator overnight.
Bake at 350 degrees for 1 hour covered, and 15 minutes uncovered. You might have to adjust the time based on your oven.
It is so Easy to make Chicken Noodle Casserole from Scratch:
You can also use homemade cream of chicken soup if you prefer. It is actually very simple to make.
This casserole will turn out great however you make it. It is so easy to adapt and just really tasty.
How to Store Leftovers:
Place your leftover chicken noodle casserole in an air tight container. We like to store in individual container which makes it an easy lunch the next day.
If stored properly, the casserole will stay good for up to 3 days.
How to Reheat:
Depending on how much you have leftover, you can place in a baking dish and reheat in the oven. You can also place in a microwave safe dish and reheat until heated thoroughly.
Easy Chicken Noodle Casserole:
This casserole is the perfect weeknight meal. I love making casseroles as it is usually a complete meal, so we we usually add a simple salad and bread.
If you are looking for a delicious, comfort food casserole make this easy chicken noodle casserole.
Print Healthy Chicken Noodle Casserole:
Chicken noodle casserole recipe
Chicken noodle casserole recipe is easy and the best comfort food. Creamy chicken and noodles with cheese make this a casserole everyone will go crazy over.
Ingredients
12

ounces

egg noodles uncooked

3

cups

chopped cooked chicken

(2) 10

ounce

cans cream of chicken soup

1

cup

milk

2

cup

shredded cheddar cheese

2

cups

frozen peas and carrots or frozen mixed vegetables

1

teaspoon

minced garlic

½

teaspoon

pepper

2

tablespoons

chopped parsley to top
Instructions
Preheat the oven to 350 degrees F. Coat a 9″x13″ pan with cooking spray.

Cook the egg noodles according to package directions.

In a large bowl, combine the noodles, chicken, soup, milk, cheese, peas and carrots, and seasonings.

Place the noodle mixture in the prepared dish and cover with foil. Bake for 30 minutes or until heated through. Sprinkle with parsley and serve.
Nutrition Facts
Calories
627
kcal
,
Carbohydrates
55
g
,
Protein
33
g
,
Fat
31
g
,
Saturated Fat
13
g
,
Cholesterol
141
mg
,
Sodium
1003
mg
,
Potassium
473
mg
,
Fiber
4
g
,
Sugar
4
g
,
Vitamin A
5161
IU
,
Vitamin C
6
mg
,
Calcium
369
mg
,
Iron
3
mg
More Chicken Casserole Recipes: