Crock Pot Shrimp Scampi Recipe is a simple and delicious recipe that can be prepared with very little effort. This dish is not heavy at all and perfectly seasoned with Parmesan, fresh lemon and more for a light meal everyone will love.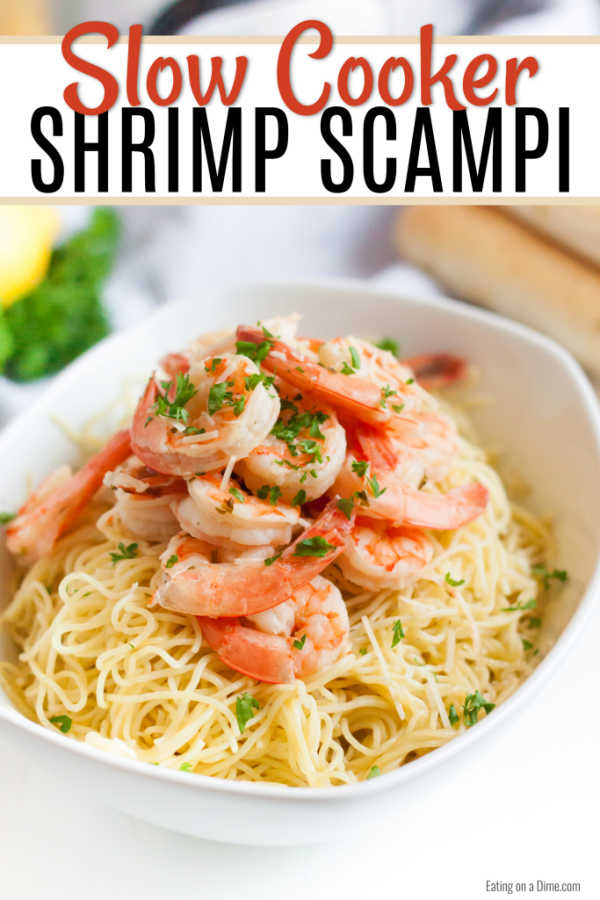 Crock Pot Shrimp Scampi Recipe
Seafood is always a hit and shrimp is a family favorite around here. We love shrimp scamp and it is such a quick meal.
Once I learned how to make it in the slow cooker, dinner time became even easier! This Crock Pot Shrimp Scampi Recipe is so flavorful and delicious that I'm sure it will be a hit with your family too.
The freshly squeezed lemon blends perfectly with the chicken broth to create a sauce that is light and perfect for this shrimp scamp. Serve with Parmesan cheese to make this meal even better!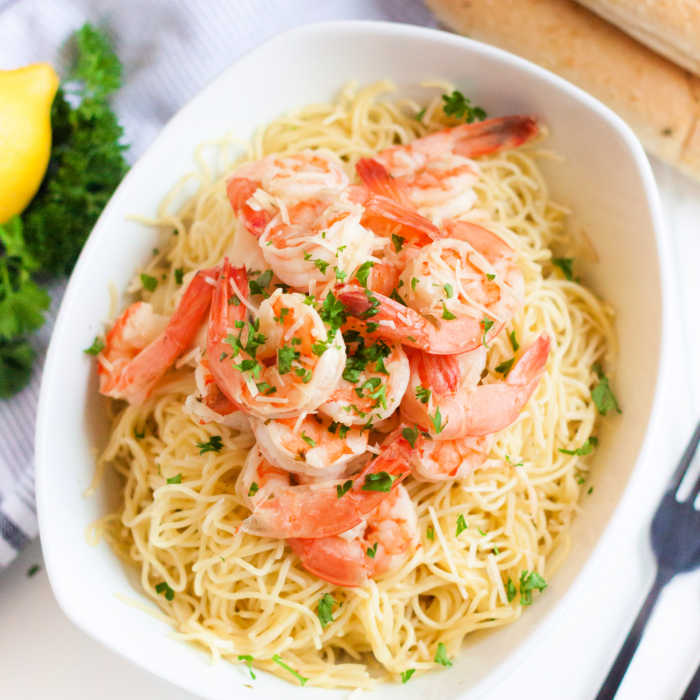 What to serve with this easy shrimp scampi recipe:
I love to make this Low Carb Cheddar Biscuits Recipe. It reminds me of the biscuits they serve at Red Lobster. Yum!
We also love Garlic Bread Cheese Sticks Recipe. The bread sticks are perfect for dipping into the yummy sauce.
And of course as far as pasta goes, angel hair is our favorite to enjoy with this dish. You can use whatever you prefer or have on hand though.
Any type of pasta would be delicious. Or you can omit the pasta all together if you are limiting carbs. The shrimp is amazing and has so much flavor you probably wouldn't even miss it!
Sometimes, I also serve a simple side salad with this as well. Broccoli is also tasty with this dish. Learn how to steam broccoli in the microwave for a quick and easy side dish.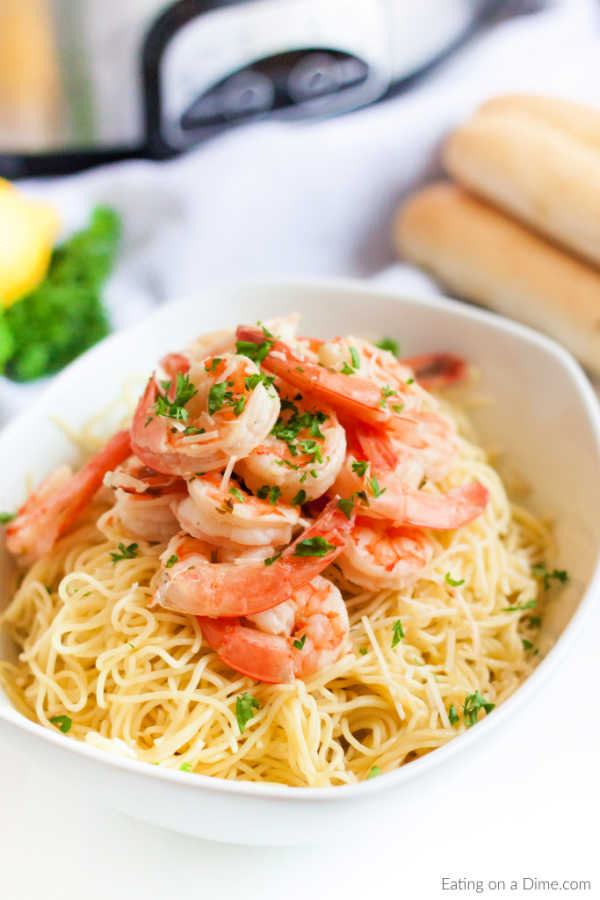 What do I need to make Shrimp Scampi Crock Pot Recipe?
shrimp
garlic salt
lemons
chicken broth
fresh parsley
parmesan cheese
angel hair pasta
Now you can use water instead of the chicken broth if you prefer or forget to buy some. However, I really love the recipe with chicken broth.
It enhances the flavor and really takes the recipe to the next level in my opinion. You can also use white wine.
How to make the best shrimp scampi recipe in the crock pot:
This is one of those recipes that you will love how simple it is.
Just toss everything except the Parmesan cheese and angel hair pasta in the crock pot.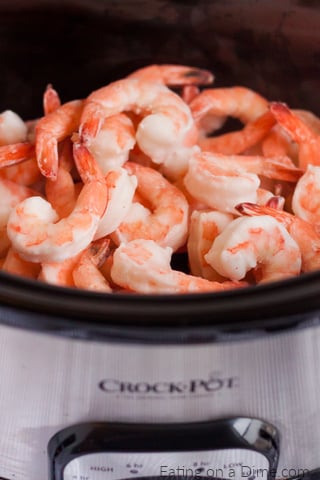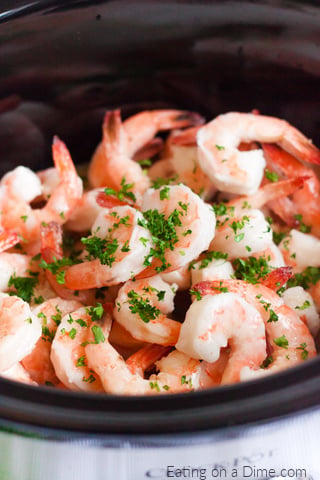 Shrimp does not take long to cook at all so this only takes a few hours.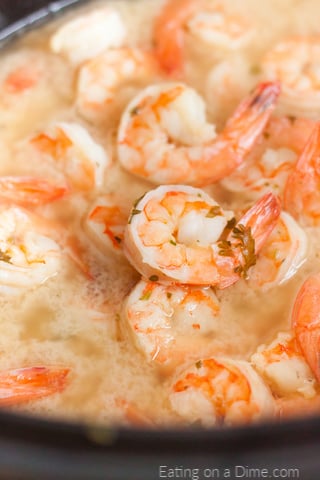 Once everything is cooked, stir in half the Parmesan cheese. Yum!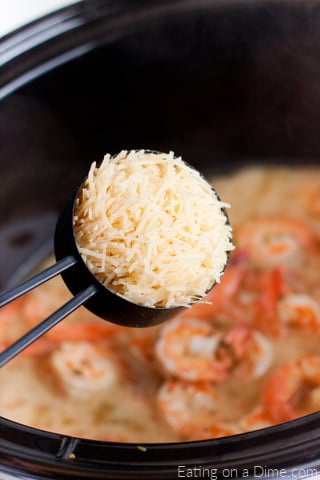 Save the rest for topping once served.
Serve over the angel hair pasta and garnish with more Parmesan cheese. This is SO good!
If your pasta is sticking together, try a little olive oil.
Keep reading for the full recipe.

This is the best shrimp scampi recipe!
Shrimp scampi is such a delicious and amazing meal. The crock pot makes it even easier to get dinner on the table.
It is so nice coming home to dinner ready to enjoy. We are so busy and weekdays are hectic with work and school.
Some days it is really a struggle to get it all done. The slow cooker has really been a life saver and our family can sit down and enjoy a nice meal together.
I love that I can cook fabulous meals in the crock pot even if frozen. This is one of our favorite frozen shrimp crock pot recipes.
We have used jumbo shrimp and regular size and it always turns out perfectly with whatever we use!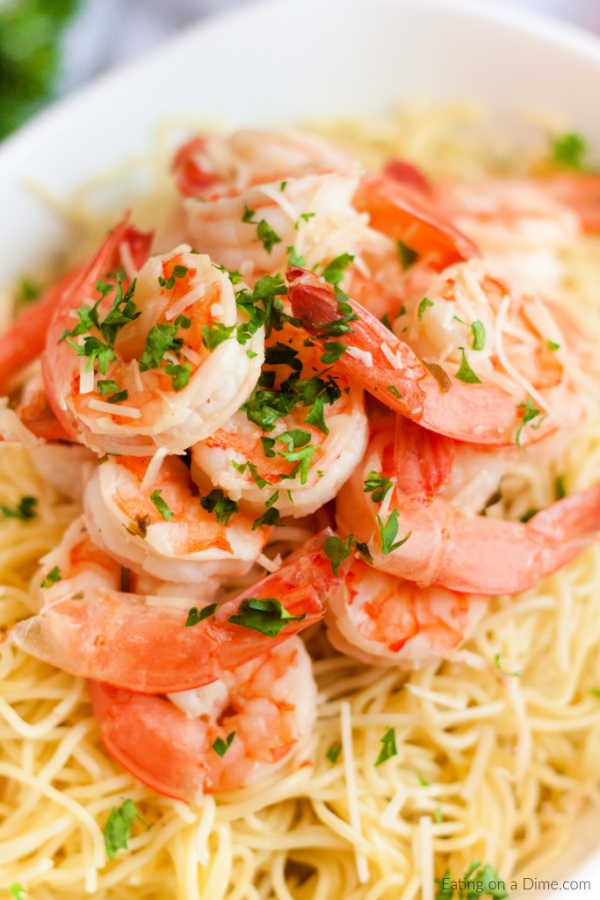 You need a good crock pot for this Slow Cooker Shrimp Scampi recipe.
One of my favorite slow cookers is this programmable crock pot for when I am am not at home all day. I love coming home to a nice meal ready and waiting!
If you are in the market for something new, I also love my Ninja cooker. We use this one frequently because you can brown the meat in the same slow cooker for recipes that call for that.
We love this option and it is so handy. I actually wish I had of bought one of these years ago because they are just so handy.
If you need a new slow cooker, I would definitely take a look at one of these first. They are awesome!
It cuts down on pans to clean and just makes thinks really simple. It has become of my favorite kitchen appliances.
I also really like this crockpot as well. I use this all the time and it's great for lots of recipes.
My favorite feature is that you can lock the lid down. This is awesome for when you need to take the crockpot somewhere.
I often use the slow cooker to take dishes to potluck events and this feature is amazing! There are several others on sale here.
I also like to use crock pot liners to make clean up a breeze. These are worth every penny and save a ton of time.
Trust me! Buy the crock pot liners if you don't already have any because they will save you so much time.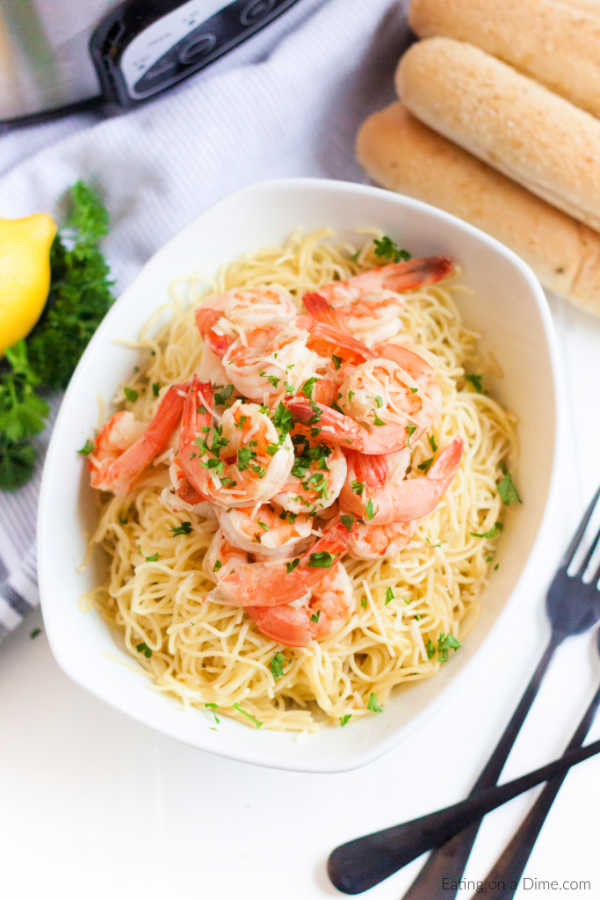 Print this Crock Pot Shrimp Scampi Pasta Recipe below:
Crock Pot Shrimp Scampi Recipe
Crock Pot Shrimp Scampi Recipe is a simple and tasty recipe that can be prepared with little effort. Lemon, Parmesan cheese and more make this meal amazing.

Ingredients
2

lb

shrimp

frozen, precooked, devained and peeled

salt and pepper to taste

1

tablespoon

garlic salt

2

lemons

freshly squeezed

1

cup

chicken broth

or you can use water

2

tablespoons

fresh parsley

½

cup

freshly grated parmesan cheese

16

oz

angel hair pasta
Instructions
Combine everything but the parmesan cheese and the angel hair parsley in the crock pot.

Cook on low for 3-4 hours or high for 2 hours.

Stir in half the parmesan cheese.

Serve over cooked angel hair pasta and top with remaining parmesan cheese.
Nutrition Facts
Calories
481
kcal
,
Carbohydrates
60
g
,
Protein
44
g
,
Fat
5
g
,
Saturated Fat
1
g
,
Cholesterol
386
mg
,
Sodium
2488
mg
,
Potassium
388
mg
,
Fiber
3
g
,
Sugar
3
g
,
Vitamin A
175
IU
,
Vitamin C
27.1
mg
,
Calcium
345
mg
,
Iron
4.6
mg
Try out some of these other easy shrimp recipes:
Here are more easy and delicious Slow Cooker Shrimp Pasta recipes:
Try these other easy crock pot recipes: