This post may contain affiliate links. If you make a purchase through links on our site, we may earn a commission.
Make this Easy Ground Beef Enchiladas Recipe for Mexican Monday when you need a quick but delicious dinner idea. Get all the flavors of enchiladas in just minutes with this simple recipe.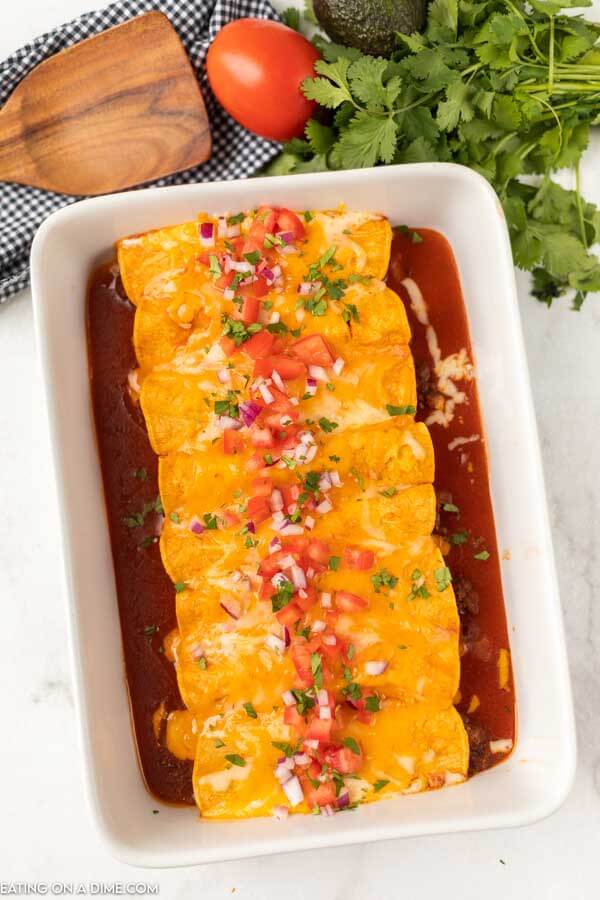 Easy Ground Beef Enchiladas Recipe
Our entire family goes crazy over Mexican food and you can't go wrong with enchiladas. This recipe is super fast and easy making it the perfect meal for busy weeknights.
In just minutes, your house will smell amazing from the ground beef and spices simmering together in the skillet. Yum!
We have served this for guests and the enchiladas are always a big hit. The flavor is amazing.
Ingredients
ground beef
onion
salt and pepper
salsa
chili powder
paprika
cumin
corn tortillas
red enchilada sauce
shredded cheese
How to make ground beef enchiladas
First, brown the ground beef in the skillet.
Second, add all of the seasonings and stir everything together with the salsa.
Next, heat the red enchilada sauce in a saucepan. Take each corn tortilla and dip into the sauce to warm them up.
Now, let's put the enchiladas together. Just add the mixture to the corn tortillas and roll each one up.
Put them in the baking dish. Pour the remaining enchilada sauce over them and sprinkle the cheese. Bake and enjoy!
It is that easy to make this delicious meal.
What Kind of Enchilada Sauce Should I Use?
We used red enchilada sauce. My kids prefer this type.
However, you can use green enchilada sauce to change the flavor up. I like them both!
You can use store bought or homemade enchilada sauce.
What are the best corn tortillas for enchiladas?
We like to use yellow corn tortillas because they hold up better. However, feel free to use what you prefer.
If you like flour tortillas, you can use those.
What to serve with Beef Enchiladas
Tips for Making Ground Beef Enchiladas: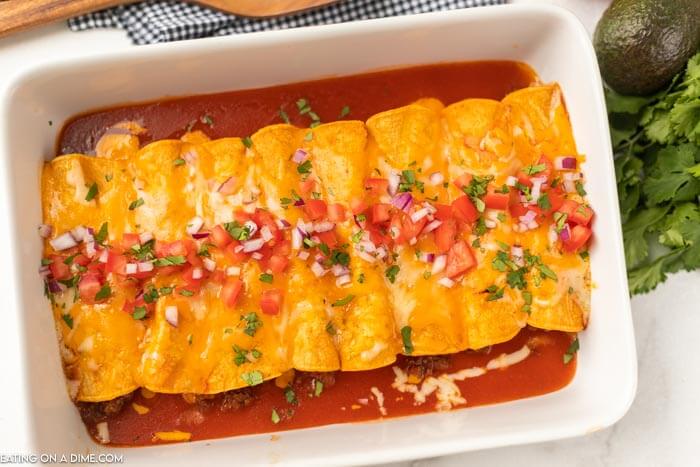 Easy substitutions and Additions:
You can try using ground turkey instead of ground beef. It is delicious and no one can tell the difference.
We also have used shredded chicken and that is really good. This recipe is a great way to use leftover chicken and turn it into something amazing. We make this easy chicken enchiladas recipe.
Another idea to try is steak enchilada recipe. Just substitute steak for the ground beef for a tasty way to change things up.
You can also make easy ground beef enchiladas with green sauce. This recipe is so easy to switch things up.
Just use what you have. The great thing about this recipe is how versatile it is.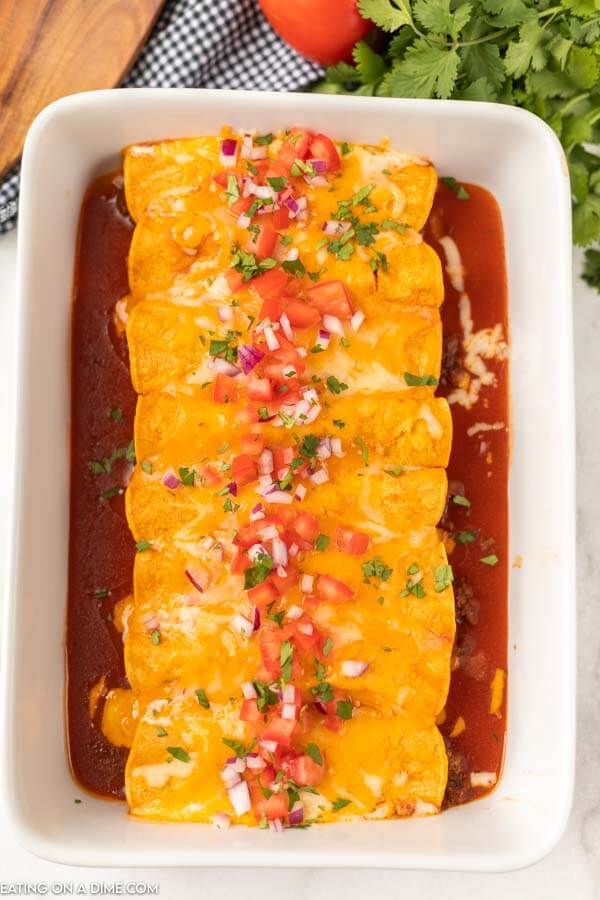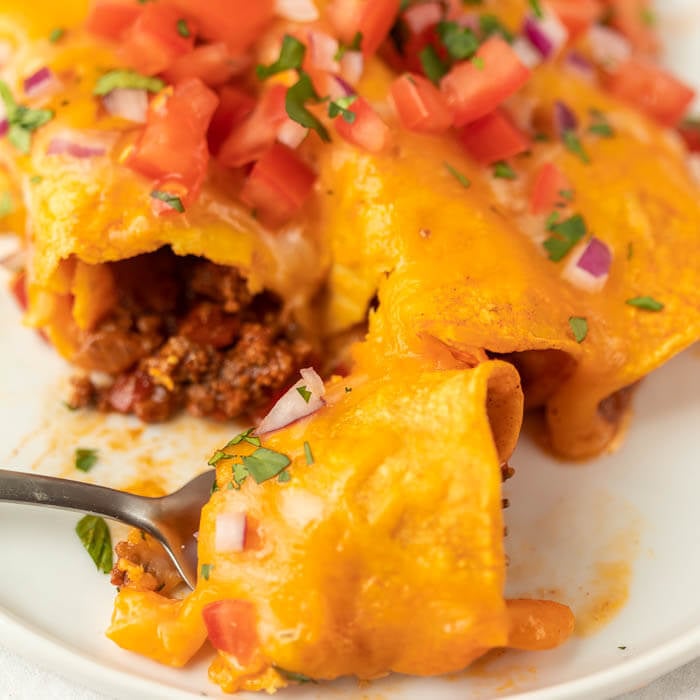 How do you Make Beef Enchiladas not Soggy:
The best way to keep from getting soggy enchiladas is to not add to much sauce. We recommend slowly adding the sauce to cover the enchiladas when placing in the casserole dish.
You can also slightly fry the tortillas to help prevent them getting soggy.
How do you freeze Beef Enchiladas:
If you would like to freeze your beef enchilada, we recommend freezing them uncooked. Double the recipe and place one of them in the freeze. Place in a freezer safe container and wrap with aluminum foil.
They will last about 3 months if stored properly.
Frequently Asked Questions:
Which is better flour or corn tortillas for enchiladas?
Both flour and corn tortillas can be used for enchiladas, we like the flavor the corn tortillas give enchiladas.
What cheese is best for enchiladas?
When choosing a cheese for enchiladas, we recommend using a Mexican blend. This 4 cheese blends adds flavor and the best cheese for enchiladas.
Why do my tortillas fall apart when I make enchiladas?
To prevent your corn tortillas from falling apart, it is best to warm them up. You can also moisten them which makes them flexible to roll up.
Print Easy Ground Beef Enchilada Recipe:
Easy Ground Beef Enchiladas recipe
Make this Easy Ground Beef Enchiladas Recipe when you need a quick but delicious dinner idea. Get all the flavors of enchiladas in just minutes.
Ingredients
Instructions
Preheat the oven to 350 degrees F.

In a large skillet brown the ground beef with the onion. Season with salt, pepper, chili powder, paprika, and cumin. Stir in the salsa.

Heat over low heat until all the flavors combine approximately 10 minutes.

Pour a small amount of the red enchilada sauce on the bottom of a 9X13 baking pan.

Heat up the remaining red enchilada sauce in a sauce pan and then dip the corn tortillas in the enchilada sauce.

Spoon meat mixture into the corn tortillas, roll and place seam down in the baking pan.

Continue until the meat mixture is gone.

Pour the remaining red enchilada sauce from the pan over the enchiladas.

Top with both of the cheeses.

Bake for 10 minutes until heated through.

Top with any of your favorite toppings and enjoy!
Recipe Notes
Refrigerate the leftovers in an air tight container for up to 5-7 days. 
If you LOVE cheese, you can also add shredded cheese in the tortillas with the meat mixture and top with the cheese as well.  
Nutrition Facts
Calories
678
kcal
,
Carbohydrates
38
g
,
Protein
40
g
,
Fat
41
g
,
Saturated Fat
17
g
,
Cholesterol
137
mg
,
Sodium
1327
mg
,
Potassium
920
mg
,
Fiber
8
g
,
Sugar
9
g
,
Vitamin A
2150
IU
,
Vitamin C
10.3
mg
,
Calcium
313
mg
,
Iron
6.7
mg
More easy enchilada recipes