Get ready to wow the kids with these amazing Halloween cupcakes ideas to make. Try 25 Easy Halloween Cupcakes. So fun and tasty!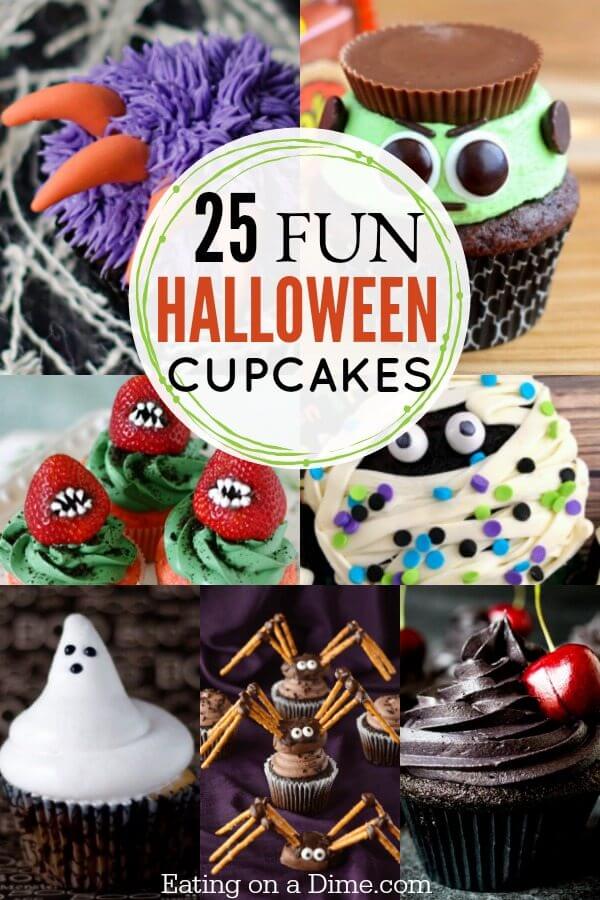 Easy Halloween Cupcakes Ideas
We have 25 fun and easy Halloween cupcakes ideas you can try. They will be the hit of the party!
From pumpkins and spiders to ghosts and monsters, there is something for everyone! Let the kids help and everyone will have a blast.
Grab some piping bags and icing and let's get creative with these easy Halloween cupcake ideas.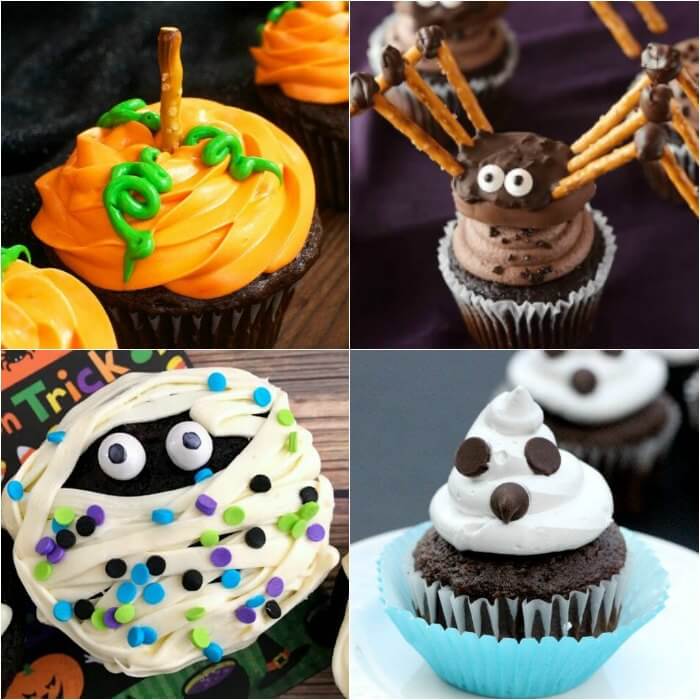 25 Halloween Cupcake Ideas
Whether you're looking for a fun treat for your party guests, or a sweet treat to celebrate Halloween, don't miss these delicious cupcakes. The only thing I love more than cupcakes are themed cupcakes!
We love that there are so many easy and delicious cupcake ideas. These cupcakes are perfect for parties or snack times.
Halloween Cupcakes are so fun!
No need to buy store bought treats for your next Halloween party. These cupcake ideas are so fun.
From chocolate cake and white chocolate to pumpkin spice cupcakes and chocolate cupcake, there is something to please everyone.
These cupcakes recipes are sure to be a hit.

Let's get started with these easy Halloween Cupcakes!
Reese's Cup Werewolf Cupcakes
The werewolf cupcakes here are adorable! This idea is so creative using Reese's cups!
Who doesn't love a chocolate and peanut butter cupcake. These are sure to be hit at your next party.
Easy spider cupcakes
Make spider cupcakes with pretzel sticks here! This is so easy and fun. Kid's will love helping to make these.
Halloween Black Cupcakes
Add a cherry on top for this simple but cute Halloween idea here! I love the classic look and it's so easy.
Orange Halloween Cupcakes
Mini cupcakes are perfect for little hands. The orange and white is so pretty here and the pumpkin just tops it all off!
The cream cheese frosting is so good and easy to make.
Pumpkin Patch Cupcakes
This idea here is so clever. The pumpkin stems are pretzel sticks!
Spider Cupcakes
Oreos and black icing create a spider design here. So simple and fun! Kid's will love the googly eyes.
Witch Hat Cupcakes
Layer candy to make a witches hat on these festive cupcakes here. The green icing really adds to it!
Ghost Cupcakes
Make a ghost face on cupcakes with mini chocolate chips and marshmallow cream here. This is incredibly cute and tasty.
Caramel Skull Cupcakes
Caramel and chocolate make a decadent skull cupcake perfect for Halloween! Get the recipe here.
Witch's Brew Cupcakes
This idea here is so unique! All the green and black combine for a perfect treat for Halloween!
Monster Claw Cupcakes
Monster Claw Cupcakes are so easy to make. Take these to your next Halloween party.
Pretzel Spider Cupcakes
Use frosting to "glue" the pretzel legs together for a creative twist on these spider cupcakes here! I love the long "legs".
Reese's Frankenstein Cupcakes
Make Frankenstein easily with Reese's cups and other candy. Yummy! See the recipe here.
Cauldron Cakes
This is a fun twist on regular cupcakes. So creative and tasty here.
Dirt Cupcakes
Turn a classic dessert into a fun cupcake here for Halloween! We love adding in some gummy worms to make this complete.
Witch's Broom Cupcakes
I love how they used pretzels for the broom handle! The icing makes a "yummy" broom too! Find more details here.
Witch's Hat Cupcakes
Top these cupcakes here with chocolate ice cream cones to make adorable witch's hat!
Monster Strawberry Cupcakes
Incorporate healthy fruit into cupcakes with these "monster" strawberries here. Kid's will love this one for sure!
Pumpkin Spice Pudding Halloween Cupcakes
Yum! Pumpkin Spice! Top with a black cat and cool sprinkles for a fun treat here.
Spider Web Cupcakes
You will never believe just how easy it is to make spider webs on cupcakes here. Plus, they taste pretty amazing too!
Pumpkin Oreo Cupcakes
Pumpkin adds a pretty splash of color and the contrast is awesome with the black oreos. Oreo fans will love the recipe here.
Bootiful Cupcakes
Learn this simple technique here to make ghost cupcakes. These look so cool.
Pumpkin cupcakes
Layers of orange frosting make a beautiful pumpkin here. Top with green gummy candy to complete the look.
Adorable Mummy Cupcakes
Drizzle icing to make mummy cupcakes here! The googly eyes sticking out are too cute!
Monster Cupcakes
Kid's will love all the candy eyes in these colorful treats here. These monsters are so cool!
These cupcakes for Halloween are amazing!
Each idea is easy to make and the kids can help. Not only are these tasty but so simple.
Most of them the cupcakes can be made with a simple box cake mix. All you have to do is add your topping of choice and you have Halloween Cupcakes.
Which Halloween inspired cupcakes are you making?
I love looking at all the Halloween cupcakes pictures. There are so many cute cupcakes to choose from.

My kids have been loving the different desserts and I love that they are not "spooky" Halloween.
They are all so cute and fun!
Halloween cupcakes!
Try one of these fun Halloween cupcake decorations. You don't need to spend a ton of time or money on parties. Candy Corn cupcakes are even a good idea.
Make one of these cute treats and skip the bakery. The cupcakes will be cuter and I taste even better than anything you could purchase. Plus, it will mean more to your kids for you to make them at home. Your kids can help and they will be proud of how it turns out.
Plus, you will save money! The options are endless from witch cupcakes to monster cupcakes and more! Lots of fun cupcakes for Halloween.
Make one of these fun Halloween treats for your next Halloween party or just a fun afternoon treat. My kids love the cupcakes that look like jack o lanterns.
We love Halloween around here! It's so much fun for all of us.