Halloween will be here before we know it. I have been making a bunch of different and easy Halloween desserts for kids lately and I wanted to share some with you here.
My kids have been loving the different desserts and I love that they are not "spooky" Halloween.
Easy Halloween Desserts for Kids
We like Halloween in our house, but I am not a big fan of the scary Halloween stuff and spooky Halloween treats.
Cute ghosts? Yes! Scary ghosts? No way. Cute monsters? Of course! Creepy monsters? Absolutely not.
If you are like me and you like cute Halloween treats as opposed to scary, then you are going to love these easy Halloween treat recipes for kids.
Let's get started with these delicious and easy Halloween desserts to make!
1. Spider Pudding Pies
These Spider Pudding Pies are so cute! I can deal with this kind of spider any day.
These were also really easy to make. I just bought all of the ingredients and let the kids go to town making their own spiders here.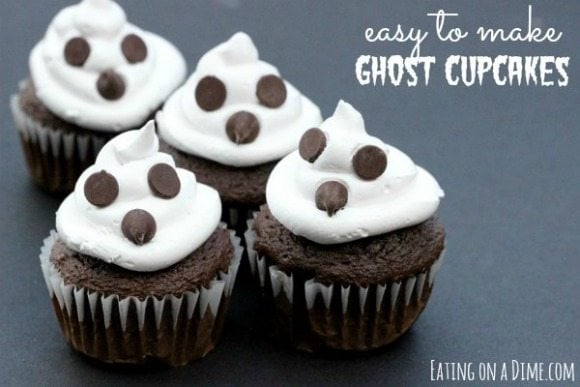 2. Ghost Cupcakes
I think these Ghost Cupcakes are probably my favorite easy Halloween dessert for kids. They are just way too cute and very easy to make.
They are also a chocolate cupcake, which of course, is delicious. Aren't these little ghost faces just adorable? See the recipe here.
3. Ghost Sugar Cookies
We love sugar cookies! No really. We love eating sugar cookies.
I'm not sure which I like more, the cookies or the icing, but either way, they are good. You probably make sugar cookies during the holidays, but why not make them for Halloween?
Follow these easy step-by-step directions here and you can make these Ghost Sugar Cookies in no time.
4. Easy Spider Cupcakes
These Spider cupcakes were so much fun to make with the kids. They are already asking to make them again.
I love how easy they are to make too. Find the recipe here.
5. Pumpkin Sugar Cookies
Speaking of sugar cookies, try your hand at these adorable Pumpkin Sugar Cookies here. They look like really fancy bakery-bought cookies, but you can recreate these very easily.
These would be great to toss in the kids' lunches or to display at your Halloween party.
6. Witch Brooms
I am not sure why I like these Witch Brooms more – because they are made with only two ingredients or because one of the ingredients is Reese's Peanut Butter Cups!
The kids will have a blast making this dessert here (and you'll the kids will enjoy eating them).
7. Witches Hats
Talk about delicious, check out these Witches Hats desserts. If you don't find yourself to be the best baker, this dessert here is perfect for you.
This is also a great treat to have the kids help with, too. You only need 4 ingredients to make these cute little treats.
These are great to make for school or home Halloween parties.
8. Easy Mini Donut Spiders
Here is another cute spider dessert – Easy Mini Donut Spiders. Where do people come up with such great ideas?
Again, this is another treat that is perfect for the kids to help with and they are easy to put together if you are short on time. With only 4 ingredients, you can make a whole army of spiders in a matter of minutes here.

9. Frankenstein Rice Krispie Treats
I'm not going to lie, we like rice krispie treats. And I don't mean just a little. We really like them!
I was super excited to find these Frankenstein Rice Krispie Treats here for an easy Halloween deserts for kids. They are totally cute and not at all scary, which is perfect for our family.
I don't think Frankenstein has ever looked so cute. 😉
10. Frankenstein Marshmallow Pops
Here is another fun Frankenstein dessert idea – Frankenstein Marshmallow Pops. Now when I first saw these I thought they would be a little too difficult, but they really are doable.
I think with the right tools and a little bit of practice, you will be very pleased with the result. These would be so much fun to display at a Halloween party!
11. Frozen "Boo"-Nana Pops
Ok, these Frozen "Boo"-Nana Pops really are the cutest Halloween treat recipes! These are very easy to make plus they are a healthy alternative to a super sugary dessert.
You only need a few ingredients to make these yummy treats here. I'm thinking these would be a fun after school treat to surprise my kids with. What do you think?
These could also work for easy Halloween appetizers!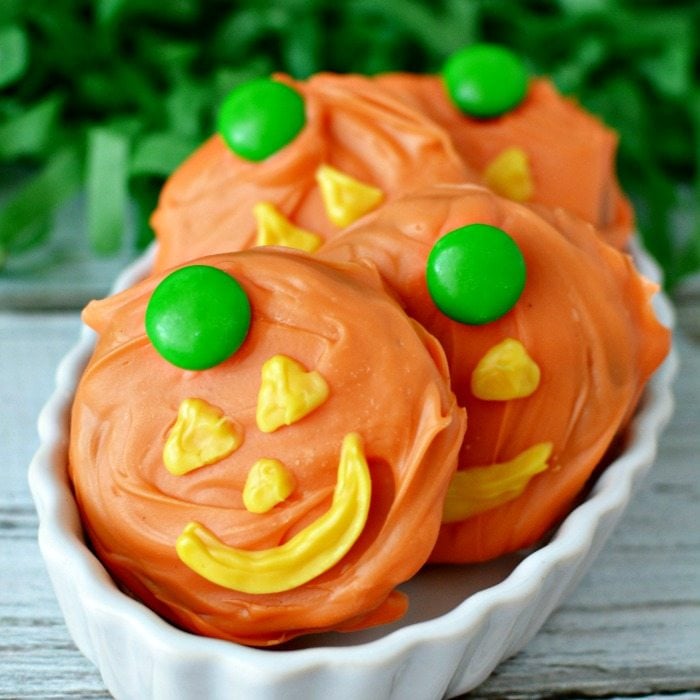 12. Jack- O- Lantern Chocolate Covered Oreos 
The kids are going to love this super fun recipe here for Halloween. It is the perfect no bake treat.
This would be perfect for Halloween parties or class parties. They will be a big hit with everyone!
Plus, they are so very simple to make.
13. Mummy White Chocolate Truffles 
With just a few simple ingredients you can have the White chocolate truffles recipe here ready in no time! Everyone will be shocked by this adorable Halloween mummy treat!
They are so tasty too!
14. Ghost Twinkies
Turn twinkies into the perfect Halloween no bake treat here. You will be so surprised how adorable these look.
These are perfect for Halloween parties and more.
15. Halloween Puppy Chow
The kids will go crazy over this puppy chow recipe here and it is so simple to make and delicious. The entire recipe looks so festive with candy corn, candy eyes and more.
16. Witch Hat Cookies
Witch hat cookies are the perfect no bake treat and they are a blast to make here. Halloween witch hat cookies make the cutest treat for parties and more with very little work.
There you have it, my favorite easy Halloween desserts for kids. I love that everything is cute, but still Halloween themed.
I bet my kids will like the sugar cookies the best.
Which of these Simple Halloween desserts do you think your kids will love the most?
Do they already have a favorite Halloween dessert? We'd love to hear what it is!
These are perfect Halloween treats for party planning and more.
Many of these would also work for Halloween desserts for adults as well!
Let u know which of these easy Halloween treats for school you make!
There are so many cute ideas to try. You may end up making several of these.
Halloween desserts recipes with pictures make putting these treats together so quick and easy.
From chocolate cake to white chocolate treats and peanut butter and candied corn, there are lots of yummy treats you can make. There are many kid and adult ideas sure to please a crowd when making Halloween treats.
I'm sure whichever Halloween dessert you choose, it will be a hit. We also like to make a caramel apple or candied apples. Yum!
Check out these fun and frightening easy Halloween cookie recipes for kids. Whether you are throwing a Halloween party or just want to surprise your kids, here are 20 recipes that everyone will love!
Try 25 Easy Halloween Cupcakes. So fun and tasty!
Try these other delicious Halloween Treats for kids: