This post may contain affiliate links. If you make a purchase through links on our site, we may earn a commission.
The kids are going to love these Halloween Oreos. Try these 4 Ingredient Jack-O-Lantern Chocolate Covered Oreos for a fun treat.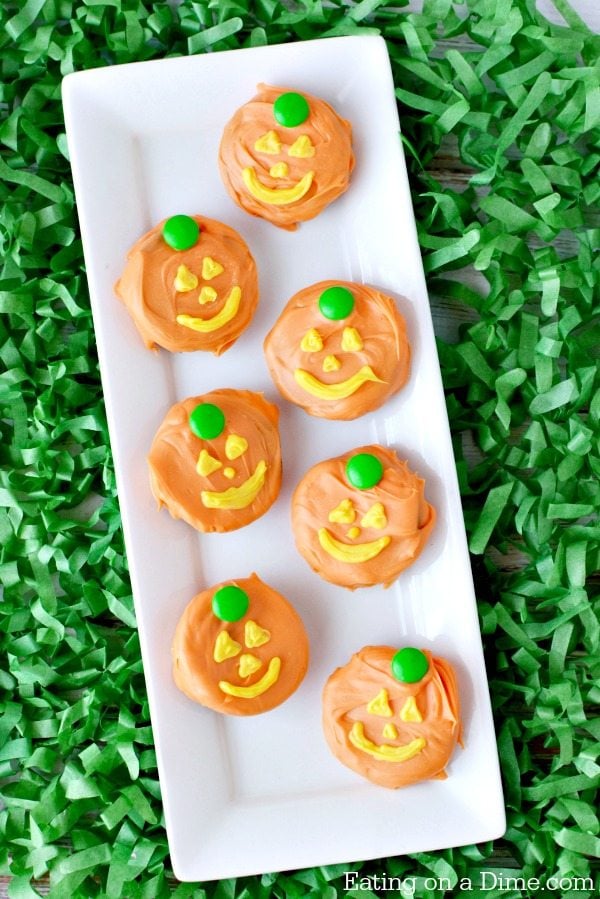 Halloween Chocolate Covered Oreos is perfect for Halloween parties or class parties. The cookies look really impressive but they are so easy.
My kids and I love to make fun Halloween treats and this simple treat is our favorite. If you love making Halloween treats too, see more No bake Halloween Treats. For a healthier snack, try Jack O Lantern Oranges.
Another family favorite is Halloween Rice Krispie Treats or White Chocolate Mummy Treats. Make sure to check out all of our Halloween Recipes.
Why We Love these Halloween Oreos:
Simple Ingredients – These Oreo Halloween treats only require 4 ingredients and they can be made in a variety of ways.
Quick and Easy – If you are needing a last minute Halloween dessert, this is the one to make.
Halloween Party Treat – Make these treats for your next Halloween party. They are always a hit and taste amazing.
Ingredients:
Scroll to the bottom to see recipe card for the full ingredients and recipe.
Variation Ideas:
Use Chocolate Chips – You can use white chocolate chips and food coloring instead of candy melts if you prefer. Dark chocolate chips will also work, the color maybe not as bright.
Change Oreos – We used traditional Oreo cookies but any type will work. If you have a favorite, feel free to use them. They even have holiday ones during Halloween.
More fun ideas – Use sprinkles and candy eyeballs to decorate the Oreo cookies. The kids love to use candy eyes or candy eye ball.
Halloween Sprinkles – Skip the faces and just use Halloween sprinkles.
Step by Step Instructions:
Step 1 – Prepare the baking sheet or cutting board and line it with wax paper or parchment paper.
Step 2 – Put half a bag of candy melts into a bowl that is microwave safe. Heat this on high for 2 minutes but stir every 30 seconds.
Step 3 – Keep doing this until it is melted. It is important to stir in intervals so the candy melts don't burn. Microwave times vary so you may not need the entire 2 minutes.
Step 4 – Once melted, dip an Oreo in the orange candy. Make sure to do this one cookie at a time.
Step 5 – Be careful that you coat the entire cookie getting the front and back. Just flip the cookie over to coat the other side in chocolate. I use a fork to do this and it makes it really easy.
Step 6 – Once coated, remove the oreo cookie from the candy melts. Remove any excess by tapping the cookie on the side of the bowl.
Step 7 – Put the cookie on the wax paper. Put a green candy at the top of the Oreo for the stem.
Step 8 – Keep repeating until you have finished all of the cookies. Let the cookies harden completely before decorating.
Step 9 – The last step is to make the face. Add 10 yellow candy melts into a ziplock bag but don't seal it. Microwave this for 10 seconds.
Step 10 – Knead the candy until melted and put back in the microwave if needed. I would do this in 5 second intervals.
Step 11 – When it is completely melted, make sure you knead all the lumps out of it. It needs to be smooth to easily decorate the cookies.
Step 12 – Now just use scissors to snip the tip of the bag. You just want a small opening. Use this to pipe a jack-o-lantern face on each of the cookies.
Step 13 – Allow this to set completely before storing.
Jack O Lantern Oreos Recipe Tips:
Colored Candy Melts – I use candy melts to make this recipe even simpler. Wiltons works great and you can purchase the color you need. Your local craft store should have an assortment of colors.
M&M's – We bake a lot so I normally buy the party size bag of M&M's. Feel free to also use green candy melts.
Piping Bag – You can decorate the chocolate covered Oreos with a piping bag or a zip lock bag.
Dipping Oreos – When dipping the Oreos, make sure to completely cover them. Remove excessive chocolate before placing on baking sheet.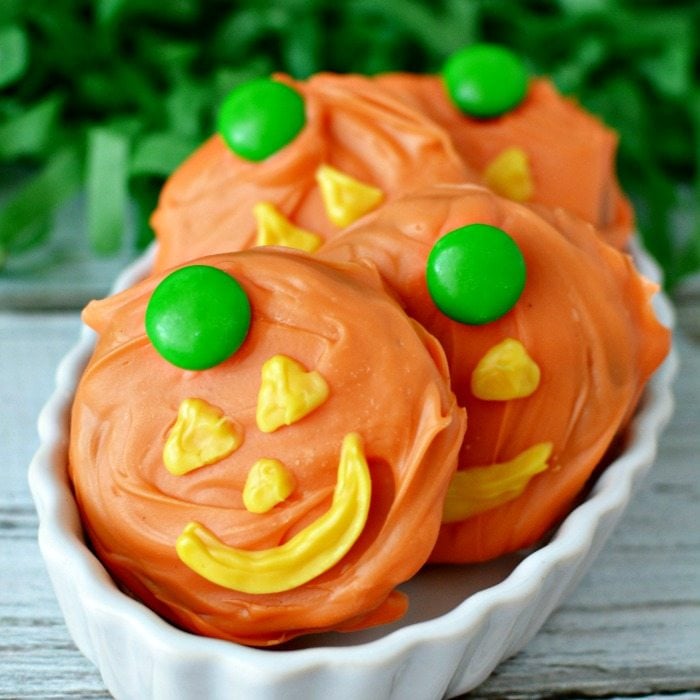 Frequently Asked Questions:
How to Store Leftovers:
Store the leftovers in an airtight container. You can place in the refrigerator or at room temperature.
How to Melt Candy Melts:
We recommend melting candy melts in a microwave safe bowl in 30 second intervals. Make sure to stir after each intervals as it will continue melting as you stir.
Can I Prepare Ahead of Time?
Yes, these chocolate covered Oreos are perfect to make ahead of time.
More Easy Halloween Treats to try:
If you make these Halloween Oreos, make sure to give a star rating!
Oreo Cookie Halloween Treats
The kids are going to love this super fun recipe for Halloween. Try these Jack-O-Lantern Chocolate Covered Oreos for a fun treat!
Ingredients
1

bag

orange candy melts

15

yellow candy melts

12

OREO sandwich cookies

12

M&M candies

separated so you just have green M&Ms
Instructions
Line a baking sheet or cutting board with wax paper.

Place half a bag of candy melts into a microwave safe dish and heat on high for 2 minutes, stirring every 30 seconds until melted. This step is critical, to stir, because the melts can quickly burn. You may find your microwave only requires 1:30 to melt the candy.

Dip one oreo at a time into the orange candy, coating the back side and flipping the cookie over to coat the other side. I find a fork works best for this task.

Lift the oreo cookie out of the candy melts and tap the excess, on the side of the bowl and place onto the prepared surface.

Add a green candy at the top of the oreo for the stem. Repeat until you have the desired number of oreos.

Let set to harden completely. I like to work with half a bag of candy melts at a time so they don't harden too quickly on me.

Place 10 yellow candy melts into a sealable sandwich bag, but don't seal. Microwave on high for 10 seconds. Knead the candy until melted, returning it to the microwave in 5 second increments if necessary. Make sure you knead all the lumps out of it, making sure the candy is completely melted.

Snip the tip of the bag so you have a small opening. Pipe a jack-o-lantern face onto the cookies and let set to dry completely.
Nutrition Facts
Serving
12
g
,
Calories
87
kcal
,
Carbohydrates
14
g
,
Protein
1
g
,
Fat
2
g
,
Saturated Fat
1
g
,
Sodium
102
mg
,
Potassium
34
mg
,
Sugar
5
g
,
Calcium
5
mg
,
Iron
1.2
mg