This post may contain affiliate links. If you make a purchase through links on our site, we may earn a commission.
We are going to show you how to freeze lemons in slices or whole. It is so easy and you can stock up when they are on sale.
Learn How to freeze lemons!
This tip is so easy and you will wonder why you didn't start doing this sooner! You can freeze this fruit whole or in slices.
Did you know that you can freeze oranges, lemons and limes?
If you are like us, you like slices of lemons, limes or oranges in your water. You can actually freeze them ahead of time. Now, you won't waist an entire lemon when you just need a slice.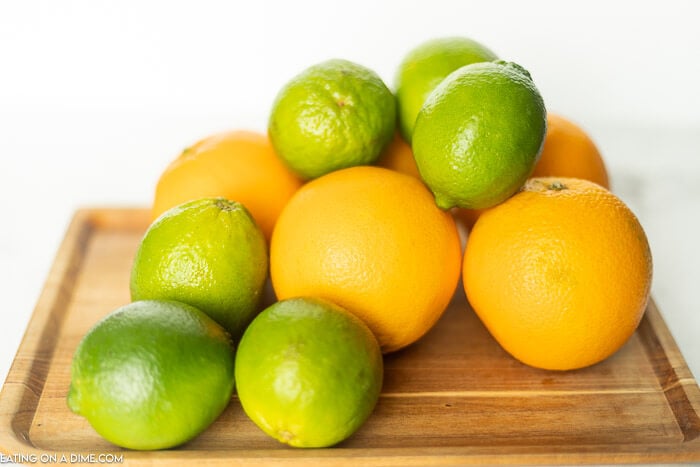 What can you do with the lemons?
Just a few ideas!
Can you freeze lemons?
Yes, and you will love grabbing these slices from the freezer.
Can you freeze limes?
Limes freeze great too! No more waisted limes when you can freeze them.
Can you freeze oranges?
Yes! Oranges freeze great too.
Keep reading to see how easy it is to freeze lemon, limes and oranges. This is a game changer and will save you money! Check out How to Cut an Orange.
How to freeze lemons:
Slice or quarter your lemons, limes, or oranges.
Place on a cookie sheet and place in the freezer.
Once they are frozen, simply place in a freezer bag.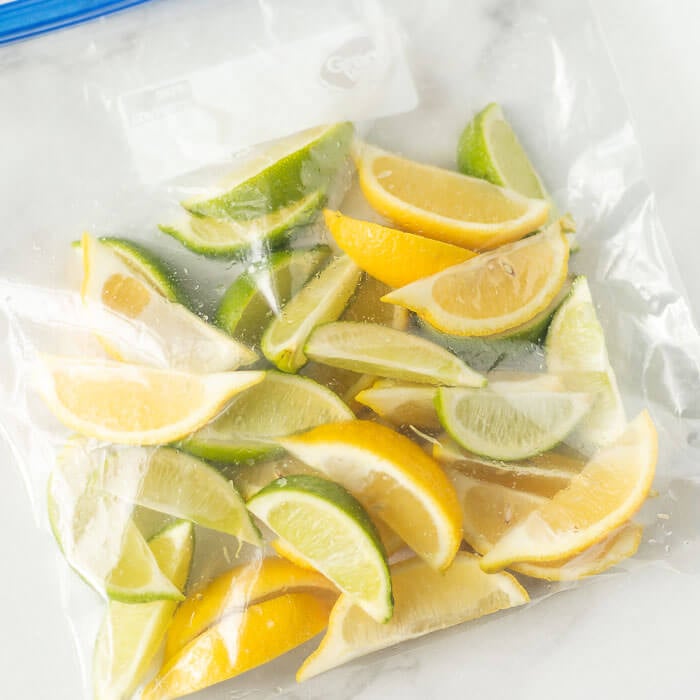 Now you have lemons ready to squeeze in your favorite dish or to place in your water.
How long can you freeze lemons limes or oranges?
You can freeze lemons, limes and oranges up to 6 months. Just make sure you use a freezer container or bag and get out excess air.
How to thaw quickly:
If you need to thaw quickly, just place in the microwave for a few seconds and it will thaw almost instantly. It really can't get any easier than this!
That is all! You will love how quickly the fruit can go from the freezer to the table. It does not take long at all to thaw in the microwave if you need to use it quickly.
See more great freezer tips here.
Stock up when lemons go on sale and learn how to freeze lemons!
Save money and stock up on lemons, limes and oranges when you they go on sale. No worries about fruit going bad because you can just freeze it!
This will help your grocery budget a lot when you buy when prices are the lowest. I love to use what we have or can grab on sale at the grocery store.
By cooking like this, it really helps me to save money on groceries. It is a huge help to our budget.
I cut our grocery bill by 50% off by following these 8 Tips for for Saving Money on Groceries by Menu Planning! Save that money for something else!
It is not hard to do with easy tips like this. Stock up and put lemons in the freezer once you spot a great sale. Don't forget about limes and oranges.
You will save money and everyone gets to enjoy a great meal. Yeah! Get started today.
Once you start doing this, you will freeze lemons all the time. It is so easy and works great.
Give this a try!
It is so handy having lemons in the freezer. Frozen lemon slices are so convenient. You can freeze wedges or slices or even the entire fruit in a plastic bag.
Just remember to store lemons in a ziplock bag or freezer container. Anytime I spot a bag of lemons on sale, I stock up and freeze them.
Another idea is to use ice cube trays and freeze the fresh lemon juice. Sometimes, I do a combination of both. It is just so handy!
Print all the details on how to freeze lemons below: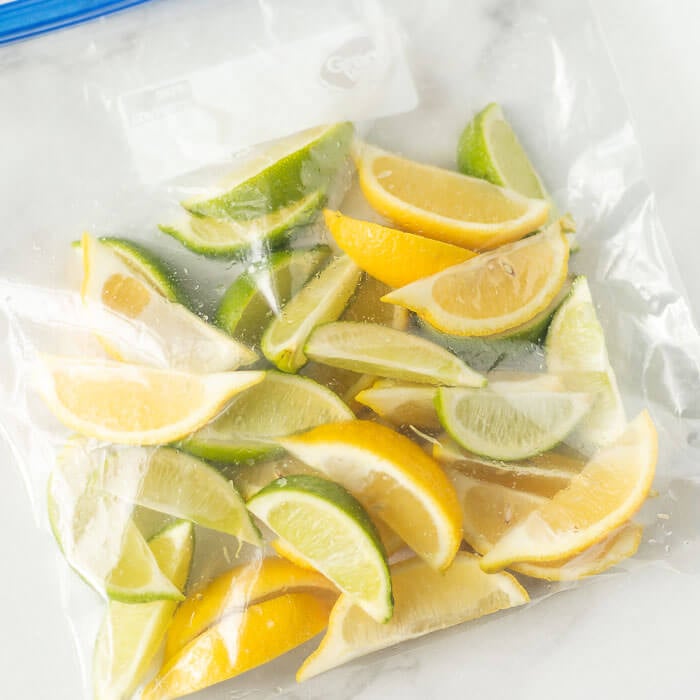 Print Recipe
How to freeze Lemons, Limes and Oranges
Instructions
Wash the lemons.

Place them in the freezer bag, get as much as possible of the freezer bag.

Store in the freezer for up to 4 months.

Defrost in the refrigerator or at room temperature when ready to use.
Notes
You can also freeze lemon in slices to keep on hand for drinks or meals. Cut the lemons into wedges. Place the wedges on a baking sheet and freeze for at least 1 hour. Then transfer the lemon slices to a freezer bag, remove as much air as possible and freeze. Defrost in the refrigerator or at room temperature.
Also try these other freezer tips:
Try these other easy freezer recipes: