This post may contain affiliate links. If you make a purchase through links on our site, we may earn a commission.
Simple and effective methods on How to Thicken Mashed Potatoes so you do not ruin your homemade mashed potatoes. These are our preferred methods to get dinner on the table quickly.
How to thicken Mashed Potatoes:
My family loves having mashed potatoes as a side dish. But what ruins a good bowl of mashed potatoes is when it is to thin. These methods are perfect for when you are trying to get dinner on the table but don't want to comprise the taste of your potatoes.
The only thing that these do is thicken your soupy mashed potatoes. Some of these methods don't even require additional ingredients. Therefore, anyone can do it with very little effort.
These methods will work with russet potatoes, yukon gold and even red potatoes.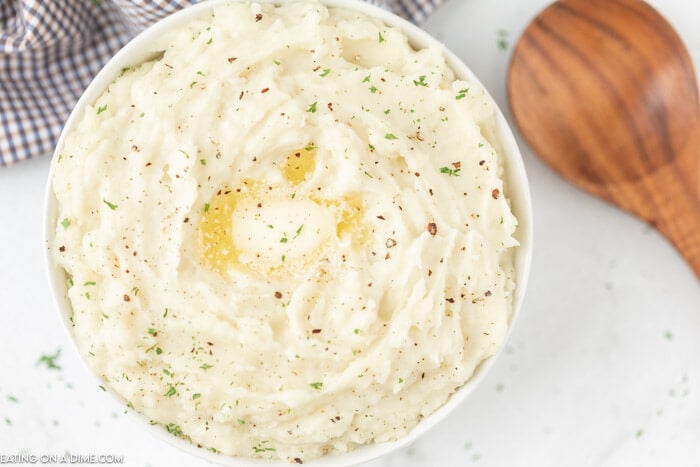 How to make Mashed Potatoes thicker?
There are multiple ways to make your mashed potatoes thicker. We have all been there when you take the time and boil the potatoes. Add the milk and butter and your potatoes are still running.
Sometimes it is matter of mashing your potatoes without adding any additional liquid because the potatoes hold the water that they are boiled in.
Try these methods to help the moisture evaporates before throwing out your mashed potatoes.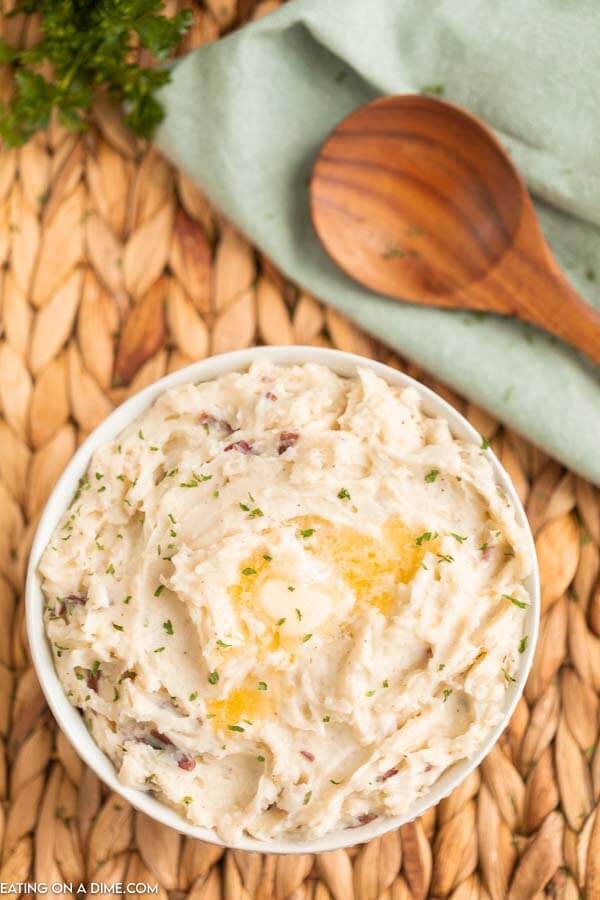 Use a thickening agent:
One way to thicken your mashed potatoes is with a thickening agent. You can use either cornstarch, flour, or powdered milk. Our preferred choice is cornstarch as it doesn't change the taste of the potatoes. Flour can make the potatoes have a chalky taste.
Just add cornstarch or flour one tablespoon at a time until you reach your desired consistency.
Add Dehydrated Potatoes:
If you have dehydrated potatoes, add in about a tablespoon to your mashed potatoes until your desired consistency. This is a great option as it really gives your potatoes a smooth consistency and it is a great thickening power.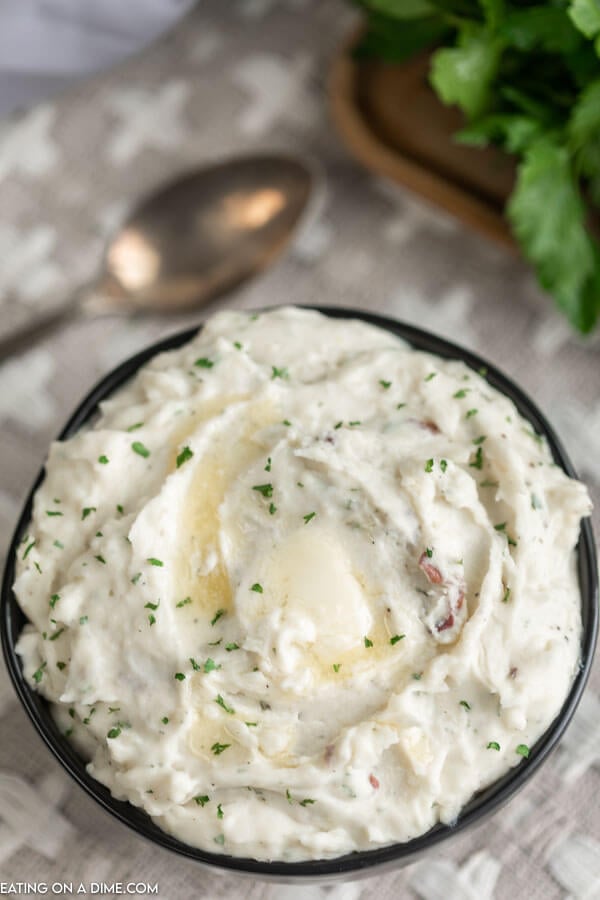 Heat on the Stove Top:
The perfect option if you do not want to add any additional ingredients is to heat on the stove top. Place your mashed potatoes in a pan on the stove. Cook on medium low heat. Leave uncovered and stir about every minute so potatoes do not stick to the bottom and until your mashed potatoes thicken.
Bake in a Shallow Dish:
Another option that is great if you have the time, is to place your mashed potatoes in a baking dish and bake at 350 degrees uncovered in the oven to remove excess moisture. Let them cook for about 10 to 15 minutes until you reach you desired consistency.
Heat in the Microwave:
If you have a small amount of potatoes that you are trying to thicken, try putting the potatoes in the microwave in a microwave safe bowl. Heat the runny potatoes up for 1-2 minutes then take out of the microwave and stir.
Continue doing so until your desired thickness.
Add additional cooked potatoes:
If you have additional potatoes, cook them until they have reached super soft. Then mash them a little and then add them to your bowl of potatoes. Keep adding cooked potatoes until your mashed potatoes have thickened up.
Add Parmesan Cheese:
Cheese can be added to your potatoes to thicken them up. This of course changes the flavor of the potatoes but it really does enhance the taste. Parmesan cheese is one of my favorite ways to thicken them up and it taste great too.
Use your cheese grater and add in some cheese.
How to avoid Runny Mashed Potatoes:
Using the right kind of potatoes. Yukon Gold Potatoes is the preferred potatoes but you can also use russet potatoes.
Don't over cook the potatoes. Once you can pierce the potatoes with a fork they are done.
When adding liquid gradually add it. This ensure that you don't add to much.
Try one of our Mashed Potato Recipes: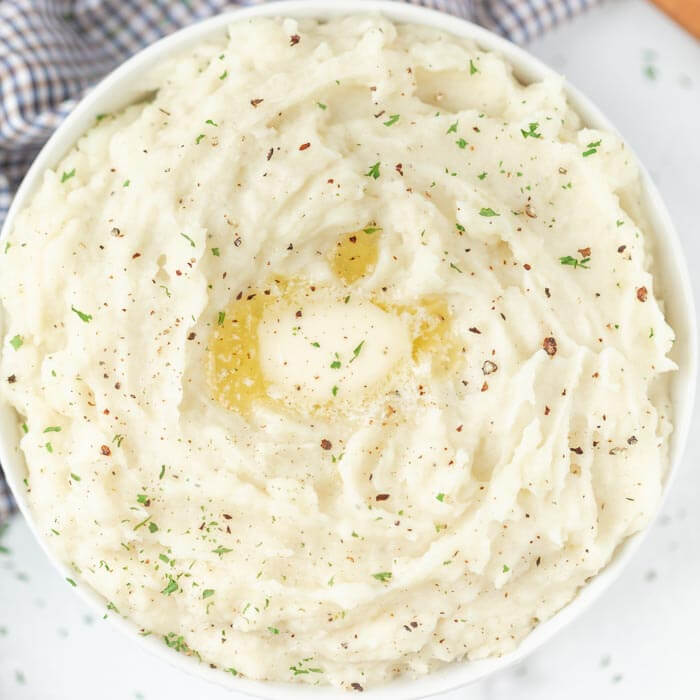 Homemade Mashed Potatoes
These homemade mashed potatoes are creamy and delicious. With just a few easy steps, your family can enjoy mashed potatoes from scratch.
See the Recipe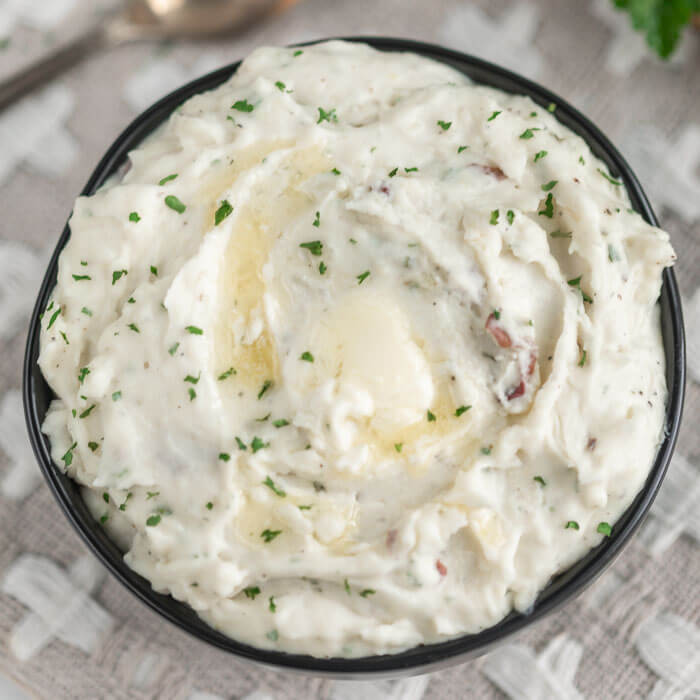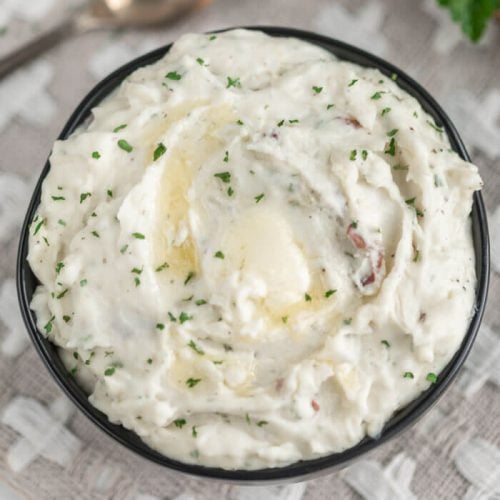 Ranch Mashed Potatoes
These delicious Ranch Mashed Potatoes are perfect for any homemade meal! These potatoes are creamy and packed with tons of flavor.
See the Recipe
Garlic mashed potatoes
Garlic mashed potatoes are creamy and delicious. Jazz up plain potatoes with garlic for the best side dish.
See the Recipe
Crock Pot Mashed Potatoes Recipe
Make Crock Pot Mashed Potatoes Recipe to feed a crowd. This easy way to make mashed potatoes is perfect for holiday cooking and so delicious and creamy.
See the Recipe
Cheesy Mashed Potatoes
Cheesy mashed potatoes are loaded with cream cheese and cheddar cheese for a great side dish. They are baked to perfection.
See the Recipe
Instant pot Mashed Potatoes
Looking for electric pressure cooker recipes? This instant pot mashed potatoes recipe is the best. Pressure cooker mashed potatoes is the only way to go.
See the Recipe
Print the instructions here on how to thicken mashed potatoes: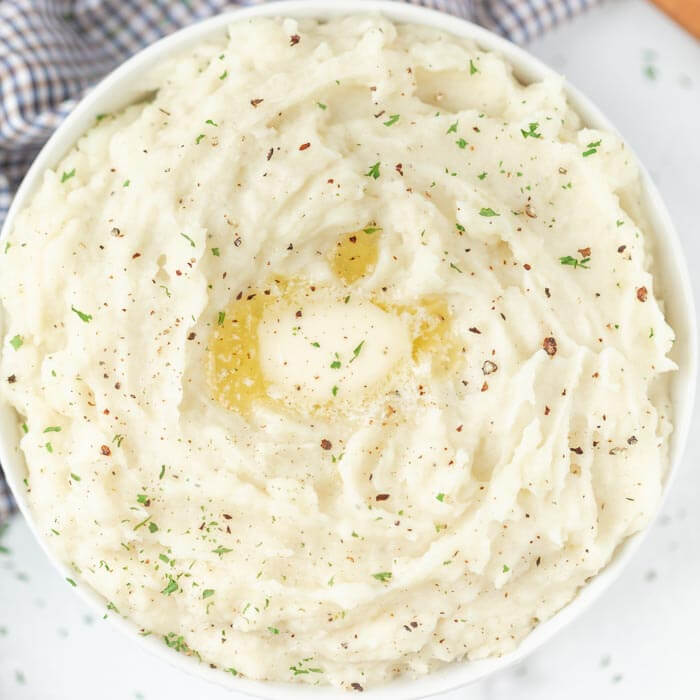 Print Recipe
How to Thicken Mashed Potatoes
Save your mashed potatoes with these simple methods on How to Thicken Mashed Potatoes. Quick and easy tricks to save your mashed potatoes.
Instructions
Slowly add cornstarch, flour or powdered milk to your runny mashed potatoes, 1 tablespoon at a time, until the mashed potatoes are the consistency that you prefer.
Notes
I prefer to thicken with cornstarch as it does not affect the flavor of the mashed potatoes.  
More Kitchen Tips to try: