Get dinner on the table fast with this quick and easy Instant Pot Honey Garlic Pork Chops recipe. The pork chops are tender and delicious with the best honey garlic marinade.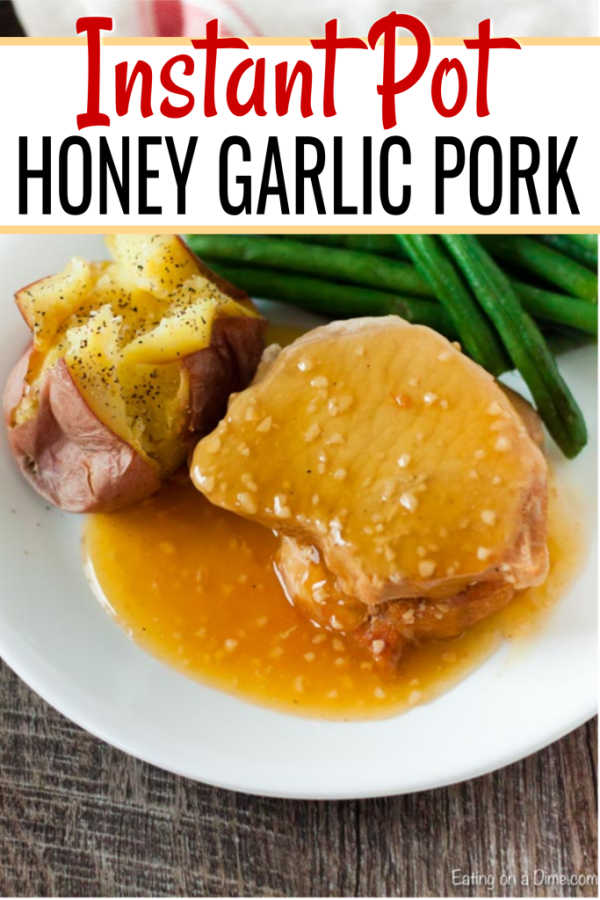 Instant Pot Honey Garlic Pork Chops
We absolutely love our pressure cooker and this is one of our new favorite recipes! The sweet and savory honey garlic is amazing on the pork chops.
Plus, thanks to the pressure cooker the meal literally takes only minutes. This is perfect for busy nights when you need dinner fast with very little prep work.
The kids will love the honey garlic sauce. We all love it so much that we could eat it by the spoonful. Yum!
Your entire family will love this easy meal!
You will need a pressure cooker to make this Instant Pot recipe.
I am using an 8 quart Instant pot but you can use a 6 quart. I personally have an Instant Pot and so far I am loving it.
You can find the Instant pot on sale here. It's really changed dinner time around here.
If you have been putting off trying an instant pot, I highly recommend going ahead and biting the bullet. I love using the pressure cooker when I don't have much time.
It is perfect for frozen food or meals that normally take a while. You can toss everything in and have dinner ready in no time at all.
Those days when you forget to take something out of the freezer or wait until the last minute for dinner, the instant pot is your saving grace.
I am not exaggerating when I say it truly has changed meal time around here. We love ours and it makes soup recipes even easier.
You can also these Instant Pot Accessories to make pressure cooking a breeze. We just love to pressure cook and I am certain you will too.
Dinner time is much easier and less complicated now that I have the pressure cooker. If you are hesitant or on the fence, don't be. You will love it!
You can also try making Crock Pot Honey Garlic Pork Chops Recipe if you prefer to use your slow cooker.
What all do you need to make Pressure Cooker Honey Garlic Pork Chops?
pork chops bone in or out
salt and pepper
minced garlic
honey
chicken broth
rice wine vinegar (or apple cider vinegar)
cornstarch
This all comes together for a marinade that you are going to love!
How to cook honey garlic pork chops in Instant Pot?
Make sure you season your pork chops really well. Don't skip this step!
All of the pork gets tossed into the instant pot. It is so simple!
Now you want to make that delicious marinade that makes these pork chops out of this world amazing! Pour over the pork chops and let the pressure cooker do all the work.
After everything is finished cooking, the sauce will be a little thin. This is when the cornstarch comes in.
Mix with the liquid to help everything thicken. Yum!
We pour extra sauce over the pork chops. It is amazing!!!
How long to cook pork chops in Instant Pot?
In just 25 minutes on high pressure, this meal will be ready to enjoy!
Keep reading for the full recipe.
It is that easy to make Instant Pot Honey Pork Chops!
You can make this meal with hardly any work at all!
Can I use frozen pork chops in this recipe?
Yes, you can! In fact, I often forget to take the pork chops out of the freezer and use frozen ones in the instant pot.
We just love our instant pot because you can make even frozen meat in minutes! Frozen pork chops instant pot recipe turns out just as amazing.

What to serve with Honey garlic pork chops instant pot recipe
Add an easy side dish or two and dinner is all ready to enjoy. We love these delicious roasted green beans with the pork chops. They only take a minute to prepare and they are so yummy.
This recipe is also good with oven roasted asparagus. Yum!
The marinade is so delicious that I love to have a side of rice to spoon the broth over. It is that good!
You can learn how to freeze rice and you can make this meal even easier. I love to grab the rice from the freezer in the morning and when we come home it is all ready to reheat and serve.
We do this for lots of meals and it helps on busy weeknights. Pressure cooked meals make dinner so fast and easy.
This is one of our favorite healthy instant pot pork chops recipes!
Everyone loves this meal so I would say it is a winner. 🙂 We love pork chop recipes and even the kids love Instant Pot Pork Chops Garlic recipe.
If you love honey pork chops instant pot recipe, try some of these other ideas:
honey garlic pork chops oven- try it in the oven. Honey Garlic Baked Pork chops are super yummy!
honey grilled pork chops – try this recipe on the grill
Try using a pork loin or chicken with this delicious marinade.
instant pot stuffed pork chops
You might also like these delicious Crock Pot Honey Garlic Chicken Thighs with lots of garlic and honey for the best flavor. We are always trying something new and even like instant pot Korean pork chops style meals.
Print this instant pot honey garlic pork chops recipe below:
Instant Pot Honey Garlic Pork Chops recipe
Get dinner on the table fast with this easy Instant Pot Honey Garlic Pork Chops recipe. The pork chops are delicious with the best honey garlic marinade.
Ingredients
6

pork chops bone in or out

1

teaspoon

salt

1

teaspoon

pepper

2

tablespoons

minced garlic

1/3

cup

honey

1

cup

chicken broth

2

tablespoons

rice wine vinegar

or apple cider vinegar

2

tablespoons

cornstarch
Instructions
Season pork chops with salt, pepper and garlic powder. Place pork chops in the Instant pot.

Mix garlic, honey, vegetable broth, and rice wine vinegar a small bowl.

Pour this mixture over the pork chops in the pressure cooker cooker and cover.

Add the lid and set the valve to sealing.

Set the pressure (high pressure for 25 minutes).

Do a quick release to release the pressure.

Remove pork chops from Instant pot and place on a plate; cover to keep warm.

In a small bowl, stir cornstarch and 2 tablespoons of the cooking liquid until well blended; stir sauce into in the Instant pot.

Bring to a boil on the saute setting to help thicken the sauce (about 2-3 minutes).

Serve pork chops with the sauce poured on top.
Nutrition Facts
Calories
303
kcal
,
Carbohydrates
19
g
,
Protein
30
g
,
Fat
11
g
,
Saturated Fat
5
g
,
Cholesterol
95
mg
,
Sodium
467
mg
,
Potassium
543
mg
,
Fiber
1
g
,
Sugar
16
g
,
Vitamin A
60
IU
,
Calcium
9
mg
,
Iron
0.9
mg
More Pork Chop Recipes: