Instant Pot Carne Asada Street Tacos will impress the entire family with all the amazing flavor and tender beef. This recipe is so simple to make and the perfect meal idea for busy nights.
Instant Pot Carne Asada recipe
We love tacos and it is something the entire family enjoys to eat. That's rare around here to have something that everyone likes.
These Instant Pot Steak Tacos are awesome and perfect for Taco Tuesday. Everything gets tossed into the instant pot for a really quick and easy meal. The meat is so tender that it falls apart.
In less than 20 minutes, your family can enjoy an authentic Mexican meal even during busy weeknights. It is a popular choice in our home for Mexican Monday.
What are Street Tacos?
These are traditional Mexican tacos that are served on corn tortillas with meat. Toppings include cilantro, onion and salsa.
You won't find any lettuce, tomato or cheese on traditional Mexican style tacos. However, you can certainly use what you prefer on yours.
What is Carne Asada?
Carne Asada is actually grilled meat in English. It is a traditional Mexican dish that the flank steak or skirt steak is marinated then grilled. It is then thinly sliced to enjoy in tacos or by itself.
What type of Steak is used in Carne Asada?
Traditional steak that is used in a Carne Asada is Flank Steak or Skirt Steak. I used Flank Steak in this recipe but either one works perfectly for tacos or fajitas.
Ingredients:
Flank steak: You can also use skirt steak. Brisket is another option but it is more expensive. Chicken and pork can also be used for street tacos.
Fresh limes: We like extra for topping. Try a squeezer for to easily get all of the juice out.
Beef broth: This gives the meat a rich flavor.
Mini Corn Tortillas- Flour tortillas can be used but corn is more authentic.
How to make instant pot street tacos
Prepare Steak – Place the steak in the instant pot and rub the olive oil on both sides of the steak.
Add Onions – Place half the onions in the pot on top of the steak. Set the remaining onions aside for later.
Season the Meat – Sprinkle the seasonings on top. Add the beef broth and the fresh cilantro.
Squeeze Fresh Lime – Finally, squeeze the juice of two fresh limes over the meat and onion mixture. 
Pressure Cook the Steak – Now, just lock the lid on and set the valve to sealing. The pressure needs to be set to high pressure for 15 minutes cooking time and then do a natural release.
Prepare the Corn Tortillas – Meanwhile, melt the butter in a skillet while the steak is cooking. Start frying the mini corn tortillas in the butter until they are soft.
Cool Tortillas – This usually takes about 1 minute. Let them cool slightly before using. Keep in mind that you will need 2 mini corn tortillas per taco.
Quick Release Pressure Cooker – The last step is to do a quick release once the pressure is up.
Serve and Enjoy – Stir and spoon the meat mixture on the tortillas.
How long do you Cook Carne Asada in the Instant Pot?
To cook flank steak in the Instant Pot it only takes about 15 minutes to cook. Quick release the pressure cooker to bring the pressure up. This results in tender, full of flavor steak.
What Spices do we use for Carne Asada?
The spices that make up the carne asada marinade are easy ingredients. You probably already have them in your pantry. The ingredients include beef broth, chili powder, paprika cumin and minced garlic.
Then topping the steak with olive oil, cilantro and lime juice really brings all the flavor together to make a crowd pleasing steak.
Carne Asada Street Tacos Topping Ideas:
Sour Cream
Red Onion
Cilantro
Lime Juice
Cheddar Cheese or Cotija Cheese
Salsa Verde de Tomatillo
Pico de Gallo
What to serve with Street Tacos:
How to store leftovers:
Place the meat inside an airtight container in the fridge. It will keep up to 4 days if stored properly.
We enjoy turning leftovers into additional meals. I often make extra just for this purpose. It really helps during busy weeks.
How to Reheat leftovers:
Reheating leftover carne asada is easy to do. Simply place in a microwave safe dish and heat in the microwave.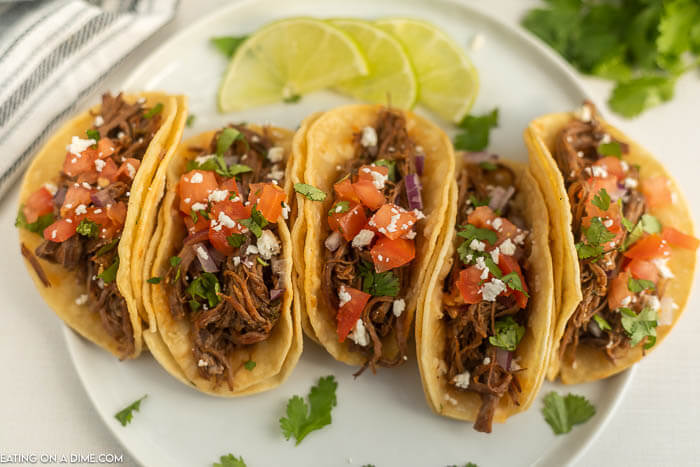 What to do with leftovers:
Burrito Bowls– Layer with leftover steak, rice and beans. Add your favorite toppings.
Quesadillas -Add steak and cheese for quick quesadillas.
Taco salad– Load a taco salad shell with meat, cheese, lettuce and beans.
Salad– If you are trying to reduce carbs, make your favorite salad and add steak to it.
Nachos– Our family loves when I serve a nacho bar. Use leftover beef and all of your favorite toppings.
Lettuce wraps– This is fun and simple. It is also great for lunch during the week.
Tips for Pressure Cooker Street Tacos:
Skirt or flank steak can be used interchangeably in this recipe. Just use what is on sale. I would not use a roast in this recipe because it will result in shredded beef.
Street tacos use 2 corn tortillas because they are typically juicy tacos. This usually does the trick but if you find them too messy, drain some of the juice in the instant pot.
If you prefer the slow cooker, try Crock Pot Street Tacos. This recipe is perfect if you will be away all day. I often choose the cooking method based on what my schedule looks like.
The meat can be browned prior to cooking. Use the saute setting and a little olive oil if you want to sear it first. This is optional and based on preference.
Other flavor ideas- soy sauce and chili powder add a different flavor.
Print Instant Pot Flank Steak Tacos recipe:
More Easy Taco Recipes: