These easy carne asada sides will make Mexican Monday even easier. From rice and Mexican street corn to dips and more, these ideas are quick and delicious.
What is carne asada?
Carne Asada is beef that is sliced very thin. It is marinated in lime juice and other seasonings such as chili powder. The meat is typically grilled a few minutes on each side.
It is usually skirt steak or flank steak.
What to serve with Carne asada?
The next time you are making a carne asada recipe, try one of these easy side dish ideas. They are all quick, budget friendly and really tasty. You can't go wrong with any of these amazing recipes.
Easy Carne asada sides
These are the best sides and sure to be a hit with everyone.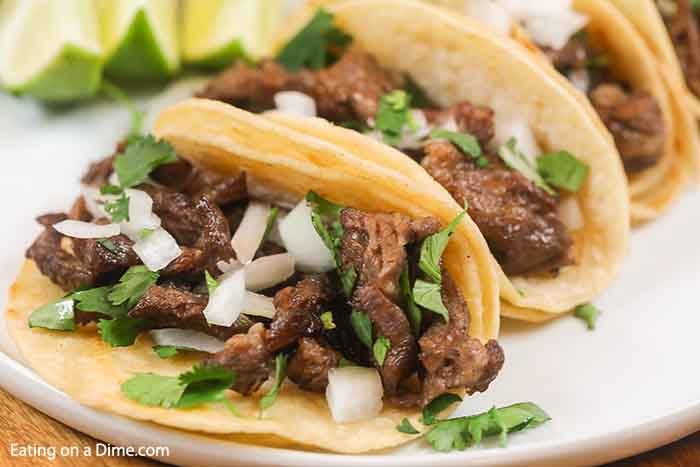 1. Homemade Spanish Rice
Homemade rice is really easy and the flavor surpasses all of those box mixes. This is delicious with carne asada and freezer friendly. I like to double the mexican rice recipe and freeze some for an easy side dish later.
2. Homemade Refried Beans
Refried beans in the slow cooker are seasoned to perfection for a great side option. You can freeze in smaller portions for later. You will never want to buy the cans again at the grocery store. This recipe is so much better.
3. Fresh Guacamole Recipe
They always say that fresh is best. This is definitely the case with guacamole. You can make this in minutes right before dinner for a great side with carne asada.

My kids love when I add a few tortilla chips. Fresh guacamole is the best.
4. Homemade Salsa
This easy homemade salsa is busting with flavor and so fresh. It is perfect to serve alongside tacos and more on the side for dipping.
5. Instant pot White Rice
You can't go wrong with rice and it is so inexpensive. The pressure cooker makes a large batch in hardly any time at all. This is simple and delicious with any carne asada dish.
6. 7 Layer Dip Recipe
This layered dip has everything you need in one recipe. The refried beans, salsa. guacamole and more give this so much flavor. If you are looking for a recipe that has it all, this is the one to make.
7. Mexican Corn on the cob
Mexican street corn is a favorite around here with carne asada. It is so authentic and the topping is the absolute best. It is really easy to make and tastes great. Feel free to serve with extra lime wedges and cotija cheese.
8. Black Beans
You can make a huge crock pot of black beans to enjoy with your favorite carne asada dish. Black beans can easily be frozen for later and enjoyed with other recipes.
9. Homemade Flour Tortillas
It is actually incredibly simple to make flour tortillas. Don't let this recipe intimidate you because it is not hard. They will taste amazing with any carne asada recipe.
10. Homemade Salsa Verde
Salsa verde really gives carne asada tacos extra flavor. I think it is one of the best sides because it really enhances carne asada. Plus, you can also enjoy some with tortillas chips.
11. Corn Salsa
Fresh corn salsa is very simple but so delicious. Mexican corn salsa pairs nicely with carne asada without much work. It is filling but not too heavy.
12. White Cheese Dip
If your kids always beg to make cheese dip, this recipe will definitely be a hit. It tastes like what they serve at Mexican restaurants and it is so easy.
13. Black Bean Salsa
The combination of black beans, corn and more make the best salsa recipe. It is perfect for dipping and serving with carne asada or any Mexican dish,
14. Cilantro Lime Rice
Jazz up plain rice with this cilantro lime flavor. It is so light and just the perfect amount of lime. It is such an easy side dish.
15. Crock pot White Queso recipe
Let the slow cooker do all the work with this easy queso recipe. It is creamy and delicious. Everyone will be impressed with this restaurant quality dip. It is so simple and takes just minutes to prepare.
16. Homemade Flour Tortillas
17. Mango Salsa
18. Crock pot Black Beans
19. Instant pot Spanish Rice
20. Pico De Gallo
21. Cilantro Lime Rice
The best Carne asada side dishes.
Now you have the absolute best Mexican side dishes to serve with carne asada. They are so easy and simple enough for busy weeknights. The slow cooker recipes are perfect to try on those days you will be away.
Your entire family will love these recipes and they are all budget friendly. Give them a try this week. I think your family will love all the tasty options.
Not only are these recipes easy but will save a bunch of money. They taste so delicious that your family might just prefer to eat at home instead of out.
Let us know what side dishes you like to eat with carne asada.
Try one of our Carne Asada Recipes