Today I'm sharing with you this fun reindeer brownies recipe.  They are so cute and easy to make so they are perfect for our 25 Day of Christmas cookie exchanges recipes.  You will first start with your favorite Homemade brownie recipe. You can make a double batch of my homemade brownie recipe or this delicious Nestle Brownie recipe. Both are great!
First, begin with your favorite batch of chewy brownies – any chewy brownie recipe will work. The trick is to line your pan with aluminum foil and then grease the foil. Prepare and bake your brownies as usual and cool completely. Pull them out of the pan easily by pulling up on the foil.
What you need:
Your favorite chewy brownie recipe, baked and completely cooled
Small Pretzels
1 package Red Sixlets candies (I found mine at Wal-Mart in the Holiday baking section, but you can also snag them on Amazon here)
4 tablespoons powdered sugar
1 teaspoon water
Ziplock Bag
How to make Reindeer Brownies:
1. Once your brownies are cool, you are ready to assemble your reindeer. Since your pan is lined with foil, simply lift the foil and brownies out of the pan. Remove the foil and place the "brick" of brownies on a cutting board.
2. Using a heart shaped cookie cutter, cut out the brownie hearts. Don't worry about the left over brownies. You can enjoy them later – or now… which ever. 🙂
3. For the antlers, you can cut or break pretzels, or leave them whole and press them into the side of the brownie. I didn't use any frosting because the brownies were chewy enough to keep the antlers in place.
4. Place the powdered sugar and water in a ziplock bag. Knead with your hands until mixed well. Snip the end of the bag to create a small opening to pipe the frosting onto the brownies. We are using this as our glue.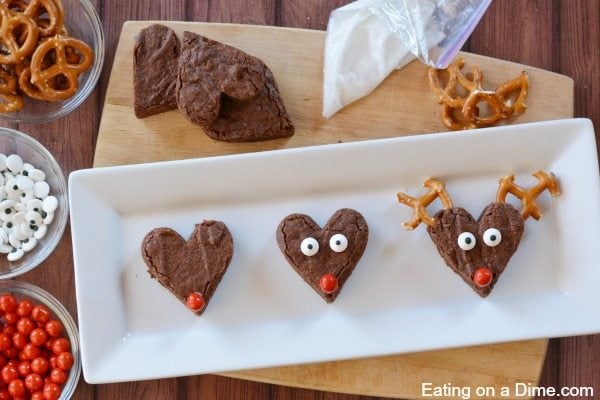 5. Add a dab of frosting to the eyes and attach to the brownies and do the same with the red sixlets to create a nose.
6. Let frosting set and serve!
The kids can help!
This is an easy recipe that the kids can get involved. They are easy to make and fun all at the same time.
One 9×13 brownie pan will make 18-24 reindeer brownies, but it really depends on the size of your heart cutter. My cutter is about 2.5″ square.
Seriously… isn't this adorable?
You have got to try these Reindeer brownies this year with your kids – they will love it.
Make sure you check out more recipes in our 25 Days of Christmas cookie exchange recipes.
Also check out these other Christmas Treats:
Adorable Reindeer Cupcakes