Slow Cooker Venison Roast results in a tender, juicy and full of flavor roast every time. Add your favorite vegetables and seasoning for a delicious meal idea.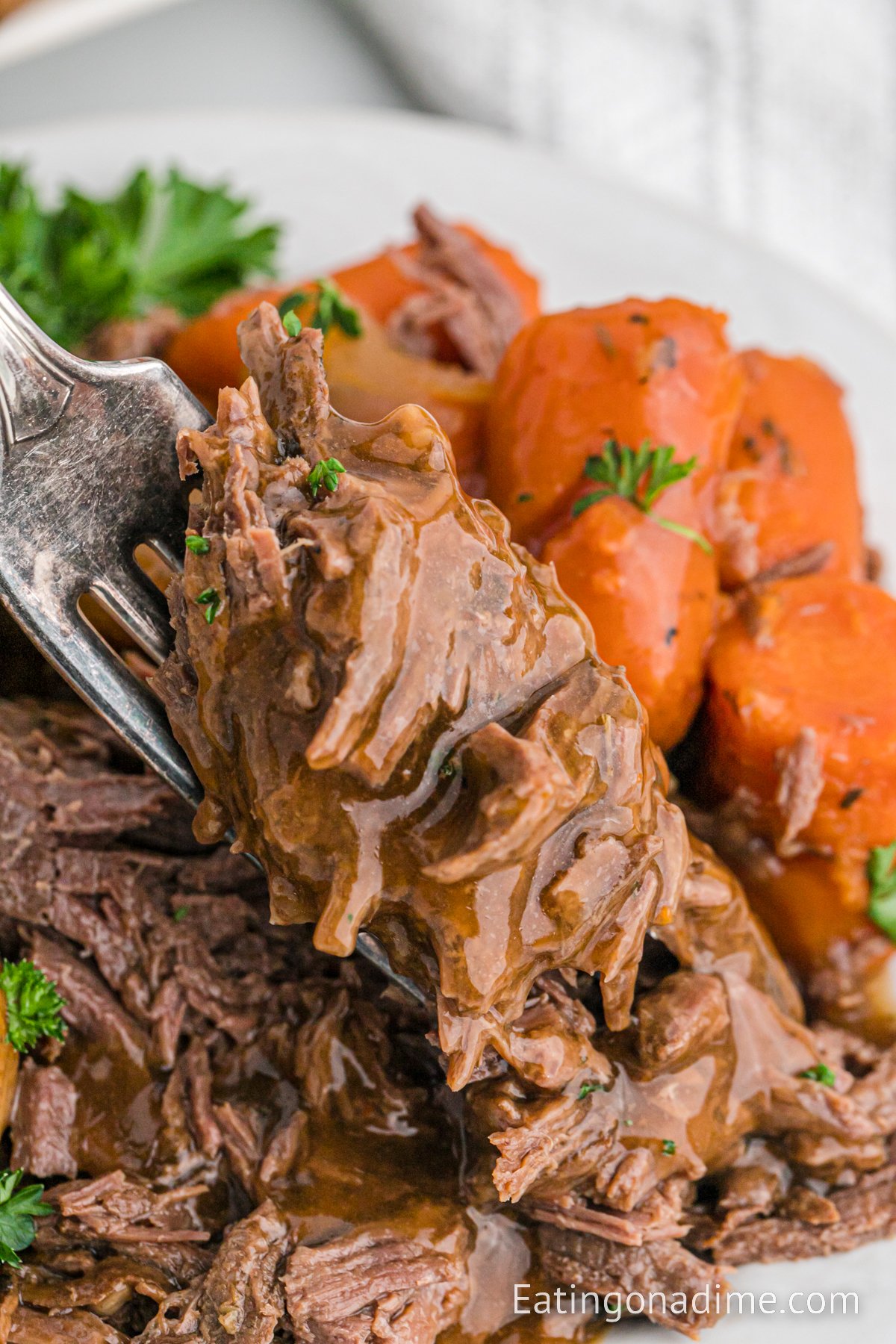 Easy Slow Cooker Venison Roast Recipe:
Venison Roast Slow Cooker is the best way to cook your deer meat. The roast cooks tender, juicy and the only way I recommend cooking this cut of meat.
If you do not cook this cut of meat correctly because it has a lot of connective tissue, the roast could be rubbery.
But making slow cook venison roast is the perfect way to make it. The roast turns out fork tender and perfectly paired with potatoes and carrots. Cook the venison slow and low for the best results.
What is Venison?
Venison refers to any type of animal that you hunt. Venison can be any part of the animal as long as it is edible.
Ingredients for Crock Pot Venison Roast Recipe:
Venison Roast
Olive Oil
Pepper
Salt
Beef Broth
Tomato Paste
Balsamic Vinegar
Worcestershire sauce
Dried Thyme Leaves
Dried Parsley
Minced Garlic
Yellow Onion (cut into large pieces)
Baby Yellow Potatoes
Carrots (peeled and cut into large pieces)
Cornstarch
How to Make a Venison Roast in a Crock Pot:
Step 1 – Heat the olive oil in a large skillet over medium high heat.
Step 2 – Pat the roast dry and then season the chuck roast with the salt and pepper.
Step 3 – Brown the roast in the skillet. Cook it for 4-5 minutes per side. Set the roast aside and use approximately ½ cup of the beef broth to deglaze the bottom of the skillet.
Step 4 – Place the roast in a crock pot. Then top with the onions, carrots and potatoes in the crock pot. Pour the beef broth from the skillet in the crock pot as well.
Step 5 – Then add the remaining beef broth, tomato paste, balsamic vinegar, thyme leaves, parsley and garlic to the crock pot.
Step 6 – Cover and cook on low for 9-10 hours until the roast and vegetables are tender.
Step 7 – Remove the roast from the crock pot and shred. Then remove the vegetables from the crock pot as well.
Step 8 – Remove the broth from the crock pot and strain it into a saucepan. Heat the broth over medium high heat and bring it to a low boil.
Step 9 – In a small bowl, whisk together the cornstarch with ¼ cup cold water. Whisk this mixture into the saucepan. Continue to cook and whisk for 30-60 seconds until the sauce thickens.
Step 10 – Serve the roast and vegetables topped with the gravy from the saucepan and topped with the fresh parsley. Enjoy!
So, How do you Cook Venison Roast so it's tender?
To achieve a fork-tender venison pot roast you will need to cook on low and slow. It cook take as long as 10 hours to cook this roast. Cooking on high does not result in the same tender roast.
What to Serve with Venison Roast:
Mashed Potatoes – My family loves mashed potatoes so I usually make this crock pot mashed potatoes instead of putting the potatoes in the slow cooker.
Carrots – Carrots are delicious in slow cooker but you can also cook them separately.
Dinner Rolls – Make sure to serve with a side of these dinner rolls to dip in the gravy.
Tips for Creating The Best Deer Roast:
Cut Vegetables – Make sure to cut the carrots and onions into large pieces or they will get too soft in the crock pot.
Cook Roast on Low – You can cook this recipe on low or high but we prefer to cook this crock pot venison roast recipe on low as the beef is more tender. This roast usually has a long cook time.
Variations for Crock Pot Venison Roast:
Beef Broth – We use beef broth but you can easily use beef stock.
Seasoning – We love adding onion soup mix to our roast. It adds so much flavor.
Cream of Mushrooms – Add a can of cream of mushroom soup to add amazing flavor.
How to Store Leftovers:
Store your leftover venison roast in a air tight container for up to 3 to 4 days. This roast is delicious leftover and reheats well in the microwave.
Print Recipe here for Slow Cooker Venison Roast:
More Easy Slow Cooker Roast Recipes: