This post may contain affiliate links. If you make a purchase through links on our site, we may earn a commission.
My family loves enjoying Patriotic desserts on the 4th of July and Memorial Day. These 4th of July Rice Krispie Treats are easy to make and are always a crowd pleaser at cook-outs.
Easy Red White and Blue Rice Krispie Treats:
This no bake dessert is simple to make. You are making 3 different batches of rice krispies treats (one for each color). Then you layer them in your pan. These treats make the perfect dessert for all your holiday plans.
The process is easy and only 4 ingredients are needed. To make this fun and festive dessert that is perfect for the 4th of July celebrations.
Head to the store and grab the few ingredients you need. So you can make these tasty treats for your holiday get-together.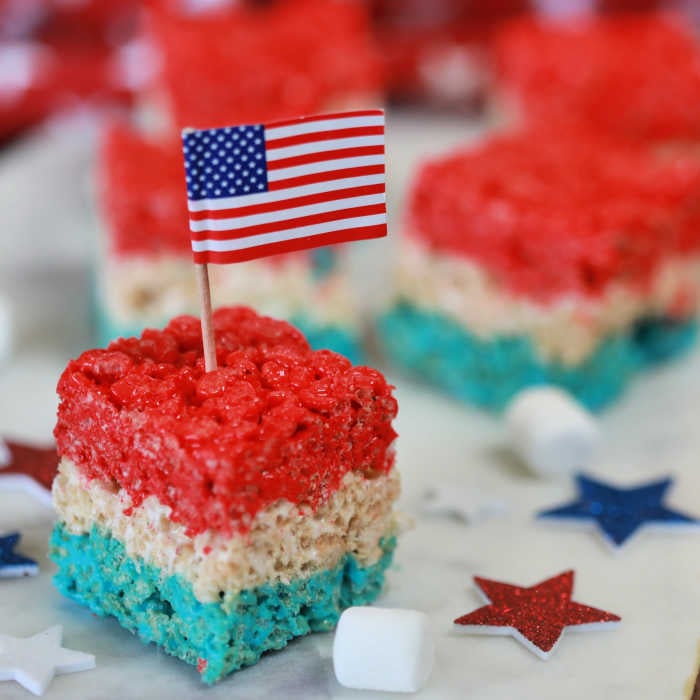 Equipment Needed:
First, you'll need a 9X13 pan to make these quick rice krispie treats in. I'm using a 9X13 baking dish, you can find some similar ones here.
A 9X13 glass pyrex pan works great as well. There are lots of options for these types of pans here.
Spray your pan of choice with your favorite type of nonstick cooking spray. So that these buttery rice krispie treats are easy to serve once they're done.
Ingredients
Butter
Mini Marshmallows (about 2 ½ bags)
Rice Krispies Cereal
Food Coloring (Red and Blue) I like this no taste red coloring here because it is a more vibrant red.
How to Make 4th of July Rice Krispie Treats:
Step 1 – Start with blue layer – For this rice krispie treats recipe, I make the rice krispie layers separately. We're going to start with the blue layer first.
Step 2 – Melt Butter – Melt some butter on low heat in a saucepan. Or use microwave safe bowls to melt in the microwave. Then add in 5 cups of marshmallows and stir until completely melted.
Step 3 – Add blue food coloring – Mix to combine the melted ingredients. Then add approximately 5 drops of the blue food coloring to this melted mixture. Continue to stir until your mixture is the color that you would like for this layer.
Step 4 – Remove from heat – Remove from medium heat and once melted add in 4 cups of rice Krispies. Mix until the cereal mixture is completely covered with the marshmallow mixture.
Step 5 – Spread mixture – Next spread the cereal and marshmallow mixture evenly at the bottom of the 9X13 pan. That you choose with a spatula or wax paper.
Step 6 – Make White Layer – Repeat the same process to make the white layer. I do not add any food coloring when making this layer.
Step 7 – Wash Pan – I like to wash out my sauce pan or mixing bowl. Use the same one for each layer but you may use a separate one if you prefer.
Step 8 – Spread onto blue layer – Once the white layer is mixed together. Spread this batch into the pan on top of the blue layer.
Step 9 – Make Red Layer – Finally, repeat the process one more time. To make the final layer of red rice Krispie treats. Remember to add the food coloring to the marshmallow mixture prior to mixing in the rice krispie cereal.
Step 10 – Spread Red Layer – Spread the red mixture on top of the white or plain layer in the 9X13 pan.
Step 11 – Serve and Enjoy – Cut and serve. These are best eaten the same day you make them.
Tips and Tricks for Fourth of July Rice Krispie Treats:
Melted butter and marshmallows – Melt butter in a large pot or in the microwave. Mix in the marshmallows and melt over low heat until completely melted.
Adding Food Coloring – Add in food coloring until the vibrant color that you prefer.
Covering Cereal – Make sure to completely cover the cereal with the marshmallow mixture.
Pressing into Pan – Use a wax paper or parchment paper to press the layers into the prepared pan.
Cutting Treats – We recommend waiting to cut the treats when they are at room temperature.
Marshmallows – When making these rice krispie treats we recommend using fresh marshmallows.
More 4th July Rice Krispie Treat Ideas:
Blue Candy Melts – Instead of using food coloring, you can melt candy melts to mix with the marshmallows.
Decorating Treats – Top the treats with blue sprinkles or blue M&M to add flavor. You can even drizzle melted candy melts for a more fun and festive look.
Vanilla Extract – For added warm flavors, add in teaspoon of vanilla extracts.
Cut fun shapes – Use cookie cutters to create fun designs to serve these treats.
How to Store Leftovers:
Store the leftovers in an airtight container at room temperature. These treats will stay fresh for up to a week.
Print this 4th of July rice krispie treats recipe below:
4th of July Rice Krispie Treats
The kids just love these 4th of July rice krispie treats! They are fun, tasty, frugal, and easy to make. Let's jazz up the easy rice krispie treats recipe.
Ingredients
9

tablespoons

butter

15

cups

mini marshmallows

(about 2 ½ bags)

12

cups

Rice Krispies cereal

food coloring
Instructions
Spray a 9×13 pan with non-stick cooking spray.

We'll make the rice krispie treats in 3 different batches.

Melt 3 tablespoons of butter on low heat in a large saucepan. Add 5 cups of mini marshmallows and stir until completely melted. Add a few drops of blue food coloring to the melted marshmallow mix. Stir until well combined. Remove from heat and add 4 cups of rice krispies cereal. Mix until completely coated. Spread evenly in prepared pan.

Wash out your saucepan and repeat the above steps, leaving out the food coloring. Spread into pan on top of blue layer.

Wash your saucepan again and repeat the steps, adding red food coloring to the marshmallow mix. remember to add the food coloring BEFORE the rice krispies cereal. Spread red rice krispie mixture on top of "plain" layer.

Cut and serve. These are best eaten the same day you make them.
Recipe Notes
Your kids will devour this festive dessert!
Nutrition Facts
Calories
190
kcal
,
Carbohydrates
37
g
,
Protein
1
g
,
Fat
4
g
,
Saturated Fat
2
g
,
Cholesterol
11
mg
,
Sodium
136
mg
,
Potassium
19
mg
,
Sugar
19
g
,
Vitamin A
1060
IU
,
Vitamin C
8.8
mg
,
Calcium
3
mg
,
Iron
4.3
mg
More 4th of July Dessert Recipes
: