My family loves enjoying Patriotic desserts on the 4th of July and Memorial Day. These 4th of July Rice Krispie Treats are easy to make and are always a crowd pleaser at cook-outs!
Everyone loves these Red White and Blue Rice Krispie Treats!
My kids love rice krispie treats! Who am I kidding – I love rice krispie treats, too! They are just so tasty – not too sweet, but still a yummy dessert.
I love that they are so easy to make and are good for any occasion. I never have any leftover!
What do you need to make red white and blue rice krispie treats?
Butter
Mini Marshmallows (about 2 ½ bags)
Rice Krispies Cereal
Food Coloring (Red and Blue) I like this no taste red coloring here because it is a more vibrant red.
Head to the store and grab the few ingredients you need so you can make these tasty treats for your holiday get-together.
Only 4 ingredients are needed to make this fun and festive dessert that is perfect for the 4th of July!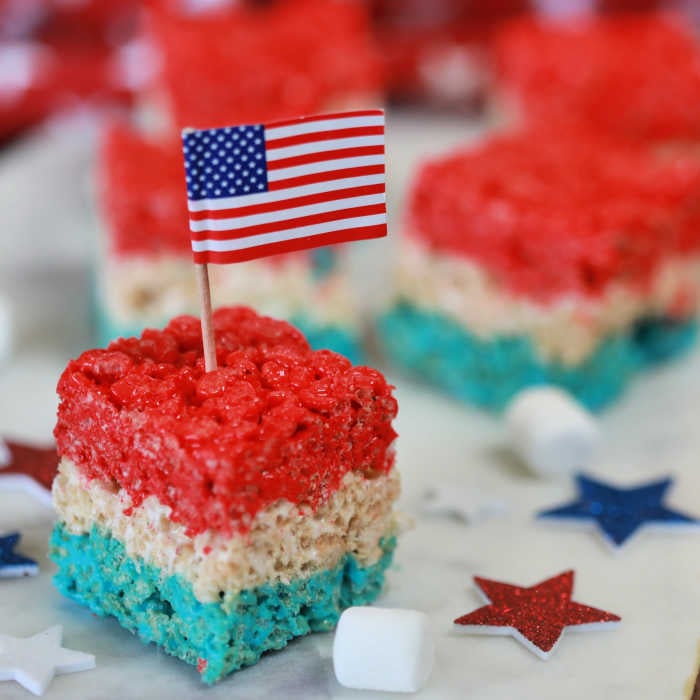 How to make 4th of July Rice Krispies Treats:
This delicious dessert is simple to make. Essentially, you are just making 3 different batches of rice krispies treats (one for each color), and then you layer them in your pan.
We'll walk you through this entire process so you'll have this delicious dessert to serve in no time at all.
You'll need a great pan to make
rice krispie treats recipe 4th of july!
First, you'll need a 9X13 pan to make these quick rice krispie treats in. I'm using a 9X13 baking dish, you can find some similar ones here.
A 9X13 glass pyrex pan works great as well. There are lots of options for these types of pans here.
Spray your pan of choice with your favorite type of non-stick spray so that these buttery rice krispie treats are easy to serve once they're done.
How to make colored rice crispy treats with food coloring.
For this rice krispie treats recipe, I make the rice krispie layers separately. We're going to start with the blue layer first.
Melt some butter on low heat in a saucepan or use microwave safe bowls to melt in the microwave. Then add in 5 cups of marshmallows and stir until completely melted.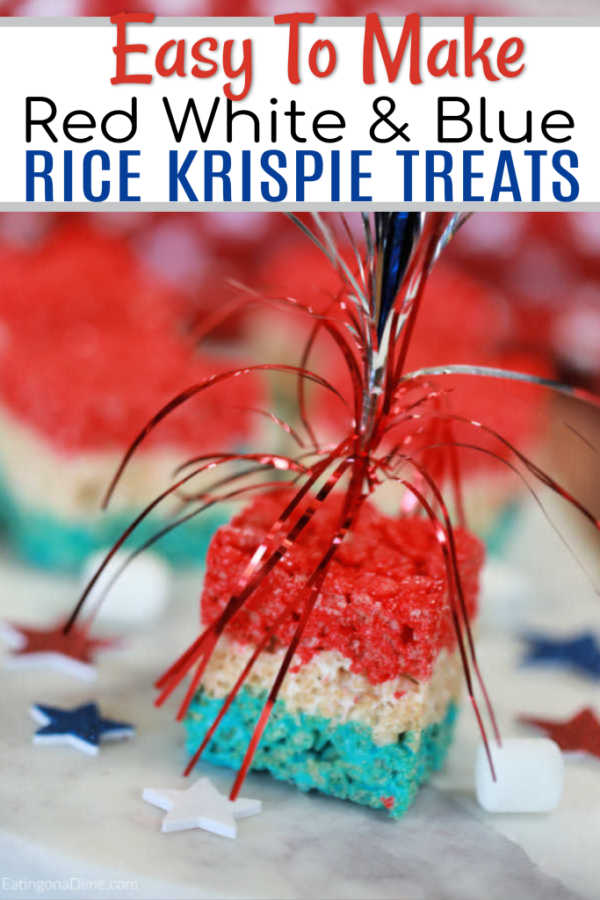 Mix to combine and add approximately 5 drops of the blue food coloring to this melted mixture. Continue to stir until your mixture is the color that you would like for this layer.
Remove from heat and then add in 4 cups of rice Krispies. Mix until the cereal is completely covered with the marshmallow mixture.
Next spread the cereal and marshmallow mixture evenly at the bottom of the 9X13 pan that you choose with a spatula or wax paper.
Repeat the same process to make the white layer. I do not add any food coloring when making this layer.
I like to wash out my sauce pan or mixing bowl and use the same one for each layer but you may use a separate one if you prefer.
Once the white layer is mixed together, spread this batch into the pan on top of the blue layer.
Finally, repeat the process one more time to make the final layer of red rice Krispie treats. Remember to add the food coloring to the marshmallow mixture prior to mixing in the rice krispie cereal.
Spread the red mixture on top of the white or plain layer in the 9X13 pan.
That's all there is to it! Now, allow the rice krispies treats to cool and then cut and serve. Yum! I promise that they are not going to last long!
You can also add sprinkles on top if you prefer. I love these adorable patriotic sprinkles.
These are thicker than normal rice krispie treats so I recommend cutting it into smaller bites for serving.
Cover the remaining ones with a lid or cover with plastic wrap to prevent them from drying out.
Print this 4th of July rice krispie treats recipe below:
4th of July Rice Krispie Treats
The kids just love these 4th of July rice krispie treats! They are fun, tasty, frugal, and easy to make. Let's jazz up the easy rice krispie treats recipe.
Ingredients
9

tablespoons

butter

15

cups

mini marshmallows

(about 2 ½ bags)

12

cups

Rice Krispies cereal

food coloring
Instructions
Spray a 9×13 pan with non-stick cooking spray.

We'll make the rice krispie treats in 3 different batches.

Melt 3 tablespoons of butter on low heat in a large saucepan. Add 5 cups of mini marshmallows and stir until completely melted. Add a few drops of blue food coloring to the melted marshmallow mix. Stir until well combined. Remove from heat and add 4 cups of rice krispies cereal. Mix until completely coated. Spread evenly in prepared pan.

Wash out your saucepan and repeat the above steps, leaving out the food coloring. Spread into pan on top of blue layer.

Wash your saucepan again and repeat the steps, adding red food coloring to the marshmallow mix. remember to add the food coloring BEFORE the rice krispies cereal. Spread red rice krispie mixture on top of "plain" layer.

Cut and serve. These are best eaten the same day you make them.
Recipe Notes
Your kids will devour this festive dessert!
Nutrition Facts
Calories
190
kcal
,
Carbohydrates
37
g
,
Protein
1
g
,
Fat
4
g
,
Saturated Fat
2
g
,
Cholesterol
11
mg
,
Sodium
136
mg
,
Potassium
19
mg
,
Sugar
19
g
,
Vitamin A
1060
IU
,
Vitamin C
8.8
mg
,
Calcium
3
mg
,
Iron
4.3
mg
Try this fourth of July rice Krispie treats recipe soon!
Do your kids love rice Krispie treats as much as mine do? We would love for you to make these 4th of July rice Krispie treats and let us know what you think.
My kids devoured these and loved the festive colors! Some of them said they tasted even better being three different colors. 🙂
Don't worry if you have never made rice krispie treats before, you will be able to make these 4th of July rice krispie treats in no time at all.
Try more
 patriotic treats: