Take your grilled cheese to the next level with this Bacon Grilled Cheese recipe. Top you bread with two different cheeses and bacon for a delicious sandwich.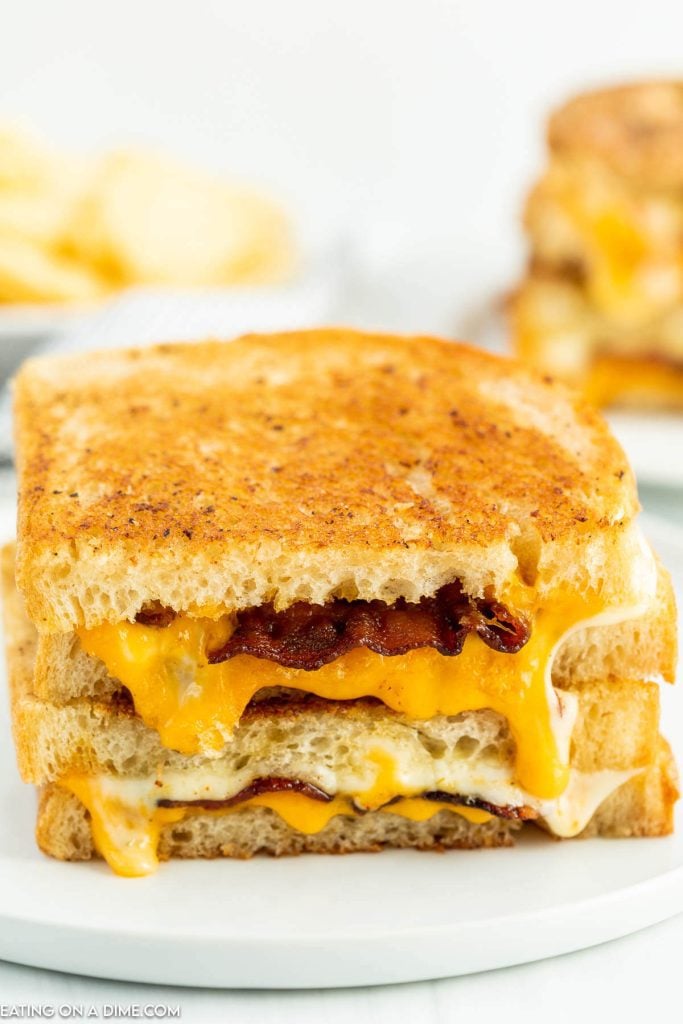 Best Bacon Grilled Cheese Recipe:
Grilled cheese with bacon is a delicious way to enjoy a classic sandwich. Cheese and bacon are sandwich between sourdough bread to make the ultimate bacon grilled cheese sandwich.
Grilled cheese is a staple sandwich to enjoy for lunch or dinner. The grilled cheese sandwich recipe is cooked with a crispy texture and the cheese is melted perfectly. Serve with a soup or a salad for a complete meal idea.
Ingredients:
Sourdough Bread
Mayonnaise
Bacon
Cheddar Cheese
Pepper Jack Cheese
How to Make Bacon Grilled Cheese:
Step 1 – Prepare Bacon – Cook the bacon in a large skillet over medium high heat until the bacon is crispy.
Step 2 – Place bacon on plate – Move the bacon from the pan to a plate lined with a paper towel to soak up the excess grease. Remove the bacon grease except for approximately 1 tablespoon from the pan (to cook the sandwich in).
Step 3 – Add mayonnaise to bread – Spread the mayonnaise on the outside of each slice of bread.
Step 4 – Place bread on skillet – Heat the skillet with the reserved bacon grease over medium high heat. Place 2 slices of the bread mayonnaise side down in the skillet.
Step 5 – Add cheese and bacon – Top with 2 slices of the cheddar cheese, 2 slices of the bacon, 2 slices of the pepper jack cheese and the remaining slices of bread.
Step 6 – Cook Sandwich – Cook both of the sandwiches over medium heat until golden brown (4-5 minutes). Flip the sandwiches and cook the other side for 4-5 more minutes until golden brown.
Step 7 – Serve – Remove the skillet, cut in half and enjoy the melted cheese sandwich.
What to Serve with Grilled Cheese:
Creamy Tomato Basil Soup Recipe – There is nothing better than tomato soup and grilled cheese sandwich. We even like to dip our grilled cheese in the soup.
Crock Pot Chicken Vegetable Soup – Crock pot chicken and vegetable soup is a light soup, but still quite flavorful. It is made with simple ingredients and perfect soup served with Grilled Bacon Cheese.
Easy Homemade French Fries – These French Fries are easy to make and made from scratch. They taste better than frozen fries.
Tips for the Best Grilled Cheese:
Cook Bacon – Cook bacon in a skillet and allow it to rest on a paper towel to remove any grease.
Spread Mayonnaise – Spread mayonnaise on the side of the bread that will be on cooked in the skillet. We like to cook the grilled cheese in the reserved bacon grease.
Layer Ingredients – Top with bread with cheese and bacon and then top with bread.
Cook Sandwich – Cook grilled cheese until both sides are golden brown. Flipping the sandwich one time.
Storing – Grilled Cheese sandwich is best served immediately.
Preparing Bread – With the remaining bread spread mayonnaise on side of each slice of bread.
Recipe Variations:
Butter Spread – You can use butter instead of mayonnaise in this recipe if you prefer. Place the butter side of bread on the skillet.
Cheese – These sandwiches are great with any of your favorite type of cheese. Sharp Cheddar Cheese is always a crowd favorite and melts really well. We used cheddar slices and pepper jack cheese to make our grilled cheese sandwiches and it was a huge hit. Monterey Jack is always a great idea.
Bacon – Feel free to use any type of bacon. You can also use turkey bacon or already prepared bacon to make this delicious sandwich.
Bread – You can easily make this sandwich with your favorite type of bread. We used sourdough bread in this recipe, but Artisan bread is amazing or Texas Toast. We like a thicker bread when cooking on the griddle.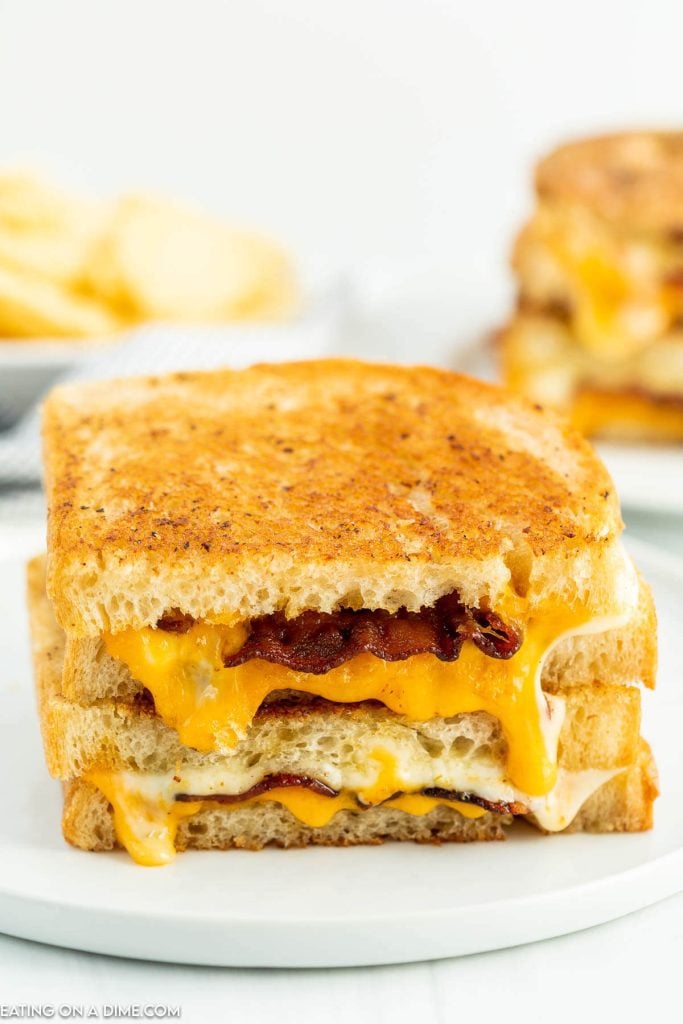 Easy Bacon Grilled Cheese Sandwich:
This grilled bacon grilled cheese recipe is so easy to make but always wins over a crowd. There is something very comforting about a grilled cheese with bacon on it.
Our entire family loves it and the addition of the bacon and two types of cheese makes it filling and delicious. The recipe is budget friendly and easy to make. There is so much to love about this recipe.
The next time you need a quick meal, try this for a winner. Everyone will love this meal packed with comfort food ingredients.
Print Recipe here for Bacon Grilled Cheese:
More Grilled Cheese Sandwiches: