This crock pot chipotle chicken tacos recipe is a fun twist to a traditional taco recipe. The chipotle peppers and adobe sauce add an amazing flavor to this recipe that your entire family will love.

Chipotle Chicken Tacos are simple to make and taste delicious!
You'll love serving this recipe on Taco Tuesday instead of your usual options. The taste combination is unique but tastes absolutely delicious once it's all combined together.
Also, you can control the spiciness level by how many chipotle peppers are added to this recipe. Therefore, this recipe can easily be modified to suit anyone's taste preference.

You can't go wrong with either of these crock pots. Also, the remove-able insert on both of these slow cookers makes clean-up a breeze! The insert is non-stick so it's easier to clean than a traditional crock pot.
This is another crockpot that I currently own. Being able to lock the lid down is the best feature on this slow cooker. I use this slow cooker for when I have to bring food somewhere so I don't have to worry about anything spilling in the car.
Another favorite is this programmable crock pot for when I am am not at home all day. The programmable feature allows me to come home to a nice meal ready for dinner after I have been gone all day.
Now that you're prepared with the best slow cooker, let's continue on how to make these amazing crockpot chicken tacos.

Ingredients: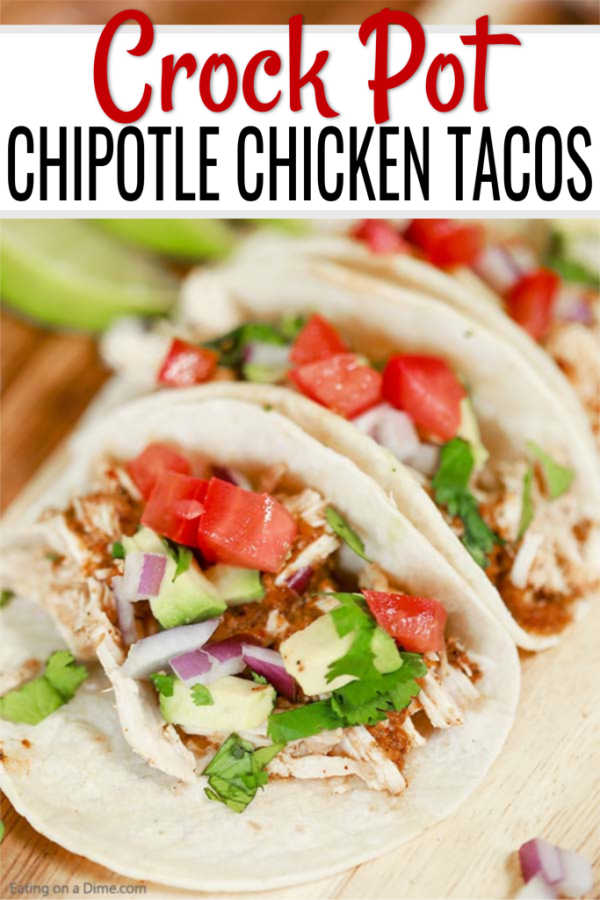 What are Chipotle Peppers that are needed for these chipotle chicken tacos?
A chipotle pepper is a Chile pepper that has been smoked dried and is usually used in Mexican food. I think that their spice is similar to the spice from a jalapeño but it also adds a great smoky flavor to the recipe as well.
What is adobo?
Adobo means a few different things but for this recipe we are referring to the adobo sauce that the chipotle peppers are stored in when you buy them in a can. Some refer to this sauce as a marinade for the chipotle peppers.
The sauce is a darker red color and is generally made from a combination of chili powder, vinegar, sugar, garlic and herbs. Since the chipotle peppers are soaking in this sauce, this provides the sauce with a smoky flavor as well.
How do you make chipotle chicken slow cooker recipe?
Combine the adobe sauce, chipotle peppers, ancho chili powder, olive oil, cumin, dried oregano, fresh lime juice, onion and garlic in a food processor or blender of your choice. Then blend until these ingredients are smooth.
After that, put the chicken and the chipotle sauce you just created in the crock pot. Cook on low for 8-10 hours. However, you can also cook it for 4 hours on high if you need it to be ready quicker.
After it has slow cooked, remove the chicken and shred with 2 forks. Then return the shredded chicken to the crock pot and mix with the sauce and serve on the corn tortillas topped with the chopped cilantro and avocados.
What do you serve with this C
rock Pot Chipotle Chicken Tacos Recipe?
I love serving these delicious tacos with the easiest Spanish rice or this delicious cilantro lime rice.  It's so simple to make but is also packed with great flavor.
These tacos will also taste good with any of the following toppings:
You can also use this recipe to make honey chipotle chicken tacos!
If you like the sweet and spicy combination, you can also use this same recipe to make honey chipotle chicken tacos instant pot.
I add ¼ cup of honey to the blender or food processor when making the sauce and then cook the chicken with the sauce poured over it on high pressure for approximately 25 minutes with a quick release in my pressure cooker.
These honey chipotle chicken tacos are delish. The honey pairs greatly with the spicy chipotles. Once you master this recipe, I hope you give this easy variation a try!
Try these slow cooker
chipotle chicken tacos today.
These chipotle chicken tacos are simple to make but taste unique and delicious. My family loves it when I make these tacos and I hope your family enjoys them as well.
Print this Slow Cooker C
hipotle Chicken Tacos

Recipe

below: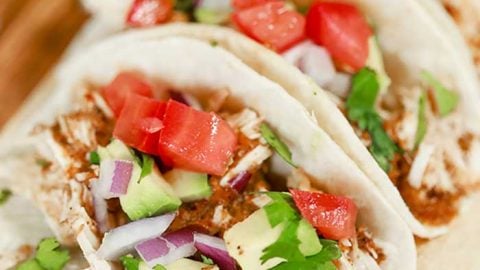 Crock Pot Chipotle Chicken Tacos
These crock pot chipotle chicken tacos are quick and easy to make but taste delicious. Everyone enjoys this great adobo sauce slow cooker mexican recipe.
Ingredients
1/2

white onion

1

tablespoon

minced garlic

1

tablespoon

adobo sauce

from small can of chipotle peppers

1

chipotle peppers

from small can of chipotle peppers

1

tablespoon

ancho chili powder

2

tablespoons

olive oile

2

teaspoons

cumin

2

teaspoons

dried oregano

1

fresh lime

juiced

3

boneless skinless chicken breasts

1/4

cup

cilantro

chopped

1

avocado

optional

12-20

corn tortillas
Instructions
Combine everything but the chicken, tortillas, cilantro, avocado in a food processor or blender. Blend until smooth.

Place the chicken and the sauce in slow cooker.

Cook on low for 8-10 hours or until chicken is tender.

Shred the chicken and stir in the crock pot.

Serve on warm corn tortillas.
Recipe Notes
Top with cilantro, chopped avocado and any favorite taco toppings.
Nutrition Facts
Calories
301
kcal
,
Carbohydrates
30
g
,
Protein
16
g
,
Fat
13
g
,
Saturated Fat
2
g
,
Cholesterol
36
mg
,
Sodium
631
mg
,
Potassium
539
mg
,
Fiber
7
g
,
Sugar
1
g
,
Vitamin A
525
IU
,
Vitamin C
8.3
mg
,
Calcium
80
mg
,
Iron
2.1
mg
More Crock pot Taco Recipes