Jazz up Taco Tuesday with the best side dishes for tacos. These recipes are easy for busy weeknights but so delicious.
What to serve with Tacos
My family loves tacos but it can get boring serving the same side dishes. If you are looking for inspiration, we have compiled a great list.
Each of these recipes are quick and easy. Plus, they will be a hit with the entire family.
Take a look and get ready for the best side dishes in minutes.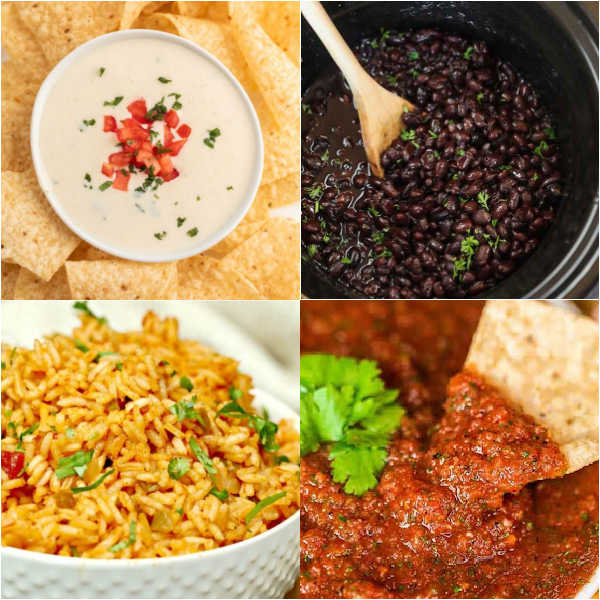 1. Homemade Spanish Rice
My family just loves this easy Spanish rice recipe. Once you make this and can freeze it, there is no reason to use those box mixes for Mexican Rice.
2. Crock pot Refried Beans
Instead of paying around $1 per can, you can easily make your own refried pinto beans. They are freezer friendly and will save your family a ton of money. Then you only have to heat them up to eat.
3. Chips and Mexican White Cheese Dip
This Mexican white cheese dip recipe is similar to white cheese sauces served in many delicious Mexican restaurants. It is so delicious and versatile.
4. Chips and Homemade Salsa
It is easy enough to whip up for a snack and it is seriously so good. Since you only need a few ingredients, it is a breeze to make.
5. Easy Homemade Guacamole Recipe
Guacamole has never been easier than this simple guacamole recipe. Your family will be making this easy guacamole recipe every chance you get. Enjoy it with tortilla chips or straight out of the bowl. Chips and salsa always make a great choice.
6. 7 Layer Dip
This dip combines everything you love into one great party dip. Each bite is so amazing because you get a little bit of each layer.
Layers of refried beans, salsa, guacamole and more make this one of the best dips.
7. Mango Salsa
We love mango salsa and this recipe is super easy and fast to make. Anyone can make this mango salsa recipe in minutes. It is one of our favorite recipes.
8. Instant pot Spanish Rice
Instant Pot Spanish Rice recipe takes just minutes and makes the perfect side dish for enchiladas, tacos and much more. The flavor is amazing and the rice is freezer friendly.
9. Velveeta Chili Cheese Dip
If there is one thing we love around here, it is a good cheese dip. This new recipe with chili is so hearty and creamy. Plus, it only has 3 ingredients so you can make it with very little effort.
10. Corn Salsa
Chipotle corn salsa is super easy to make and tastes so fresh and delicious. Serve with fish tacos, shrimp or eat as a snack with tortilla chips. You can't go wrong with this easy recipe.
11. Crock pot Rotel Dip
You can have the best of both words when you make this super easy recipe. Everyone gets to enjoy a really tasty dip and you don't have to do hardly any work. It is so cheesy and delicious.
12. Chili Cheese Dip
The dip is so creamy and delicious with the perfect amount of heat from the jalapenos. Everything comes together for the best dip and it is so inexpensive to make.
13. Salsa Verde
This salsa has the perfect blend of sweet and spicy and is easy to make too. This tastes great with any Mexican dish. I love to eat this Mexican salsa straight out of the dish with tortilla chips.
14. Instant pot Homemade Refried Beans
With very little effort, you can make this Instant Pot Homemade Refried Beans Recipe for your family. For a fraction of the cost of store bought beans, you can have an easy side dish for your Mexican recipes.
15. Crock pot White Cheese Dip
This is a very authentic queso dip and we don't use any processed Velveeta. This recipe uses just good old fashion white American cheese.
16. Pico De Gallo Recipe
Try making this easy Pico de Gallo Recipe for the perfect addition to your tacos. Grab some chips and learn how to make pico de gallo with red onion that is authentic and delicious.
17. Cilantro Lime Rice
Rice is such a tasty and inexpensive side dish. Jazz it up quickly and easily to make this tasty Cilantro Lime Rice Recipe. The entire family will enjoy it.
18. Grilled Avocado Recipe
The flavor on this is just amazing. Something happens when you grill an avocado. It is a must try with tacos.
19. Black Beans
It takes practically no effort. Black beans are one of the easiest beans to cook in the crockpot. They taste amazing with tacos and it is so frugal.
20. Mexican Corn on the Cob
Have you ever had Mexican Street Corn before? If not, you are truly missing out. Mexican street corn is grilled corn topped with a delicious mixture of mayonnaise, sour cream and spices.
21. Oven Nachos
This is one of our favorite recipes and my kids go crazy over these nachos. Everyone seriously gets so excited when I make these and the entire thing is SO easy.
22. Grilled Bell Peppers
Learn how to grill bell peppers for the perfect veggie to go with tacos and more. The grill makes the peppers amazing with perfectly crispy edges.
23. Avocado Dip
Avocado dip has Greek yogurt in it for a really creamy dip recipe. It pairs nicely with tacos.
24. Nacho Bar Recipe
If you are looking for a super easy side dish that can feed a crowd without much work, this nacho bar is the way to go. The crock pot does all the work making this so easy. Plus, the toppings bar allows everyone to get exactly what they want.
25. Homemade Flour Tortillas
We have the best flour tortilla recipe that is super easy. You probably already have all of the ingredients on hand to make these.
26. Homemade Taco Shells
If you love tacos, try making Homemade Taco Shells. They are perfect to serve with on taco night. We also love these handy taco stands.
27. Ground Beef Taco Dip
This taco dip has amazing layers of ground beef, cream cheese, salsa, lettuce, tomatoes and more. You can easily change things up and add or omit based on your preference.
The Best Side Dishes for Tacos.
Give these a try. I think your family will love these recipes.
Which side for tacos will you try? Let us know what your favorite sides include.
Try one of our most popular taco recipes: