This post may contain affiliate links. If you make a purchase through links on our site, we may earn a commission.
Crock Pot Creamy Parmesan Chicken Recipe is a delicious twist on classic Chicken Parmesan. The chicken is so tender and has the most creamy cheese sauce you will ever taste.
Crock Pot Creamy Parmesan Chicken Recipe
Once you try this delicious Parmesan Chicken, you will make it again and again. The garlic parmesan sauce is out of this world and I could literally eat it by the spoonful.
We are always trying new things and different variations of recipes our family loves. This recipe is on the top of our list these days and we all just love it.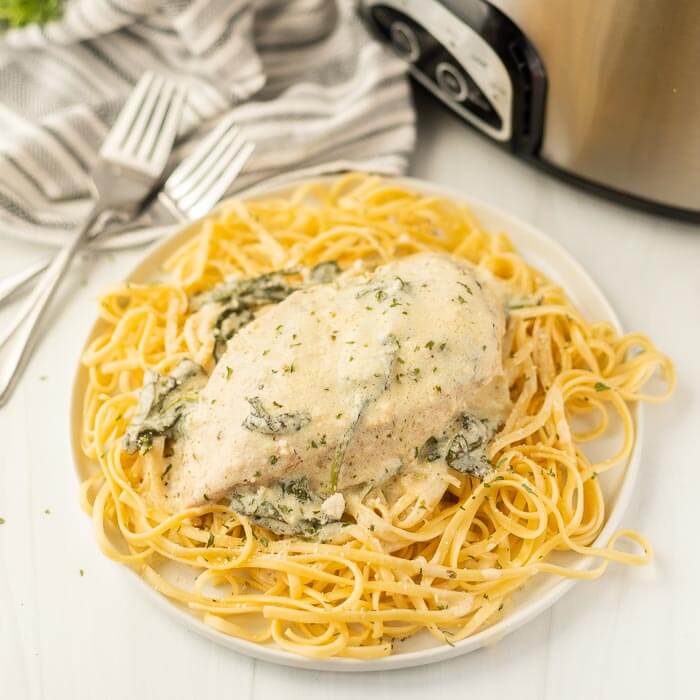 Creamy Parmesan Garlic Chicken is easy.
If you are hesitant to make Parmesan Chicken because of all the prep work, don't be. This recipe in the slow cooker really is a game changer.
You don't have a lot to do and the crockpot does all the work. Come home to dinner waiting with this simple recipe.
The chicken is so tender from being slow cooked all day and the sauce is so flavorful from all the garlic, cheese and more.
Slow Cooker Garlic Chicken Breast Ingredients:
Chicken breasts. These should be boneless.
Butter
Minced garlic. Garlic powder is fine to use if you don't have minced.
Italian Seasoning. This helps to give the sauce great flavor.
Salt
Heavy whipping Cream
Cornstarch
Grated Parmesan Cheese
Spinach. You can omit this but I recommend trying the spinach. It adds a pop of color and tastes great with the chicken.
You really only need these few ingredients for this amazing meal.
How to make Crock Pot Creamy Parmesan Chicken:
Add the chicken. First, place the chicken in the crock pot. Top it with the butter, Italian seasoning and salt.
Cover and cook. It is that simple. Allow to cook until the chicken is no longer pink and cooked all the way through.
Make the cream sauce. Once the chicken is cooked, mix together the heavy whipping cream, cornstarch and grated parmesan cheese.
Remove the chicken from the crock pot. Whisk the cream mixture gradually into the sauce in the crock pot.
Add the chicken back in the slow cooker. Allow to cook on low for 30 minutes. The sauce is heated through and thickened.
Enjoy. Serve the chicken and sauce for a great dinner. Everyone will definitely enjoy this.
We love to top with more Parmesan cheese before serving but that is totally optional.
Keep reading for full instructions and nutritional information. The cooking time will vary based on low or high setting in your slow cooker.
What to serve with Creamy Parmesan Chicken:
Pasta. Any type of pasta would be fabulous with this. Some of our favorites include: bow tie, fettuccine, penne and angel hair.
Zoodles. If you are eating low carb, serve this dish over zucchini noodles. They are simple to make, taste great and pair nicely with this dish.
Steamed Broccoli. In just minutes, this easy broccoli side dish is ready to enjoy. It is light and healthy. We love this with the cream sauce.
Green Beans. This veggie is simple and delicious. You do not need long to cook this and it goes great with the creamy parmesan sauce.
Salad. Toss together a salad with your favorite salad greens and veggies. We love this for a quick and easy side dish.
Bread. If you are not watching your carbs, serve this dish with bread. I love to dip breadsticks into that creamy sauce.
I like serving this dish with a light veggie. It balances out the heavy cream sauce for the best combination.
My kids also like to spoon the sauce over the veggies and they don't complain about eating their veggies. That is a win for mom.
Do you need to brown the chicken?
It is optional but browning adds a lot of flavor. The recipe is so simple that it does not take long to just sear the chicken really quickly on medium high heat.
However, it is not necessary. We have tried it both ways and loved it.
Feel free to do what time allows. You can't go wrong with this meal.
Crockpot parmesan garlic chicken tips:
Chicken thighs. You can easily substitute other cuts of chicken for chicken breasts. We like chicken thighs and chicken tenders for another great meal idea. If you use chicken thighs, keep in mind they take longer to cook.
Cut the meat into pieces. If your chicken breasts are very large, I suggest cutting them into smaller pieces.
Cream cheese. For a richer taste to the sauce add cream cheese. You can add this to taste based on preference. Whisk as normal and pour into crock pot at the end to simmer.

Cream cheese will make the sauce thicker so you may need to add more whipping cream.
Mushrooms. You can add 8 oz of sliced fresh mushrooms on top of the chicken in the crock pot. This adds even more delicious flavor if you like mushrooms.
Make it spicy. If you like dishes with a little heat, add a ½ teaspoon crushed red pepper flakes.
Veggies. We love spinach in this but you can omit and try other things. Kale is good in this dish as well.
How to store:
Place leftovers inside an airtight container. Store in the fridge up to 3 days .
Ideas for leftovers:
Shred the chicken. This is delicious over rice, in burritos, with tortillas or eaten alone. I like to add a little rice to the shredded chicken and sauce and place inside a tortilla. It is a great way to stretch your meat and enjoy leftovers.
Enjoy this easy dish.
The sauce is so rich and creamy. You will love how quick and easy it comes together.
We have served this for Sunday dinners or busy weeknights. It literally takes hardly any prep work for such a great meal.
Give it a try and see how awesome it is. I think you will be impressed and quickly add it to your monthly rotation.
The creamy Parmesan sauce makes this dish fantastic. Give it a try this week.
Print this CrockPot Creamy Chicken Recipe below:
Crock Pot Creamy Parmesan Chicken Recipe
Crock Pot Creamy Parmesan Chicken Recipe is a delicious twist on classic Chicken Parmesan. The chicken is so tender with a creamy sauce.
Instructions
Add chicken to the crock pot. Top the chicken with the butter, minced garlic and salt.

Cover and cook on low for 5-7 hours or on high for 2.5-3.5 hours until the chicken has an internal temperature of 165 degrees F.

After this time, remove the chicken. Then stir together the cornstarch, heavy whipping cream and grated parmesan cheese in a small bowl.

Whisk this mixture into the sauce in the crock pot, stir the spinach into the sauce and place the chicken back on top.

Cover and cook on low for 30 minutes to thicken and heat the sauce through and the spinach is slightly wilted.

Serve warm as is or over pasta and enjoy!
Recipe Notes
*You can brown the chicken in a large skillet with olive oil before adding it to the crock pot if you prefer.  
*Make sure to use grated parmesan cheese not shredded as the shredded does not melt as evenly in the sauce. 
*Store leftovers in an airtight container in the refrigerator for up to 5 days.  
Nutrition Facts
Calories
746
kcal
,
Carbohydrates
7
g
,
Protein
56
g
,
Fat
55
g
,
Saturated Fat
32
g
,
Polyunsaturated Fat
3
g
,
Monounsaturated Fat
14
g
,
Trans Fat
1
g
,
Cholesterol
290
mg
,
Sodium
900
mg
,
Potassium
1018
mg
,
Fiber
1
g
,
Sugar
2
g
,
Vitamin A
2792
IU
,
Vitamin C
7
mg
,
Calcium
233
mg
,
Iron
1
mg
Try these easy Chicken Crock Pot recipes: