One of our all time favorite recipe is this Hawaiian Ham and Cheese Sliders easy recipe. The ham is baked perfectly in between the melted cheese and Hawaiian Roll. We love how quickly we can put these together anytime of the week.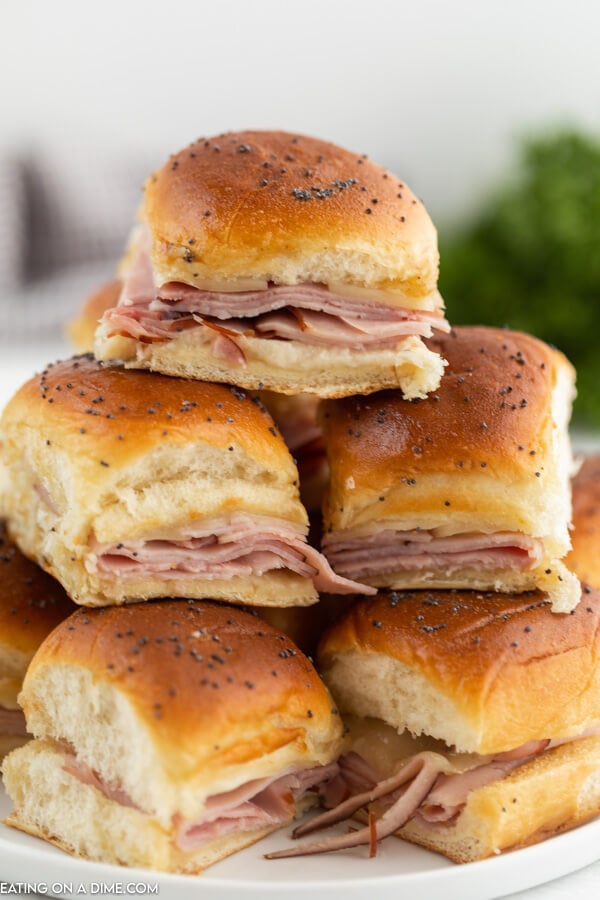 Hawaiian Ham and Cheese Sliders:
Are you ready for football season? We love football season at our house. We invite all of our friends over and serve amazing food. Football is fun and all, but eating all the delicious football food is what we really like.
At least in my family it is and these Hawaiian Ham and Cheese sliders are perfect for eating on game day.
Hawaiian Rolls are the best!
Hawaiian rolls are our favorite rolls. They are perfect for sliders, but we also get them as a side for our holiday meals.
The texture of the rolls are so soft and buttery. They just melt in your mouth. Can you tell we just love them? But we have made these sliders with just regular rolls and they were just as good.
Ingredients for Ham and Cheese Party Sliders Recipe:
You only need a few ingredients to create this delicious ham sliders recipe.
Melted Butter – We like using unsalted butter.
Dijon Mustard – This is our favorite, but you can use horse radish sauce instead.
Worcestershire Sauce – This gives it a little kick to the buttery mixture.
Brown Sugar – Combines with the Worcestershire sauce so well and adds a nice sweetness.
Poppy Seed – Just the perfect touch to these sliders
Dried Minced Onion, or onion powder – We love adding onion to just about anything.
King's Hawaiian Dinner Rolls – The best rolls, but you can use what you have.
Ham – If you don't like ham, try turkey instead or roast beef would work too.
Swiss Cheese – Swiss Cheese makes these sliders extra cheesy. But provolone or cheddar are good options too.
What cheese goes with ham?
For this recipe, I like to use Swiss cheese. It goes great with ham and the seasonings in this recipe.
However, I have also used provolone or cheddar on these ham and cheese sandwiches and both of these were delicious as well. Use whichever one of these you have on hand and I know it'll still be delicious!
Easy to make Hawaiian Roll Ham and Cheese Sliders:
First preheat oven to 350. Then grease a 9×13-inch baking dish by spraying it with a non stick cooking spray.
Next combine butter, mustard, Worcestershire sauce, brown sugar, poppy seeds, and dried onions.
Then slice the rolls to make sandwiches. Remove tops and set aside.
After this place the bottom pieces into the prepared baking dish.
Next layer the thinly sliced ham onto the rolls. Top the bottom part of the rolls with the sliced ham.
Then top the ham with the sliced Swiss Cheese.
Place the tops of the rolls onto the sandwiches. Brush or pour the butter mixture evenly over the rolls. I like to brush the butter sauce on to make sure it is evenly distributed.
Then bake 15 minutes – 20 minutes or until the rolls are lightly browned and cheese has melted.
Once they are done, separate into individual sandwiches to serve and enjoy! The cheese will be perfectly melted and pull apart so easy. They really are not hard to create and I promise that everyone will devour them in amount the same amount of time that they took to make.
How do you keep sandwiches warm at a party?
After these are done cooking, I cover them with foil over the baking dish to keep these sliders warm and perfect during any party or during the entire game.
Also, these are so good that they also taste delicious if they are slightly cool as well.
What side do you serve?
These sliders are perfect for your next game day party or movie night with your family. When I make them for family night, I usually serve a side of roasted broccoli, chips and dip, and fruit. These sliders are really filling so they complete any meal.
For game a day party, a nice vegetable and fruit tray is the perfect side for your next get together. See What to Serve with Sliders for more ideas.
Money saving tip:
Stock up on the Sliced Swiss cheese and the Hawaiian rolls when you find them on sale. They both freeze great.
Also, since you are baking this sandwich you can also freeze ham when it is cheap. Deli meat tends to be "wetter" when it is thawed, so I would pat dry it before placing in the rolls.
However, they will cook up nicely in this hot ham and cheese sliders recipe.
What substitutions can you make?
As you you probably know, I am not a HUGE ham fan. My entire family loves ham, but my lunch meat of choice is turkey. I've made this exact recipe with turkey and I love it even more.
So if you are more of a turkey girl like me, make sure you still give this recipe a try. It taste as amazing as the ham sliders.
Ham and Cheese Slider Topping:
The topping on these sandwiches add a ton of flavor to this recipe and easily can be modified to your preference. You can make Hawaiian ham and cheese sliders without mustard and without poppy seed and add a small amount of horse radish to the sauce instead.
Also, if you love garlic as much as I do, you can create sliders with garlic by adding a small amount of garlic salt or garlic powder to the topping.
There are tons of options to change up the topping to make these sliders perfect for your family.
Tips for the Best Hawaiian Roll Sliders:
Slice Rolls – You can slice the rolls with a knife or tear them apart with your hands. We recommend slicing with a knife for an even cut.
Melted Butter – For the melted butter on top of the rolls, you can use salted or unsalted. We like the salted to give it a hint of salty flavor.
Foil – If the tops of the rolls get a little too brown before everything is heated, you can top the pan with a piece of foil.
How to Make ahead of Time:
To make these sliders ahead of time, just prepare as indicated without the topping and place in the refrigerator. Then when you are ready to serve, top with the melted butter mixture and bake.
Can you Freeze Ham and Cheese Sliders?
You can freeze these ham and cheese sliders but we do not recommend it. They do not hold up well when thawing.
Print the Sliders Recipe below:
Try these other great sliders recipes: