This post may contain affiliate links. If you make a purchase through links on our site, we may earn a commission.
We have a really easy recipe for Homemade Tzatziki Sauce that is amazing. This homemade sauce is great for dipping, on sandwiches, or on your grilled chicken. Tzatziki Sauce is rich and creamy and is sure to enhance any meal.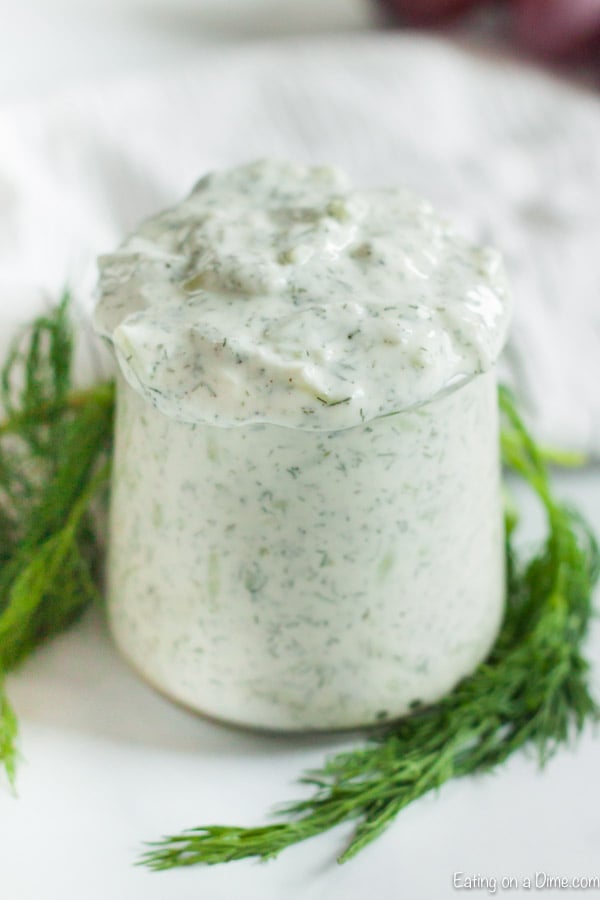 The Best Tzatziki Sauce Recipe:
We are going to show you how to make the best Greek Tzatziki Sauce. You will never buy store bought again once you taste this. The flavor is amazing and it only takes a few simple ingredients to make this.
If you can toss a few ingredients in a bowl and mix them, you can make this! We make this delicious Crock Pot Beef Gyros Recipe and Instant Pot Beef Gyro Recipe for an easy weeknight dinner.
This homemade tzatziki sauce really takes gyros to the next level and everyone loves them. The tzatziki sauce is so wonderful! The sauce is rich and creamy and really tastes authentic.
What is Tzatziki Sauce made of?
It is so simple to make. You only need greek strained yogurt, cucumbers and spices to make this sauce. Everything comes together for a the best sauce that you are going to love. You only need a few simple ingredients for this amazing sauce.
You can quickly and easily make this homemade sauce and it is so tasty. The name sounds a little intimidating but it really is very simple to make. The seasonings blend together with the yogurt and cucumbers for a really amazing flavor.
I like to put a pretty generous drizzle of this sauce on my gyros. It is that good and just the best sauce ever.
What can I do with extra Tzatziki?
There are so many great ways to use homemade tzatziki.
You as a dip for cut up veggies.
Dip chips or crackers into tzatziki sauce.
Make kabobs and use this as a dipping sauce.
Serve with grilled chicken.
Use on salad. If it's too thick, you can thin it a little.
This sauce is really good on just about anything.
I like to drizzle extra tzatziki sauce on my gyros because that sauce is just so good. You are going to love it and your family will gobble it up.
Even better, the homemade sauce is simple as well and only takes a few minutes to whip up. You know we like to keep things simple around here.
How long does homemade tzatziki last?
It will last 3-4 days in the fridge. The flavors merry and the sauce is even more delicious.
I actually try to keep some in the fridge because it makes such a great veggie dip as well. You might want to double the recipe if you like it as much as we do!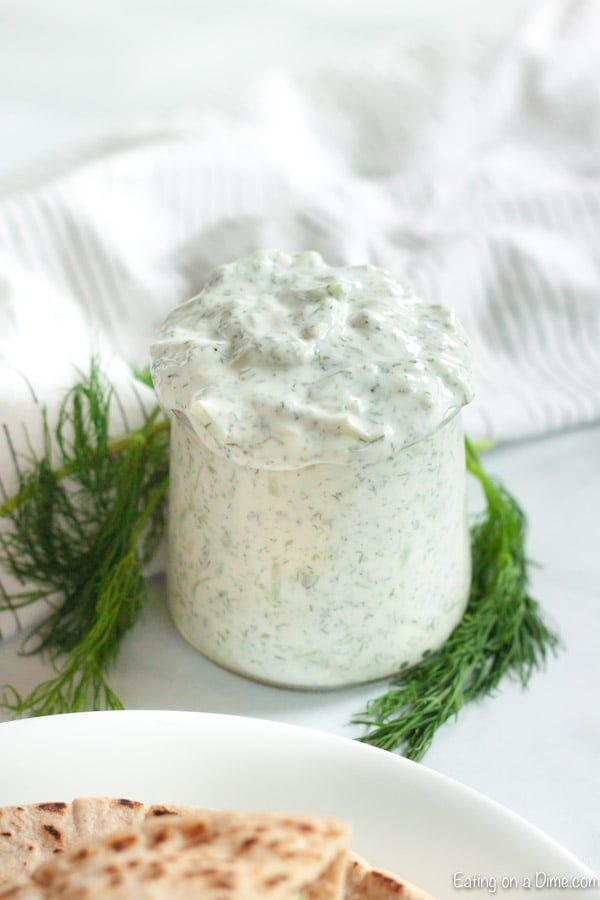 Ingredients:
Plain Greek Yogurt
Grated Cucumber
Dried Dill or Fresh Dill
Salt and Pepper
Minced Garlic
How to make Tzatziki Sauce:
This is the easiest recipe and only takes a few minutes to mix together.
Measure out your spices and minced garlic.
Get a serving bowl and place the Greek Yogurt and the shredded squeezed cucumber in the bowl.
Add the Minced Garlic to the yogurt and cucumber.
Sprinkle in the spices in the bowl.
Make sure everything is mixed together really good. It is so easy to make this sauce!
Store the tzatziki sauce in the fridge until ready to serve.
Gyro Tzatziki Sauce:
I told you it was super easy. Just a few ingredients and it all comes together in about 15 minutes and easily for an absolutely delicious sauce. It is so creamy and has the perfect blend of seasonings. The cucumber and full fat yogurt make it refreshing and light.
I think it is perfect and we gobble it up. Since it is so easy to make, I keep this in my fridge frequently. It is also great on gyros.
What can I use instead of Tzatziki?
Hummus is a great alternative for Tzatziki. It has the same texture and appears as Tzatziki.
The flavor is very similar as well. Hummus is best substitute for Tzatziki.
Try tzatziki sauce with sour cream:
You can substitute sour cream for the Greek yogurt in this recipe. Other variations also include lemon juice and olive oil. Feel free to use what you prefer or have on hand.
If you have been reading for long, you know we love to use what we have or can get on sale. This is how I save money and keep our grocery budget low.
Save that money for a family vacation or maybe just some wiggle room in the budget. Easy recipes like this keep my family happy and my grocery budget in good shape.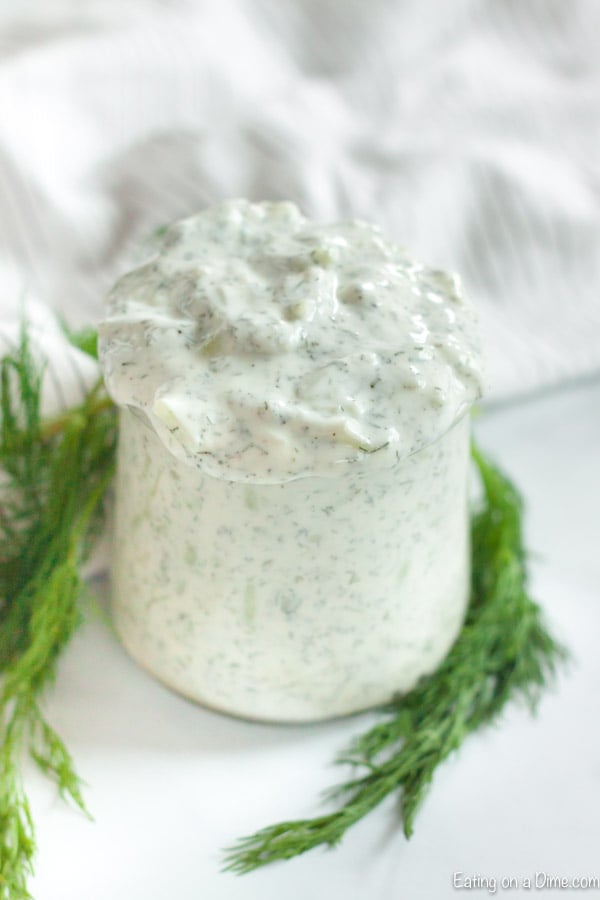 Tips for tzatziki sauce recipe:
We prefer to use an English cucumber in this recipe. The yogurt and cucumber blend together for a finer consistency if you use an English cucumber. The seeds are smaller and we just prefer the taste. But use what you prefer!
You can put the cucumbers on a paper towel to drain some of the water so that the sauce will be thicker. Again, this is optional but only takes a minute.
We used regular yogurt but you can swap it out for low fat yogurt to modify the tzatziki sauce nutrition. The Greek yogurt is good either way
You can even top with some fresh mint.
It comes together so easily that you really don't need a food processor. You can mix this together in minutes.
This is the Best Tzatziki Recipe!
If you are looking for an authentic greek tzatziki recipe, give this a try. It is gluten free and so tasty. Tzatziki sauce recipes are not hard at all. They sound fancy but really they are so very simple to make.
You don't have to wait until you go out to eat or to grab it from the grocery store when you can make it at home. Enjoy this any time you want thanks to this super simple recipe that tastes amazing.
I bet your family will be super impressed that you made this authentic sauce at home.
Now you know how to make tzatziki sauce easy!
I never buy this from the grocery store anymore. It tastes so much better homemade and costs a fraction of the price of store bought or at Greek restaurants. The flavor is tasty and you only need a few minutes to make it.
I like to make the sauce the night before to give the flavors extra time to blend but that is optional. You do what works for you!
We actually eat a lot of this sauce because we eat it on much more than gyros. I use it as salad dressing, dip for my veggies and even crackers.
Print this homemade tzatziki sauce recipe below:
Homemade Tzatziki sauce
We have a really easy recipe for homemade tzatziki sauce that is amazing. Learn how to make tzatziki sauce and see just how easy and delicious it is!
Ingredients
1

cup

plain Greek yogurt

1

cup

diced cucumber seeded and shredded

1

tbsp

dried dill

(2 Tbsp fresh dill)

1/4

tsp

salt

1/2

tsp

minced garlic

Salt and pepper
Instructions
In a small bowl combine the ingredients for the TZATZIKI sauce.

Store in the fridge until ready to serve.

Serve on your chicken or beef gyros.
Nutrition Facts
Calories
23
kcal
,
Carbohydrates
2
g
,
Protein
4
g
,
Fat
1
g
,
Saturated Fat
1
g
,
Cholesterol
2
mg
,
Sodium
110
mg
,
Potassium
77
mg
,
Fiber
1
g
,
Sugar
1
g
,
Vitamin A
16
IU
,
Vitamin C
1
mg
,
Calcium
40
mg
,
Iron
1
mg
Find more easy sauce recipes here: