This post may contain affiliate links. If you make a purchase through links on our site, we may earn a commission.
Chicken Scampi Recipe sounds fancy but it is really so simple to prepare. Skip the restaurant and make this delicious meal at home with very little work.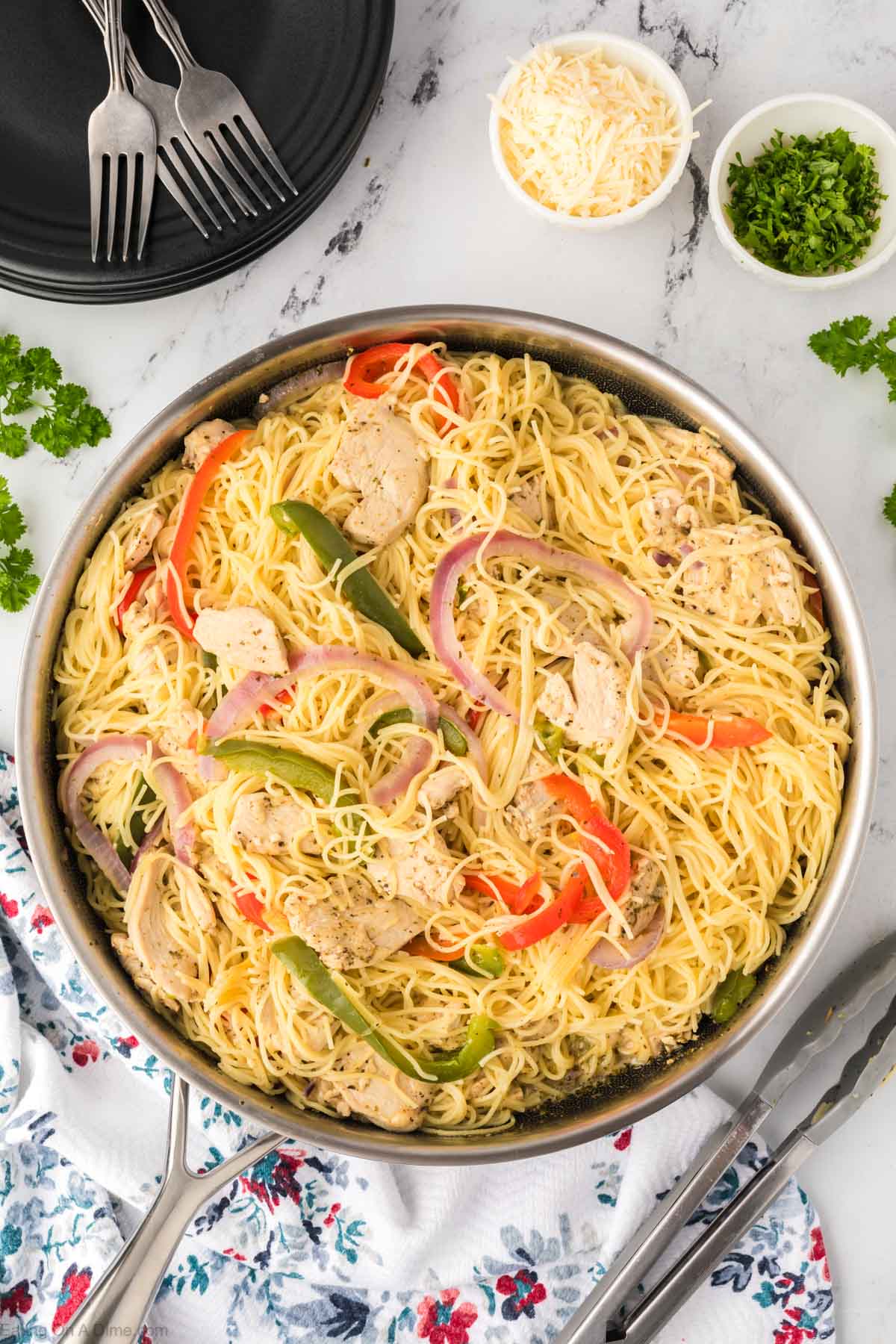 Chicken Scampi Recipe
We love Chicken Scampi but it gets so expensive dining out. I recently made this version of Chicken Scampi and the entire family loved it.
If you buy this at a restaurant, it can sometimes be a bit greasy so I eliminated most of the oil for a much healthier version. It tastes like you have been cooking all day, but you can have this dinner completed in no time.
The bell peppers add a ton of color and the pasta bring this dish all together. It is simple enough to enjoy during busy weeknights but tasty enough for company. 🙂
We also have an Easy Crock Pot Chicken Scampi version for those days when you are gone all day. Also, if you have a pressure cooker, try this Instant Pot Chicken Scampi Recipe!
Enjoy! This is such an easy meal and sure to be a hit even with the kids!
What do you need to make this easy Chicken Scampi recipe?
boneless skinless chicken breast
red onion s
red bell pepper
green bell pepper sliced (any color will do actually -the more the merrier)
chicken broth
Italian seasoning
minced garlic
salt and pepper
Angel Hair pasta
Parmesan cheese
I like to use extra Parmesan cheese!
How to make Chicken Scampi Pasta recipe:
If you can boil water and saute chicken, you can make this easy meal!
I like to go ahead and start the water for the pasta while I'm cooking the chicken.
Go ahead and slice or cut up the chicken before placing in the large skillet.
Once the chicken is golden brown, add the delicious onions and peppers.
Top with the seasonings and stir thoroughly. Easy!
Add the chicken broth and bring it all to a boil. Reduce the heat and let thicken.
Finish up your pasta and your chicken mixture should be done as well.
Mix in cheese to your pasta and and chicken serve.
Keep reading for the full recipe. It is so easy and can be ready in minutes!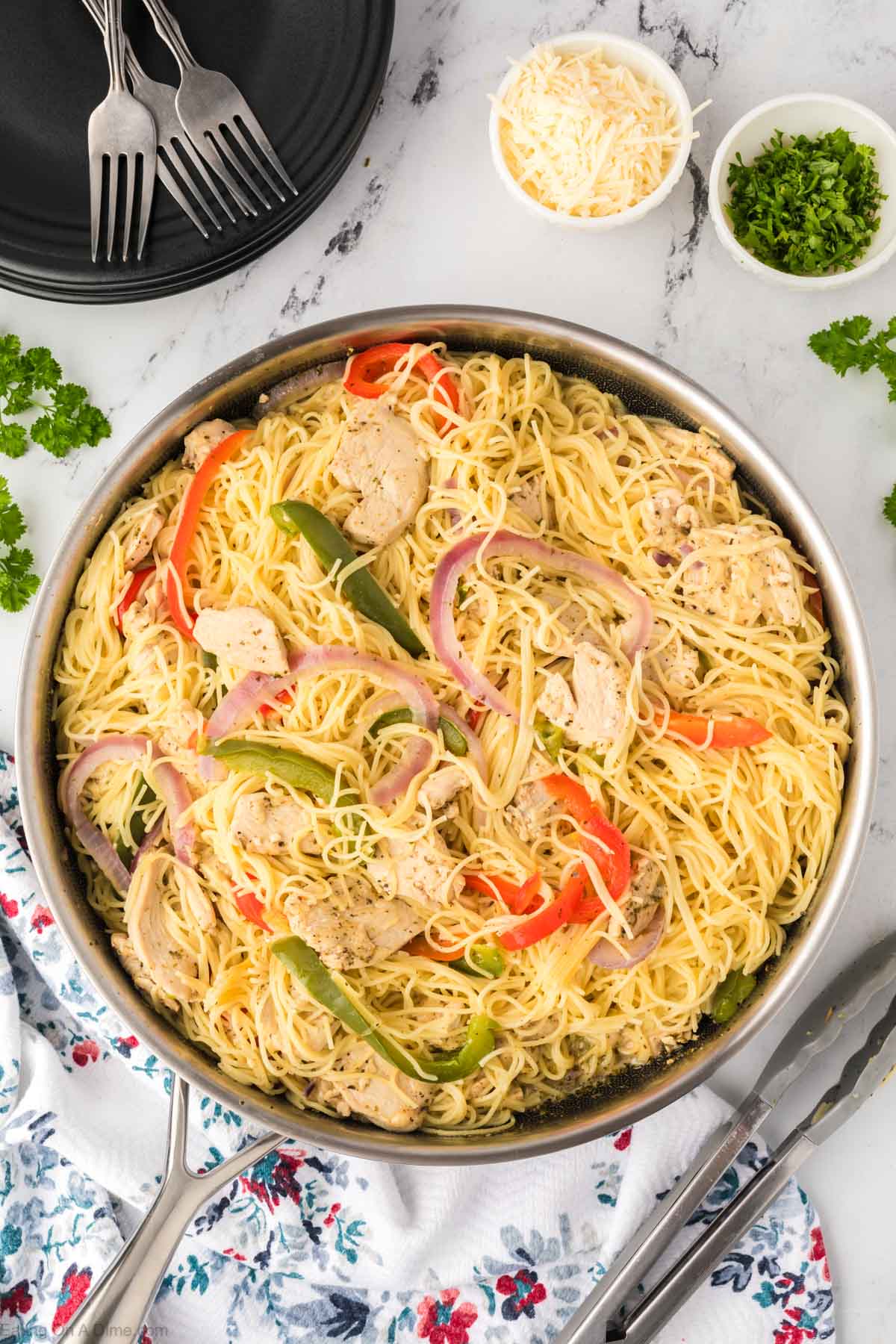 Try making Chicken and Shrimp Scampi.
You can add shrimp in the last 10 minutes of cooking for a nice change. We love shrimp so often add it to this recipe!
We have also used chicken tenderloins in this recipe instead of chicken breasts to save on time.
What can I serve with this easy Copycat Olive Garden Chicken Scampi recipe?
We love this dish with angel hair pasta but really any pasta will work. The angel hair pasta just is so light and really is a nice touch with the chicken and veggies.
However, use what you have! We have used spaghetti noodles, penne and even bow tie!
You can also add a simple side salad and what a great meal with very little work. Everyone will love this meal!
If you have a few extra minutes, try making this Garlic Bread Cheese Sticks Recipe. It is perfect for dipping into that amazing sauce. Yum!
You can't go wrong with this great scampi recipe that can be ready in 30 minutes or less. Change things up and add white whine or lemon juice to the chicken broth for a change in flavor.
We also like red pepper flakes for a little beat of heat. This recipe is going to be a family favorite!
Make sure you have a good skillet for this easy Chicken Scampi Recipe.
We use a cast iron skillet and it's perfect for this recipe. I have the Lodge cast iron skillet but you can see all the different brands here.
Cast iron is amazing! You can make so many different recipes and they are great for skillet recipes.
If you are not already cooking with one, you should! They are amazing and the food cooks so evenly.
We use for lots of different recipes and the food turns out perfectly each and every time.
Time saving tips for Chicken Scampi Pasta recipe:
All of the pretty bell peppers in various colors are the star of the show in this recipe. They really give it such a pop of color.
We save a ton of time cooking by having items like this already on hand chopped and ready to go in the freezer.
Another time saving tip is to use a small food chopper or food processor to quickly and easily chop onions and peppers. If you do not have one of these, I highly recommend them. They are such a time saver and you make cooking so fast and easy.
I usually just chop the entire vegetable and freeze what I don't need. It's so nice to be able to just take the diced onion out of the freezer for recipes.
This is how I meal prep. It's so quick and easy and helps get dinner on the table fast.
Learn and how to freeze onions and also how to freeze peppers to save so much time in the kitchen! Lots of the recipes we cook call for onions and peppers so this is such a great time tip that we use frequently.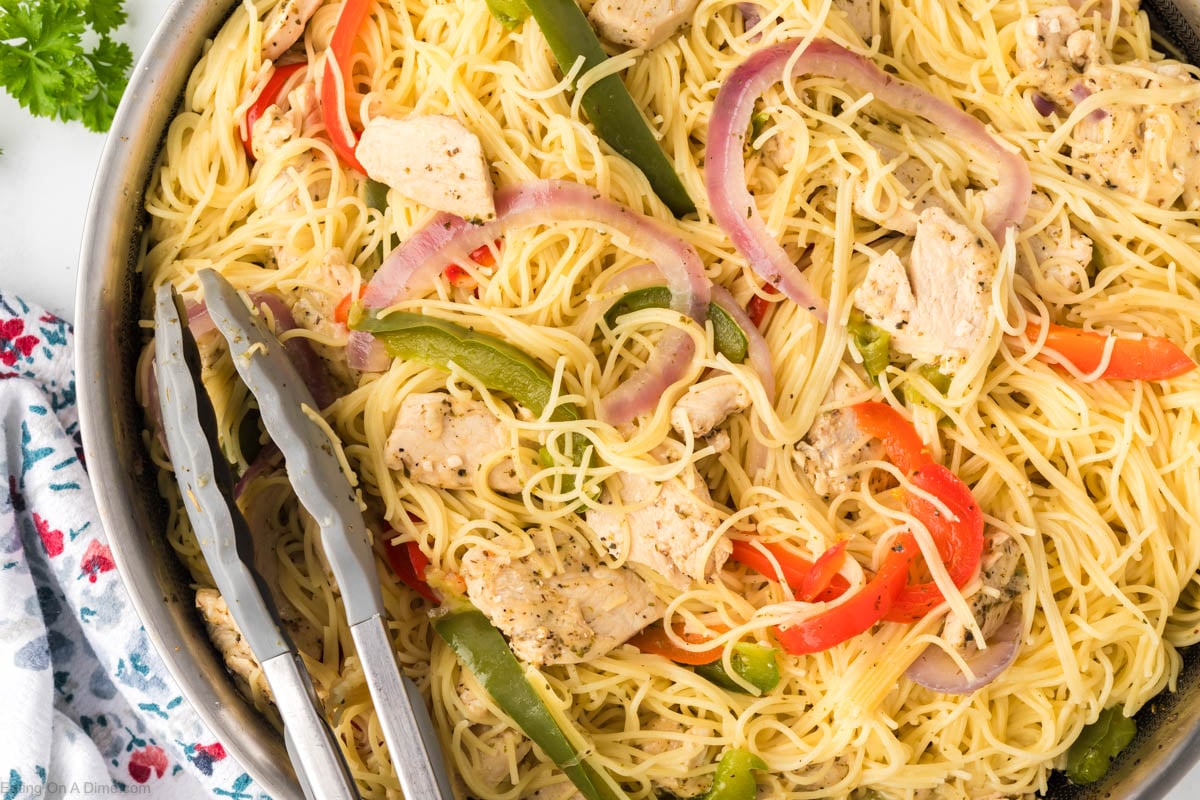 Print this Chicken Scampi Pasta Recipe below:
Chicken Scampi Recipe
Chicken Scampi Recipe sounds fancy but it is really so simple to prepare. Skip the restaurant and make this delicious meal at home with very little work.
Instructions
Start a pot of water on the stove for your pasta. In a big skillet, drizzle a small amount of olive oil.

Slice chicken breast and place in skillet. Cook on med-high heat until it begins to brown good. Toss in onions and peppers and cook for about 2-3 minutes.

Toss in the seasonings. Stir.

Then add 2 cups of chicken broth. Stir. Bring to a boil. Then cover and reduce heat.

Place your pasta in the other pot that is now boiling. Once your pasta is finished cooking, your chicken will be done too!

Drain pasta. Mix in a handful of the cheese in with the chicken mixture. You can either toss it all with the pasta in the same pan, or keep it separate until it goes on your plate. Season with salt and pepper.
Nutrition Facts
Calories
435
kcal
,
Carbohydrates
60
g
,
Protein
29
g
,
Fat
7
g
,
Saturated Fat
3
g
,
Cholesterol
47
mg
,
Sodium
749
mg
,
Potassium
526
mg
,
Fiber
3
g
,
Sugar
3
g
,
Vitamin A
780
IU
,
Vitamin C
26.6
mg
,
Calcium
235
mg
,
Iron
1.9
mg
Try these other cast iron skillet chicken recipes: