Chorizo Burgers combine everything you love about classic burgers with lots of Mexican flavor. One bite of this juicy burger and you will be hooked. Each Chorizo burger is topped with a tasty Cilantro Lime Mayo for an irresistible recipe.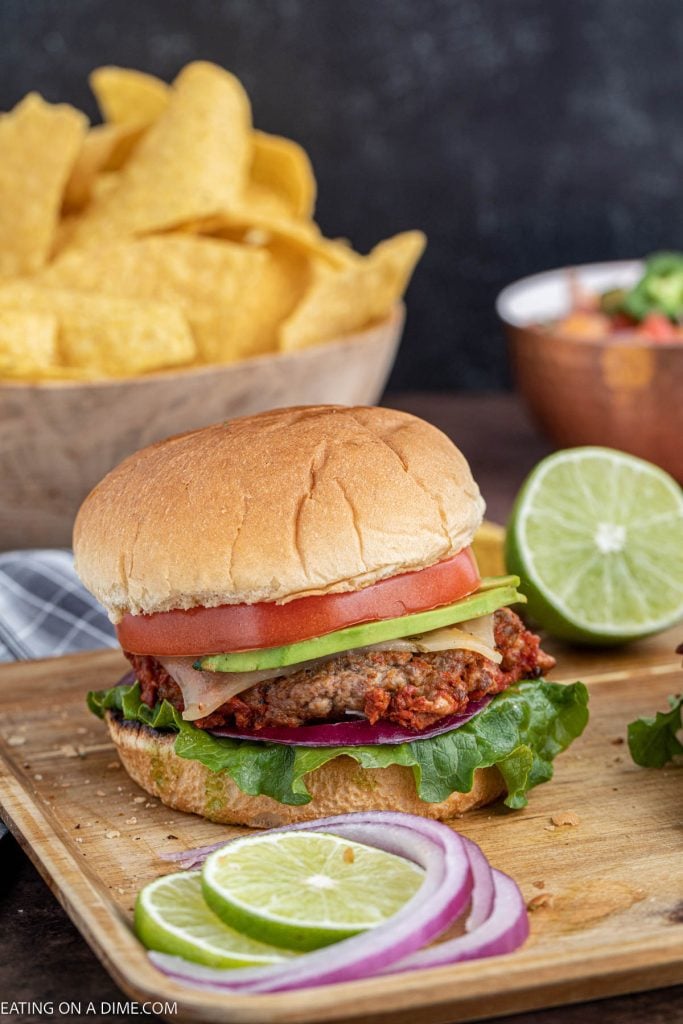 What is a Chorizo Burger?
It is a meat mixture with ground beef and Mexican Chorizo combined to form a patty. Chorizo is made of a combination of chopped pork, pork fat and often bacon.
The flavor is delicious and even better with Cilantro Lime Mayo with tons of Southwestern flavor.
Ingredients:
Burgers:
Lean Ground Beef
Ground Fresh Chorizo
Paprika
Salt and Pepper
Oil
Pepper Jack Cheese slices
Ripe Fresh Avocados sliced
Lettuce Leaves
Red Onion sliced
Tomatoes sliced
Hamburger Buns. We like brioche buns.
Cilantro Lime Mayo:
Fresh Cilantro bunch (roughly chopped)
Mayonnaise
Minced garlic
Honey
Salt
Jalapeño deseeded
Limes, juiced
How to make a Chorizo Burger:
Step 1. Combine the ground beef and chorizo. Mix the ground beef, ground chorizo, paprika, salt and pepper in a large bowl. Mix until just combined.
Step 2. Mix together the Cilantro Mayo ingredients. Add the cilantro lime mayonnaise ingredients to a food processor and blend well until thoroughly combined. Refrigerate until ready to use.
Step 3. Form the patties. Divide the beef mixture into 6 even balls. Then form the balls into patties that are approximately 4 inches wide and 1 inch thick. Place the patties in the refrigerator (covered in plastic wrap) while you preheat the grill.
Step 4. Fire up the grill and prepare the grates. Preheat the Grill over medium high heat (approximately 450-500 degrees F). Rub oil on the grill grates to prevent the patties from sticking to the grill.
Step 5. Cook the burgers on the grill. Place the patties on the grill over direct heat. Cook for 4-8 minutes per side (flipping the patties halfway through the cook time) depending on how you like your burger cooked. Use an instant-read meat thermometer to make sure that the burgers are cooked to your preference.
Step 6. Top with cheese. Place a piece of cheese on each burger patty for approximately 1 minutes until the cheese is melted.
Step 7. Heat the buns. Place the buns on the grill and cook for 1 minute until they are browned slightly. Watch them closely so that they do not burn.
Step 8. Add toppings to the burgers. Add the cilantro lime mayonnaise, a lettuce leaf and red onions to the bottom bun of each bun.
Step 9. Take the burgers off the grill. Remove the beef from the grill and add them to each of the hamburger buns on top of the lettuce.
Step 10. Top with remaining toppings. Then top each patty with the tomatoes and avocado slices. Serve warm and enjoy!
How long to cook a Chorizo Burger?
The burgers take about 4 to 8 minutes per side to cook based on preference. We recommend using an instant read meat thermometer to accurately cook the burgers according to how you like them.
Here are the internal temperatures needed based on how you like your burgers prepared.
Rare Burgers – 125 degrees F
Medium-Rare Burgers – 135 degrees F
Medium Burgers – 145 degrees F
Well-Done Burgers – 160 degrees F
How to store leftovers:
Refrigerate any leftovers in an airtight container for up to 5 days. Make sure to store the burgers separately from the toppings and bun so it does not get soggy.
Recipe tips
Oil. Use any oil with a high smoke point. Vegetable oil, canola oil, coconut oil or avocado oil will all work great in this recipe.
Lean ground beef. The fat content in the chorizo will keep the burgers moist so you can use lean ground beef.
Hamburger Buns. Use your favorite hamburger buns in this recipe. Try Brioche Buns, Bakery style hamburger buns or anything you like.
Variation ideas
Hot Sauce. Add hot sauce to the burger for a little extra heat. You can use your favorite hot sauce when you add the other toppings.
Green chiles. Spice things up and add green chilies to the meat mixture when combining the ingredients.
Cheese. Try other types of cheese slices. We also like to use mozzarella, Colby Jack and Cheddar cheese.
What to serve with Chorizo Burgers?
Try Chorizo Burgers for a great meal.
Print the Chorizo Burger recipe below:
More easy burger recipes: