Corn Chowder Recipe is easy to make with creamed corn, potatoes and delicious seasonings. You can make it on the stove top for an easy lunch or dinner. Make this comfort food today for a frugal and filling meal.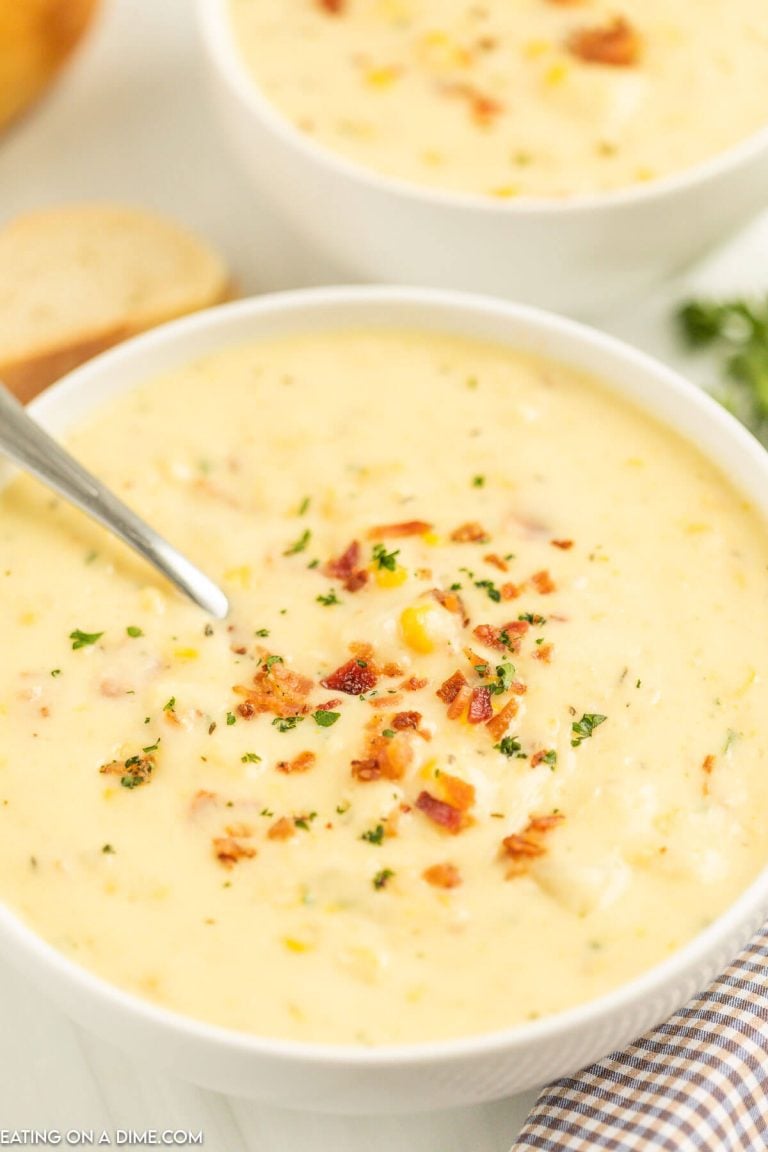 Corn Chowder Recipe:
Corn chowder is super easy to make and so warm and comforting. Each bite is amazing with hearty vegetables and tons of flavor. The soup is so creamy and comes together in just 30 minutes on the stove top.
Anyone can make this homemade corn chowder. If you can toss a few things in a pan, you can definitely make this tasty corn chowder. The thick creamy broth makes this soup a family favorite.
You might also like to try Crock Pot Mexican Chicken Corn Chowder Soup Recipe for another easy meal idea. As you can see we love corn chowder and paired with French bread for dipping completes this delicious meal.
What is Corn Chowder?
Corn chowder is a delicious, creamy soup that the prime ingredient is corn. A classic corn chowder recipe is made of milk, whole kernel corn, cream style corn, potatoes, and cream.
Corn flavored chowder can be prepared on the stove top or in the slow cooker. You can even add in a protein if you prefer. It is a delicious meal and a family favorite soup.
Easy Corn Chowder Ingredients:
Corn
Cream Style Corn
Butter
Potatoes, finely diced
Onion, finely diced
Minced Garlic
Thyme
Salt and Black Pepper
Bay Leaf
Cooked Bacon, cut into small pieces
Chicken Broth
Cream
Cornstarch
How to Make Corn Chowder:
Step 1 – Melt Butter – Melt the butter in a large stockpot over medium heat.
Step 2 – Sauté bacon and onions – Add the bacon and onions. Sauté for 8-10 minutes until the bacon is cooked through and the diced onions are translucent. Then add in corn and potatoes and the other ingredients.
Step 3 – Mix in Ingredients – Add in the chicken broth, both types of sweet corn, add potatoes, thyme, salt and bay leaf. Bring the mixture to a boil and then reduce the heat to medium. Simmer for 15-20 minutes uncovered until the potatoes and corn are tender.
Step 4 – Mix in Cornstarch Mixture – Whisk the cornstarch into the heavy whipping cream in a small bowl. Remove the bay leaf and mix in the heavy whipping cream mixture into the pot.

Step 5 – Cook until heated – Cook for 2-5 minutes until the cream is heated through and incorporated.
Step 6 – Serve and Enjoy – Serve immediately and enjoy.
How do you Thicken Corn Chowder?
Add a tablespoon of cornstarch to the heavy cream and mix together. Now, add it to the soup as the recipe instructs above. This should help to thicken the soup and give it the desired texture.
Tips for Corn Chowder:
More Vegetables – If you want to sneak in those vegetables, add in some bell peppers, carrots or celery.
Beans – You can mix in some black beans or pinto beans if you prefer. Both options go well with this soup.
Instant Pot – You can easily make this soup in the instant pot.
Mixing Ingredients – Bring the mixture to a boil in the dutch oven. This usually takes about 15 minutes for the potatoes are tender.
Cornstarch Slurry – We like to thicken the soup with cornstarch mixed with heavy cream. Add this mixture at the end of cooking to allow your soup to be thick when serving.
Recipe Variations:
Corn Variations – You can use frozen corn, fresh corn kernels, leftover corn on the cob cut off, or canned corn to add to this soup.
Make is Spicy – You can easily add in some red pepper flakes or sliced jalapenos to make this soup spicy.
Add Chicken – To make this soup even more hearty, add in some leftover shredded chicken.
Add in Cheese – This recipe is best with block style cheese instead of the shredded cheese at the grocery store. If you hand grate the cheese, the soup will be smoother and have a much better consistency.
Diced Tomatoes – Add in some diced tomatoes to add color and flavor. You can even add in a can of Rotel for add flavor.
Broth – We used chicken broth in this recipe, but you can also use chicken stock.
Can you Make it in the Slow Cooker?
Yes, this corn chowder soup can be made in the slow cooker. Try Slow Cooker Corn Chowder and Chicken Soup.
Can you Add Chicken or Cheese to Corn Chowder?
Yes, you can! This is a great way to use leftover chicken. I love to shred leftover rotisserie chicken and use in this soup.
It adds even more flavor and it only takes a few extra minutes to toss it in.
What to Serve with Corn Chowder?
Side Salad – We love soup and salad. This tasty corn chowder is so good with a simple side salad. You will love this for lunch or dinner.
Bread Sticks – You also need some type of bread to dip into all of that delicious broth.
Homemade Dinner Rolls – If you have a few extra minutes, this Easy Homemade Dinner Rolls Recipe is great with the soup. You can also pick up some breadsticks or French bread at the bakery if you don't have time to bake any.
Feel free to also top your bowl with bacon and cheddar cheese.
How to Store Leftovers:
This is a great soup to make ahead of time for meal prep for the week. Store the soup in an air tight container in the refrigerator. It will stay fresh for up to 5 days.
We think it taste better the next day as the ingredients really marinate together.
Can you Freeze Corn Chowder?
Yes, you can freeze corn chowder, however the texture might change when thawing. If you want tips and tricks on how to freeze soup, we have them all here.
Freezing homemade soup saves time and money.
Print this Corn Chowder Recipe below:
More Easy Soup Recipes:
More Chowder recipes: