This post may contain affiliate links. If you make a purchase through links on our site, we may earn a commission.
This Easy Creamed Corn Recipe is rich and creamy. It is an easy side dish that is perfect for any occasion.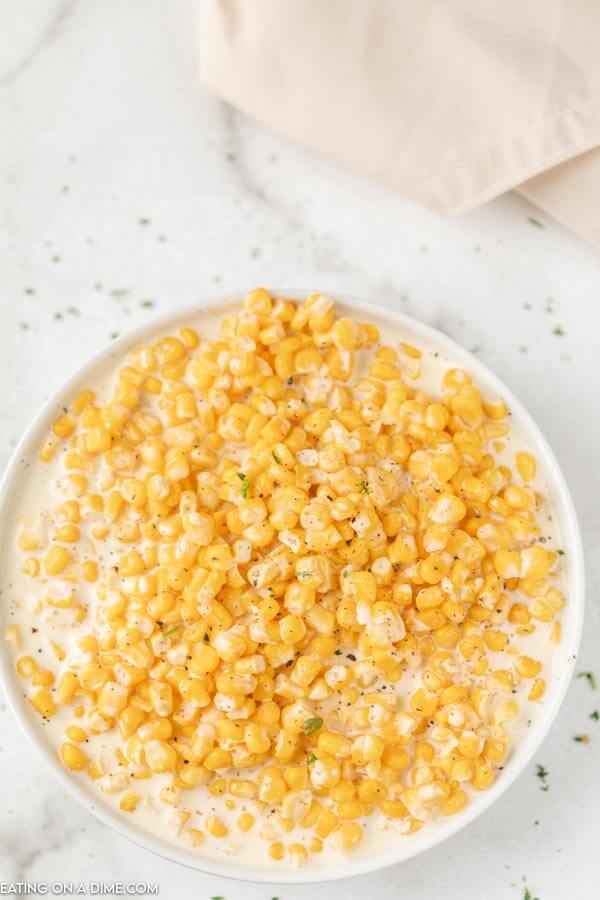 This cream corn is a delicious side dish is really rich and you can tell a huge difference in making this from scratch. It is worth the extra effort but I promise it is super easy. You will be amazed that it doesn't take much extra time.
Corn always makes a delicious side dish. If you are wanting to try some new corn recipes, check out Corn Salad, Corn Salsa Recipe, Easy Corn Pudding Recipe.
What is Creamed Corn?
We make our creamed style corn with corn kernels that is mixed in a cream cheese based sauce. There are different ways you can make creamed corn, but this recipe is simple and anyone can make it.
Canned creamed corn tends to be on the sweeter side, but I love that this recipe combines all the ingredients perfectly so that has just the right sweetness. Everyone really enjoys the cream sauce and comes back for seconds.
Ingredients:
Corn
Milk
Cream Cheese
Unsalted Butter
Sugar
Salt and pepper
For the full recipes, scroll to the bottom for the recipe card.
Variations:
Creamier Texture – Use whole milk or heavy cream to make it even creamier.
Spicier – Want a little more spice, you can add some slice jalapeño's or sprinkle with cayenne pepper.
Bacon – You can also top with some chopped bacon for added flavor.
Parmesan Cheese – Try adding parmesan cheese to the corn for a different taste. It is really good too.
Fresh Corn – You can substitute fresh corn for canned corn. If you have an abundance of corn on the cob, feel free to use that. Use a sharp knife to cut off the kernels for the corn cobs and make this yummy recipe.
Frozen Corn – The Frozen bags of corn can also be used. You just may need to adjust your cooking time for the frozen corn. Frozen often requires more time to cook.
Step by Step Instructions:
Step 1 – Place the sweet corn, milk, sugar, salt and paper in a medium size sauce pan or a large skillet. Now, stir everything together over high heat.
Step 2 – Add in the cream cheese and butter. I like to cube the cream cheese and thinly slice the butter.
Step 3 – Heat over medium heat. While it is cooking, stir frequently until the cream cheese and butter are fully melted.
Step 4 – Also, make sure the corn mixture ingredients are thoroughly combined.
It is that simple. Serve seasoned with salt and pepper and enjoy! Our family loves this and I think you will too. It is the best.
Expert Tips:
Double the Recipe – Creamed corn is frugal and doubles easily. Try making it for potlucks or holidays.
Cream Cheese – We prefer regular cream cheese and not reduced fat cream cheese.
Can you Make this Recipe in the Crockpot?
Yes! I have put this creamed corn recipe in the crockpot just for the simple fact, I can let the crock pot do all the work for me. No need to worry that everything isn't melting or having to continually stir the ingredients.
You can cook easy creamed corn for about 2-3 hours on high or 5-6 hours on low.
Whichever you prefer, this recipe comes out perfectly and everyone will come back for more!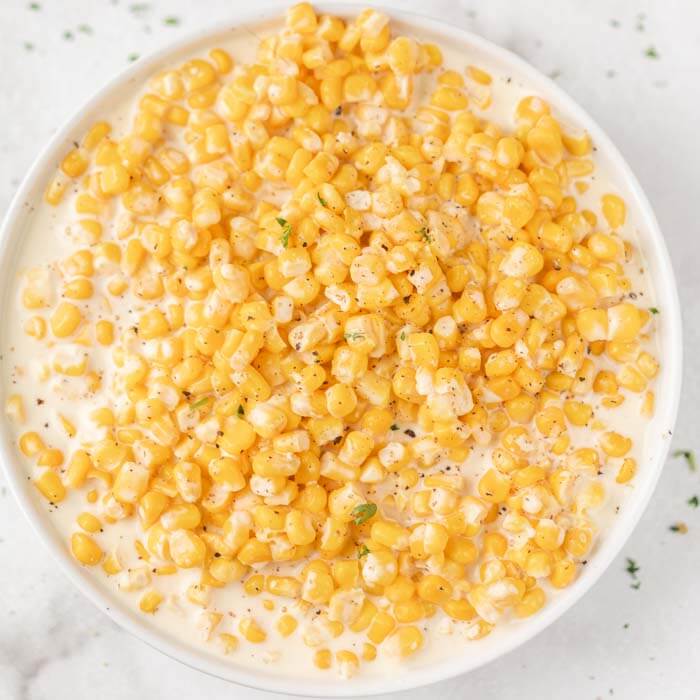 What to Serve with Cream Corn:
You are going to love this. It is one of our favorite corn recipes. Homemade cream corn is so tasty and always a crowd pleaser.
It is the perfect side dish for just about anything. We love it with Turkey and Fried Chicken. It's also good with Ham.
I love that this dish can easily be prepared even on busy weeknights but it is special enough for holidays or big family dinners.
Storing Leftover Creamed Corn
Creamed corn can easily store in the refrigerator for up to 3-5 days. Make sure to keep it in an airtight container to keep the freshness of the cream corn.
How to Freeze:
Do you know that you can also freeze your creamed corn? As long as you freeze it in freezer safe container than it will last up to about 6 months.
How to Reheat:
You can reheat cream corn in the microwave or in a small sauce pan over medium low heat.
Frequently Asked Questions
How to thicken creamed corn?
If you want your sauce to be thicker for your creamed corn, make a corn starch slurry. Just combined ¼ cup water and 2 Tbsp of cornstarch into a small bowl. Stir this mixture into your cream corn and heat for 2-3 minutes until the sauce has thickened.
We like to use a cornstarch slurry to thicken cream corn. For every two cups of cream corn, mix 1 tablespoon of cornstarch with 1 tablespoon of water. Once mixed, mix the cornstarch slurry in with the cream corn. Heat until thickened.

If you do not have cornstarch, you can do the exact same thing but with all purpose flour.
What is the difference between creamed corn and cream style corn?
Creamed corn is cooked with cream. Cream Style corn is cooked in its own juices to create a delicious side dish.
Creamy style corn comes in a can and it a mixture of regular corn kernels, with the pulp that comes from the pulped corn kernels scraped from the cob.

Cream corn is a homemade recipe in which corn is cooked normally with milk and cream cheese to make a creamy sauce.
Why is my creamed corn runny?
It could be because it has not cooked long enough or just needs to set before serving. This usually helps to thicken the texture.
If your creamed corn is a little runny, the easiest thing to do is let it cook for a few minutes longer. The heat will cook off the extra liquid and thicken the cream corn.
More Thanksgiving Side Dish Recipes:
We love hearing from you. If you make this Easy Homemade Creamed Corn Recipe, leave us a comment or a star review.
Easy Homemade Creamed Corn Recipe
This easy creamed corn recipe is rich and creamy. It is better than store bought but super easy to make. Give it a try.
Ingredients
3

cans of Corn

15 oz cans – drained

1/2

cup

Milk

8

oz

cream cheese

cut into cubes

1/2

cup

Unsalted Butter

cut into thin slices

1

Tbsp

Sugar

1

tsp

Salt

1/2

tsp

Pepper
Instructions
Place the corn, milk, sugar, salt and paper in a medium size sauce pan. Stir to combine all these ingredients.

Add in the diced up cream cheese and butter.

Heat over medium high heat stirring frequently until the cream cheese and butter are fully melted and all ingredients are thoroughly combined.

Serve topped with fresh cracked pepper and enjoy!
Nutrition Facts
Calories
490
kcal
,
Carbohydrates
49
g
,
Protein
10
g
,
Fat
32
g
,
Saturated Fat
18
g
,
Trans Fat
1
g
,
Cholesterol
84
mg
,
Sodium
522
mg
,
Potassium
549
mg
,
Fiber
5
g
,
Sugar
14
g
,
Vitamin A
1573
IU
,
Vitamin C
12
mg
,
Calcium
72
mg
,
Iron
1
mg