This post may contain affiliate links. If you make a purchase through links on our site, we may earn a commission.
We are going to show you How to Cook Spiral Ham that has the absolute best glaze. This ham is tender, delicious and will be the star of any holiday dinner.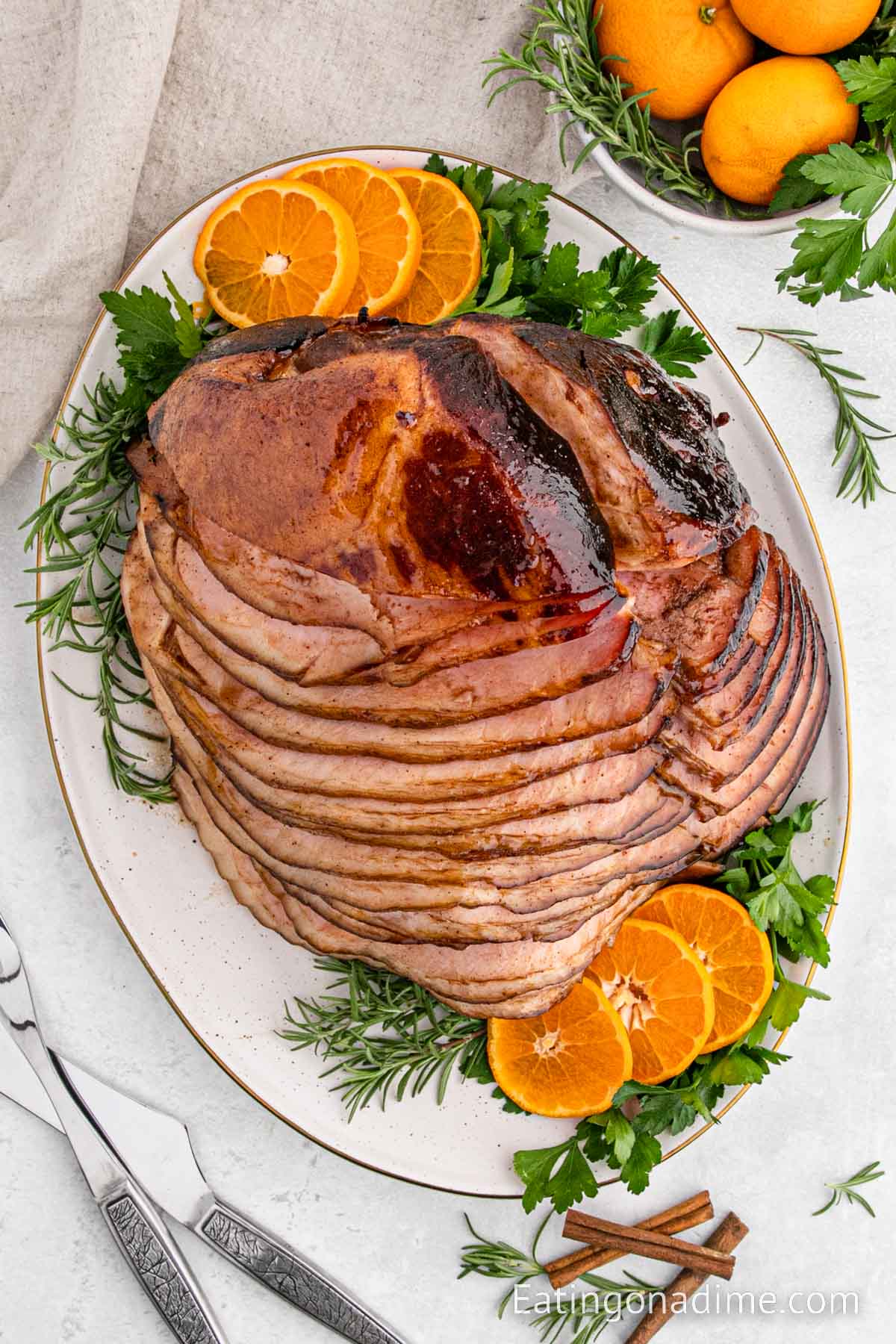 Our family loves ham and it is extra special at the holidays. We all love spiral ham and over the years I have perfected the recipe for the best glaze and tender meat.
The entire recipe is very simple and you will love it! We even have a slow cooker option if you want to try this 4 Ingredient Crock Pot Ham Recipe.
Oh and the leftovers are delicious too. We love to make Ham and Bean Soup Crockpot Recipe with some of the leftover ham.
Are Spiral Hams Already Cooked?
Spiral hams are generally precooked making this process even easier. The entire recipe is a breeze and makes your holiday dinner simple. The label on the ham will be clearly marked whether the ham is fully cooked.
Ingredients: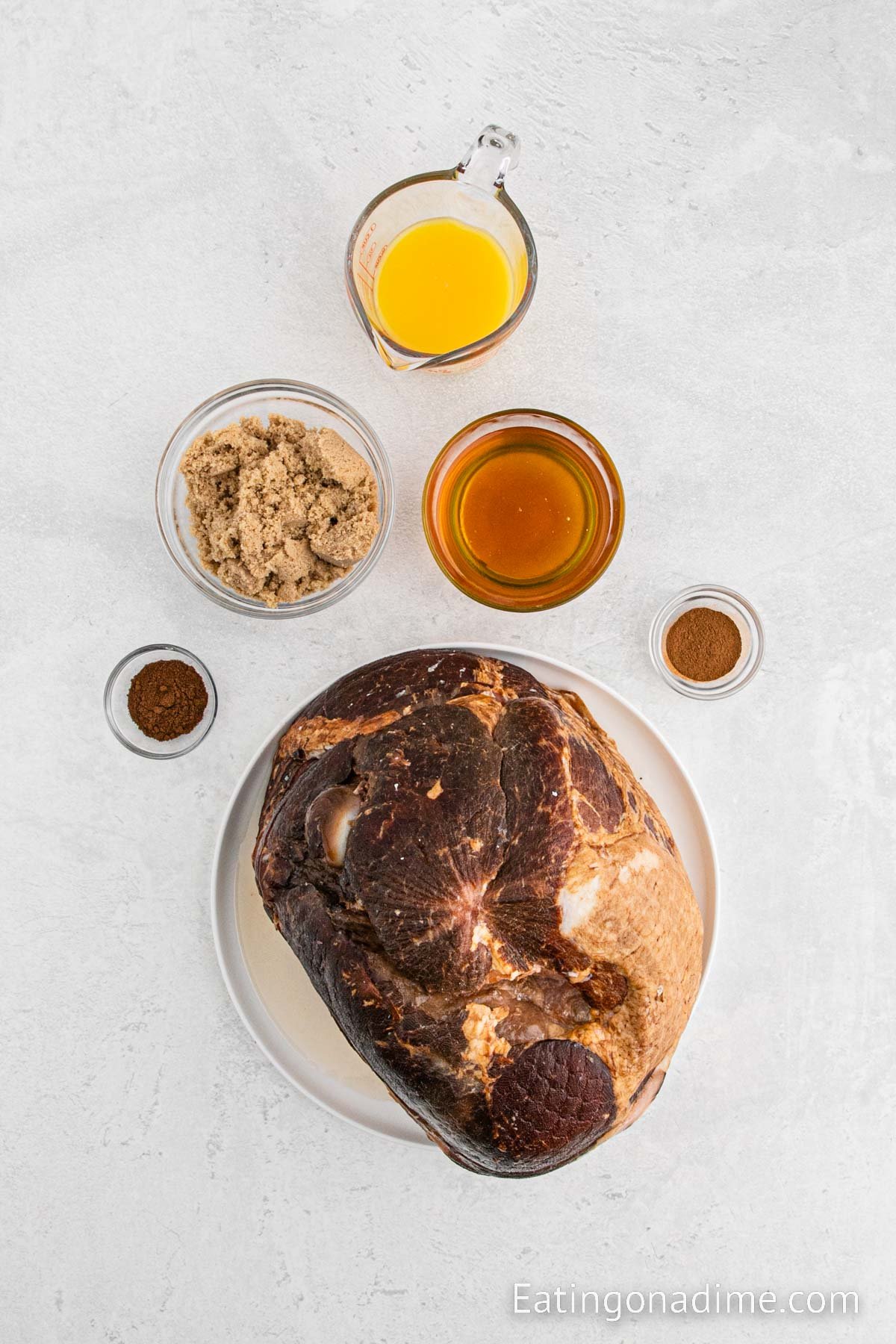 Glaze Ingredients:
Light Brown Sugar, packed
Honey
Orange Juice
Ground Cinnamon
Ground Cloves
For the full list of ingredients and recipe, scroll to the bottom to see the recipe card.
Variations:
Spices – Feel free to change the spices to what you prefer in the bone-in ham recipe. We have add in a teaspoon of ginger and nutmeg for added flavor. For warmer flavor, you can use dark brown sugar instead of light brown sugar.
Sauce – The combination of the glaze ingredients gives this spiral-cut ham so much flavor. Feel free to add tablespoons Dijon mustard, pineapple juice or apple cider vinegar to the glaze. You can even substitute the honey for maple syrup.
Step by Step Instructions:
Step 1 – Remove the ham from the refrigerator at least 2 hours before cooking to come to room temperature.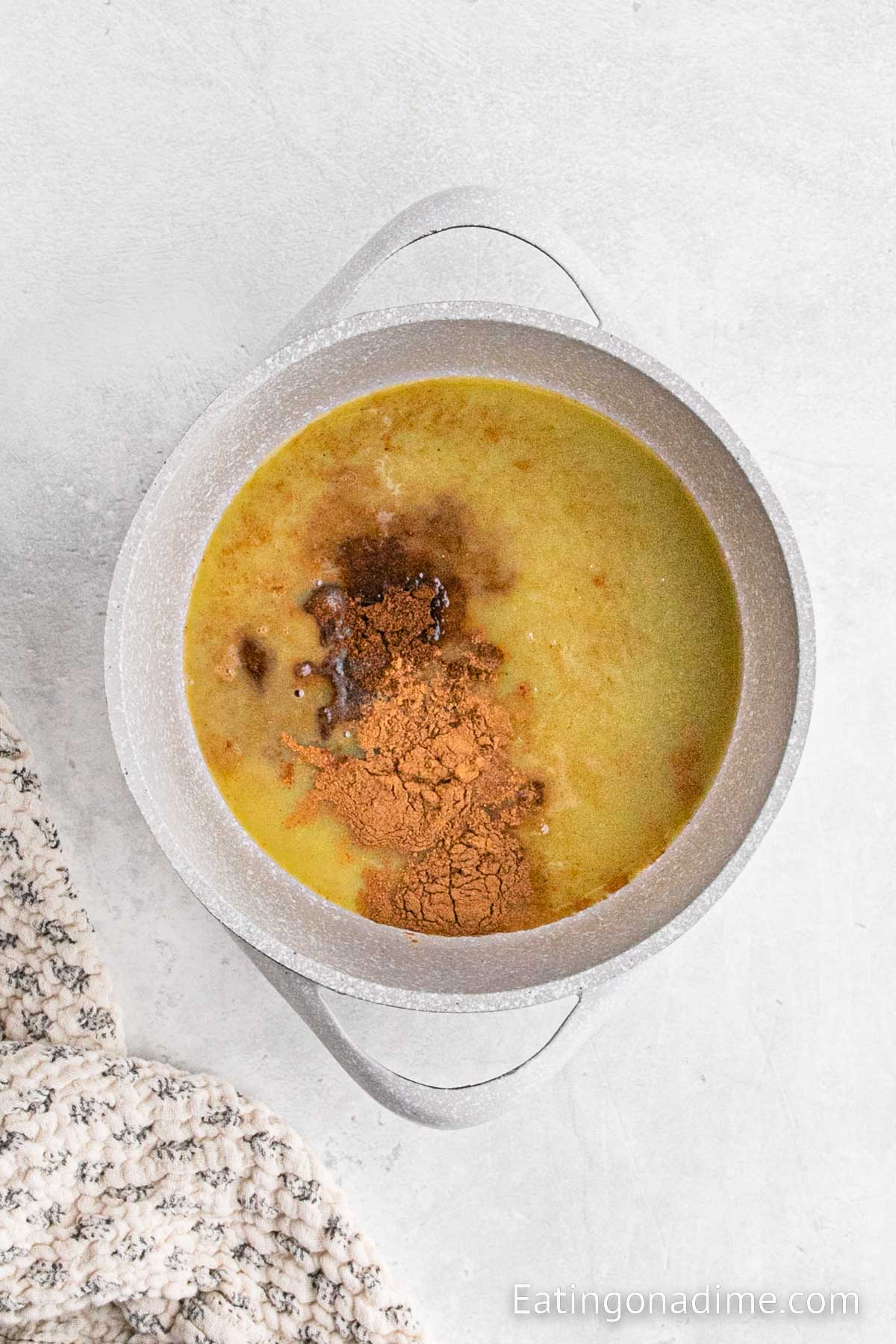 Step 2 – Preheat oven to 325 degrees. In a medium saucepan, whisk together ingredients for glaze. This is what makes the ham so delicious. Bring to simmer and cook for 1-2 minutes or until sugar dissolves.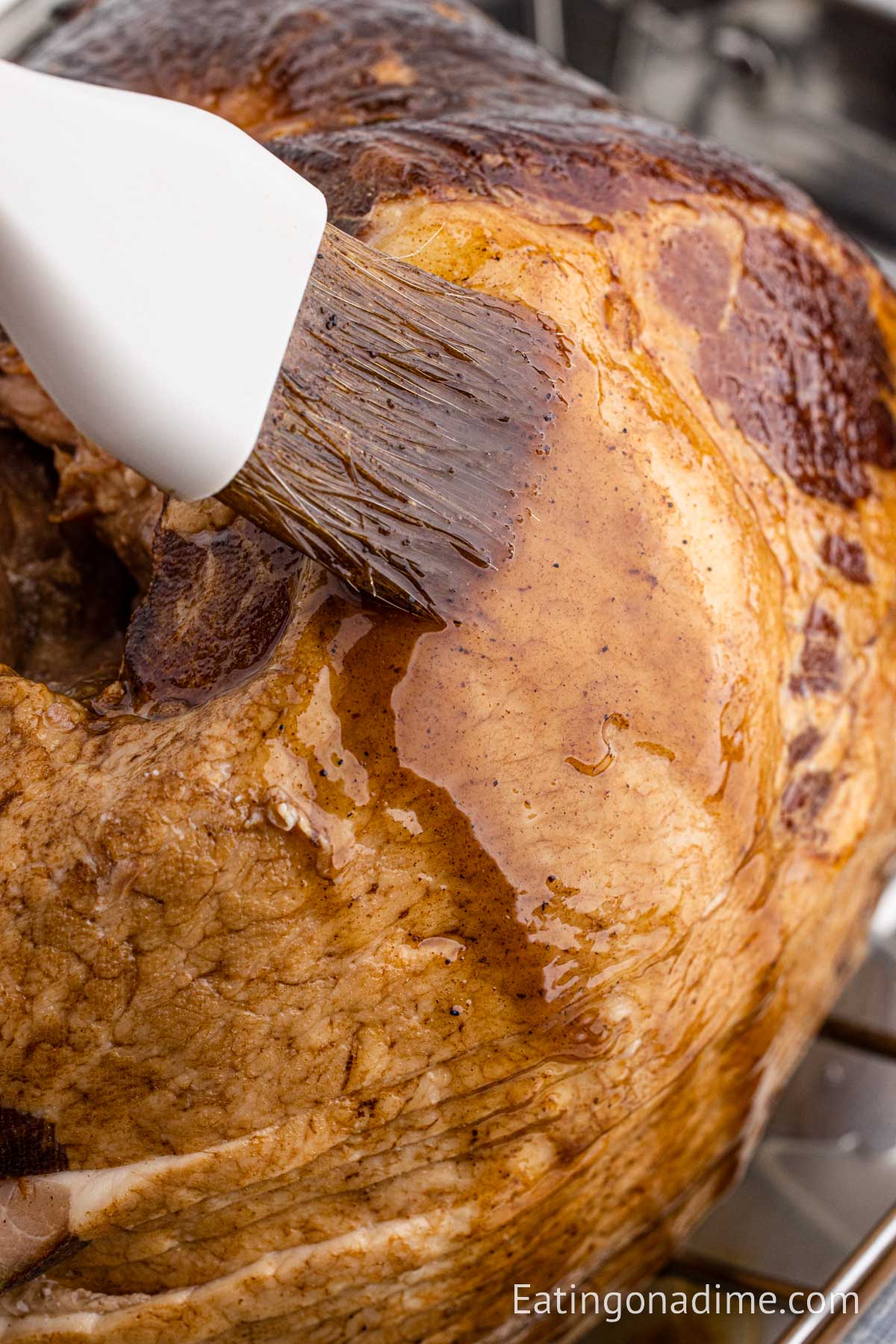 Step 3 – Unwrap ham and place in large roasting pan cut side down. Brush about ½ of the glaze over the ham.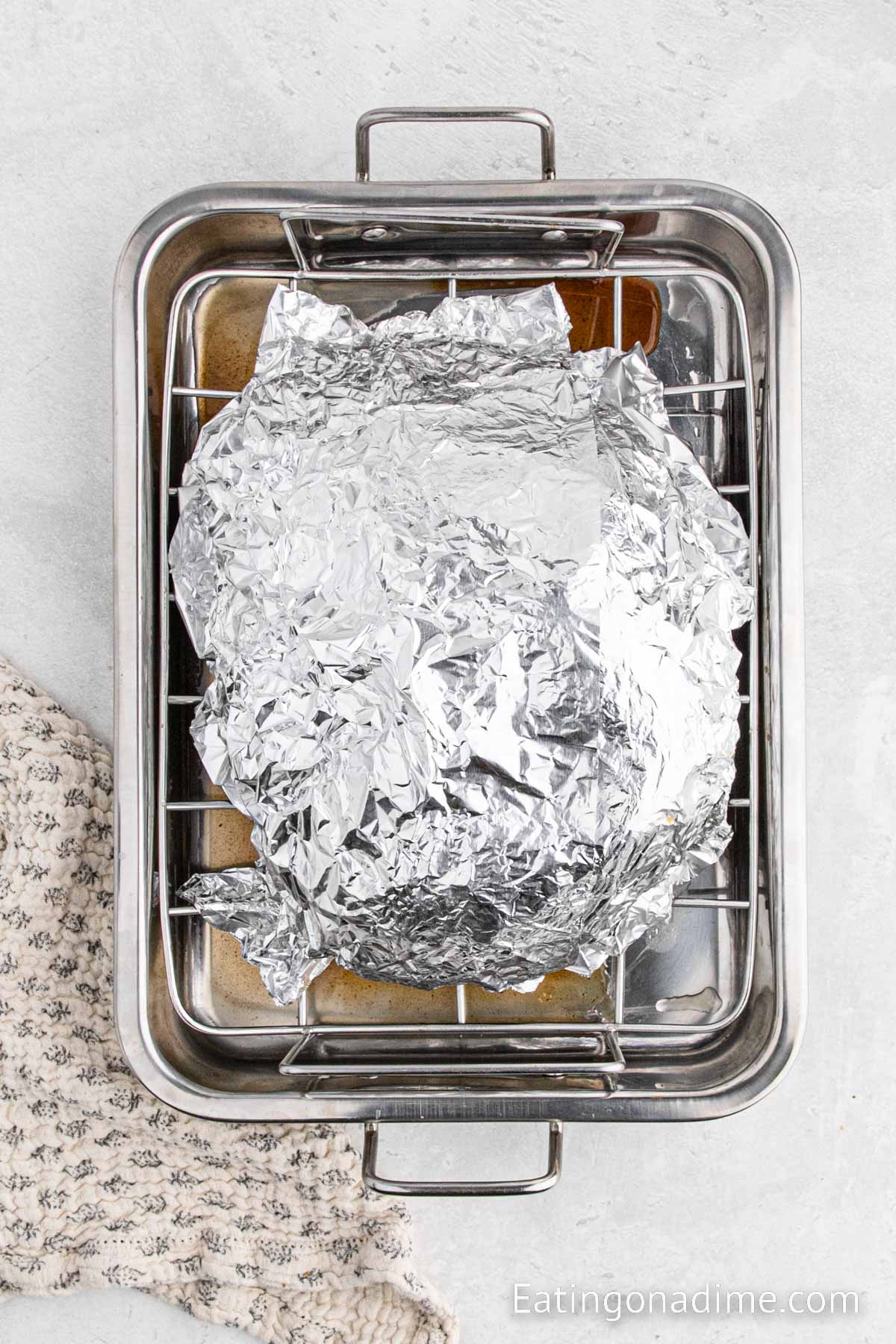 Step 4 – Wrap the ham in the roasting pan tightly with foil.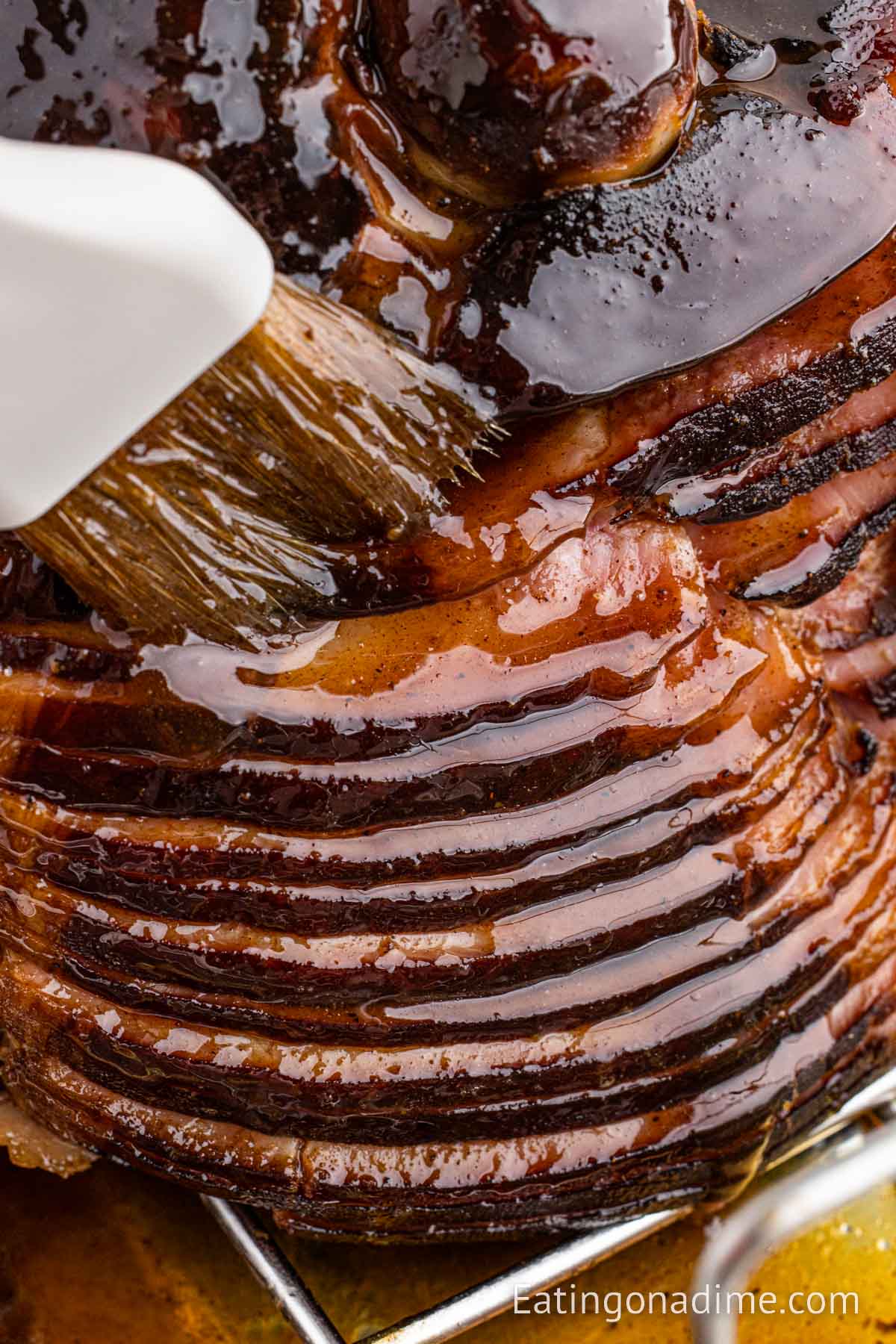 Step 5 – Bake for 12-15 minutes per pound or until ham reaches an internal temperature of 145 degrees. Remove from oven and remove the foil. Brush remaining glaze over ham and be sure to get in between slices.
Step 6 – Return the glazed spiral ham to the oven and continue cooking 10 minutes longer. Remove from oven and loosely wrap with foil and let rest 15 minutes before serving
Recipe Tips:
Glaze – If glaze hardens, return to saucepan to heat which will help loosen the glaze.
Glaze Packet – If your ham comes with a glaze packet, then you can discard it. We like making homemade glaze. But feel free to use what you prefer.
Meat Thermometer – Even though your ham is pre-cooked, we like to use a meat thermometer to ensure it is heated through. The internal temperature should reach 165 degrees.
Cover Ham – We do recommend covering the ham with aluminum foil while baking. This helps to keep the ham from drying out. I do remove the foil after adding the glaze at the end. This helps to caramelize the glaze.
Rest Ham – Before slicing and serving ham, we do recommend letting the ham rest. This helps to lock in the juices.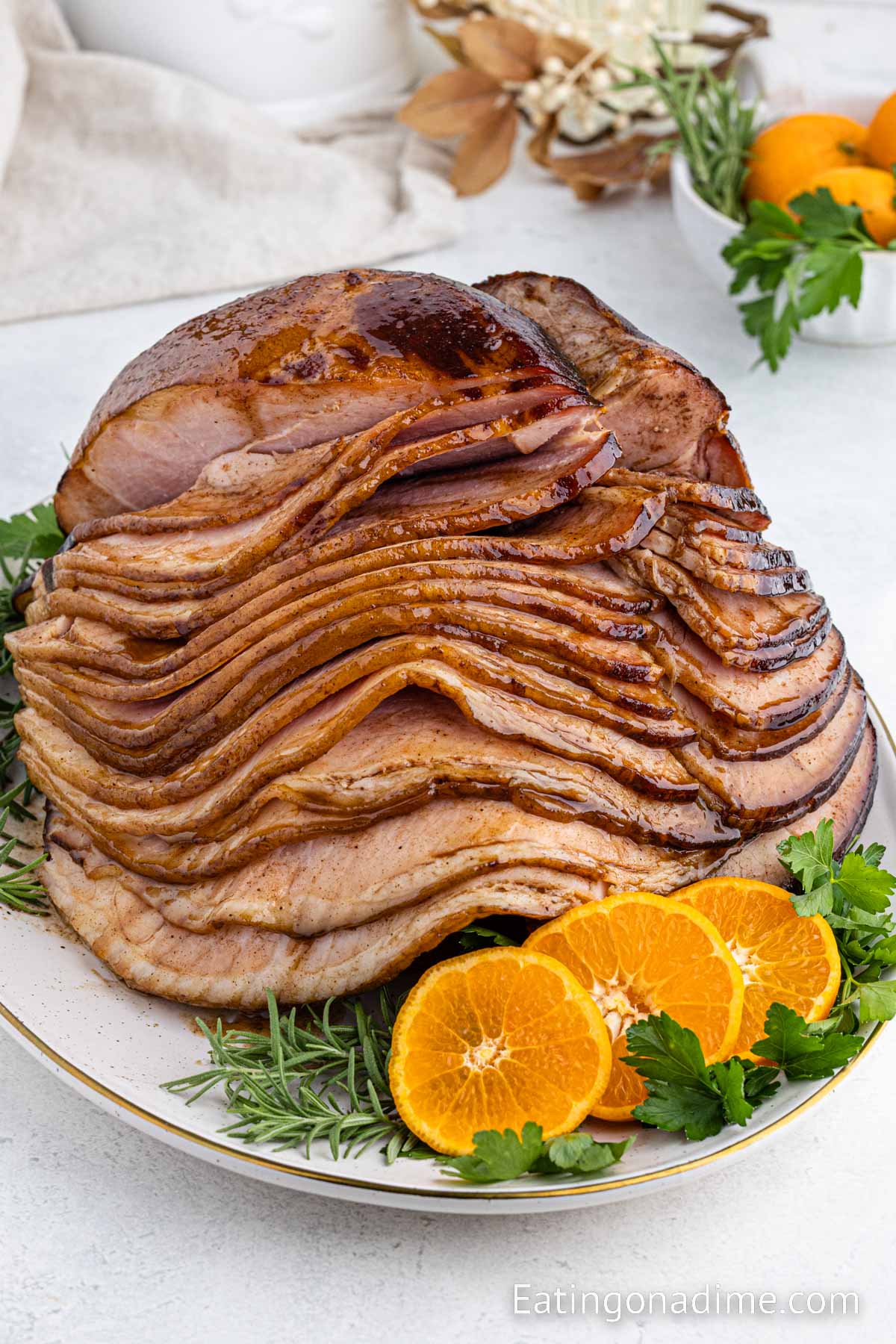 How Long to Cook a Spiral Ham:
Cooking time will vary when cooking the ham in the oven. We recommend cooking the ham for about 15 minutes per pound. You do not want to overcook the ham as it can dry it out.
This recipe will work if you want to make a boneless hams for your Christmas dinner.
What to Serve with Spiral Ham:
Spiral ham is great meat to serve with all your holiday meals. Make sure to add Easy Twiced Baked Potatoes in only 4 steps or The BEST Cheesy potato casserole for a delicious side.
We also love to make Homemade Mashed Potatoes and Scalloped Potatoes for another easy side dish. You can also Check out Best Side Dishes for Ham for more easy ideas.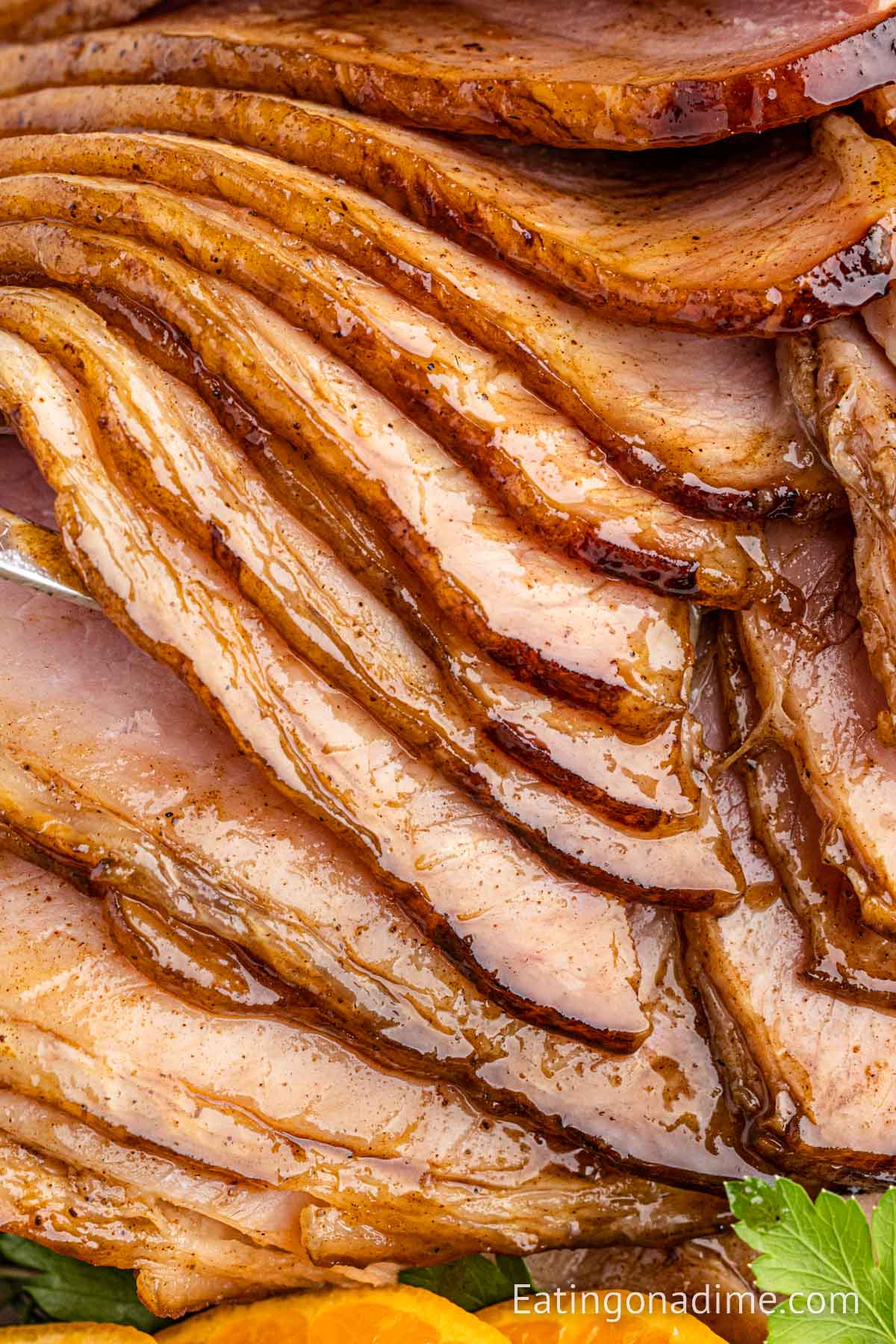 Frequently Asked Questions:
How to Cut a Spiral Ham:
Spiral ham is usually pre-sliced when you buy at the store. You may need to use a knife or an electric knife to cut all the way through.

After baking the ham, place on a cutting board to slice and place on your favorite serving platter.
How to Store Leftovers:
Store you leftover ham in an airtight container. Check out delicious ham recipes to use leftovers in another meal.
How to Reheat Leftovers:
If you freeze your leftover ham, allow it to thaw overnight in the fridge. Then reheat in the oven or the microwave depending how much you have leftover. My dad likes to eat it cold for a delicious cold sandwich.
More Easy Ham Recipes:
We love hearing from you. If you make this Spiral Ham Recipe, make sure to leave us a comment or a star review.
Spiral Ham
We are going to show you how to cook spiral ham that has the absolute best glaze. This ham is tender and delicious for a great meal idea!
Ingredients
8-10

pound

spiral ham

Glaze

1

cup

light brown sugar

packed

½

cup

honey

½

cup

orange juice

1

teaspoon

ground cinnamon

1

teaspoon

ground cloves
Instructions
Remove ham from refrigerator at least 2 hours before cooking to come to room temperature

Preheat oven to 325 degrees F

In a medium saucepan, whisk together ingredients for glaze

Bring to simmer and cook for 1-2 minutes or until sugar dissolves

Unwrap ham and place in large roasting pan cut side down

Brush about ½ of the glaze over the ham

Wrap tightly with foil

Bake for 12-15 minutes per pound or until ham reaches an internal temperature of 145 degrees F

Remove from oven and remove foil

Brush remaining glaze over ham, be sure to get in between slices ** see notes

Return to the oven and continue cooking 10 minutes longer.

Remove from oven and loosely wrap with foil and let rest 15 minutes before serving
Recipe Notes
If glaze hardens, return to heat to loosen
Nutrition Facts
Calories
1279
kcal
,
Carbohydrates
46
g
,
Protein
98
g
,
Fat
76
g
,
Saturated Fat
27
g
,
Cholesterol
281
mg
,
Sodium
5394
mg
,
Potassium
1376
mg
,
Fiber
1
g
,
Sugar
45
g
,
Vitamin A
31
IU
,
Vitamin C
8
mg
,
Calcium
62
mg
,
Iron
4
mg