This crock pot sausage and peppers recipe is easy to throw together in minutes but tastes like it's been cooking all day. I love having a option besides chicken to prepare in my slow cooker and this crock pot recipe is a family favorite.
This
sausage and peppers crock pot recipe is simple but still delicious!
This recipe takes only minutes to throw in the slow cooker and then you'll have an amazing dinner ready for that evening.
I also love to serve this quick and easy recipe for parties or on game day!
You'll need a great slow cooker for this

sausage peppers and onions crock pot recipe.
I can't survive without my crock pot. It gets used everyday in my household.
This Ninja cooker is my absolute favorite. The nice thing about this slower cooker is the stove top feature which allows you to be able to brown meat in the same slow cooker for recipes that require this.
It is so handy to just have the one pan to clean and the remove-able insert is non stick so trust me, it's so easy to clean up afterwards.
In addition, I have this crockpot as well and I really like it.
My favorite feature is that you can lock the lid down. I use this crock pot for when I am taking food to a party or a pot luck event. There are several others on sale here.
Another favorite is this programmable crock pot for when I am am not at home all day. I love coming home to a nice meal ready and waiting!
I also like to use crock pot liners to make clean up a breeze. These are worth every penny and save a ton of time during clean up.
What ingredients do you need to make this
sausage and peppers crock pot recipe?
Italian Sweet Sausage Links or mild Italian Sausage
Red Peppers
Green Bell Peppers
Onion
Italian seasoning
Minced Garlic
Tomato Sauce
Chicken Broth
Hot Dog Buns or Cooked Rice
Even though it's only a few ingredients, the combination is delicious!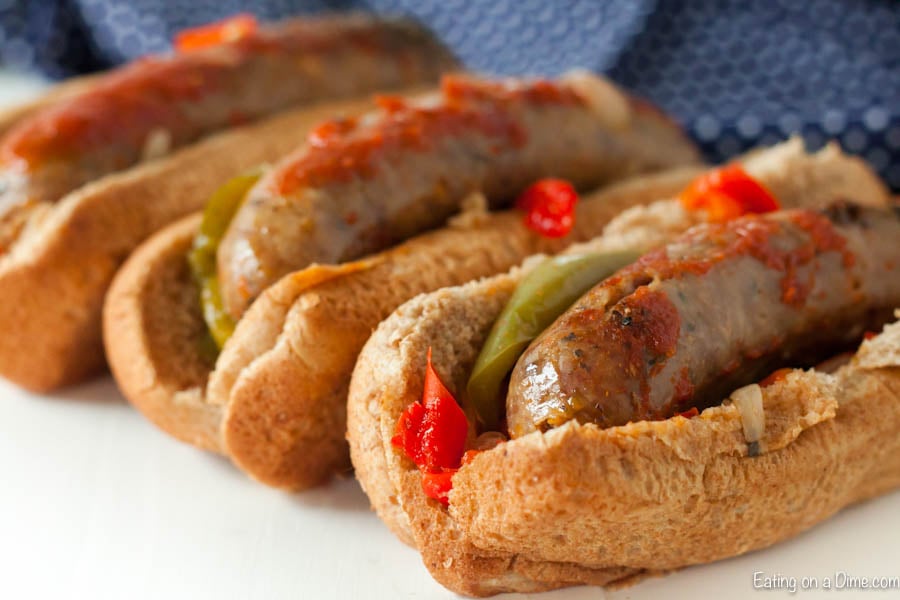 How do you make
crockpot Italian sausage and peppers?
This recipe is so simple, first you slice the vegetables. Then you throw all the ingredients in your favorite crock pot. These steps will take less than 30 minutes!
You can save even move time on these steps if you already have chopped up peppers and onions in your freezer! Freezing chopped onions and peppers saves me tons of time in the kitchen.
How long to cook sausage in a crock pot?
Cover and cook on low for 8 hours or you can cook on high for 4 hours.
After this cooking time, serve on buns or serve over pasta or rice to allow it to soak up the delicious sauce. Enjoy!
Can you put uncooked sausages in slow cooker?
Yes, definitely! Cooking sausages in the crock pot is so easy. I love cooking them this way.
You don't need to brown the sausages prior to putting them in your crock pot. Just throw them in with the other ingredients and I promise it'll taste amazing.
Can I put frozen sausages in a slow cooker?
Again, yes! You can put the sausages in the crock pot frozen and then cook for 8 hours on low. This works great and you no longer have to worry about defrosting anything for dinner. Yay! 🙂
What goes with sausage and peppers?
This recipe is so filling, you can serve the sausages on your favorite type of bun and it's ready for dinner.
I also love serving this recipe with my favorite pasta salad as a side dish. Here are 3 that I absolutely love and of course, they are also easy to make!
We also love serving this crock pot sausage and peppers recipe with The Best Coleslaw Recipe for a really amazing meal!
This crock pot sausage and peppers also tastes great served with these easy oven baked sweet potato fries recipe. Everyone devours these fries!
What easy substitutions can you make to this recipe?
This recipe is so versatile, there are tons of alternations you can make to this recipe to make it work for your family.
What if you're out of tomato sauce? No worries, you can easily make crockpot sausage and peppers with crushed tomatoes or diced tomatoes with green chiles. Either one would taste great in this simple recipe!
If your family does not like tomatoes, you can make crock pot sausage and peppers without tomatoes. I would double the chicken broth so it doesn't dry out and just leave the tomato sauce out of the slow cooker.
This will also make less sauce so you can have crock pot sausage and peppers no sauce if you prefer it this way.
In addition, you can make slow cooker sausage peppers onions and potatoes. Simply put your favorite type of potatoes under the sausages in your crock pot prior to the cooking time.
I love making crock pot sausage and potatoes as it's a one pot meal which means less dishes after dinner. 🙂
You can also create slow cooker sausage, peppers, onions and beer. Simply throw in your favorite can of beer instead of the chicken broth. The beer adds a unique flavor and makes the meat very tender. Yummy!
If you prefer your peppers and onions to be more crispy, I recommend cooking the sausage in the crock pot and sautéing the peppers and onions in a large skillet with olive oil.
There are lots of options to alter this recipe to ensure that everyone in your family loves it!
Can you freeze this Italian sausage and peppers recipe?
I have a large family, so I do a lot of freezing cooking to ensure that I can get dinner on the table every night. This recipe can easily be converted to a freezer meal so we can save even more time in the kitchen.
If you enjoy freezer cooking as much as I do, I encourage you to check out our Lazy Day Cooking Club. This club is a freezer cooking meal plan that provides you with great recipes, instructions on how to freeze and all the ingredients that you need for great crock pot recipes.
This club takes away the stress of deciding what's for dinner and gets dinner on your table in less time.
I hope you try this
sausage and peppers crock pot recipe

soon!

This recipe really is simple and easy. Plus everyone in your family will be impressed when you serve them this delicious meal.

You can also make Instant Pot Sausage and Peppers if you prefer using a pressure cooker over a slow cooker. I hope you'll try this recipe and leave us a comment to let us know what you think!
Print recipe for
crock pot sausage and peppers below:
Crock Pot Sausage and Peppers
Try this simple and quick crock pot sausage and peppers recipe. Everyone loves this slow cooker Italian sausage recipe and it's so easy to make!
Ingredients
2

19 oz packages Italian Sweet Sausages (the big links)

2

red peppers

sliced

2

green peppers

sliced

1

large onion

sliced

1

tbsp

Italian seasoning

2

teaspoon

minced garlic

1

8 oz

can tomato sauce

1

cup

chicken broth

hot dog buns

or cooked rice, to serve
Instructions
Combine everything in the crock pot except for the buns or rice.

Cover crock pot with lid and cook on low for 8 hours.

Serve the sausage on hot dog buns, on rice, or just slice the sausage and enjoy.
Nutrition Facts
Calories
356
kcal
,
Carbohydrates
20
g
,
Protein
31
g
,
Fat
17
g
,
Saturated Fat
7
g
,
Cholesterol
100
mg
,
Sodium
1774
mg
,
Potassium
750
mg
,
Fiber
5
g
,
Sugar
12
g
,
Vitamin A
3065
IU
,
Vitamin C
223.9
mg
,
Calcium
71
mg
,
Iron
19.2
mg

This Crock Pot Brisket Sandwich Recipe is great to serve to feed a large crowd or for a busy weeknight meal for my family.
If you like this crock pot sausage recipe, try these other delicious slow cooker recipes: