Easy Grilled Avocado Recipe has the most amazing flavor. This recipe is so simple to prepare and absolutely delicious. Plus, it is keto friendly!
Easy Grilled Avocado Recipe
For some reason I am on an avocado kick right now, so I thought I would try Grilled Avocados. I am putting avocados on EVERYTHING so don't be surprised if you see a few more recipes with avocados in them.
The flavor on this is just amazing. Something happens when you grill an avocado.
Everyone should try it. The flavor is spectacular!
I made up the method for the Grilled Avocado recipe and they were actually quite delicious. I had a hard time not going back to finish off a whole avocado.
If you love avocados or if you want to give them a try then you have to try out this Grilled Avocado recipe.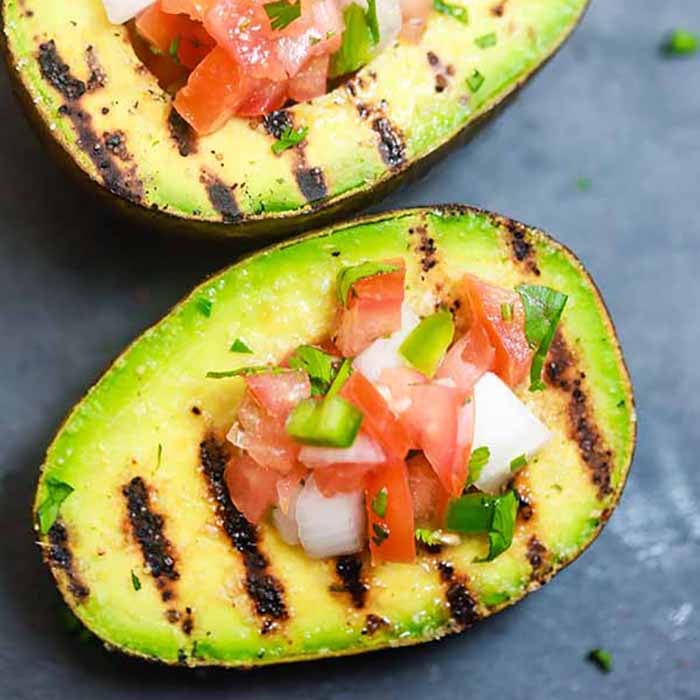 What do you need to make this Keto Grilled Avocado Recipe?
You only need a few ingredients but this recipe is really spectacular.

How to grill avocado:
Not only is this delicious but you don't have to heat up your kitchen to make it. Plus, clean up is a breeze!
Just cut the avocados in half and take out the pit.
Drizzle with the olive oil and season thoroughly.
Grill cut side down. It only takes a few minutes so don't walk off!
How to serve this Stuffed Grilled Avocado Recipe:
Top with pico de gallo or salsa. You could even add sour cream.
Serve with a fork or chips. Yum!
This is the perfect summer meal. So light but filling and delicious.
Now you know how to cook avocado on the grill!
Isn't is simple? It is hard to believe something so simple tastes so amazing.
We just love this recipe and it is even better because it is so easy! The kitchen stays clean and the grill does all the work.
The flavor is amazing and really something special. I can't wait for you to try it!

Try Grilled Avocado Salad!
I love to put avocado in salads and it is even better grilled. Try grilling and dicing the avocado for a salad.
It is so tasty and the grill takes the flavor up a notch!
This avocado keto recipe is perfect for a low carb meal.
If you are doing keto or low carb, this is a great recipe to add to your permanent menu plan rotation. Our entire family loves it!
Make this spartina grilled avocado recipe today.

Avocado grill recipe really brings out the flavor!
Avocado is so delicious but grilling really enhances the flavor. It is a great way to enjoy avocado.
Once you grill avocado, you will see how great it is!
Make Grilled avocado appetizer for parties!
Whether you are hosting a party, BBQ or other get together, this is a great avocado recipe. Everyone will think you spent all this time on something fancy when really it was SO easy!
Plus, avocado's go on sale often in the summer making this very budget friendly even for a crowd.
Still trying to understand this Keto diet?
It can seem overwhelming initially. However, once you understand the Keto lifestyle it is very simple.
Plus with amazing recipes like this easy grilled avocado recipe, you will love eating this way!
You can find lots of resources here including a beginner's guide to Keto. I even spotted the Keto Crock Pot Cookbook.
It's a lot to take in but basically the ketogenic diet is a diet high in fat with healthy fats for weight loss. The diet calls for a lot of nut butters, peanut butter and low or no carb snacks called fat bombs.
You will also want to keep things sugar free. Oils like coconut oil, olive oil and mct oil are used.
A lot of recipes call for cheese or cream cheese. Almond flour or pork rinds can be used for a coating or batter that fits into the ketogenic diet.
Once you get used to this diet, many report that it becomes a lifestyle and they really like it. As a result, many people report higher levels of energy and that they just feel better!
Plus, weight loss is fairly easy while also filling full and satisfied. This is a key component as to why it works for so many.
Find over 20 Keto Soup Recipes sure to impress even the pickiest eaters. From chili and beef stew to chicken dumplings and more, there is something for everyone to enjoy while eating Keto.
If you are doing Keto, you will love these tasty Keto Side Dishes. We have tons of recipes for easy keto side dishes that will make the Keto lifestyle simple and delicious.
Print this Grilled Avocado with salsa recipe below:
Easy Grilled Avocado Recipe
Easy Grilled Avocado Recipe has the most amazing flavor. This recipe is so simple to prepare and absolutely delicious. Plus, it is keto friendly!
Ingredients
Avocados

cup

Salsa

for serving

tbsp

olive oil

or non stick spray

tsp

garlic salt
Instructions
Cut the avocados in half and take out the pit.

Drizzle with olive oil or spray with non stick spray.

Season heavily with garlic salt.


Place directly on a preheated grill with the cut side down.


Cook for about 5 minutes or until you start to see grill lines.


Pull off and spoon in salsa or pico. Serve with a fork or chips.

Recipe Notes
You could even add sour cream to your avocados when serving.
Nutrition Facts
Calories
354
kcal
,
Carbohydrates
20
g
,
Protein
4
g
,
Fat
31
g
,
Saturated Fat
4
g
,
Sodium
707
mg
,
Potassium
1098
mg
,
Fiber
14
g
,
Sugar
3
g
,
Vitamin A
500
IU
,
Vitamin C
21
mg
,
Calcium
37
mg
,
Iron
1.3
mg
More Avocado recipes:
Try these other appetizer recipes: