Check out these fun and frightening easy Halloween cookie recipes for kids. Whether you are throwing a Halloween party or just want to surprise your kids, here are 20 recipes that everyone will love!
EASY HALLOWEEN COOKIE RECIPES FOR KIDS
Don't be scared to make your own frightening cookies this year! Cookies are a great treat for parties or just a nice dessert when you need a break from candy.
These cookies are delicious and don't take much work for a beautiful design.
Here are 20 Halloween cookies recipes to enjoy this Halloween.
Easy Halloween Cookie Recipes for Kids
From spiders and mummies to ghosts and goblins, there is a cookie for everyone! You will love these cookies that are perfect for Halloween.
Whether you are throwing a party or just want to do some baking with the kids, these cookies are sure to be a hit!
Let's get started with these delicious Halloween Cookie Recipes for Kids!
Everyone will have a blast making these and be super impressed with the outcome.
These Quick and Easy Halloween Cookie Recipes will be a hit!
Chocolate Pumpkin Cut Out Cookies
Make mummies with icing on these fun cookies! Kid's are going to love these and they are tasty too.
Miniature Reece's cups turn an ordinary cookie into a spider! So cool and creative.
How to make and Decorate Ghost Sugar Cookies
Learn how to decorate ghost cookies with icing. These will be the hit of the party.
Sugar cookies won't look boring when decorated to look like pumpkins, spider webs, cats and more! Learn the technique to make these cookies look amazing.
This recipe uses simple wafer cookies to make Frankenstein cookies! I love the sprinkles for the fun hair do!
Kids will love these surprise cookies! Everyone will wonder what's inside!
Harvest Chocolate Chip Cookie Cake
This chocolate chip cookie cake is amazing with chocolate frosting and pretty candy corn! This works for harvest parties and Thanksgiving too and everyone loves chocolate chip cookies!
Pumpkin cookies are the classic Halloween treat. Cookie cutters help to make them so pretty and royal icing is so tasty. This is a nice alternative from orange and black jack o lantern style cookies.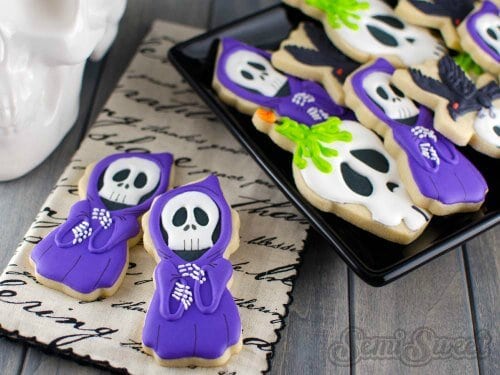 Make these scary cookies for a spooky Halloween party. The instructions make it so simple to do these cool looking cookies.
How to Make Pumpkin Sugar Cookies
Decorating cookies isn't as hard as it seems. Learn all the tips and trips to make amazing cookies.
Candy tops off this cookie cake. Drizzle chocolate all over for a cool spider web appearance and you could also crumble oreo sandwich cookies too. Yum! This one is so simple. Just slice and bake.
What a fun twist on whoopie pies! Make Dracula's dentures' from cookies and marshmallows! It is the perfect Halloween treat.
They may look green but they sound oh so delicious! The fun eyeballs make these creepy and cool!
Use icing to turn cookies into candy corn mummies. This is so fun and creative!
Jack o Lantern Halloween Cookies
Hide these little Jack o Lantern cookies in "dirt". Kids are going to go nuts over this recipe!
Magic potion cookies look intricate to make but this step by step guide eases you through the process! These Halloween cookies are so spooky and cool looking.
Everyone loves cookie pops! Make them even more fun with fun Halloween shapes.
Apple cookies get a spooky twist with "poison". Learn how to make these fun shaped cookies and the kids will gobble them up.
Dark Chocolate Halloween Chip cookies
Chocolate Chips with Halloween colors make this recipe so easy and good. I love all the pretty harvest colors with the chocolate candy.
Plain old chocolate chip cookies become the star of the party with these chocolate spiders. This is such an easy cookie idea for Halloween.
Witch Hat Cookies
Witch hat cookies are the perfect no bake treat and they are a blast to make here. Halloween witch hat cookies make the cutest treat for parties and more with very little work.
There are so many fun and easy Halloween Cookie Decorating Ideas to make!
Homemade Halloween Cookies are a blast to make.
I love these easy Halloween cookie recipes for kids!
You will be the hit of the party with these fun ideas. Time to start party planning 🙂
Let us know which of these Easy Cookies to make with kids you decide to try!
There are so many cool ones to choose from that you and the kids might want to make several.
From cute Halloween cookies to scary Halloween recipes, there is something for everyone!
Let us know how these Easy Cookies for Kids turn out!
You can also try making these Easy Halloween Cupcakes. So fun and tasty!
We have a blast getting ready for Halloween. From fun Halloween treats to DIY Halloween costumes, it's family event around here.
The kids look forward to this all year and we all enjoy making these precious memories. We laugh until we cry sometimes during these baking sessions and it's just loads of fun.
You don't need to spend tons of money or time to have a good time. Often it is truly the simpler the better.
Have fun choosing which Halloween Cookies Recipes you will make and then let the fun begin. 
These are perfect for Halloween parties, friends or just to make for fun. You might also take a plate of these festive Halloween treats to some of the neighbors.
It mostly likely will make their day and the kids will have fun delivering these festive treats.
Try these other delicious Halloween Treats for kids: