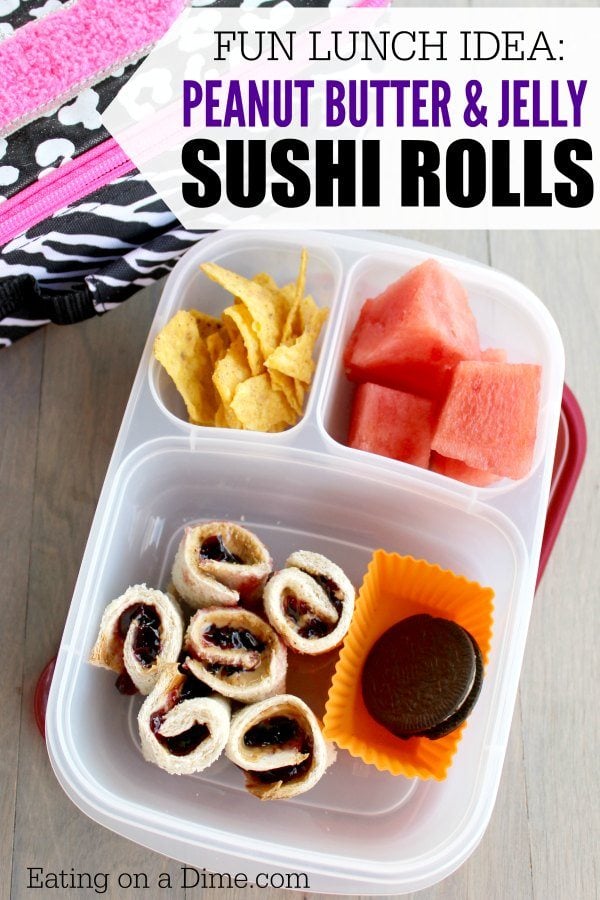 It is day 2 of our easy lunch ideas for kids. Today is a fun but super easy lunch idea- we are making Peanut butter and Jelly sandwich sushi rolls. You can make this is no time.  Literally in now time.
This is what you need to make
2 pieces of bread (per child)
1 tablespoon of your favorite jelly
1 tablespoon of peanut butter
1 knife to cut off the crusts
and a rolling pin to flatten the bread.
How to make Peanut Butter and Jelly Sandwich Sushi Rolls:
Now I have already showed you how to make peanut butter and jelly sandwich sushi rolls in a previous post but we served them as a snack. However, head on over there to see how easy they are to make. We loved them so much, we started making them in lunches. The kids just loved them too!
Equipment you need for this lunchbox:
We love these easy lunchboxes. We have used a cheaper version in the past, but I have switched to the name brand easy lunchboxes. They do a much better job and they last a lot longer. It is worth the few extra dollars for the name brand.
I also love to use the rectangle silicone cupcake molds to separate food in the later containers. They are great to hold treats and other items that you don't want to "touch". 🙂
What I included in this lunch box: