Here is a step-by-step process on How to Cut Broccoli correctly. We will show you how to cut in uniform pieces for baking, roasting or to cook with your favorite recipes.
How to Cut Broccoli:
Broccoli is my favorite vegetable to eat. There are so many health benefits that broccoli offers. Plus it can be cooked many different ways. You can steam it in the microwave or roast it in the oven.
Cutting the head of broccoli doesn't seem to complicated but there is a certain technique. I like to follow these steps so that it cooks properly. Did you know that leaving the stems long is the key in getting it cut correctly?
Learn how to cut broccoli and tips to help you to store it properly and wash it so that it will last.
How to Cut Broccoli into Florets:
Every part of the broccoli is edible, this includes the head of broccoli and the stalk of broccoli.
Listed below is the step-by-step process in cutting broccoli into florets. Make sure your area is prepared with a good cutting board and a sharp knife.
Step 1: Cut Florets Stems where they meet the base of the broccoli:
The key to get beautiful florets is to keep the long stems. Use your sharp knife and cut right where the stems meet the stalk. When I am making vegetable tray or making broccoli soup, I cut the stems a little shorter.
Otherwise, if I am roasting or steaming the broccoli, I like to keep the stems long. My kids like to pick them up and eat them when the stem is long. I will do anything to get them to eat their vegetables.
Then Step 2: Remove the leaves:
When cutting the broccoli florets into smaller pieces, I also make sure there are not small leaves on the outer layer of the broccoli stem. Once I cut the broccoli florets, take you knife and trim any small leaves on the side.
It is basically the process of cleaning up the broccoli florets.
Step 3: Cut larger Florets into halves:
When I am roasting broccoli, I like to cut the broccoli florets in halves. This allows the broccoli florets to lay flat on the baking sheet. The broccoli florets cook evenly and all sides get roasted.
What can you do with the Broccoli Stalks?
The best ways to use the thick broccoli stalks to chop it up and put in a stir fry or sheet pan dinners. You can also toss in a broccoli slaw salad or toss in your favorite soups.
We like to use every part of the broccoli because it is so good for you.
Ways to use Cut Broccoli:
Broccoli can be served as an easy side dish or in your favorite soups or casseroles. It can also be served as any easy appetizer with your favorite dips.
Eat Broccoli Raw – I love making a vegetable tray so I always cut broccoli on it.
Steam Broccoli – Steam broccoli is so easy to do. Add your favorite seasoning and it becomes the best side dish to any of your favorite foods.
Roasted Broccoli – Roasting broccoli is my favorite way to eat broccoli. It gets crispy on the edges but it doesn't lose its flavor.
Recipes to make with Broccoli:
Now that you have your broccoli all cut up, use these recipes to add your broccoli florets. These are some of my favorite broccoli recipes.
Tips for the Best Broccoli:
Uniform Cutting – When we are preparing our broccoli, I cut the broccoli based on what I am making. When making a soup, I cut the broccoli in small florets, but if I am steaming the broccoli then I leave them large florets.
Buying Broccoli – Picking the right broccoli is very important. I usually go for the broccoli crowns when I buy broccoli. They seem easy to cut. I like my broccoli to have green buds that are a bright green in color and with a firm stalk.
Ready to Wash – When I bring home broccoli and because we eat it within a few days of purchasing it, I like to go ahead and wash and cut it. I store in an air tight container. It makes it easy to toss on a baking sheet when I am ready to cook.
How long to Store – Broccoli will last up to about 5 days in an air tight container in the refrigerator.
More Kitchen Tips to try
Print the instructions on How to Cut Broccoli:
How to Cut Broccoli
Here is the step-by-step process on How to Cut Broccoli correctly. These steps will help you when you are ready to cook with your broccoli.
Instructions
Cut floret stems where they meet the base of the broccoli

Remove the leaves from the florets.

Cut larger florets into halves

Then it's ready to use in your favorite recipes!
Try one of our Broccoli Recipes:
Air Fryer Broccoli
Try this recipe for air fryer broccoli in minutes. Each bite is crispy and tasty with amazing garlic flavor. 
See the Recipe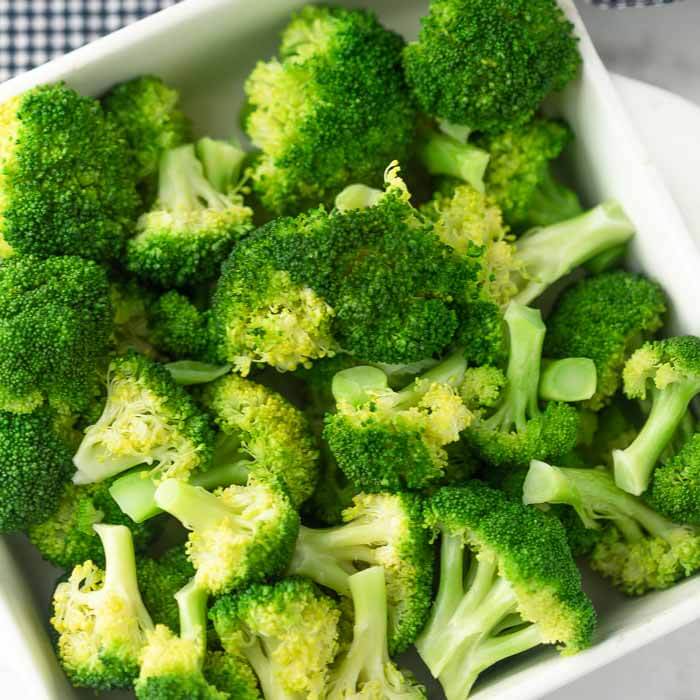 How to Microwave Broccoli
Learn How to Steam Broccoli in the Microwave in under 3 minutes. It just takes 3 minutes with no water to make the perfectly steamed broccoli.
See the Recipe
Easy Grilled Broccoli Side Dish recipe
You will love how easy this Grilled Broccoli Side Dish recipe is. The entire family will love this easy grilled broccoli recipe! It's packed with flavor!
See the Recipe