This No Bake Peanut Butter Oat Bars Recipe has only 3 ingredients and can be mixed together very quickly. These Peanut Butter Oat Bars are simple, easy and delicious. The perfect dessert or snack any day of the week.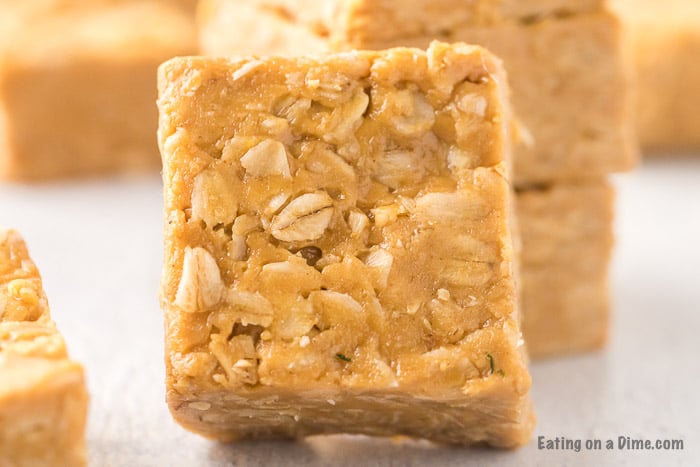 No Bake Peanut Butter Oat Bars Recipe:
I love this No Bake Peanut Butter Oatmeal Bars Recipe. I always have the 3 simple ingredients in my pantry. If I am feeling really healthy I use natural and organic ingredients but it is not necessary.
These bars are perfect served as a dessert, an after school treat or to take to your next holiday party. The best part is there is no baking required. If my kids need a snack, instead of having them grab a bag of chips, I mix these bars together for a healthier choice.
I have even served them with my kids breakfast with a side of eggs. The protein and fiber ingredients keep them full all day at school. I know that I am sending them off to tackle their day with a healthy snack or healthy breakfast.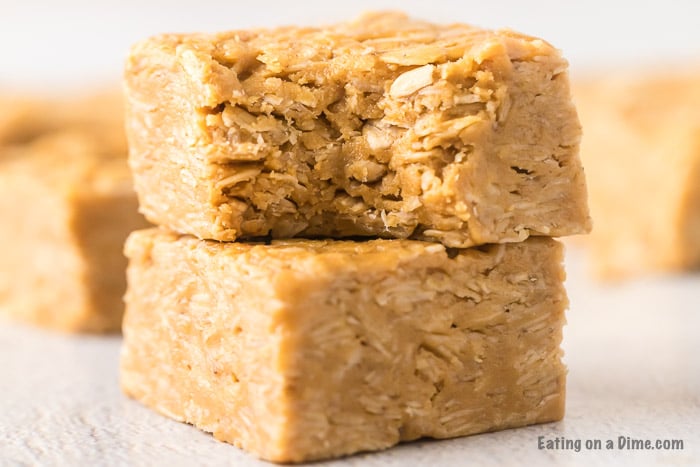 Lunchbox treat:
Are you looking for some healthy options for a lunchbox treat for your kids? This is my go-to treat. I always have the ingredients on hand so it is very easy to mix up if I need to add a treat to their lunch box.
The kids love it and I know that they are getting a healthy option for a snack at school. This is even a perfect snack if I am out running errands. It keeps me from going through the drive-through at a fast food restaurant.
I love having healthy options for my family to choose from.
Ingredients:
Peanut butter – Crunchy or Creamy Peanut Butter. You can also use Natural Peanut Butter.
Honey – We love using a local pure honey.
Old fashioned oats – Rolled Oats work great also. You can also use Gluten Free Oats.
How to make Peanut Butter Oat Bars:
In a medium saucepan, mix peanut butter and honey over medium heat until melted. Make sure that you are stirring constantly.
Remove from heat. While hot, mix in oatmeal in the peanut butter mixture until all ingredients of the oatmeal mixture is well combined.
Pour into well greased 8×8 baking dish and distribute evenly. If you want thinner bars, you can use a 9×13 pan.
After placing the bars in the pan, if you are wanting to top with chocolate chips, this is when I add them.
Place in refrigerator until it firms up.
After they are firm, slice bars in individual servings. Then store in an air tight container. Make sure to place parchment paper in-between each bar to ensure they do not stick.
Variations Ideas:
You will love the variations ideas that can be mixed in for additional health benefits.
If I am taking them to a party, I like to drizzle chocolate on top. You can also melt milk chocolate, dark chocolate or white chocolate for variety.
Mix in mini chocolate chips to add some chocolate to the mix. This is my kids favorite way to eat these. Peanut Butter and Chocolate is the best combo.
M&M's are always fun to add in to the oat mixture. You can also add in the holiday ones for a festive way to have at your holiday dessert table.
Add in some ground flax seeds or chia seeds. Your family will not be able to tell and the health benefits that flax seeds is beneficial.
Coconut is a great add in option. It adds in some sweetness and texture that really adds flavor to these bars.
You can use crunchy peanut butter instead of creamy of different texture. Or do half creamy and half crunchy.
Tried adding in some dried fruit. Personally I love adding in some raisins and cranberries. It gives the oat bars a different look but still a simple recipe.
Add in some peanuts for an extra crunch.
If you can't have peanut butter, almond butter works great too.
Granola can be added for an amazing Granola Bar Recipe.
Maple Syrup is also a great add-in. Pure Maple Syrup has many health benefits.
Peanut Butter Oatmeal Bars Tips:
Make sure that your honey is in date. If you try to heat your honey, you could lose the health benefits that honey provides.
I like using Old Fashion Oats because of the texture. But if you only have quick oats they will work also but I just like the texture better using the Old Fashion Oats.
Use Peanut Butter that you prefer. We usually use what we have on hand. We have used Natural Peanut Butter before and it still tasted amazing.
Do I have to chill the Oat Bars before serving?
After we have finished mixing the bars, we put them in the refrigerator to firm up. After they have firmed, I will take them out of the refrigerator and cut them in single serving pieces.
Then I store them in an air tight container in the refrigerator. This is an easy snack for my kids to grab. You can leave them out at room temperature but they will just be softer.
How to cut and store Oat Bars:
I tend to cut my bar into individual servings. If I have them in a 8×8 pan I can usually get about 9 bars. This is the size I usually cut if I am putting in the kids lunch. If I am taking them to a party, I will cut them a little smaller.
This way they are bite size and can easily be grabbed since they are always so much desserts to choose from.
Can I freeze Oat Bars?
Yes, they are the perfect snack to freeze. This recipe is great for meal prepping. When you are preparing your dinner for the week, don't forget to include a sweet treat for your family.
I make these and place them in individual freezer bags for an easy sweet treat. When you are ready for an oat bar, take out of the freezer and let them thaw on your counter. You can also enjoy straight from the freezer.
Try these Oat Bars Today!
Whether you are making them for your kids or a get-together, they are sure to be hit and everyone will think you took all day to make them.
My favorite part of this recipe is that I always have the ingredients and are simple to make. They are great all year around and no baking required.
Print Recipe here for Peanut Butter Oat Bars:
Peanut Butter Oat Bars
No bake peanut butter oatmeal bars are super easy to make with only 3 ingredients. A quick homemade treat that can be made in minutes.
Ingredients
2

cups

peanut butter

1

cup

honey

3

cups

old fashioned oats
Instructions
In a medium saucepan, mix peanut butter and honey over medium heat until melted (stir constantly).

Remove from heat. While hot, mix in oatmeal until all ingredients are combined.

Pour into well greased 8×8 baking dish and distribute evenly.

Place in refrigerator until it firms up.
Nutrition Facts
Calories
312
kcal
,
Carbohydrates
34
g
,
Protein
10
g
,
Fat
17
g
,
Saturated Fat
4
g
,
Polyunsaturated Fat
5
g
,
Monounsaturated Fat
8
g
,
Sodium
150
mg
,
Potassium
275
mg
,
Fiber
4
g
,
Sugar
21
g
,
Vitamin C
1
mg
,
Calcium
23
mg
,
Iron
1
mg
More easy bars to try:
More No Baked Desserts