Get Sauteed Mushrooms on the table in less than 10 minutes. They are perfectly seasoned and golden brown for a great side dish.
Sautéed Mushrooms
This super quick and easy mushroom recipe is packed with flavor. It is literally effortless but tastes fabulous with a variety of meals.
In just minutes, sautéed mushrooms can jazz up steak, chicken and even rice. Make it today for a delicious side to serve alongside so many things.
Why we love it:
The recipe is only 4 ingredients.
It is easy to add new flavor variations and try new seasonings.
Sautéed mushrooms take just 10 minutes.
Ingredients
Fresh Mushrooms
Olive Oil
Butter
Salt and pepper
You only need these 4 simple ingredients to make fabulous sauteed mushrooms. It is perfect with so many meals. Get this on the table fast even during busy weeknights.
How to sauté mushrooms:
Clean the mushrooms really good. Make sure all of the mushrooms are thoroughly cleaned. Slice them into thick slices. I like to slice o them about 1/2-⅜ inch thick.
Melt the butter over medium heat. Use a skillet to heat the butter and the olive oil together.
Add the mushrooms to the pan. Once the butter has melted and the oil is hot, slowly add the mushrooms to the pan. Try not to over crowd the pan for best results.
Cook the mushrooms. Allow the mushrooms to cook in the pan for 3 to 5 minutes. During this time, do not stir them. Then gently stir the mushrooms and cook for an additional 2 to 3 more minutes.

Stir occasionally. The mushrooms should be browned on both sides until tender.
Season the mushrooms. The last step is to season with salt and pepper and enjoy. These are best served warm as soon as you finish cooking them.
Ways to serve sauteed mushrooms?
How long to sauté mushrooms?
The actual cooking time will vary based on the size of your mushrooms. It will also depend on how tender you prefer the mushrooms.
They typically take about 10 minutes or less but this can vary. The thickness and size of the mushrooms impact the cooking time.
Should I sauté mushrooms in oil or butter?
We recommend a combination of oil and butter. This will result in gorgeous browned mushrooms with lots of flavor.
What's the best type of mushroom to use?
Baby bella, white button mushrooms, and shiitake mushrooms all make great choices.
You can even mix several different types of mushrooms. It will taste delicious. This is a great way to use up leftover mushrooms when you have an assortment.
Tips for best sauteed mushrooms:
Make sure not to cut the mushrooms too thin. The mushrooms will shrink as they cook.
You can use a damp paper towel to help clean the mushrooms.
The actual cooking time varies based on the size of the mushrooms used. Keep a close eye on them so you do not overcook them.
Do not overcrowd the skillet. You will need to use a large pan or cook the mushrooms in batches depending on how large your pan is.
Can you make in advance?
Yes, this recipe can be made up to 4 days in advance. Refrigerate until ready to serve. Then reheat in a skillet.
You might want to slightly reduce the initial cook time so they do not get too soft when reheating.
How to store:
Refrigerate any leftover mushrooms in an air tight container for up to 5 days. Reheat in a skillet until heated through.
Can you freeze this recipe?
Yes, the mushrooms can be frozen. Allow them to cool completely. Then place inside an airtight container or freezer bag.
Variations:
Add garlic to the butter mixture. You can use garlic powder, minced garlic or fresh garlic.
Soy Sauce. Add a few tablespoons soy sauce. You may want to omit the salt in the recipe if you add soy sauce.
White wine or broth. Use a splash of white whine or chicken broth to deglaze the pan after cooking.
Lemon juice. This is delicious added to the seasonings. We love to do this if serving with seafood.
Fresh herbs. Thyme and oregano add a ton of flavor to mushrooms.
Onions. Sauté onions with the mushrooms for even more flavor.
Best Sauteed Mushrooms recipe
Your friends and family will love this easy recipe for satueed mushrooms. It is packed with flavor but only takes minimum ingredients and time.
You can easily make this in just minutes for a great side dish. With so few ingredients, this goes from stove to table without much effort.
Make it today for a great side for endless meals. It is so versatile and tasty with a ton of recipes.
Please come back and leave a comment once you try it.
Print this sauteed mushrooms recipe: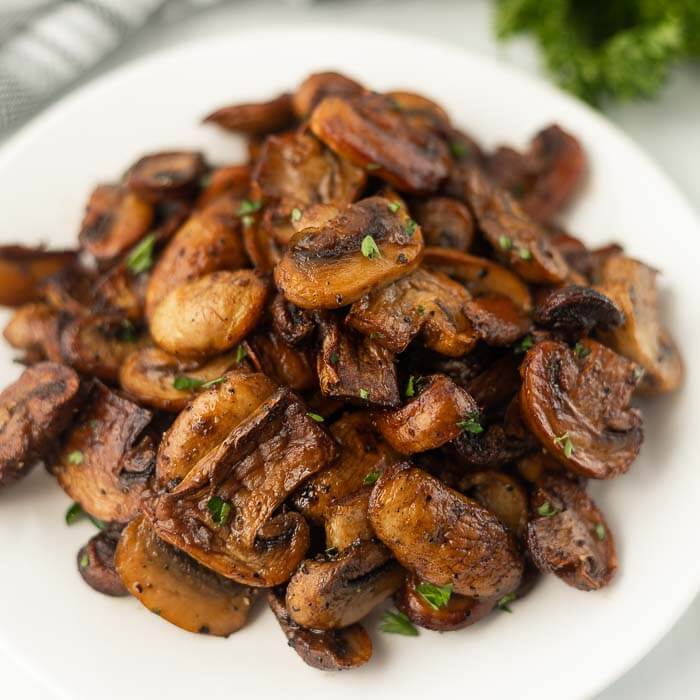 More Recipes with mushrooms:
More Easy sautéed recipes