Learn how to make crockpot steak recipe that is so tender and budget friendly. Sometimes you are just in the mood for steak but you don't want to put in the effort or the money.
This is one of my favorite slow cooker recipes. The solution is to turn inexpensive round steak into the best steak dinner! Your family will love this.
Crockpot Steak Recipe
One of my favorite ways to cook steaks is in the crockpot. Why? Well, because you can cook an inexpensive cut of steak like round steaks and make them taste fantastic just by slow cooking them.
We had some very inexpensive round steaks in the freezer that we normally use to make a stew. Instead, I decided to try them in this crockpot steak recipe.
With very few ingredients, I surprised even myself with how tasty these inexpensive steaks became.
The cheaper steaks became "fall apart" steaks as my kids called them. Adding in the onions in there gave them an added restaurant taste. My husband was shocked to found out they were cheap old round steaks.
This crock pot recipe is now one of our family favorites.
No one wants to be stuck in the kitchen while everyone is hanging out. Throw this in the crockpot and enjoy spending times with your guests!
Crockpot steak is amazing!
Cheap steak recipes do not have to be tough and hard to eat! We also like slow cooker steak and potatoes.
For a complete dinner, add potatoes on top in the slow cooker. You now have a one pot meal.

Ingredients:
Round steaks (or any cheap steak )
Red wine vinegar (any vinegar would probably do)
A-1 Sauce
Onion sliced
Steak Seasoning
How to make crockpot steak
First, spray your crockpot with cooking spray.
Second, put the sliced onions in the bottom of the crock pot.
Now add the steaks right on top.
Next, use a small bowl and combine the vinegar and A-1. Whisk this together and pour all over the steaks.
Sprinkle steak seasoning on the steaks.

Just let the slow cooker do the work. Cook on low for 6 to 8 hours. The cooking times will vary depending how thick your steaks are and how full your slow cooker is.
While you can cook these on high for reduced time, I suggest cooking on low for longer. Since you are using a cheaper cut of meat, they will be more tender the longer and slower you cook them.
Now salt and pepper to taste. Enjoy!
Make sure to top each serving with onions. That is our favorite part.
What to serve with Crock pot round steak recipe:
Cauliflower Rice – If you are trying to eat low carb, cauliflower rice is a very good side dish for the keto diet.
Tips for round steak crock pot recipe:
You could also add a little garlic power or toss in a boullion cube for extra flavor. However, this is optional.

If you want to make a gravy out of the both, add a little corn starch once finished cooking to thicken it.

You could also use top sirloin steak or a pot roast instead of round steak. Feel free to use what you can get on sale or already have in the freezer.

Slice some Bell peppers and add them in the slow cooker as well. The flavor will be amazing.

If you want more of the sauce or to make a gravy add in a cup of beef broth. Then use the cornstarch to create a gravy.

Soy Sauce and Brown Sugar is also a great way to season crock pot steak. Eliminate the A1 sauce, and add these instead.

This combined with bell peppers will give you more of a stir fry flavor.

I use fresh onions, but you can use a package of onion soup mix to this recipe.
Easy Slow Cooker Steak Recipe
Yes! This is the best way to cook steak that is one of the cheaper cuts. It turns out so tender and just falls apart.
The steak is loaded with flavor and no one will know that it's inexpensive round steak.
I love the programmable crock pot for when I am am not at home. You can literally set the slow cooker and forget about it.

It's especially perfect for those days you will be out of the house. Set it for the amount you need and it will cut off for when you programmed it.
Once at home you enjoy a nice meal. It's ready to serve thanks to the crockpot!
How do I cook sirloin steak in slow cooker?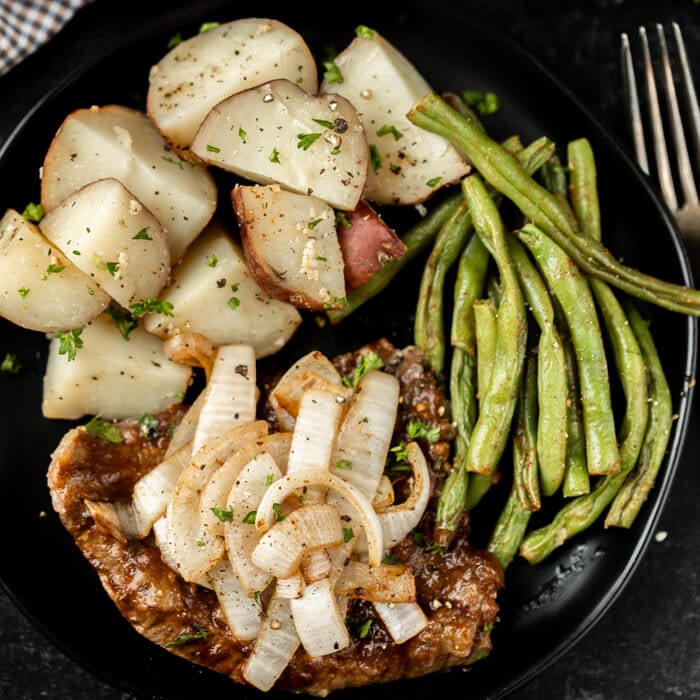 Can you put meat in a slow cooker without liquid?
The crockpot traps steam while cooking so it is possible to slow cook something without liquid. The steam will provide liquid to keep it all from drying out.
This is the best Crockpot Round Steak Recipe
If you can toss everything in a crockpot then you can easily make this crockpot steak recipe. I love to make this on a busy evening because it is so easy and we all love it.
No one will be the wiser, because they will taste so amazing.
Leave us a comment and let us know what you and your family thought about the recipe!
What to serve with crockpot steak
Steak tastes amazing with almost anything. Here are a few of my favorite side dishes for steak.
Print this easy round steak crock pot recipe:
Tangy Crockpot Steaks
This tangy crockpot steak recipe is so easy to make. It makes inexpensive cuts of meat taste delicious just by using your crockpot. Your family will love smothered steak crock pot recipe. Round steak slow cooker recipe is so tender. Crock pot round steak recipes are so easy. It is the best way to cook round steak.
Ingredients
2

lbs

Round steaks

(or any cheap steak)

1/4

cup

red wine vinegar

(any vinegar would probably do)

2

Tablespoons

A-1 Sauce

1

onion sliced

1

tablespoon

steak seasoning
Instructions
Spray the crockpot with non stick spray.

Place the sliced onions the bottom.

Top with the steaks.

In a small bowl wisk together the vinegar and A-1. Pour over steaks.

Season with steak seasoning

Cook on low for 6-8 hours.

Serve with your favorite sides and top with the delicious onions (our favorite part)
Recipe Notes
Add a little garlic power or toss in a boullion cube for extra flavor. 
Nutrition Facts
Calories
227
kcal
,
Carbohydrates
3
g
,
Protein
34
g
,
Fat
7
g
,
Saturated Fat
2
g
,
Cholesterol
95
mg
,
Sodium
170
mg
,
Potassium
574
mg
,
Sugar
1
g
,
Vitamin A
30
IU
,
Vitamin C
1.7
mg
,
Calcium
41
mg
,
Iron
3.6
mg
More easy steak recipes:
This steak is easy and tastes amazing too. We love serving it on Valentine's Day. Check out a full affordable menu to make for Valentine's Day.